Questions to Expect when Selling Your Boat

Buying a used boat is risky, so most buyers do in-depth research before investing. As a seller, you should study your boat carefully and be prepared to answer buyers' questions persuasively.
If you fail to do your homework, you may end up making a bad impression and lose the sale altogether.
In this article, we prepare you for the most frequently asked questions from boat buyers. As industry experts, we realize the importance of showing professionalism, and answering common queries from used boat buyers honestly and convincingly is part of that.
Importance of being prepared for questions from prospective buyers
Once your boat listing becomes live, it is time to wait for the inquiries to come in. However, knowing what to say and having all the information ready is very important to addressing buyer concerns like a pro.
Even if you have created a comprehensive listing with all the boat details, you can be sure to receive the same questions again during the initial inquiry. Those would be the Most Asked Questions When Selling Your Boat.
When you answer a prospective buyer's question promptly, it not only makes them feel valued but also puts you in a good light. This significantly increases your chances of turning them into paying customers. Transparency is very important in today's internet, so if a buyer doesn't receive a proper answer, they will look elsewhere.
It is crucial to be patient and consistent with your ad, and it helps to have it printed out and kept on hand in case you receive any unexpected calls. While texts and emails give you plenty of time to draft your answers, phone calls force you to answer on the spot. If you seem unprepared to answer your client's questions, they might get suspicious and decide to move on for good.
Listing a boat on classified platforms
When listing a boat on classified platforms like BoatTrader, Kijiji, eBay, or Craigslist, make sure the additional information you provide to the buyer is consistent with your original ad.
Another tip is to include several methods of communication, including email, phone, and other active social media handles. This will make the buyer feel that you are very eager to accommodate their questions, thus making them feel welcome. They probably have a boat checklist.
Boat-Showing Etiquette | Answer Questions on your Boat for Sale
Our advice is that before we talk about the common questions that prospective buyers ask boat sellers, it is important to learn boat-showing etiquette.
Stay Unemotional and Prepared for These Questions from Boat Buyers
As a private seller, you have an advantage over a broker when selling a boat – you know the vessel inside out and can answer the questions comprehensively. You have numerous memories associated with it, great stories to share, and some cool tips and tricks up your sleeve. You also know the boat's strengths and weaknesses and how you have improved it over the years.
But at the end of the day, it's your boat, and it may be hard seeing a stranger analyze it and perhaps even say unflattering things about it. The key here is not letting your emotions get the best of you. Remain calm, composed, and unbiased, and try to answer the questions as honestly as possible.
Be Transparent and Upfront
The best time to disclose things about your boat, both good and bad, is during the showing. Let it out in the open if there's a defective system or any other underlying issue. There's no point in concealing the information since the buyer is bound to find the issues during a marine survey.
Showings hardly involve sea trials. If the boat's in water, you can start the engine or systems for the buyer's satisfaction. But there is no obligation for you to take them out on a boat ride if you are not prepared or if they don't seem interested.
Read more about how to stage your Boat for Viewings.
Common Questions Asked to sellers by Prospective Buyers
The Top Questions from Boat Buyers are listed below are some common questions prospective buyers ask boat sellers. We have categorized them by themes and added a few sample answers to help you prepare better.
What is the age and condition of the boat?
Be honest about the age, and highlight the boat's best features, items that you've recently installed, and maintenance programs that you have kept to. Briefly touch on the things that need to be fixed as well.
Are you the original owner?
This is a common question buyers ask about a boat's ownership history. Take time to prepare a folder of all the boat documents, including the bill of sale, title, warranties/insurance, maintenance records, inspection certificates, and any paperwork related to your purchase of the vessel if you were not the original owner.
Include Boat-Alert Report upfront to show you have nothing to hide along with the HIN (hull identification number).
Which Payment Methods do you accept?
Be cautious if you hear this question early in an inquiry since it could be a scam. The majority of questions about payment should come up after a boat has been viewed, inspected, and a price agreed upon. Learn more about boat fraud prevention and reporting here.
Can I see more pictures of the boat?
Prospective buyers almost always request more photos of the boat before they decide to see it in person. Make sure to provide them with high-quality photos from all angles, including the inside and outside. You can also supplement the photos with a video for the buyer's peace of mind.
Can you arrange for the delivery?
If the buyer is international, they may be interested in knowing if you can take care of the delivery. Search what options you have for transporting the boat so that you can either offer to arrange the delivery for an added fee or offer the buyer the information they will need to arrange it themselves.
Do you provide a boat history check report?
It is normal for a buyer to want to dig deep into a boat's background, so they ask for a history report. A boat history report takes a detailed look at the boat's lifespan, ownership history, and whether it has been involved in any accidents or legal issues.
Get your boat history report from Boat-Alert.com, which carefully presents the results of different background checks, such as HIN, boat recalls, accidents, environmental damage, and auctioned and stolen boat checks. For further clarification, you can also ask them to perform an online HIN lookup on the website, or you can do it for them. All you need to do is enter the boat's hull number into Boat-Alert's search bar, and you can receive the results in a few minutes.
Assure them that there are no hidden liens and give an affidavit attesting that.
Boat specifications and features
Boat history and ownership
Price and negotiation
Test drive and safety
Conclusion | How to Tackle Questions from Boat Buyers
Selling a boat can be an exciting yet challenging process. Preparing for prospective buyers' questions ensures a smooth and hassle-free process.
Do your research beforehand and study common topics such as your boat's specifications, history report, price negotiation, sea trials, and safety. As a seller, this will help you provide honest and accurate answers to build the buyer's confidence, thereby increasing the chances of a successful sale.
Moreover, remember to prepare your boat for a showing and test drive, and ensure that all safety measures have been taken into consideration. By following these tips, boat sellers can set themselves up for success.
The laws in each state/jurisdiction are different for registration/titles but most of the time you will need a bill of sale. Use these templates.
#anticipate #buyer #questions #SellBoat #queries #commongQuestions #FAQ #sell #boat #sellingtips #FSBO #boatforsale
Read Related Articles: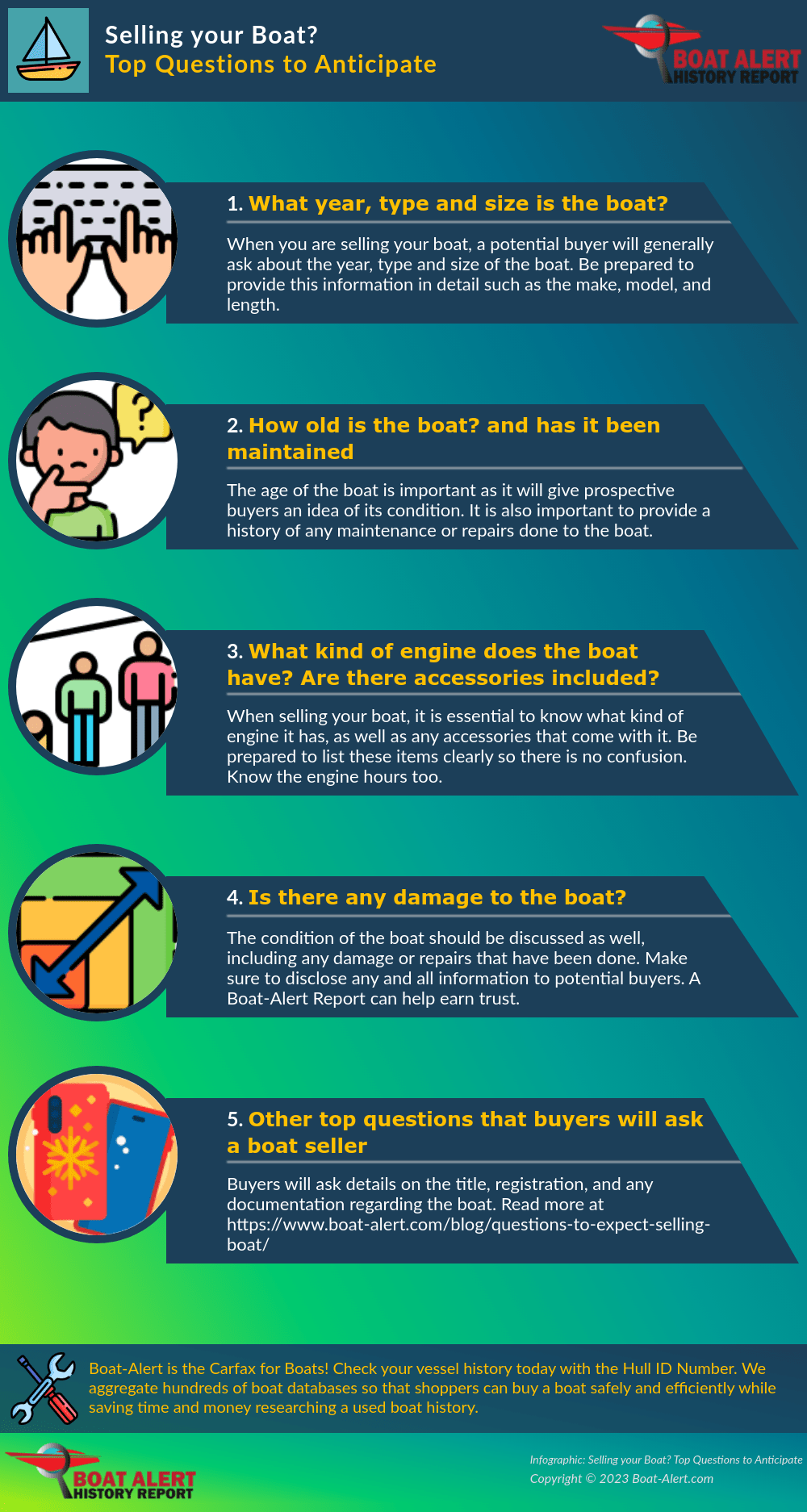 Categories:
To learn more about Boat-Alert.com History Reports for used boats and free vessel registration title search visit: www.Boat-Alert.com
About Boat-Alert.com®
Boat Alert History Reports© exists to aggregate boat databases so that shoppers can search and buy a used boat safely while saving time and money researching a used boat's history. We began in 2015 and constantly adding more boat hull id check data for USA and Canada to ensure that your boat has a clean history. We are happy to offer a 60-day money back guarantee and proud to have served more than 15,000 customers with their boat HIN Search History needs. vin number on boat ©. Two percent of all proceeds go to charity. We value fair treatment of employees, customer satisfaction, having the most databases possible, and fast customer service at the core of our brand. View our
LinkTree
.