How to Sell a Boat on Kijiji Canada
Did you know May to August is the ideal time to sell a boat? If you have been mulling over listing your boat for sale, you should start by picking the right platform.
In this article, we talk about how to sell your boat on Kijiji Canada. Having been in the industry for many years, we can guide you in the entire process and explain some caveats to watch out for.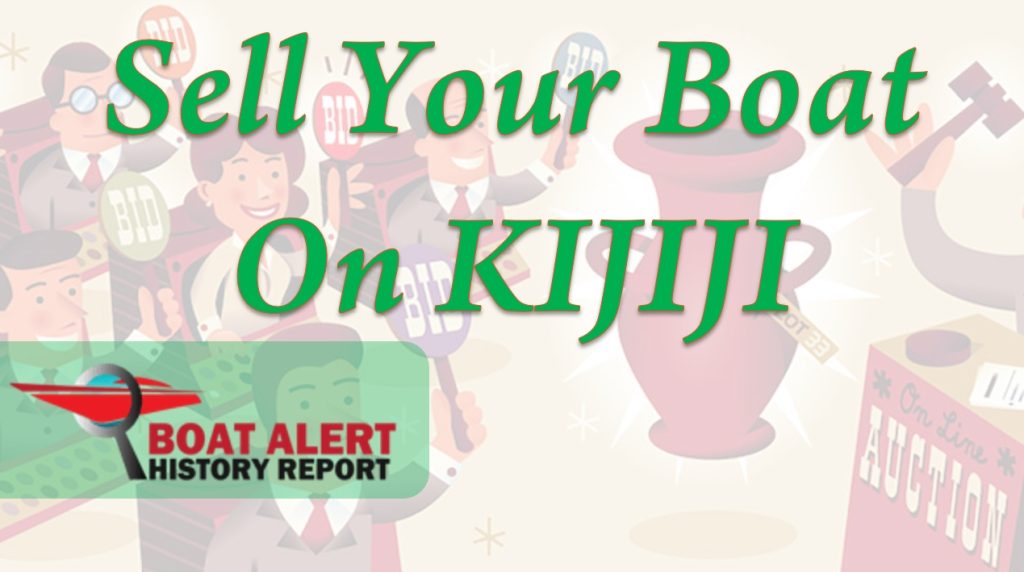 Did you also know that Kijiji was launched in 2005 by eBay? but was later sold to Adevinta as part of the eBay Classifieds Group sale in 2007. The brand is used in over 100 cities in Canada, including Ontario, Alberta, Manitoba, and British Columbia, whereas eBay classifieds websites are available under different brands in other countries.
Why Sell your Boat on Kijiji?
Kijiji is considered Canada's largest classifieds site, which makes buying and selling items online extremely easy. You can easily create and post ads, interact with buyers, repost ads, and do so much more for free. Other benefits include:
Easy profile management
Easy account settings management
Easy management of paid ads
Paypal accepted as a secure payment method
Large user base
Lost of Canadian boaters go there
How to Sell your Boat on Kijiji?
If you're unfamiliar with selling on Kijiji, here is a step-by-step guide to help you get started selling your boat on Kijiji. We collected the best advice out there.
1. Register on Kijiji Using your PC or Phone
Kijiji's buying and selling are exclusive to members only. So, before you can start listing your boat, you need to register on the site first. Registration is simple and free. All you have to do is visit the website and click on the 'register' button, input your email address, name, and password, confirm the email address then log in with your newly registered email.
2. Take High-Quality Pictures of the Boat
Pictures are critical for ensuring a successful sale. Make sure to take multiple high-quality photos of your boat from all angles, both on and out of the water. Remember that if your photos are not eye-catching, a potential buyer may not even read the rest of the description and scroll past your ad. Here are some tips to take great pictures:
Use a high-quality camera
Ensure that the background is bright, scenic, and clean. You can take pictures of your boat with a beautiful house or the beach in the background.
Snap at least 10 to 15 photos of the interior and exterior
3. Price your Boat Right
Pricing a boat is not the same as pricing a t-shirt; you need to know its current market value and add your markup accordingly. Not sure how to assess the value of your boat? Here are the top 10 tools that you can use.
Once you know your vessel's worth better, you can decide how much profit you want to charge. If you are in a hurry to sell the boat, you may need to price it below the market rate to attract a larger audience. The general rule is to opt for the middle ground since pricing the boat too high or too low will hurt the sale.
4. Create a Catchy and Descriptive Title
The title of your ad should adequately tell, at a glance, what type of boat you are selling and a few unique features about it. A headline can be the first bait to make a prospective buyer click on your boat ad, so make sure to make one that is short, simple, informative, and captivating.
5. Write a Killer Description for the Boat for the Kijiji ad
A description tells buyers everything they need to know about your boat and emphasizes any details that could speed up the sale. The information you provide should give information about the type of the boat, the brand, model, manufacturing year, age, current condition, any unique accessories it comes with (for example, custom-made leather seats), and so on.
It is recommended that you provide an honest account of the boat, meaning you don't just highlight the good but also shed light on the bad, such as its faults, flaws, and other limitations. Make sure to add the boat's location in your description, as it will help attract people in your vicinity. You can also add your phone number and other social media handles so buyers can easily contact you for more details.
It is integral that you spend some time when writing the ad description. Use bullet points to highlight the boat's unique features, and try giving the buyer as much information as possible. Many people will move forward with their search if your ad doesn't give them enough information to catch their attention. Check out similar boat ads being posted on Kijiji, so you have a better idea of how to create a good description.
6. Add Relevant Tags
Keywords and tags will push your ad to appear in search results on Kijiji. For this part, carefully brainstorm some words or phrases that a buyer will likely input in the search bar when looking for your boat.
For example, if you are selling a Boston Whaler fishing boat, you can add keywords such as "Boston Whaler boat," "Boston Whaler fishing boat," or "fishing boat." You can also add a keyword based on your target locations, such as "Kijiji boat for sale Ontario, Alberta, Manitoba, and British Columbia."
Ask yourself, what would I type if I was a buyer looking for this specific boat? is it boat dealers?
You can also check out similar boats sold on Kijiji or use a keyword generator online. You should add at least 3 to 5 tags for your boat ad.
7. Post the Ad
Now that you have everything prepared to make an attention-grabbing ad, the final step is to post the ad and publish your listing. Here's what you will need to do: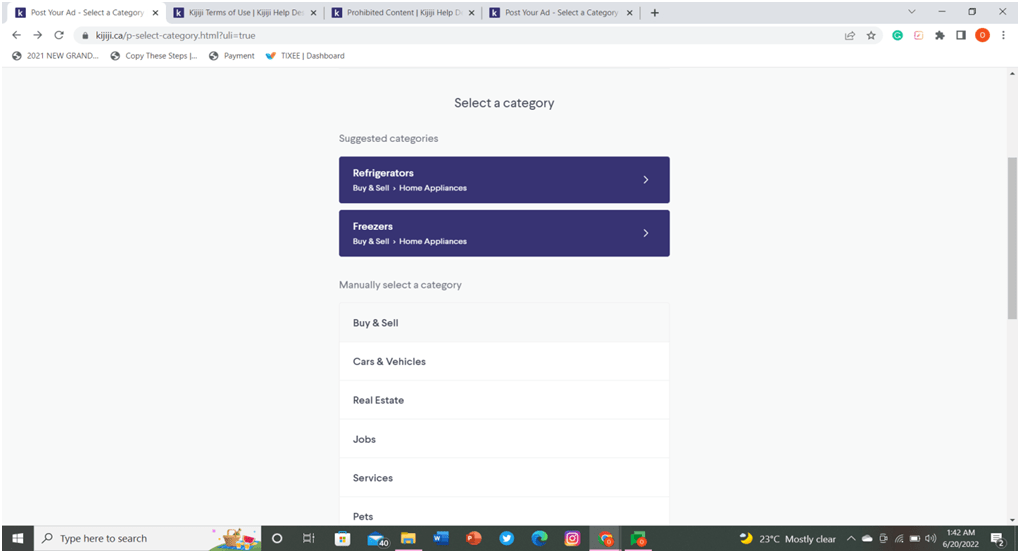 Click on 'Post Ad'
Enter the Ad title
Select 'Cars & Vehicles' from the category list
Select a location
Enter the tags and boat description you prepared earlier
Upload the photos
Preview and post the ad as shown below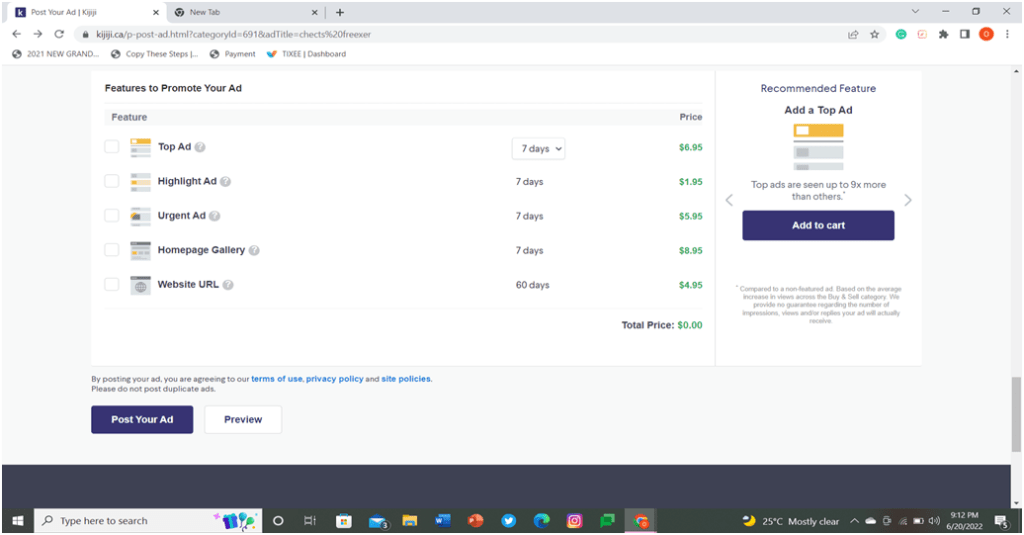 Other tips to sell the boat on Kijiji:
Review and publish your ad: Before publishing your ad, review all the information you've entered to ensure accuracy and completeness on both desktop and mobile!
Respond to inquiries: Once your ad is live, you'll start receiving inquiries from potential buyers. Be prompt and courteous in responding to their messages, and be prepared to answer any questions they may have about your boat then update your ad listing accordingly.
Close the sale: When you find a buyer who is interested in purchasing your boat, agree on a price and arrange for a safe and secure method of payment. Once the payment has been received and the bill of sale signed, transfer the ownership of the boat to the buyer and arrange for delivery or pickup.
How Do I Accept Payment on Kijiji?
You can accept payment on Kijiji through credit cards, PayPal, or bank transfers.
How Much Does it cost to sell a boat on Kijiji.ca? Are Kijiji ads free?
The first two ads that you can post on Kijiji are free in the "boats & watercraft" section. You will be subjected to listing fees if you list more than two vehicles at once in any of the Cars & Vehicles sub-category groups (boats, watercraft, recreational cars, PWC, and classic cars).
You will also have to pay a different fee based on the type of ad you choose and for how long. Generally, advertising an item on the platform costs between $0.99 and $5.99, depending on your desired exposure. You can read more about Kijiji's Cars & Vehicles listing fee here. Different ad features include:
URL Feature
Urgent, Featured, and Reduced Banner
Top Ad feature
Price Drop Feature
Homepage Gallery Feature
Highlight Ad Feature
Bump up Feature
Best Marketing Tips to Sell your Boat on Kijiji
Be prompt, polite, and patient when communicating with potential buyers.
Spend time creating your ad so that it stands out amongst the crowd.
Check competitors' ads and compare them to yours.
Include a boat-alert.com history report with your Kijiji-used boats for sale listing to show the HIN is valid and the boat does not have a tainted background or negative events in the history.
How do you write a Receipt when selling a Boat?
Rather than writing a basic receipt, you should use a bill of sale when selling a boat on Kijiji. A bill of sale is a legal document showing the boat transfer from one party to another. When drafting this document, make sure to include the following details:
The full names of the buyer and seller
Mailing addresses of the buyer and seller
The total sale price of the boat
Description of the boat (make and model, HIN)
Inspection period of the boat (if applicable)
The date when the sale will finalize
Security deposit amount, if applicable
The signatures of the buyer and seller
Date of signature
Can I get scammed while selling a boat on Kijiji?
Scams are commonplace on most online platforms, including Kijiji. They can affect buyers and sellers. Make sure to read the company's security guidelines and take the precautionary steps mentioned below:
Don't volunteer too much private information.
Avoid a buyer who seems to be hurrying to finalize the sale.
Do not accept payment methods that Kijiji does not authorize.
Perform a background check on the buyer using their name and other information.
Steer clear of cash transactions; only accept wire transfers or bank-to-bank transfers.
Don't let someone ask you to buy something for them for a promise to buy your boat later.
Alternatives to Kijiji to advertise your boat in Canada | FSBO
If you want greater exposure for your vessel for sale, consider listing it on these marketplaces online. We have step by step guides for each one:
Trade-in or other boat websites
Conclusion
In this article, we went over the secrets & details of how to sell a boat on Kijiji and make a posting. Moreover, we mention some tips to help you sell your boat fast and advise you on avoiding common scams.
Lastly, we talked about how adding a boat history check report by Boat-Alert.com can increase the legitimacy of your listing and help the sale finalize faster.
#SellBoatonKijiji #KijijiBoatSale #KijijiBoatForSaleByOwner #kijiji #sellboat #sell #boat
Categories:
To learn more about Boat-Alert.com History Reports for used boats and hull check on a used boat visit: www.Boat-Alert.com
About Boat-Alert.com®
Boat Alert History Reports© exists to aggregate boat databases so that shoppers can search and buy a used boat safely while saving time and money researching a used boat's history. We began in 2015 and constantly adding more vessel numbers data for USA and Canada to ensure that your boat has a clean history. We are happy to offer a 60-day money back guarantee and proud to have served more than 15,000 customers with their boat HIN Search History needs. free boat history report ©. Two percent of all proceeds go to charity. We value fair treatment of employees, customer satisfaction, having the most databases possible, and fast customer service at the core of our brand. View our
LinkTree
.