How To Sell a Boat on BoatTrader.com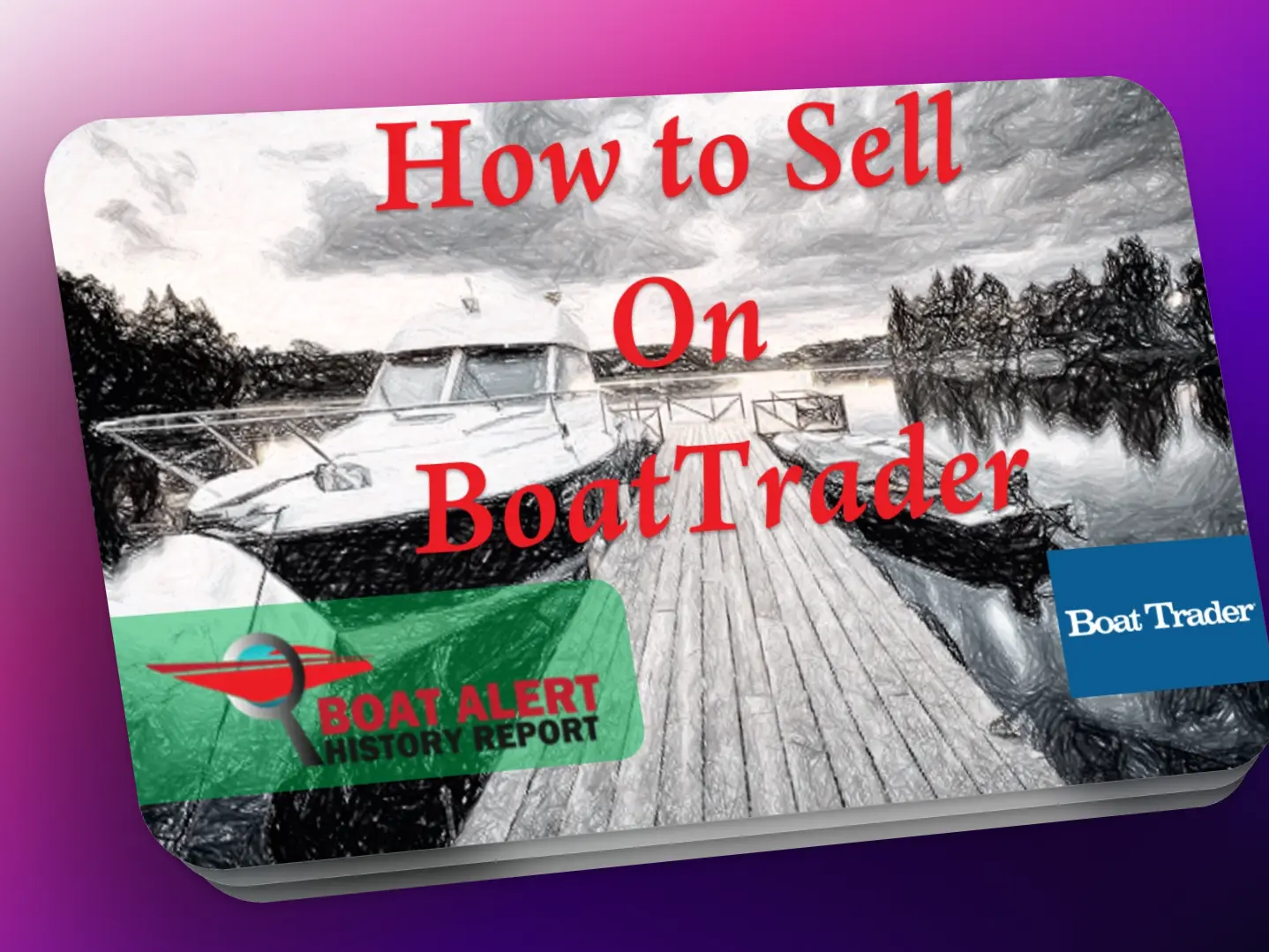 Are you ready to upgrade your boat and looking to sell your current one? Whatever your reason for selling may be, BoatTrader is an excellent platform to get started.
In this article, we talk about how to sell your boat on BoatTrader, the largest online marketplace for boats in the United States. Users can find thousands of new and used boats, engines, outboard motors, and trailers worldwide, along with their prices.
Whether you're a beginner or an expert boat seller, you need to know this guide from start to finish! We poured our years of knowledge and industry experience in this this article. It covers steps to do and how to avoid boat selling scams.:
Learn the essentials of selling a boat on BoatTrader.com
Prep Your Boat for the Sale
Preparing your used boat is critical to make or break the sale. Similar to selling a house, proper staging is key to achieving your desired price in a shorter span. Before listing a boat for sale, you should ensure it is in the best possible condition to attract a larger audience. A well-maintained boat will appeal more to buyers and give you more bargaining power. Listed below are a few preparatory steps:
Thoroughly clean the interior and exterior of the boat
Repair minor cosmetic issues
Get your boat's inspection and maintenance records to show to potential buyers
Check and repair your boat trailer if damaged
Give your engine a tune-up and fix any mechanical issues
Disinfect the boat to prepare it for sea trials
Remove all your possessions or redundant items, including fishing gear, family members' belongings, artwork, etc. It is important to depersonalize the vessel so the potential buyer can envision themselves in it
Get the Boat Appraised – Determine its Value
Numerous factors determine the value of a pre-owned vessel, such as age, model, size, and average market price. Check out Boat-Alert's guide to the top 10 tools for assessing your boat's value.
Besides using these online tools, you can also take help from websites like NADAGuides when deciding the value of your boat. Once you have a figure in mind, you should set a price. The aim is to get the highest price for your vessel so you can have more money to spend on your next purchase. However, you need to be realistic and fair to not drive potential buyers away.
List your Boat on BoatTrader.com
The next step is to list your boat on Boat Trader.com.
1. Choose your Package
Boat Trader offers three packages: Basic, Enhanced, and Premium. If you want to sell your boat quickly, opt for the Basic Package. If you are certain that your boat will instantly attract buyers based on detailed descriptions and high-quality photos, then the 6-week Enhanced Package will be ideal for your needs.
However, the Premium Package is the right choice if you require all the help you can get, such as optional add-ons and additional features. Regardless of the package you choose, you will have access to the largest audience of boat buyers in all of the US.
Some upgraded listings will take up more ad space so make sure you pick the advertisements and photos that catch the most attention
2. Create a Listing
Build a listing description by being as elaborate and specific about the boat as possible. Add details such as the boat's manufacturer specs (builder specifications), exact measurements, engine hours, onboard equipment, tank capacity, outfittings, options/accessories, model numbers, and brand name.
Attach high-quality photos taken with a camera (or good phone camera) and a video of your boat in good lighting and from various angles, so buyers have no confusion.
Prepare videos of the boat both in and out of the water. Those help sell faster! and make sure to pick the right categories that match your boat or PWC.
3. Checkout
Once you have determined the price and added all the relevant information, photos, and videos, you can publish the listing and get ready to sell your boat.
Best Marketing Tips to Sell your Boat Fast on Boat Trader
Advertise your boat in as many places as you can. Boat Trader allows you to list your boat on multiple places by exporting your listing to boats.com with an easy add-on during checkout.
Use Boat Trader's Price Checker Tool to determine your boat's resale value. If you want to sell your boat fast, consider keeping the price below the market value.
Include a boat-alert.com history report with your BoatTrader listing to show the HIN is valid and the vessel has no suspicious background. This shows collision data if there is any.
Be as descriptive and transparent as you can about the vessel's details. Include information such as the type of boat, measurements, age, materials used, current condition, and reason for selling.
If there's any damage, don't conceal it. Hiding your boat's imperfections will create issues for you down the line.
For buyers' satisfaction and peace of mind, you can also mention whether the boat is registered and titled or only registered.
Prepare your boat title paperwork and have all the documents needed for selling your boat and any lien/loan information you might have.
Effectively communicate with the buyers and convey your boat's unique selling point smartly.
Double-check your listing from another computer and phone to ensure it looks good.
Have an agreement or bill of sale ready to use.
You may get contacted by dealers and boat brokers interested in your boat listings looking to help you sell your vessel on consignment or giving cash offers.
Reply to any inquiries very quickly and gauge the buyer's seriousness.
How much does it cost? Is it free to sell a boat on boatTrader.com?
The cost of selling your boat on Boat Trader will depend on which package you choose.
The Basic Package starts at $69 for 2 weeks.
The Enhanced Package costs $159 for 6 weeks.
The Premium Package costs $229 and has the most additional features and add-ons.
| | |
| --- | --- |
| Package | Price |
| Basic | $69 for 2 weeks |
| Enhanced | $159 for 6 weeks |
| Premium | $229 |
Table: ad listing prices on BoatTrader
BoatTrader doesn't charge any seller's fee or commission once you have sold the boat. You only pay a one-time listing fee.
Can I get scammed when selling a vessel on BoatTrader.com?
No online marketplace is free from scams, and Boat Trader is no different. When selling your boat online, it is important to be aware of any ongoing scams and tread carefully throughout the process.
In general, you should be aware of Boat Trader's safety guidelines
Follow the preventive tips below:
Avoid buyers who seem to be in haste to finalize the deal. Look out for signs such as their lack of interest in bargaining a price, examining vessel documents, or doing a thorough inspection.
Do not fall for an offer where the buyer requests to send a cashier's check for more than the purchase price and asks you to send the difference back to pay for shipping. This tactic fosters the seller's confidence and tricks you into paying them for shipping. Such scammers have no intention of buying the boat; they only want you to transfer money to their accounts in the name of shipping.
If you are accepting a check, wait until it clears. Always go with bank-to-bank or wire transfers, and avoid cash payments.
Do not entertain buyers who rarely communicate through the phone and only use emails, specifically those with foreign domains. Nowadays, fraudsters use burner phones to send texts and make phone calls, so you must be careful even when communicating.
Taxes may apply even when it is a private sale
When selling a boat privately through Boat Trader, ensure you know your state's tax requirements. If you profit from the boat sale, the surplus amount may be subjected to 'capital gains tax.' Contact your state's boat registration department or a tax specialist for more information.
Pros and Cons of selling a boat privately on BoatTrader
No seller's fee or commission – you only pay a one-time listing fee
Since Boat Trader is the largest online platform for buying and selling boats, it gives you access to the largest target audience nationally and internationally.
Quick and hassle-free process. You can list your boat on Boat Trader in less than 3 minutes without the need for any broker or dealer.
It is less expensive than selling through a broker or dealer who usually charges a commission and other fees.
Quick results. Around 80% of boats advertised on Boat Trader for sale are usually sold within 12 weeks. The exact time needed to sell a used boat will be unique to your boat and circumstances.
There may be more competition than other platforms like facebook, craigslist, or ebay.
While there are numerous advantages of selling your boat on Boat Trader, there are a few drawbacks that you need to be aware of.
The Basic Package is only 2 weeks, which may not be sufficient to attract the right audience, especially if your description and photos aren't that impressive.
The initial listing fee is costly, especially if you compare it to other platforms like Facebook Marketplace, Craigslist, and eBay, which don't have a listing fee. You will lose money if you fail to sell the boat within time.
Alternatives to BoatTrader to advertise your boat
Listed below are some alternative marketplaces to BoatTrader you can consider reading more about in our blog:
Conclusion
In this article, we talk about how to sell your boat on BoatTrader.com. We also discuss how sellers like you can sell your boat fast if you pick the right season and offer suggestions on protecting yourself from getting scammed online. Remember that BoatTrader.com is part of BoatsGroup that owns yachtworld and boats.com among other sites.
A good way to do so is to add a boat history by hull identification number report from Boat-Alert.com which will boost the buyer's confidence and increase the likelihood of you making the sale.
#SellonBoatTrader #SellingBoatonBoatTrader #BoatTrader #sell #boat #FSBO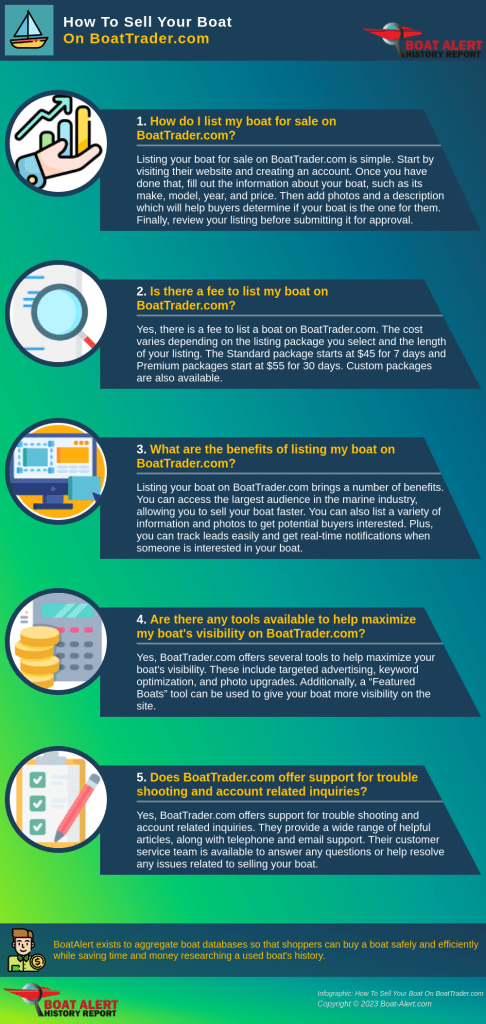 Read Related Articles:
Categories:
To learn more about Boat-Alert.com History Reports for used boats and free boat history check website visit: www.Boat-Alert.com
About Boat-Alert.com®
Boat Alert History Reports© exists to aggregate boat databases so that shoppers can search and buy a used boat safely while saving time and money researching a used boat's history. We began in 2015 and constantly adding more boat vin data for USA and Canada to ensure that your boat has a clean history. We are happy to offer a 60-day money back guarantee and proud to have served more than 15,000 customers with their boat HIN Search History needs. boat hull number check ©. Two percent of all proceeds go to charity. We value fair treatment of employees, customer satisfaction, having the most databases possible, and fast customer service at the core of our brand. View our
LinkTree
.