Boat Buyer's Guide to Brokers And Dealers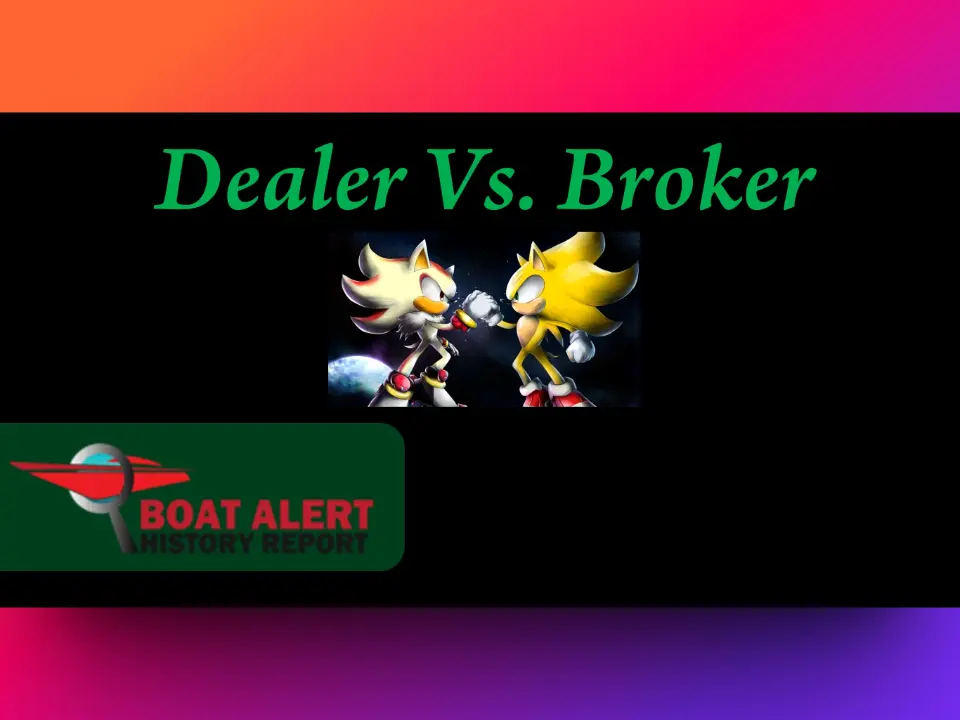 From independent brokers to dealerships, there are lots of options available for finding the right boat. If you already decided not to buy a boat privately (FSBO Boats), then it can still be quite a stressful to decide to go with brokers or dealers.
In this article, we have compiled a boat buyer's guide to brokers and dealers so you can move forward with the best shopping path while knowing the caveats of each. With years of experience in the marine industry, we can make your boat-buying journey seamless and your purchase worthwhile.
Thinking of Buying a Boat? Consider your Options
Fortunately, there is more than one way to buy a boat. New boats are sold through a dealership that represents a particular manufacturer and can offer more customization. Used boats are generally purchased from a broker, a dealer who takes trade-ins and is now reselling them, or a private seller.
If you have narrowed your purchasing choices to a broker for used boats or a dealer for new boats, you need to know the basics of each option, their advantages, the costs involved, and the general process.
1. Boat Brokers
What is a Boat Broker?
A boat broker is a specialist who brings sellers and buyers together and helps negotiate transactions on behalf of others. Brokers can help you choose the right boat that fits within your budget and further help you secure the best deal. The seller pays these experts an agreed commission to market the boat for sale, answer buyers' questions, handle bargaining, attend the inspection and sea trial, and finally, if successful, take care of the delivery process.
Why Use a Boat Broker?
There are many reasons to work with a boat broker. First and foremost, boat brokers advertise their inventory on different platforms so you can research and find the exact model you are looking for rather than browsing through ad classifieds. Since the listings are posted nationally, you can access a wider range of options.
Brokers have strong connections in the boating industry, which means they can link you with marine lenders for financing used boats that may otherwise be difficult to find. They can also negotiate the price if you are uncomfortable haggling yourself.
Another advantage of buying a boat through a broker is that you can ask for suggestions, recommendations, and useful advice. Since brokers know different boat models and manufacturers, they can effectively guide you regarding the best option for your needs and budget. They may even suggest comparable models if you cannot find the one you want.
Lastly, boat brokers can safely and conveniently arrange a boat inspection and sea trial and handle the transaction paperwork to minimize the possibility of fraud.
Cost of Hiring a Boat Broker | Typical yacht broker commission
A broker generally charges a fee based on the boat's final sale value. The standard is 10%, but the buyer doesn't bear the cost; the seller pays it. consider them as a paid adviser that knows the industry well but then you lose out on some dealer benefits.
How do I choose a boat broker?
A good broker can continue to assist you even after the purchase has been finalized. They will be present during the marine survey and help find the right boat repair and service experts when the time comes. For this reason, it is important to do your homework and choose a specialist you can contact even in the long run. Listed below are the main things you should look for in a boat broker:
Certification: Choose a broker who is certified. A broker license ensures the person is qualified and trained to do the job well.
Experience: Opt for a broker with the most industry experience, as they can help make the process as seamless and quick as possible.
Job history: When choosing your broker, go through their past dealings and brokerage history. This will give you a detailed insight into how well they do their job and customer satisfaction rate.
Reputation: You should always research how the broker is perceived in the market. Scan their website, look for their ratings and reviews online, and ask people on different boating platforms for their experience with the said broker. Dealing with a reputable broker will ensure that you are in good hands and won't have to worry about anything later.
Listings: When searching for a broker, check out their boat listings. Choose a broker with various listings covering different models, brands, and well-known manufacturers.
Extras: Take note of the broker's extra or unique services. This could include a photo/video gallery, international contacts, and advertising platforms.
Personality: Remember that you will deal with a broker daily until you find the boat of your liking. So ensure they are friendly, responsive, and willing to help you. A broker who is rude or uninterested will make you miserable, so pick accordingly.
2. Boat Dealers
What is a Boat Dealer?
A boat dealer is an expert who specializes in selling specific boat brands. They are an ideal option if you are searching for a particular boat model from a manufacturer. Boat dealers essentially liaise between the buyer and the manufacturer and have ample knowledge of their brands. Moreover, they possess a comprehensive understanding of the boating industry, boating business concepts, and the laws governing the use and ownership of boats.
Why Use a Boat Dealer?
Boat dealers are highly knowledgeable about the brands they carry and service, effectively answering your questions. By acting as a liaison between you and the manufacturer, they can help you take care of your upgrade, replacement, or repair needs that fall within or outside the warranty.
Boat dealers that are Marine Industry Certified are required to meet high customer service standards and are expected to abide by the Marine Industry Consumer Bill of Rights. This gives buyers recourse in case something goes wrong.
A boat dealership can also offer you to a boat on consignment. This is similar to a broker but a slightly different model. They can help you with the boat financing too and do the rest of the boat purchase paperwork for you.
Cost of Hiring a Boat Dealer
Dealers have a profit margin on the boats they sell. You can try negotiating a better price but don't push it too hard, or the dealer will be apprehensive about accommodating you for service-related issues.
Tips for buying a boat through a dealer
Choosing the right boat dealer requires some effort but is certainly worthwhile. For a detailed guide on how to find the right boat dealer, check out our blog here. It is important to build a relationship with the salesperson as it can pay off when it is time to sell or upgrade your vessel.
If you are not in a hurry, buy the boat during the off-season. September to February is a good time to benefit from lower prices, especially if you live in colder areas where dealer stocks are sitting.
Choose a dealer close to your boating areas for easier access to their services.
Be prepared. Do your research online regarding the type of boat you want, what brand/size of the engine, which equipment or accessories you need, and your budget.
3. Buying a Boat Privately – What are the Pros and Cons?
Buying a boat privately means getting it on an "as seen" basis. You can buy from a private seller online, through a magazine ad, or based on a referral. The bottom line is that there is generally no recourse if something goes wrong after the sale (unless the seller offers a warranty). Before buying from a private seller, make sure to follow the tips below:
Check the boat in person rather than believing everything you're being told. In seeing the boat, you give it a thorough inspection and observe the seller and their intentions.
Besides inspecting the boat for obvious issues related to its exterior, you should also do a sea trial. This will give you an insight into the engine's health and help you check if all the systems are working properly.
Check titles and liens. Go through the vessel's paperwork thoroughly, paying special attention to registration details and titling (if required by the state). You should also perform a HIN lookup online using Boat-Alert.com and use the website to order a boat history report containing essential information such as the boat's name, value, any liens, pollution incidents, factory recalls, theft, auction data, and accidents.
Pros and Cons of dealers vs brokers
Buying a boat privately may allow you to negotiate a lower purchase price with the seller. You will also have access to a range of sellers selling second-hand boats, which is ideal if you are a novice boater or want a more affordable option. However, buying a boat privately involves much more work, and there is a higher probability of getting scammed than buying through a broker or dealer.
Here is a table of the pros and cons of using a boat broker vs a boat dealer when shopping for used boat:
Boat Broker:
| Pros | Cons |
| --- | --- |
| 1. Expertise and Knowledge: Boat brokers are often experienced professionals with in-depth knowledge about different types of boats, market trends, and pricing. | 1. Additional Cost: Brokers typically charge a commission or fee for their services, which can increase the overall cost of purchasing a boat. |
| 2. Wide Selection: Brokers have access to a network of sellers and can provide a broader range of boat options, potentially increasing the likelihood of finding the right boat for your needs. | 2. Limited Control: Since brokers act as intermediaries, you may have less direct control over the negotiation process and the boat purchasing transaction. |
| 3. Negotiation Assistance: Brokers can help negotiate the price, terms, and conditions on your behalf, leveraging their expertise and industry connections. | 3. Time and Communication: Communication between the buyer, broker, and seller can sometimes slow down the decision-making process, leading to potential delays. |
| 4. Inspection and Documentation: Brokers can arrange boat inspections, handle paperwork, and ensure all necessary documents are in order, facilitating a smoother buying experience. | 4. Potential Bias: Some boat brokers may have preferred listings or connections with certain sellers, which could affect their recommendations or advice. |
| 5. Professional Guidance: Brokers can provide guidance throughout the buying process, including assisting with financing options, insurance, and boat registration. They might know some good surveyors. | 5. Limited Warranty: Unlike boat dealers, brokers may not offer warranties or after-sales support, which means you may have to rely on the seller's representations or negotiate warranties separately. |
Boat Dealer:
| Pros | Cons |
| --- | --- |
| 1. One-Stop Shop: Boat dealers often offer a wide selection of used boats on their premises, allowing you to browse different options conveniently. | 1. Limited Selection: Dealerships may have a more restricted inventory compared to boat brokers, limiting your choices. |
| 2. Established Reputation: Dealerships build their reputation based on customer satisfaction and often provide after-sales support, warranty options, and service facilities. | 2. Potentially Higher Prices: Dealerships may set higher prices compared to private sellers or brokers due to factors such as overhead costs and dealership markups. |
| 3. Financing and Trade-ins: Dealerships can provide financing options and may accept trade-ins, simplifying the purchasing process. | 3. Sales Pressure: Some boat dealers may employ aggressive sales tactics, putting pressure on buyers to make a quick decision. |
| 4. On-Site Inspections: Dealerships usually have mechanics and experts who can perform inspections and provide detailed information about the boats they sell. | 4. Limited Expertise: While dealerships have knowledge about the boats they sell, they may not possess the same level of specialized expertise as boat brokers. |
| 5. Warranty and After-Sales Support: Dealerships often offer warranties for used boats, along with post-purchase support, ensuring you have recourse if issues arise. | 5. Potential Bias: Dealerships may prioritize their own inventory or certain brands, which could influence the recommendations they provide. |
It's important to note that individual brokers and dealerships can vary in terms of their services, reputation, and customer experiences. It's recommended to research and evaluate specific brokers or dealerships based on their customer reviews, industry standing, and personal recommendations before making a decision.
Which Option is best for you?
As a buyer, you have multiple ways to acquire your dream boat. The option you choose will depend on a range of factors. For example, a dealership is perhaps the best option if you want a new boat.
On the other hand, if you want a used boat but don't want to put in the work, then a broker may be the way to go. Lastly, if you want full control of the buying process and simultaneously a lower purchase price, then buying privately is recommended.
There is always a tradeoff but if you choose neither, then you can buy privately using classified online marketplaces. Just be careful about valuation.
Conclusion
In this article, we discussed the different options available to buyers when buying a boat. We talked about boat dealers, boat brokers, along with their benefits, costs, and how they work.
In all cases, if there is a used boat, ask for the Boat-Alert history Report.
#BoatBrokers #BoatDealers #PrivateBoatSellers #dealer #broker#boat #yacht
Read Related Articles: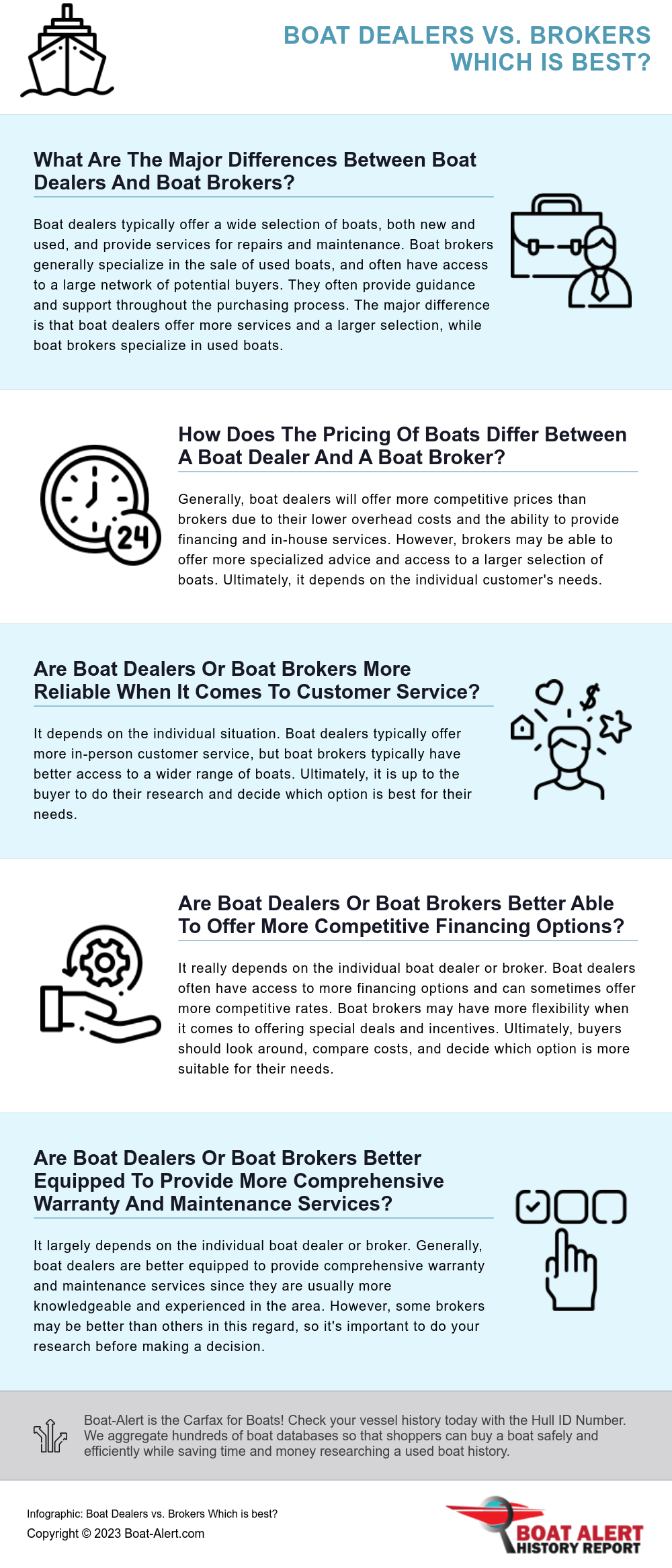 Categories:
To learn more about Boat-Alert.com History Reports for used boats and find a boat registration search service visit: www.Boat-Alert.com
About Boat-Alert.com®
Boat Alert History Reports© exists to aggregate boat databases so that shoppers can search and buy a used boat safely while saving time and money researching a used boat's history. We began in 2015 and constantly adding more nada guides data for USA and Canada to ensure that your boat has a clean history. We are happy to offer a 60-day money back guarantee and proud to have served more than 15,000 customers with their boat HIN Search History needs. hin numbers ©. Two percent of all proceeds go to charity. We value fair treatment of employees, customer satisfaction, having the most databases possible, and fast customer service at the core of our brand. View our
LinkTree
.