Selling Your Boat on Consignment [EXPLAINED]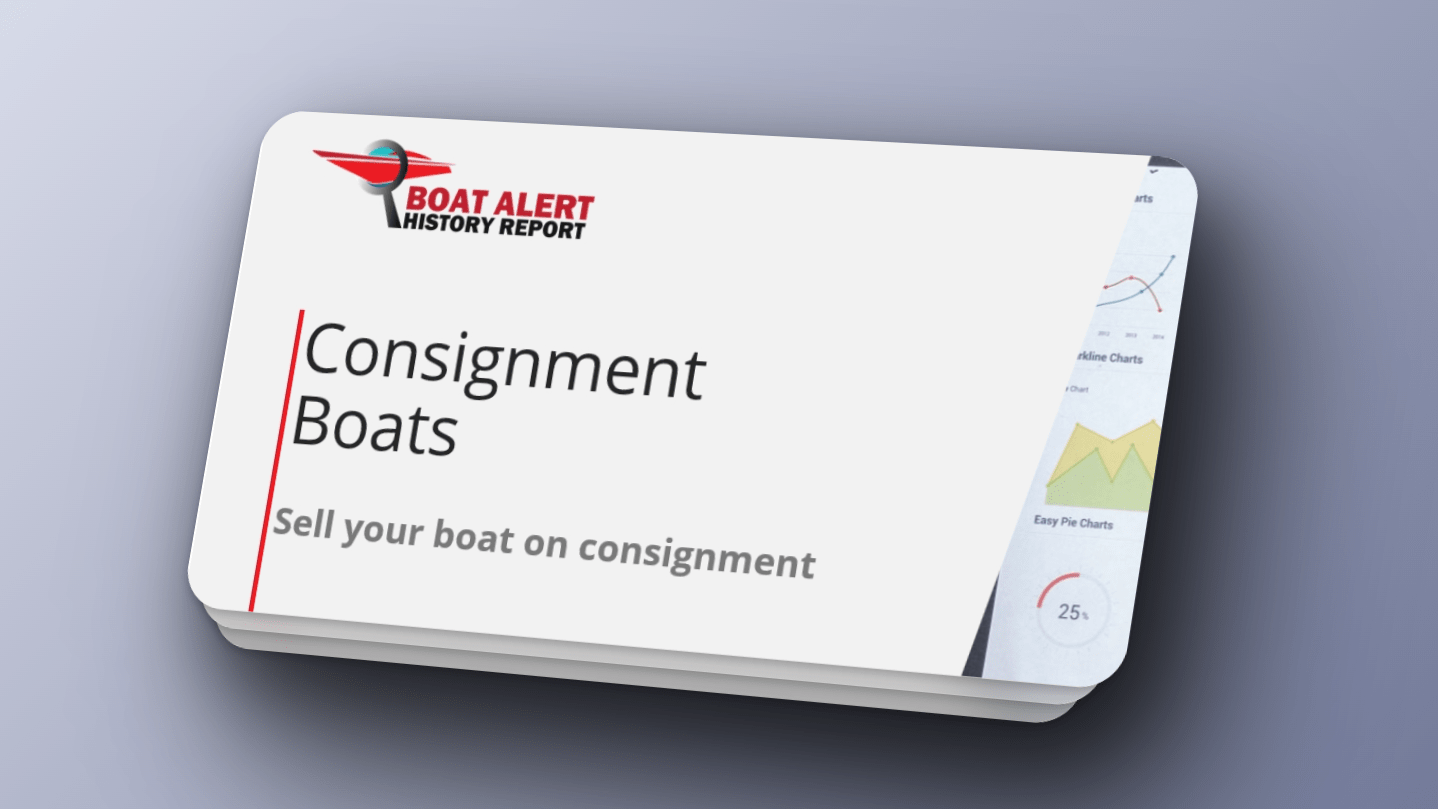 Consigning your boat is one of the easiest ways to sell it since it takes a huge chunk of responsibilities off your shoulders. While the dealer does most of the work, you will still be involved throughout the sales process but it's important to know the finer details before signing any agreement!
In this article, we talk about what is a consignment boat, how much it costs to sell a boat on consignment, and other important information. We help you understand all necessary steps when selling a boat on consignment to get the best value and experience a hassle-free process.
What is a Consignment Boat?
A consignment is not a sale. It is when you hand over the vessel to an organization or individual (a consignee) for it to be sold. However, you can retain its legal ownership during the sale process until the deal has been finalized.
The dealer will list and sell the boat on your behalf in exchange for a service fee. Selling a boat on a consignment is similar to selling a house with a realtor. The dealer will show the boat to potential buyers, handle transactions, and transfer the title to the new owner once the sale is complete. The dealer may also run a Boat-Alert history Report.
Is a consignment dealer like a boat broker?
A consignment dealer is similar to a boat broker since they both act as representatives for the sale or purchase of a boat. Boat consignment dealers aim to make the process of boat selling as profitable, frictionless, and convenient as possible..
Well, aren't all brokerages a form of consignment sale? Dealers have boats on location while brokers do not have a dealership or showroom. Also Dealers will sell their own boats (and fix boats) while brokers are purely selling boats on commission just like a real estate agent does for houses. Dealers can also have their own franchise from a specific boat brand and you often see them at boat shows. There are brokerages that only sell used boats on consignment.
Another important distinction is that Consignment would mean selling for an agreed upon price as opposed to a set percentage of commission.
Before you can contact a consignee, you will have to ensure that the boat is in a clean and functional condition and ready to sell.
After that, the dealership will assess the boat's components and give you an estimated selling price depending on the boat's condition, age, and model. Once you agree, the consignee will market the boat, handle offers, and schedule meetings with the buyers.
Why Sell your Boat on Consignment?
A boat consignment company has access to a strong network of buyers and industry experts, which ensures maximum visibility for your boat. These businesses also use state-of-the-art technology and tools to appraise the market value, offer objective and neutral advice, advertise the boat, and finalize the sale process. They might have a good location to advertise the vessel near a highway etc.
Selling a boat is difficult and time-consuming, especially if you are a first-time seller. If you want to sell your boat without worrying about how to do it, you should consider doing it through a consignment company. Trading in your boat is another option. The MRAA has a great resource on this topic here.
Advantages of selling your boat on consignment
There are many advantages of selling your boat on consignment over selling it privately.
A consignment dealer can normally

sell the boat quicker

due to years of experience, a strong network, and the right tools.
Consigning saves time and money spent on marketing the boat and going back and forth with potential buyers. These companies have sufficient tools and manpower to answer multiple callers and choose the best one to finalize the sale.
A dealer can arrange financing to help the buyer purchase the boat more easily and conveniently. This increases the probability of a sale significantly.
A dealer can agree to work with you even if the condition of your boat is not excellent, which can significantly increase your chances of selling the boat.
A dealer can give you objective advice on who to sell, how much to charge, and when to sell. This will help you avoid problems and make the process smoother and quicker.
Guaranteed that you will get paid and avoid scams against boat sellers.
How does boat consignment work?
When you decide to consign a boat, you retain its legal ownership but hire a third party to help with the logistics. The dealer assumes responsibility for listing, marketing, and selling the boat on your behalf. Here are some of the responsibilities that a consignee will undertake when selling your boat:
Taking high-quality pictures
Assessing the market value of the boat by doing a thorough inspection and appraisal
Creating a listing after doing thorough market research
Posting the listing on different platforms and/or their website
Communicating with potential buyers, answering their questions, and arranging meetings with them
Finalizing the sale and taking care of all the relevant paperwork
How is consignment pricing calculated?
Until the boat is sold, you are not required to pay anything. However, this can vary depending on the consignee you choose. Some consignment dealers may charge a small fee at the start, so make sure you do your research beforehand.
Once the sale is complete, the consignee will take a set commission percentage ranging from 10% to 60% as part of the consignment fee. The exact percentage will be different depending on the company and the type of boat you are selling. Consignment arrangements generally are in effect for a pre-established period. The boat will be returned to the owner if the sale is not made in that set period.
How Much Does it Cost to Sell a Boat on Consignment?
The exact cost of selling a boat on consignment will vary depending on the consignment company. Besides paying a set percentage of commission (normally 10%) on the final sale value, you may also be required to pay the price for getting your boat's appraisal and marketing. Before you choose a consignee, make sure to discuss their pricing policy in advance and opt for one that doesn't have any hidden charges/fees.
What will the dealer require from me to sell my boat?
If you want to Consign Your Boat, a dealer will require that you provide the following documents before you can sign a boat sale consignment agreement:
Valid title of ownership
Warranty documentation
Current outboard registration
Price confirmation
Maintenance records
Proof of loan repayment
Insurance documentation
Invoice receipt
Trailer title (if applicable)
Certificate of seaworthiness
Tips to Sell your Boat on Consignment
Be completely transparent with the consignment dealer regarding your boat
Give the dealer your "reserve price".
A dealer can use a Purchase Option or Net Price, where the seller will be given a predetermined sale price, and everything received above that will be the dealer's commission. If you are not satisfied with this option, discuss it with the dealer and make arrangements beforehand.
Avoid boat consignment scams
Boat consignment exceptions and fine print to watch out for
Boat consignment has benefits, but there are some red flags to watch out for. Before finalizing your agreement with the consignee, read the document carefully and see if any hidden charges or transport costs are involved for boats without a trailer. These costs can add up to create a hefty bill if you are not careful. When confused about any clause, discuss it with the company so you can make a well-informed decision. Marketing, checkout, and inspection fees should also be discussed in advance so both parties can be on the same page.
If your desired net price or other terms are not unacceptable by the dealer, they have the option to not consign the boat at all.
Are consigned boats more expensive than private sales?
Consigned boats are not always more expensive than private sales. Although the normal consignment commission rate is 10%, the market eventually sets the price for a used boat make and model. It can be said that a motivated private seller would be willing to lower their price below market to sell faster, while a consignee will use their industry knowledge and tools to make the sale quicker.
For boat consignment sales you need to look for "boat consignment near me" on Google to find the best ones to help you sell your boat without commission. The process discussed above for selling my boat on consignment or selling my boat under consignment is the same.
What are the disadvantages of consignment?
When you hire a consignment dealer to sell your boat, you are essentially giving up control. The consignee takes charge of the process from start to finish and may utilize certain tactics you don't necessarily agree with.
The consignee may not be able to sell the boat in a manner that benefits you. For example, they might take longer to sell and give you less money in return.
Some consignment dealers may charge a high commission and boat consignment fee, making the process much more expensive.
Lack of transparency between you and the consignee can create issues down the line, which may ultimately hurt your boat's sale value.
| Pros | Cons |
| --- | --- |
| • No upfront costs: You don't have to pay anything upfront to sell your boat on consignment, which can be a great option if you're short on cash. | • Commission fees: The consignment seller will take a commission fee for selling your boat, which can range from 10-20% of the sale price. |
| • Professional expertise: Consignment sellers are often experienced in the boating industry and can help you determine a fair market price for your boat. | • No control over sale: Once you've handed over your boat to the consignment seller, you have no control over the sale process, including negotiations and pricing. |
| • Exposure to a wider audience: Consignment sellers often have an established customer base and marketing channels, which can increase the chances of selling your boat quickly. | • Limited timeline: Many consignment sellers will only keep your boat on their lot for a set amount of time, which can put pressure on you to sell quickly or retrieve your boat. |
| • Reduced hassle: Consignment sellers typically handle all aspects of the sale process, including advertising, showing the boat, and handling paperwork. | • Potential for damage: Your boat may be used for demo rides or may be stored in a high-traffic area, which can increase the risk of damage or wear and tear. |
Table: Pros and Cons of selling a boat on consignment
A boat brokerage company may also offer a boat consignment program as part of their boat consignment services. Their agents have advanced advertisement methods because consignment boat dealerships know how to move their inventory fast. They could even offer boat transport and demo rides.
Alternatives to Boat Consignment Sales
If you plan to sell your boat, you have options other than selling on consignment.
You can collaborate with a broker, who will normally have access to what boats similar to yours have sold for in the local market. They will also create a listing based on the condition of the boat and the type of potential buyers and take care of its marketing aspect. In exchange for their services, brokers charge a fixed percentage of commission.
Another option is to sell privately by researching the best boat-selling platforms and posting a listing. You can use various sites like Craigslist, eBay, Kijiji, and BoatTrader. Selling privately means you will have to take care of everything, from posting photos to contacting buyers and finalizing the paperwork. Be sure to get your boat appraised, so you know what price to charge.
Conclusion
The bottom line is if you choose as a set amount, consignment fees, or a flat rate listing fee, it can change how the contract is structured. The sales staff can explain the sales terms and conditions.
In this article, we talked about the process of selling your boat on consignment. We also discussed the advantages of a consignment boat, its cost, and potential drawbacks. Before you pick a consignment company, research its terms and policies thoroughly, so you don't face problems later on.
#BoatConsignment #Consignment #Boat #Sell
Read Related Articles: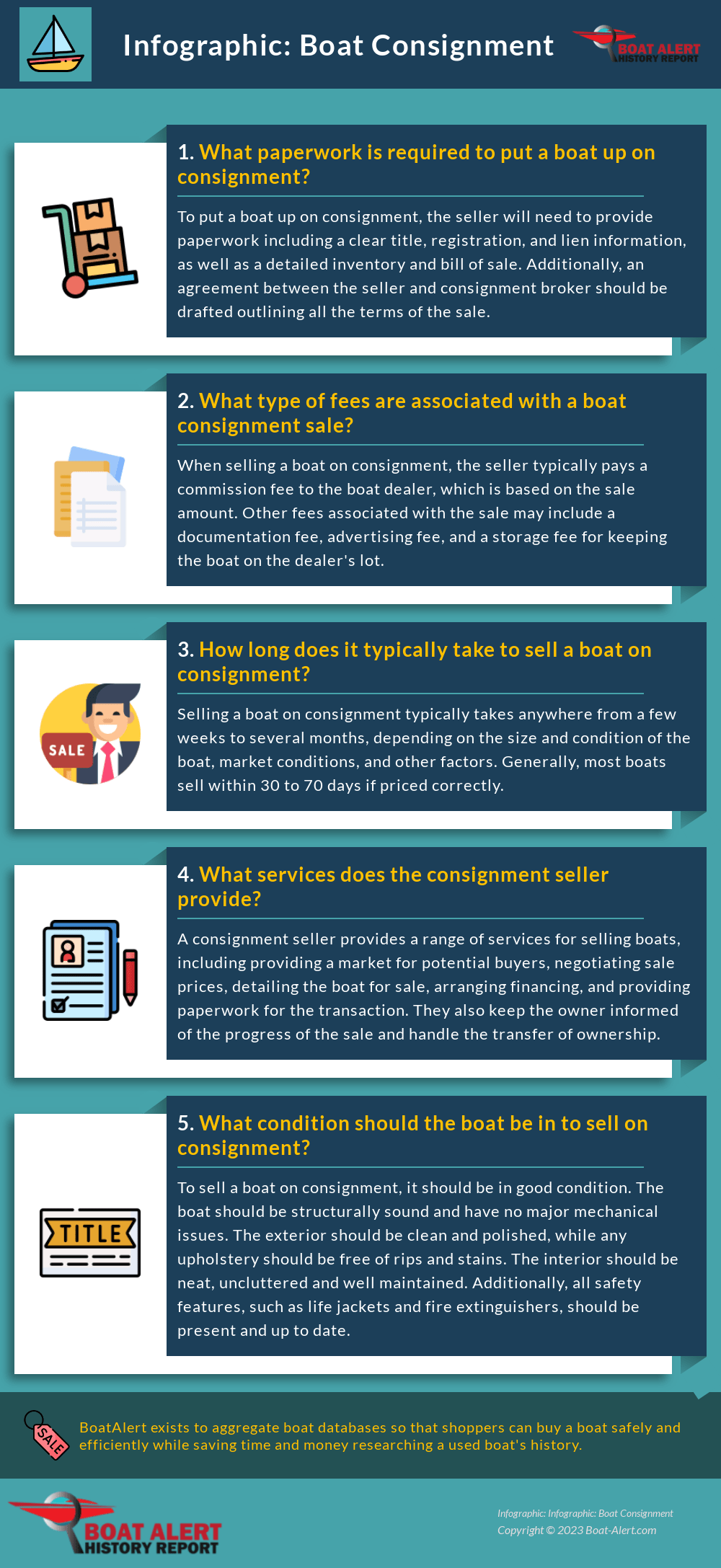 Categories:
To learn more about Boat-Alert.com History Reports for used boats and hin check visit: www.Boat-Alert.com
About Boat-Alert.com®
Boat Alert History Reports© exists to aggregate boat databases so that shoppers can search and buy a used boat safely while saving time and money researching a used boat's history. We began in 2015 and constantly adding more boat title problems check data for USA and Canada to ensure that your boat has a clean history. We are happy to offer a 60-day money back guarantee and proud to have served more than 15,000 customers with their boat HIN Search History needs. boat accident report ©. Two percent of all proceeds go to charity. We value fair treatment of employees, customer satisfaction, having the most databases possible, and fast customer service at the core of our brand. View our
LinkTree
.