Join the Boat-Alert Affiliate Program on Clickbank
Benefits
| | |
| --- | --- |
| Cookie days | 60 days |
| Commission type | Percent Of Sale |
| Commission amount | 60.00% |
| Additional terms | You will get 60% commission on total referral sales when a customer makes a purchase through your affiliate link. |
| | |
We welcome online marketers interested in earning commission on referred sales and those interested to sell reports on their own sites.
60% commissions are paid instantly for boat history reports priced at $20.00!!
Help boat shoppers get a boat title history report for their Watercraft, Vessel, Or Boatfax Before they Buy A Used Boat To Avoid Hidden Problems.
To promote the HIN history reports, use this HOP link and replace zzzzz with you Clickbank ID:

https://hop.clickbank.net/?affiliate=zzzzz&vendor=hindecoder
To test your hop link, you can clear all your cookies first. Then click on your hop link and enter any Hull ID like "test123" to be able to click "buy now".
At the bottom of the clickbank page, you will see your affiliate ID being tracked by clickbank.
The way it is set up is that if an affiliate makes the sale, then they get commission but if we bring the sale from our own ads then no commission is paid out. Customers that we obtain using our own marketing ads, will not go to clickbank. For advanced users, you can send us your google analytics ID for tracking if you want.
Don't have a clickbank account? Create one now. It's easy!
join CLICKBANK
Download Banner Images:

https://boat-alert.com/images/banner1.png
https://boat-alert.com/images/banner2.png
https://boat-alert.com/images/banner3.png
https://boat-alert.com/images/banner4.jpg
https://boat-alert.com/images/banner5.jpg
https://boat-alert.com/images/banner6.jpg
https://boat-alert.com/images/banner7.jpg (BEST CTR)
https://boat-alert.com/images/banner8.jpg
https://boat-alert.com/images/banner9.png
https://boat-alert.com/images/banner10.png
https://boat-alert.com/images/banner11.png
https://boat-alert.com/images/banner12.png
https://boat-alert.com/images/banner13.png (BEST CTR)
https://boat-alert.com/images/banner14.jpg (two columns)
Download Wordpress HTML code:


			
<div class="wp-block-columns is-layout-flex wp-container-7">
<div class="wp-block-column is-layout-flow" style="flex-basis:66.66%">
<h1 style="color:DeepSkyBlue">Boat-Alert.com HIN Search</h1>
<h3>A boat's history affects its value – Search the vessel's history before you dive in!</h3>
<p><i class="fa fa-check"></i> Check for accidents, auctions, theft, and registration data.</p>
<p><i class="fa fa-check"></i> Don't get stuck with someone else's problem boat</p>
<p><a class="" href="https://www.boat-alert.com">
<img decoding="async" src="https://www.boat-alert.com/img/logos/WIDELOGO_225.png" alt="Boat Alert History Title Report"></p>
</div>
<div class="wp-block-column is-layout-flow" style="flex-basis:33.33%">
<img decoding="async" class="img" src="https://www.boat-alert.com/images/report-stack.png" width=225px alt="Boat Alert History reports">			
<div  class="wp-block-button"><a style="background-color:red" class="wp-block-button__link wp-element-button" href="https://www.boat-alert.com/">Get Report</a></div>
</div>
</div>		  
			
			
Stay Updated! Enter Email and Clickbank ID: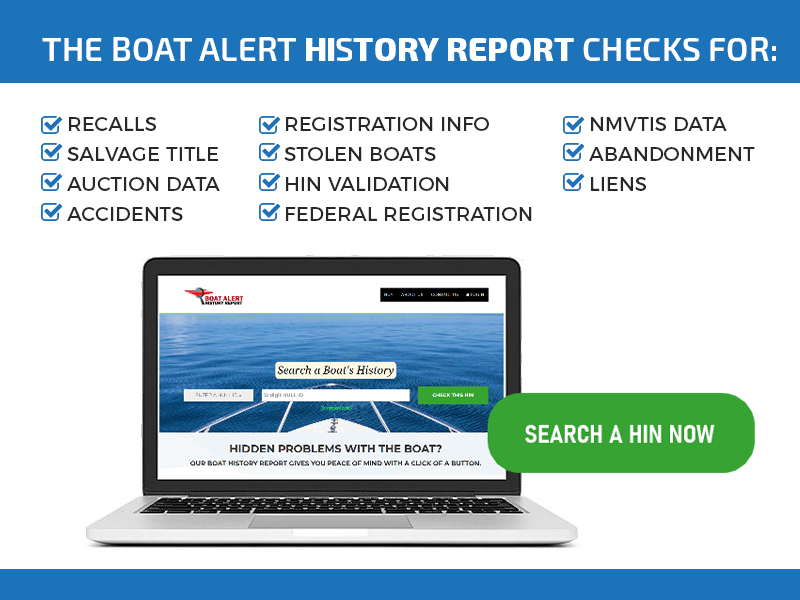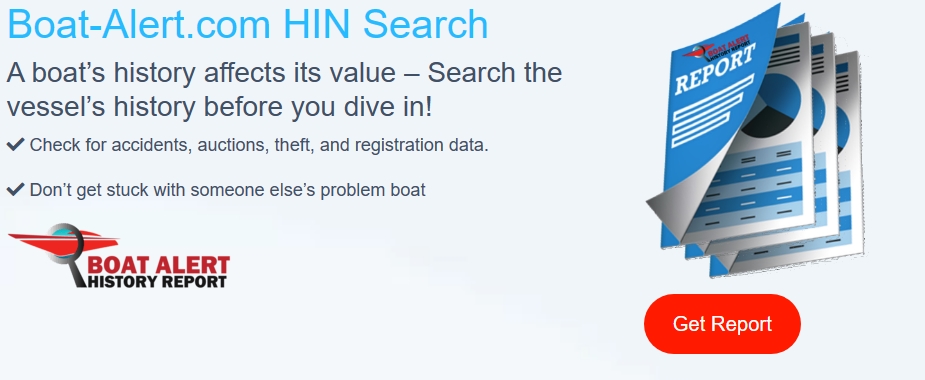 Want to promote Car history reports too? join here https://www.vinalert.com/joinjv.html