Documents Needed To Sell Your Boat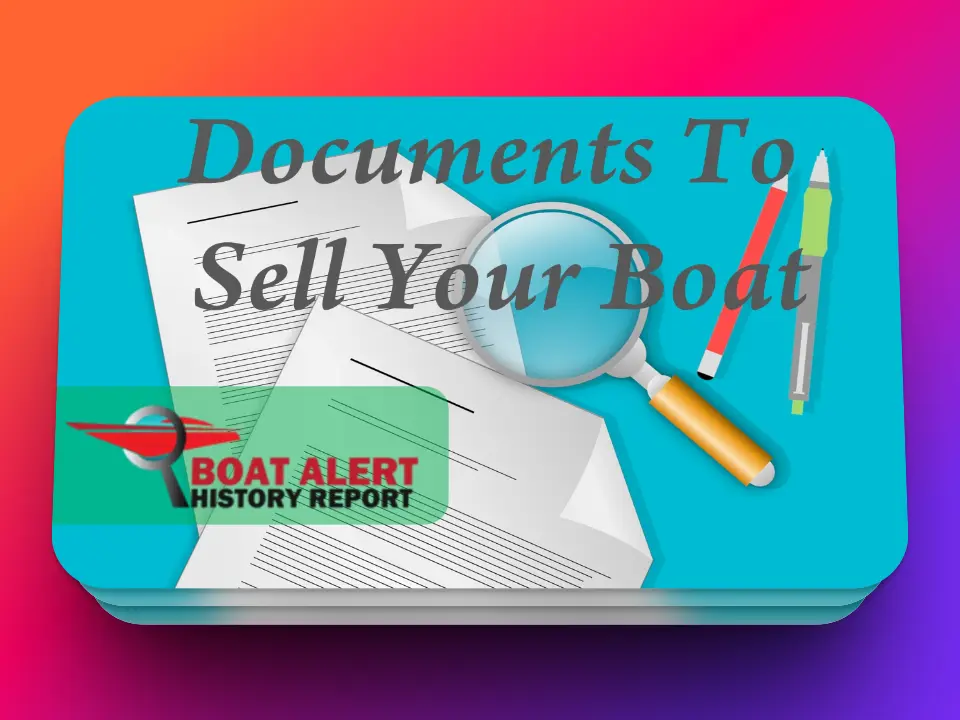 Selling a boat is an exciting and overwhelming experience since a lot goes into it. Knowing exactly what documents are needed will help you maximize your resale value and finalize a smooth transaction.
Without the relevant paperwork, potential buyers may be more apprehensive about doing business with you, which could hurt your reputation as a seller.
In this article, we discuss all the documents required to successfully sell a boat, transfer ownership efficiently, and avoid legal complications. Having been in the industry for many years, we gathered all the information in one place for you.
What to Do Before the Sale?
Are you ready to let go of your beloved boat? and you listed it for sale online with photos? Selling a boat requires a bit of paperwork and preparation. Read up on 11 common scams against boat sellers.
Whether you are an experienced boater or first-time seller, this article will help guide you through the documents needed to sell your boat. From understanding the necessary forms to filing them with the right agency, this is your ultimate guide to ensure a smooth boat-selling process.
Use your boat HID to lookup the specs and boat model.
We link to other relevant articles so you can read more about each section or procedure.
1. Prepare for Sea Trial
A sea trial is a test run that allows the buyer to analyze the boat's performance and prove its seaworthiness. As a seller, you need to ensure the boat is ready for examination by a surveyor and that there are no obvious or underlying issues that may arise during the trial.
When the boat is on the trailer, thump the sides of the boat with your fists. Your hull should ring with a solid sound and feel firm to the touch. This is especially important in the transom area, where delamination and water intrusion appear first. Check the engine, hull, and interior for any signs of damage, and give the boat a deep cleaning to leave a positive impression on the buyer.
2. Commission a Marine Survey
Commissioning a marine survey of your vessel from a reputable professional will help evaluate its condition and actual market value. It can also help eliminate the buyer's concerns and give them the confidence to invest in your boat.
The older and bigger the boat, the more useful it is to have this document handy. Be ready with your boat survey checklist.
How to Prepare for the Sale? Documents Needed to Sell a Boat
Before you start collecting all the required documents for the boat's sale, it is important to research and study the laws of the state where you live. Different states may require different vessel ownership and registration documents.
For example, in New York, you will need the boat's Certificate of Title, a bill of sale, and a New York State Department of Taxation and Finance Form DTF-802 form.
In California, you will need a boat title, trailer title, bill of sale, and other documents like maintenance records and price verification for the buyer's satisfaction.
3. Boat Bill of Sale
A bill of sale is a document that outlines the sale and purchase of a boat between two parties, legally transferring ownership. It is perhaps one of the most important documents you will need when selling your boat.
Each state may have varying requirements for a boat's bill of sale, which may differ based on weight, size, and type. Regardless of the requirements, you need a bill of sale for a hassle-free transaction. We suggest using this template made for your boat and state.
4. Boat Maintenance Records
Keeping detailed records of your annual boat maintenance is always a smart decision. That includes any general maintenance, repainting, or cleaning you may have done. All these records should be handed over to the new owner so they can know how much you've contributed to the boat's upgrades in the past.
For bigger boats (over 30 to 35 feet), it is best to collaborate with a yacht broker who can help you navigate through the boat's size and complexity.
Proof of great maintenance helps you negotiate better prices.
5. Warranty Document
A warranty on a boat serves as evidence that there are no current claims against the boat. Used boats are sold on an "as-is" basis, meaning that the buyer agrees to seal the deal based on the boat's condition on the day of the purchase. Some buyers may find this lack of security overwhelming, so you may want to consider giving them some form of warranty. Consider the terms you are willing to offer, such as the boat's return policy.
6. Insurance documents
Know your policy number so you can cancel it on the day of the sale.
7. Boat Title or Proof of Ownership
A boat title is the most important document you will need during a sale since it offers proof of ownership and ensures the boat is legally acquired. Most US states require a boat title, although some may accept a different kind of ownership proof.
Even if your state doesn't require a boat title, it is highly recommended that you get one since it makes things a lot easier for the buyer.
8. Boat History Search Report (Boat Alert)
A boat history HIN report is an important document that helps increase the buyer's faith and confidence when selling a boat.
It is a detailed and organized way of presenting the results of different vessel background checks, such as HIN, boat recalls, accidents, environmental liens, and auctioned and stolen boat checks.
Searching over 90 boat databases, a boat history report from Boat-Alert.com can be valuable in assuring the buyer that the boat has a spotless past and no ownership-related issues. Declare any boating accident upfront to avoid liability.
Boat-Alert.com HIN Search
A boat's history affects its value – Search the vessel's history before you dive in!
Check for accidents, auctions, theft, and registration data.
Don't get stuck with someone else's problem boat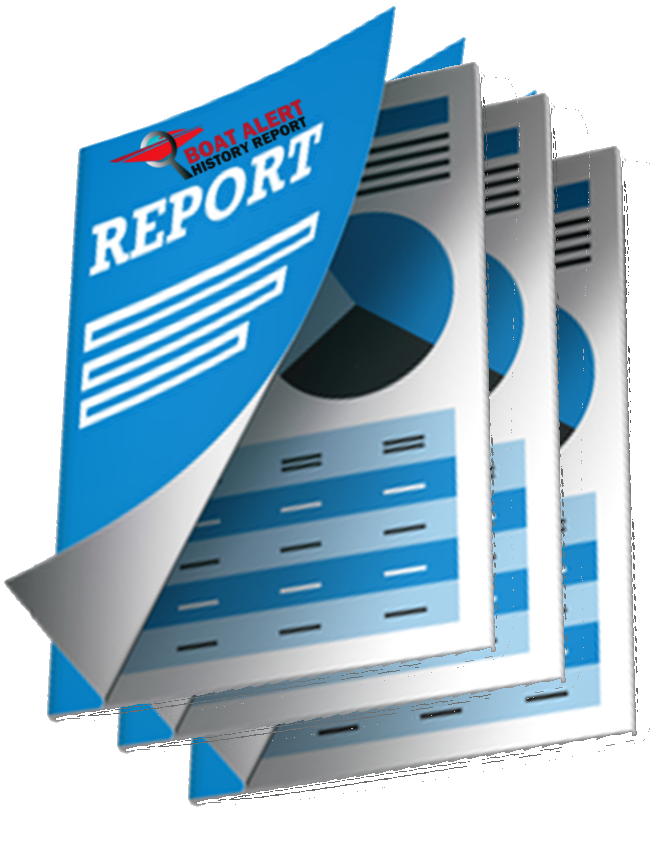 9. Trailer Title (if applicable)
Similar to boats, boat trailers require titling since the two can be separated. However, not all states require it. In states where getting a boat trailer title is optional, you can get it voluntarily.
10. Proof of Loan Repayment
You can sell a boat with a loan as long as the buyer and the lien holder agree. In such a case, you will be required to show the buyer a detailed plan and ensure that any lien claims are released before they assume the vessel's ownership. (for bigger boat loans it will be called satisfaction of mortgage).
You may decide to pay back your loan from the sales proceeds, in which case, you may consider offering additional documents from the institution you have used to finance your vessel. If the prospective buyer is still unsatisfied, you can consider tagging them to your lender and asking them to explain the process in detail.
11. Proof of Seaworthiness
See if your yacht requires a Certificate of Seaworthiness. Based on its size, the vessel may need to have this certification before it can be sold. This is normally the case for big ships such as ocean-going vessels and freight ships.
On most small and mid-sized boats, the Hull Identification Number (HIN) plate contains the federally required details from the manufacturer that helps the government monitor boat safety requirements, recognize any issues and keep track of any recalls.
12. Invoice Receipt
After the sale has been finalized, you should provide the buyer with a receipt that includes information such as the unique invoice number, boat model, HIN, and other information. This invoice can also be used as evidence the buyer has paid for the boat and can assist in tax documentation.
13. Price Verification
If you've set a fair price for your vessel based on proper market research and opinion from experts, then you may consider printing out the evidence of the sale value before you can start the negotiation process with the buyer.
Tools like the Boat Trade Price Checker and JD Power Guides can help you check a boat's suggested list price, current average retail price, and current low retail value.
If you want to learn more about the top 10 boat resale value calculators, check out our blog article.
How to Transfer ownership of a USCG-documented vessel?
Large boats are documented on a federal level with the US Coast Guard and do not need a state title. Instead, they are required to have a US Coast Guard Certificate of Documentation (COD or CG-1270), which provides definite proof of nationality for international purposes, authorizes unrestricted trade between the states, and admits boats to certain restricted areas, like fisheries and coastwise trade.
To transfer ownership of a USCG-documented vessel, you will need the following:
Documents that are required to transfer ownership of a documented vessel include:
What to Do After the Sale?
As a boat seller, cancel your boat's insurance after selling the vessel. Some insurance companies may be able to cancel your contract on the same day as the sale. Once the transaction has been completed and the boat is no longer available for sale, remove all the ads from different platforms, websites, and social media.
Conclusion
In this article, we discussed all the required documents before finalizing a boat sale and papers needed to sell your boat online.
Before you start making preparations, carefully study the laws and requirements of your state so you can avoid legal complications later on. This article answered advance tips that go beyond just the advertisement for the vessel. A notary or attorney are recommended for boat bill of sale.
Note that selling to dealer on consignment is an alternative to sell boat privately.
Finally, you may also need to provide additional documents to satisfy the buyer, but this will largely depend on the condition of the boat and whether or not there are any unusual scenarios involved.
#BoatSaleDocuments #DocumentsforBoatSale #documents #paperwork #sell #vessel
Read Related Articles:

Categories:
To learn more about Boat-Alert.com History Reports for used boats and boat hull identification visit: www.Boat-Alert.com
About Boat-Alert.com®
Boat Alert History Reports© exists to aggregate boat databases so that shoppers can search and buy a used boat safely while saving time and money researching a used boat's history. We began in 2015 and constantly adding more boat registration number lookup data for USA and Canada to ensure that your boat has a clean history. We are happy to offer a 60-day money back guarantee and proud to have served more than 15,000 customers with their boat HIN Search History needs. boat owner history ©. Two percent of all proceeds go to charity. We value fair treatment of employees, customer satisfaction, having the most databases possible, and fast customer service at the core of our brand. View our
LinkTree
.