Jet Ski Bill Of Sale [Important Facts!]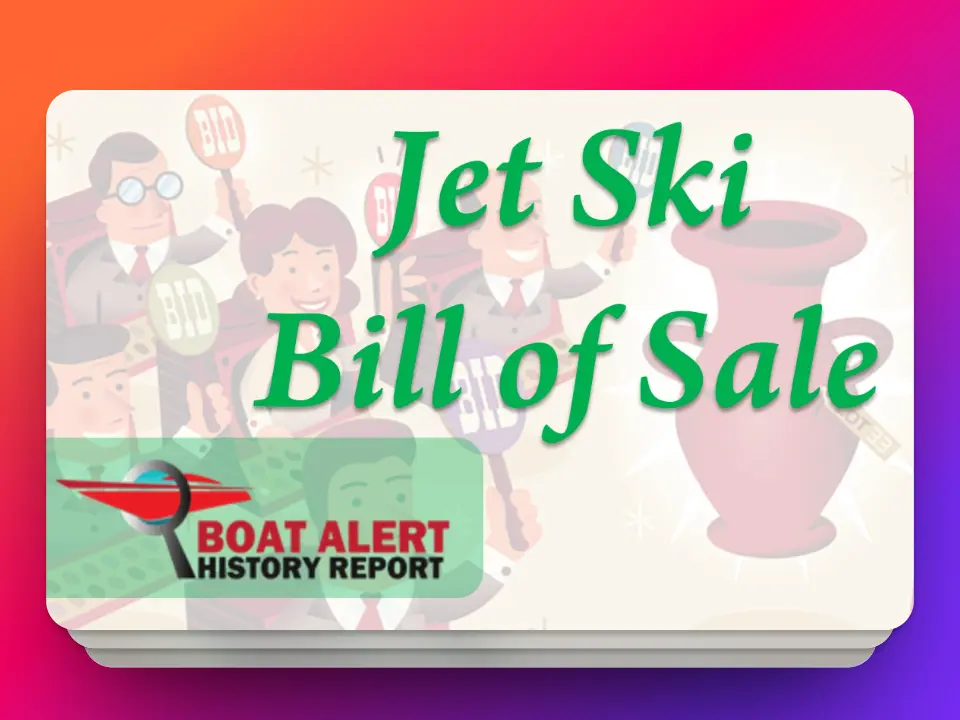 A bill of sale transfers ownership of an entity from the seller to the buyer. This article explains what a jet ski bill of sale is, which components are included, and why it's important.
if you are buying or selling a jetski, it is highly recommended to have a bill of sale to ensure a smooth and legal transaction because it protects both the buyer and the seller in case of any legal disputes or issues that may arise after the sale.
With our years of industry-related experience and expertise, we can can tell you that your DMV or DNR will ask for it to register a boat or PWC.
What is a Jet Ski Bill of Sale?
A jet ski bill of sale is a legal document that outlines the sale and purchase of a jet ski between two parties. Generally, the buyer asks for a jet ski inspection by a certified expert. On the other hand, the seller may require a deposit on the personal watercraft before the sale proceeds. The buyer acknowledges to buy the watercraft in "as-is" condition, and any defects or repairs found after the sale date will not be the seller's responsibility.
We have written about boat bill of sale here.
Why is A Jet Ski Bill Of Sale Important?
A jet ski bill of sale is important due to many reasons, including:
When Do You Need to Use a Jet Ski Bill of Sale?
You will need a jet ski bill of sale for any sale, exchange, or gift involving a jet ski. This document acts as evidence of purchase by the buyer and extends protection to the seller from any liability once the purchase has been made. It is normally used for as-is, private sales between an old and new owner.
Because no dealer is conducting the sale, it is integral to have this document as part of your record to protect yourself from any future complications. A step by step guide would be helpful but having a professionally made template would be idea.
Is buying a used jet ski a good idea?
Buying a used jet ski is a good idea, especially if you are a first-time owner or don't have the budget to finance a brand-new watercraft. A used jet ski can be reliable, easy to maintain, affordable, and still have most bells and whistles as newer models.
Although you can find an array of used jet skis on the market, not all will be worth your money. For this reason, it is important to research in the form of a comprehensive background check to know if the seller's claims are true or if there are encumbrances.
A jet ski history report can present the results of different background checks in a single and organized manner. Its structure is generally categorized according to the types of research done, such as HIN checks, boat recall checks, accident checks, environmental damage checks, auctioned PWC checks, and stolen PWC checks. These are fundamental areas related to any pre-existing problems that may impact a jet ski's overall condition, ownership status, or title liens.
Use Boat-Alert.com to do a HIN lookup before buying a used jet ski to avoid any scams and legal complications later. The tool provides you access to over 90 vessel databases, thus saving time digging up a watercraft's history.
Additionally, there are no complex steps involved – all you have to do is enter the jet ski's HIN on the web page's search tool, and you will be instantly directed to its basic registration details.
Conditions for a Jet Ski Bill of Sale
When conducting transactions for personal watercraft worth large amounts of money, it is important to ensure the jet ski bill of sale is completed thoroughly and acquired at the time of sale. Make sure to first inspect the jet ski to avoid future disputes regarding its condition.
What is included in a jet ski bill of sale application form?
This might seem like a lot but don't worry, you can get a jet ski bill of sale template here.
Should you notarize the jet ski bill of sale?
Even if you are not legally required to get a bill of sale notarized, it is a good idea to do so voluntarily for two main reasons: A notarized jet ski bill of sale will protect you from scams or fraud. It will also ensure a smoother transfer of ownership.
If you are unable to get the bill of sale notarized, you should at least get some witnesses who can later testify about the transaction.
Example jet ski bill of sale | blank jet ski bill of sale
For reference, here is a sample jet ski bill of sale.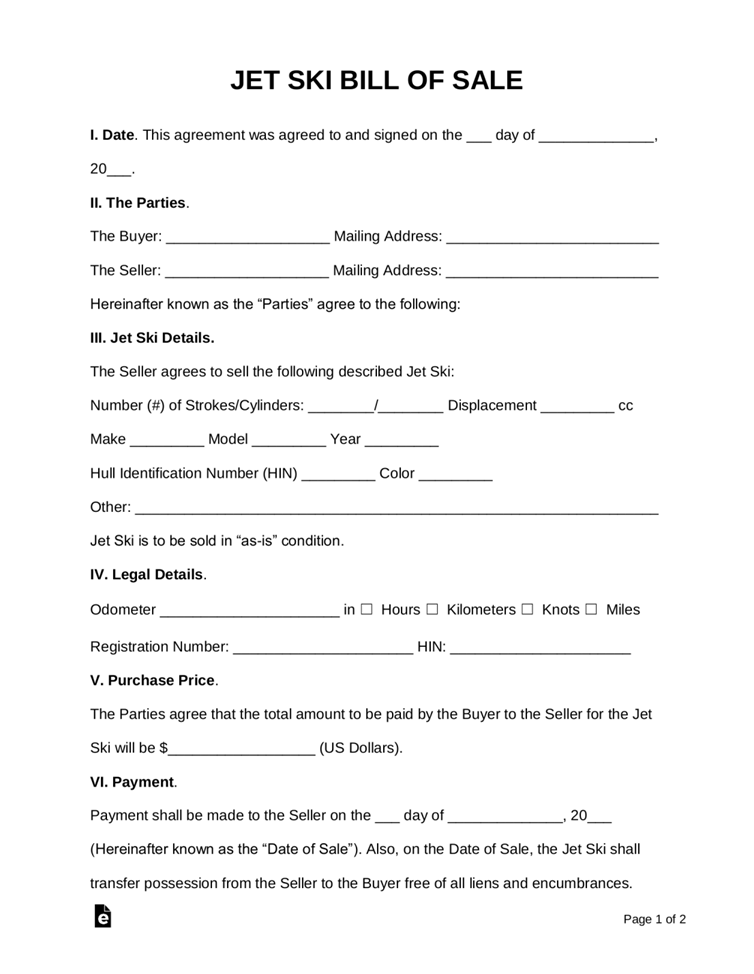 PWC bill of sale templates
Writing a jet ski bill of sale manually from scratch increases the risk of you omitting crucial information!
Let's face it; nobody wants to waste time writing a document from start to finish only to be full of errors and lacking essential information. A solution to this problem is to get an affordable jetski Bill of Sale tailor-made for your situation, country, and state.
This way, you can get a professional and custom-made PWC bill of sale in a convenient PDF form.
How to Fill Jet Ski Bill of Sale Form?
Whether you are buying or selling a jet ski, you will need to fill out a bill of sale before the transaction can be finalized. Luckily, this process is fairly easy when you know what details to fill in.
Seller information
The seller's information generally includes their name, phone number, email address, license number, and complete address (city, state, street, and zip code).
Buyer Information
The buyer's information typically includes their name, phone number, email address, license number, and complete address (city, state, street, and zip code).
Date of Sale
It is a precise date when the jet ski will be transferred to the new owner (the buyer) once the payment is complete.
Jet Ski Details
Jet ski details typically include information such as:
Purchase price
This indicates the total cost of the jet ski. You will have to fill in the blank with the selling price of the watercraft in dollars.
Security deposit payment
The buyer makes security deposits to show their commitment to the transaction. Include this security deposit payment amount in the bill of sale invoice.
Inspection period
The inspection period signifies when a certified expert will examine the jet ski's current condition and identify any underlying issues. Jot down the inspection dates in the document.
Buyer and seller's signatures
The buyer and seller must sign in the blank spaces assigned for signature to show the confirmation of their agreement regarding what is in the form.
Witnesses
Allow any appointed witnesses to attest to the bill of sale's completion by taking their written names and signatures underneath the seller and buyer's credentials.
Date of Signature
This signifies the date the seller and the buyer signed the document. Note down this date in the assigned blank spaces.
Are you planning to Sell your Jet Ski?
If you are looking to sell your jet ski, it is important that you first get it in a desirable condition by making all the necessary repairs and adjustments. You should then create a marketing strategy to advertise the watercraft, negotiate the price with potential buyers, and finalize the sale. If you are under a tight time constraint, here are our tips to help you sell your jet ski faster on online platforms & classifieds.
Finally, don't forget about getting jetski insurance and know your pricing for accurate jetski valuation. Check with you county tax office what is due on you as a seller.
Conclusion
This article focused on the definition of a bill of sale, its components, and when it is needed. We also discussed the importance of drafting a watercraft bill of sale form and provided clear instructions on filling it out but it is best to use a template!
Whether you are looking to buy or sell a personal watercraft, using a bill of sale template rather than writing it manually is important to avoid making mistakes and missing critical information.
Get an affordable PWC Bill of Sale tailor-made for your situation, country, and state to be prepared for your jet ski transaction.
#Jetski #BillOfSale #PWC #Seadoo #contract #agreement
Read Related Articles: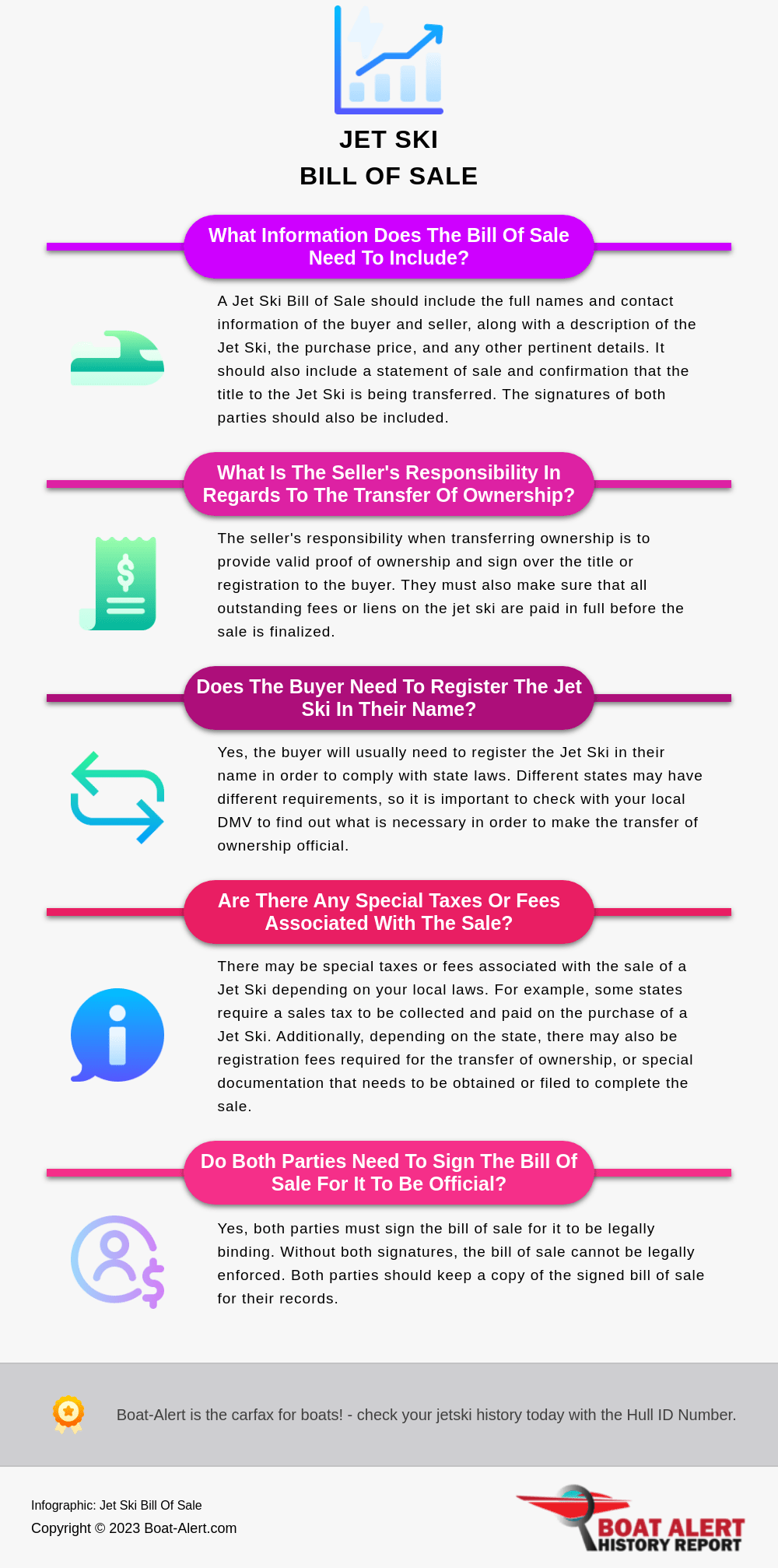 Categories:
To learn more about Boat-Alert.com History Reports for used boats and boat hin lookup visit: www.Boat-Alert.com
About Boat-Alert.com®
Boat Alert History Reports© exists to aggregate boat databases so that shoppers can search and buy a used boat safely while saving time and money researching a used boat's history. We began in 2015 and constantly adding more nada guides data for USA and Canada to ensure that your boat has a clean history. We are happy to offer a 60-day money back guarantee and proud to have served more than 15,000 customers with their boat HIN Search History needs. search boat names ©. Two percent of all proceeds go to charity. We value fair treatment of employees, customer satisfaction, having the most databases possible, and fast customer service at the core of our brand. View our
LinkTree
.