Buying a Boat from a Private Seller with a Lien
Did you know that a lien on a boat means that the title is not registered in the seller's name? The lienholder is normally a financial institution called the lender.
This article explains how to buy a boat with a lien on it. Having been in the industry for many years, we have the knowledge and expertise to guide you in the process of acquiring a vessel with a loan on it. Don't get stuck with someone else's debt!
What is a boat lien? Common Types of Boat Liens
A lien is a claim for an amount of money secured by a piece of personal property. A boat lien entitles the lender (lienholder) to seize and sell the vessel to satisfy a debt. They were created to promote trade by enabling suppliers to freely extend vessel credit but still be protected from vessel owners escaping their debts.
Types of Marine Liens:
A marine lien is a type of legal claim against a vessel or its cargo, which provides security for a debt or obligation. It is a financial product sold by a lender. There are several types of marine liens, including:
Preferred ship mortgage: This lien is recorded against a federally documented vessel and is the only type of line that must be recorded. For this reason, certain documents must be adequately filed with the National Vessel Documentation Center to be effective. (bank loan benefits)
Hidden liens: This type arises from a range of maritime contracts or torts. Examples include unpaid freight, breach of charter, claims for crew wages, and damages from personal injury, pollution, and collisions.
Necessary liens: These arise out of necessity and are determined case-by-case by the courts. Examples include dockage, repairs (mechanic lien), towage, surveyor's fees, crew provisions, and pilotage.
Maritime liens: These are liens that arise automatically by operation of law when a vessel is involved in maritime commerce. They provide security for certain types of claims, such as those related to salvage, general average, crew wages, and damage caused by the vessel.
Statutory liens: These are liens that arise from specific statutes or laws. For example, the Ship Mortgage Act provides for a lien on a vessel to secure a mortgage loan.
Contractual liens: These are liens that arise from a contractual agreement between parties. For example, a ship repair contract may provide for a lien on the vessel to secure payment for the repairs.
Possessory liens: These are liens that arise from the possession of the vessel or cargo. For example, a marina may have a possessory lien on a vessel for unpaid dock fees.
Judicial liens: These are liens that arise from a court order, typically in the context of a lawsuit. For example, a court may order a vessel to be seized and sold to satisfy a judgment against the owner.
Equitable liens: These are liens that arise from equitable principles, such as the principle of unjust enrichment. For example, if a party provides goods or services to a vessel but is not paid, they may be able to obtain an equitable lien on the vessel.
Tax liens: These are liens that arise from unpaid taxes, such as federal or state taxes on the vessel or its cargo.
Environmental liens: These are liens that arise from environmental laws and regulations, such as the Oil Pollution Act. They provide security for claims related to environmental damage caused by a vessel or its cargo.
Overall, marine liens are important legal tools that provide security for creditors and promote commerce in the maritime industry.
Things to do when buying a Boat with a Lien (loan or mortgage)
If you plan to buy a boat from a private seller with a lien, follow the steps listed below.
Do a HIN Lookup
A hull identification number (HIN) lookup is important for numerous reasons. Firstly, it provides a detailed insight into the history of a vessel and can help you dig out information related to its past involvement in any accidents, liens, theft, collisions, pollution incidents, or factory recalls. Before buying a used boat, this information is vital to avoid any transferrable liabilities and/or legal consequences.
Note that the state title (or registration number) are different from the manufacturer HIN.
What is a HIN lookup?
A HIN lookup can mean two things. The first involves verifying the HIN number on the vessel through an online tool such as hindecoder.com to ensure its validity and accuracy. The second one involves using the HIN to do a thorough background check through sites such as Boat-Alert.com.
You will also need evidence of the remaining loan or mortgage balance. Confirm that the loan balance you see matches the boat's HIN, model, make, and manufacturing year.
Special case: if the vessel is 'USCG documented', then make sure there is a satisfaction of mortgage record on the Boat Title Abstract.
Boat-Alert.com for HIN Lookup
Fetching data from over 90 boat databases, Boat-Alert allows you to instantly check all the important information about the boat you want to purchase, including its HIN and registration numbers.
You will also get access to boat names, boat values, any lien information, auction data, pollution incidents, and accidents. In many cases the lien indicator or lienholder will be shown on the title from states that provide this info.
How to buy a boat with a lien on it from a private seller?
Contact the Lender and your lawyer
Contact the lender, the bank, or your lawyer to obtain a written payoff that has a validity of 10 days. The seller may be required to give a written notice to your lawyer or bank as confirmation of the transaction. Doing so will allow you to get the exact payoff information. Your attorney, boat dealer, or boat broker should be able to guide you in more depth & compliance by contacting your county clerk or DNR agency to check for current vessel financing.
Get Insurance for the Vessel
A good tip is to ensure the vessel before proceeding with the transaction. This will help protect your investment in case of an unexpected circumstance.
Check with your boat registration agency in your state
A good place to start your lien search is the state titling office for the state where the vessel is currently registered and in the seller's home state (if they are different). If you are unsure who to contact, contact the National Association of State Boating Law Administrators (NASBLA) since they maintain a list of all boating-related departments for each state.
Inquire about the Titling and Registration listing since not all states mandate small watercraft to be titled. In such a case, you may be directed to the office of the Secretary of State for the relevant state. That's where you will find liens from the Internal Revenue Service and UCC filings (UCC records and liens).
Employ a personal property search agency to do a lien check
Since states have varying requirements for registration and titling, that could translate to a lack of consistency in documentation. Hiring a third-party agency allows you to dig deeper into otherwise inaccessible records. Many search agencies fetch data from sources like the Uniform Commercial Code to get information regarding unpaid debts. Their services could offer you a quick solution with added peace of mind.
Pay back the lender or Bank
At the time of payment, have the seller sign all the relevant documents required to transfer the boat's ownership. Pay the loan through a wire transfer, and set up the transaction with the lien-holding bank.
Acquire the Relevant Documents
Obtain the documents from the bank. If the current seller doesn't pay the bank in full, the bank will not release the lien title. The payment must be fully settled before receiving the boat title. If you have agreed to pay off the owed amount on the boat lien, you should expect the transfer of ownership to take place immediately.
Get a Notarized Bill of Sale
A bill of sale is a document that transfers ownership of an asset, such as a boat, from the seller to the buyer. Besides serving as evidence of purchase by the buyer, the document also protects the seller from any liability once the deal has been finalized. It is normally used for as-is, private sales between a current and new owner.
Since there is no involvement by the dealer in conducting the sale, it is essential to have a bill of sale as part of your record to protect yourself from future complications. Get your bill of sale notarized to avoid problems/disputes with the transaction, which can ultimately force the lender or the bank to withhold the lien.
The seller should give an affidavit that there are no undisclosed liens.
Receive the Boat Title and inspect ownership documents
While you wait for the bank to send the boat title, you should figure out a way to get the seller to sign the document. A Power of Attorney (POA) can sign the boat title on behalf of the seller, thereby eliminating the possibility of getting stuck with an unsigned title.
Procedures can differ from one state to another! Check you state law.
Boat purchase Contract Private Party
If you are having trouble understanding the ins and outs of the entire process, it is best to seek the services of a boat purchase contract private party. These companies will take care of everything from start to finish related to buying a boat with a lien on it. It is a quick and hassle-free route that allows you to avoid legal complications later.
How does payment work? The buyer can pay the seller the full amount and he paid off the bank, or the buyer can write two checks! One for the seller and one for the bank.
Buying a boat from a private seller out of state
If you are buying a boat from a private seller out of state, be sure to have someone check out the boat's condition in person. Communicate with the bank, clearly explaining your situation and working out how to receive the payoff amount.
After conducting a thorough sea trial, meet the seller at their designated local bank, where they will receive the certified check. The amount on your check and the seller's check should match.
Next, sign the relevant documents and get the bill of sale notarized at the seller's local bank. Have the boat transported to your state. The bank will then release the boat title to the seller, who will transfer it to you.
Make sure to check your state's law beforehand, so you know what to do if the seller fails to send you a signed boat title. In general, you hire a POA to sign the title on behalf of the seller.
Register the Boat within the Specified Time
Stay on top of deadlines, so you don't face any issues later. Below are some steps you will need to register your boat.
Confirm your state's requirements with the boat registration agency – Every state has different rules and regulations related to boat registration
Contact your local boat registration agency, such as DMV, game and wildlife agency, or another agency for detailed instructions or questions
Fill out a boat registration form – this can be done online, via mail, or in person
Use your bill of sale and/or boat title to show proof of ownership
Pay the required fees – this will vary depending on the state
Keep in mind that if you are a US citizen and the tonnage of your vessel is more than 5 tons, you will need to document with the US Coast Guard. Most boats over 25 feet in length normally measure at least 5 tons. For detailed requirements, click here.
Conclusion
Buying a boat has many steps from the bill of sale to the inspection process. In this article we only covered one aspect of Buying a boat with a lien on because it can be quite overwhelming, especially if you are a novice boat owner and not sure how lien release works.
In this article, we explained the steps in detail and showed how you could check the background history of a vessel, including its lien information. You can hire a third party, contact your state's boat registration agency, or use an online tool like Boat-Alert.com.
#BoatLien #MarineLien #BuyingaBoatWithaLien #lien #marinelien #Loan
Read Related Articles: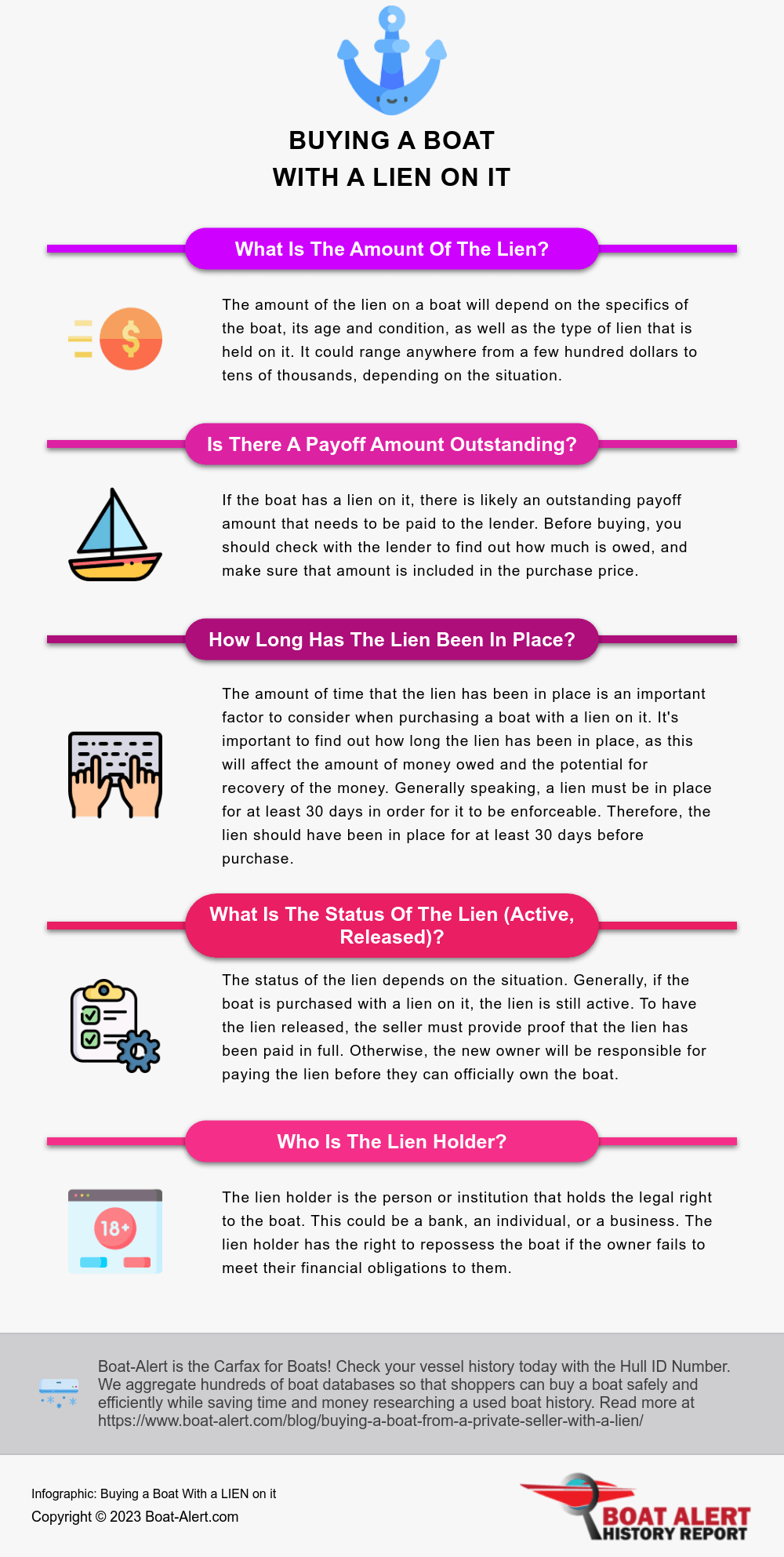 Categories:
To learn more about Boat-Alert.com History Reports for used boats and free boat hin check visit: www.Boat-Alert.com
About Boat-Alert.com®
Boat Alert History Reports© exists to aggregate boat databases so that shoppers can search and buy a used boat safely while saving time and money researching a used boat's history. We began in 2015 and constantly adding more boat documentation search data for USA and Canada to ensure that your boat has a clean history. We are happy to offer a 60-day money back guarantee and proud to have served more than 15,000 customers with their boat HIN Search History needs. hin search ©. Two percent of all proceeds go to charity. We value fair treatment of employees, customer satisfaction, having the most databases possible, and fast customer service at the core of our brand. View our
LinkTree
.