What is Boat Title Washing? – A real problem!
Title washing of boats is more common than cars due to differing state laws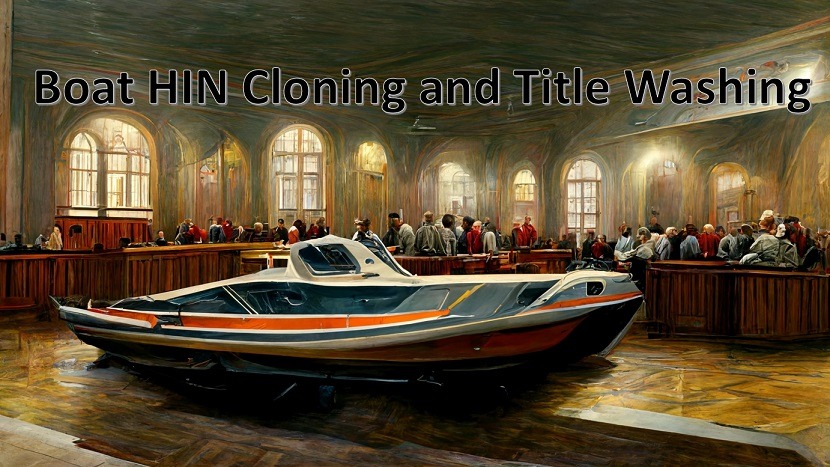 Did you know that a total-loss boat could be purchased at a salvage auction, repaired, and resold to you as a 'clean title'? if a boat has been moved from one state to another and one of these states is not a titling state, then there is a high risk of "title washing".
In this article I will explain salvage branded titles, differences between state laws, and how title washing can be avoided or spotted.
Salvage Boats
Salvage boats are those that have been damaged to the point where the cost of repairs would be greater than what it would sell for, or the repairs would not restore the boat to its previous condition before it was lost. When a salvage ship is so badly damaged that it isn't worth repairing, it is said to have a total loss. The insurance company does this determination.
Most salvage boats are used for parts, but some can be repaired and put back into service! Many new boat buyers are looking for a deal on a used boat that's in good condition, but are not willing to buy salvaged boats, and check the title registration to make sure there is nothing indicating an accident or damages.
But unfortunately, boat title regulation depends on the state you're in. Not all states issue titles. Some only issue registration papers. Even so, boat titles are all 'clean' because "Salvage" brands are not recorded on them like vehicles. The same applies to boat liens. Other states do not provide titles at all, making it more difficult to discover a vessel's salvage status. This can lead to a lot of title fraud.
What could title washing hide?
Hurricane damage
Flood damage
Accident damage
Theft of boat
Abandoned boats
Junk Boats
Total Loss vessels
Because of the loose regulations in some states, malicious dealers and private sellers take advantage of this in order to get rid of their negative boat histories, making it look like the boat is in better condition than it really is. A new 'carfax for boats' law is being passed but more on that below.
What is Boat Title Washing?
Boat Title washing is when a seller or dealer moves a boat from one state to another in order to "wash" the negative history with a new clean boat title or registration. These illegal titles that hide a boat's past can result in major headaches – and potential liabilities – for the unsuspecting new owner.
Did you know that 15% of boats move out of state during their life time? We covered these statistics in our article about How Many Boats Move Out of State | Traveling boat Statistics in the USA. Most of these are due to private sales or individuals moving homes, but some of them are due to sellers attempting title washing.
How does boat title washing work? Simply, they buy a boat from a salvage auction in Florida for example and move its registration to Alabama and then attempt to sell the boat in Texas. This is a tell tale sign for you to tell if a boat has been through a title washing process.
Is boat title washing legal? No. It is considered title fraud to use such loopholes.
What are other kinds of Title Fraud? Be sure to learn about HIN cloning here.
How Does Vessel Title Washing Affect Used-Boat Buyers?
If you're thinking about buying a used boat, it's important to be aware of the potential for title washing. While not all boats that have been transferred between owners are suspicious, you should be cautious if you come across a boat that has had multiple owners & states in a short period of time, or if the owner is unable or unwilling to provide documentation of the boat's history.
If you do buy a boat that has had its title washed, you may find yourself responsible for paying back taxes and fees that the previous owner should have paid. In some cases, you may also be liable for any damages that the boat sustained while it was being used illegally. Even worse, you could be buying a vessel that is not seaworthy and risk you lives are sea!
What Can You Do to Avoid It?
The best way to avoid getting caught up in a title washing scheme is to be diligent when researching the history of any used boat you're considering buying.
Try to get as much documentation as possible from the seller, including past registration paperwork, receipts for repairs and maintenance, and any other documents that can help prove the boat's provenance. They should have some bills of sale as well. You should also run a background check on the boat's Hull Identification Number (HIN) to see if it's ever been reported stolen or involved in other suspicious activity. Boat-Alert.com will check 9000 salvage and insurance companies in our boat HIN report. You can also check the NICB for total loss data.
If you're still unsure about a boat's history after doing your research, you may want to consider using boat-alert.com to help you inspect the vessel databases before making your purchase. We will be able to tell you if the HIN is valid, and can also run a background check on the boat to see if it's ever been reported stolen or involved in other suspicious activity.
What can I do to protect myself? Consider buying a boat that has U.S. coast guard documentation instead of state registration. Those are bigger and more expensive boats but at least they have a national form of titling so you avoid wash title boats.
UCOTVA
As mentioned above, States don't make salvage brands on boat titles but there is a new 'carfax for boats' law that is being passed. This will prevent HIN washing since all states will one day have uniform boat titling laws. More about the Carfax for Boats Law and what UCOTVA is all about here. For Vehicles, VIN cloning and Title washing of cars is less common due to the NMVTIS system.
#titles #boats #salvage #ucotva #carfaxforboats #TitleWashing
Some states are fighting title washing and fraud in other ways too to prevent clean titles for wrecked boats.
By the way, doing a boat survey won't validate the paper work or catch title fraud. Title brands are usually uncovered by doing title history checks but you should note that boat titles are unlike car titles. Title searches won't reveal title brands (title status), such as 'salvage', unless your state started UCOTVA. This leaves vessel owners to prove they own the clean title and buyers having to do a boat vin check to make sure no law violations were committed. There is very little recourse for a buyer.
For example your State won't record water damage (flood damage) on a vessel or accident damage. You have to use boat-alert accident report to find this. Title fraud really needs attorneys if you get stuck with the wrong boat involved in crimes.
Conclusion
In this article we explained what is title washing of boats and how to avoid it by checking your HIN. We explained how not all states issue titles and even the ones that do, are still clean titles.
Where is the Boat History Database?
The Boat-Alert.com database combines 90+ nationwide databases into a single place so you can search in a matter of minutes. These include records for stolen boats, marine lien claims, boating accidents, pollution incidents, auctioned boats, factory recalls, and boat manufacturers.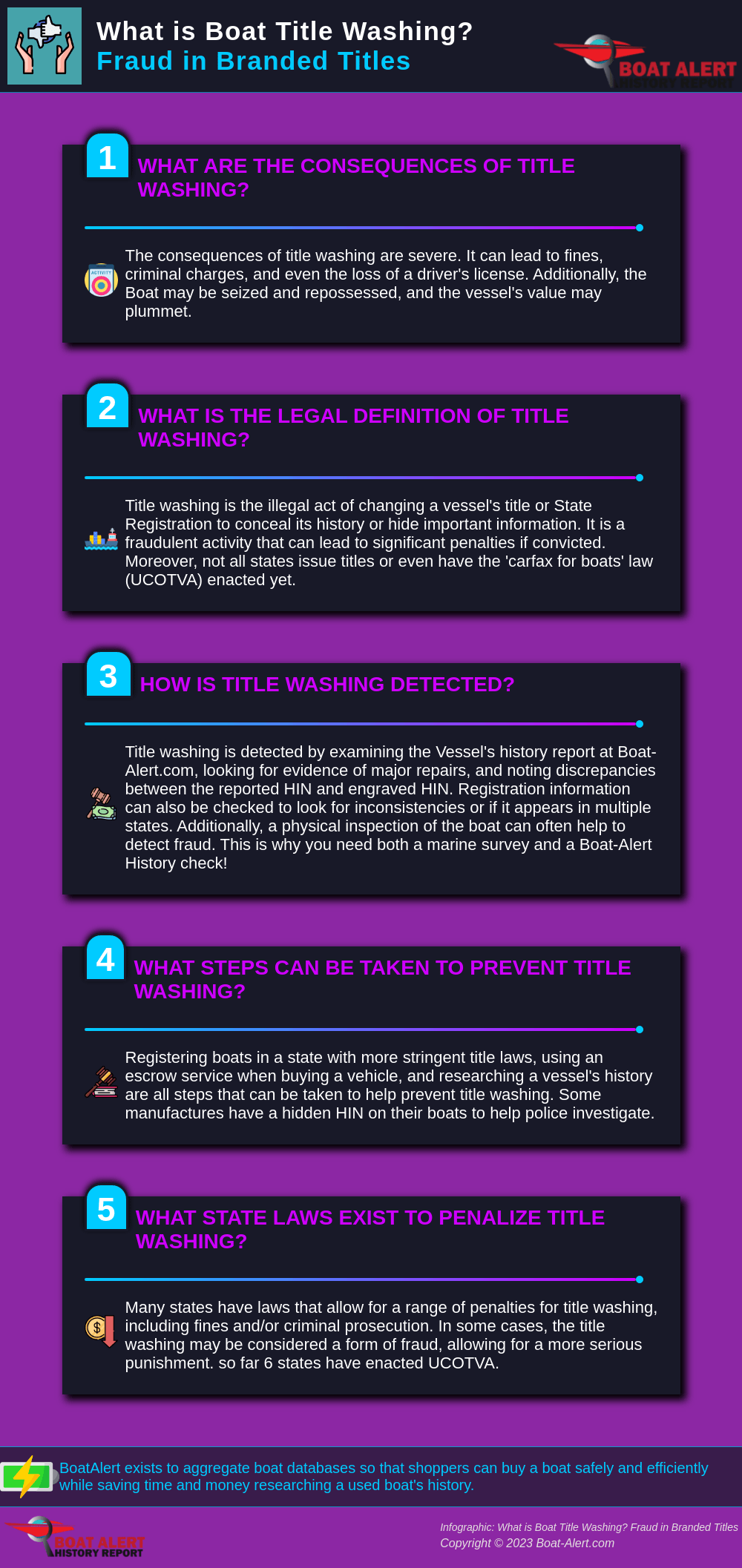 Read Related Articles:
Categories:
To learn more about Boat-Alert.com History Reports for used boats and hin number check visit: www.Boat-Alert.com
About Boat-Alert.com®
Boat Alert History Reports© exists to aggregate boat databases so that shoppers can search and buy a used boat safely while saving time and money researching a used boat's history. We began in 2015 and constantly adding more stolen boat and jet ski check data for USA and Canada to ensure that your boat has a clean history. We are happy to offer a 60-day money back guarantee and proud to have served more than 15,000 customers with their boat HIN Search History needs. boatfax ©. Two percent of all proceeds go to charity. We value fair treatment of employees, customer satisfaction, having the most databases possible, and fast customer service at the core of our brand. View our
LinkTree
.