How Do You Read a Hull ID Number (HIN)?
This is how to read a Hull Identification Number – HIN Decoding steps
Reading a boat HIN means decoding the HIN into its component parts. It is important to know the basics but rest assured that there are tools that do it for you. Knowing how to read your vessel's HIN will allow you to find out the make and year.
We have already discussed what is a HIN and mentioned all you need to know about HINs in our previous article. Today, we discuss how to read it and explain how to know the builder and year of the boat from the HIN.
What do the numbers on a boat mean? What are the types of IDs on marked on a hull
When looking at a vessel, you will probably see different markings. You could see the name and hailing port or you might see the state registration number. These would be on the bow and could have the state's watercraft decal. If the boat is not titled in the state, then it could be documented with the coast guard. In those cases, the bow will have the name and hailing port. The stern will also have the name and hailing port indicated.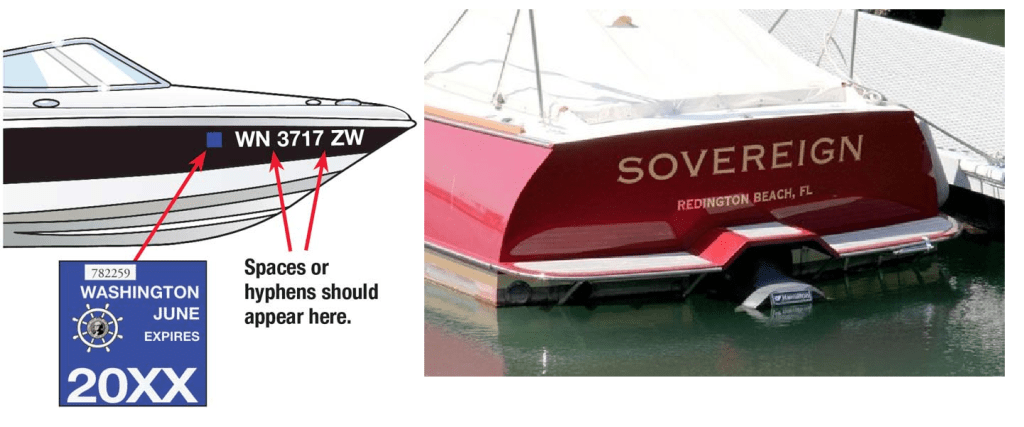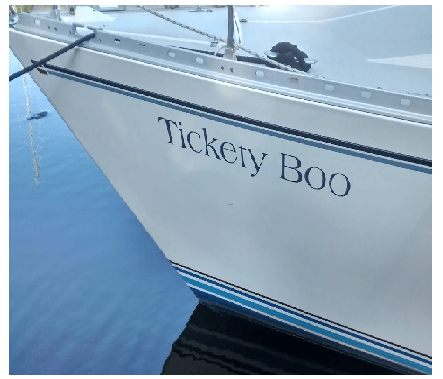 There are other numbers on the boat that you will see. Namely, the stern will have the hull ID number plate etched into it. If it is a USCG documented vessel, then you will see the placard having the official number on it in the interior of the vessel.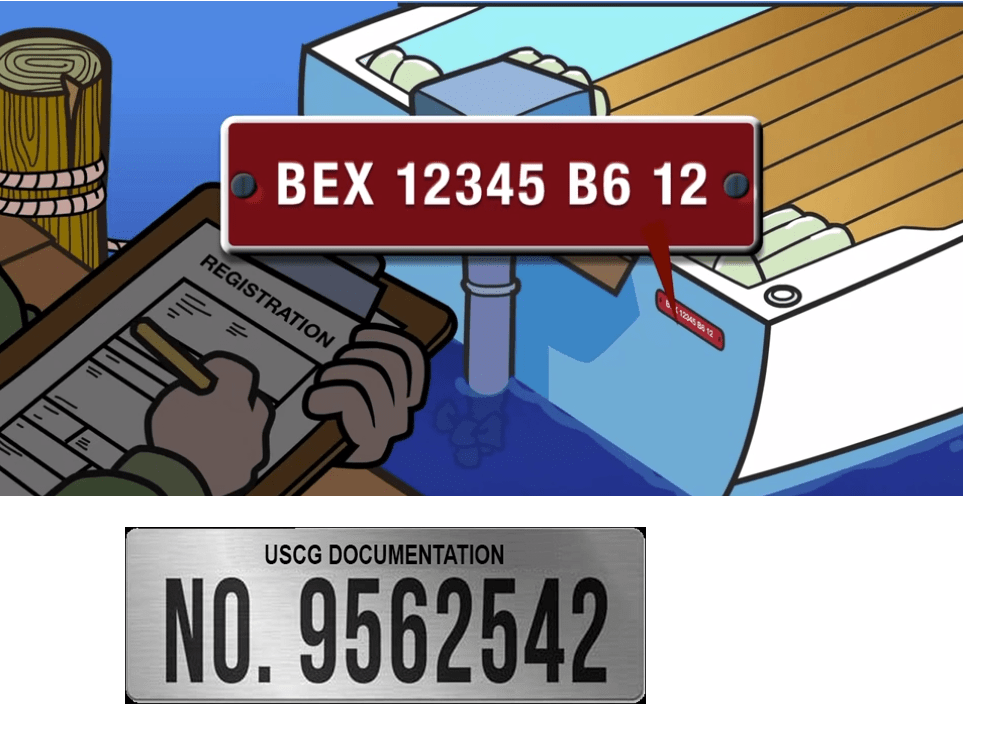 How do I find out my HIN number?
You can find your HIN Number as shown in the image above. It is on the starboard side of the stern.
How many numbers are on a boat VIN? how long is a HIN?
The Boat Hull Identification number is 12 characters long. we say characters instead of digits because it is a mix of numbers and letters. It could have "US-" in the beginning for the country code making it 15 character long but usually the country designation is not written so you just have 12 standard characters for the length.
How do I read my boat's HIN number? How do you decode a boat HIN number?
Now that you have found your hull ID number for your vessel, it is time to start reading it or decoding it. As stated earlier, there are tools that do this for you such as the official hindecoder.com website. The HIN decoder is free. #HinDecoder
To start reading your boat's HIN, you can break it up into the 3 main parts:
First three characters are the boat manufacturer
The next five characters are the serial number
Last 4 characters are the Month and Year of manufacture.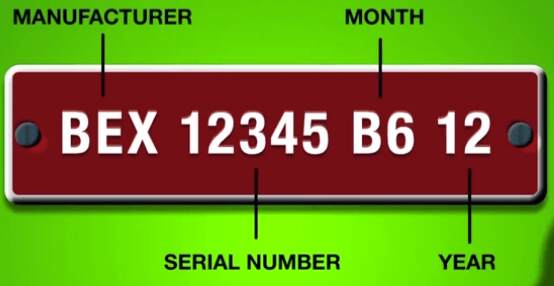 How do I find the manufacturer of my boat when reading the HIN?
The first 3 characters in the Hull Identification number are the manufacturer code. So when you are reading the HIN, you might see "YAM" and this would be Yamaha. It might seem difficult to understand the manufacturer identification code (MIC) but you can simply look it up here:
#BoatManufacturer #Florida #BoatBuilder #Boats #Brands
#BoatManufacturer
Example: YAM" would be Yamaha. The list is based on uscg manufacturers for vessels/yachts.
How do you tell the year of a boat by hull number? How do I find out what year my boat was made?
When you are reading your HIN, you can find out the year and month that your boat was built and its model year as well. The manufacturing month and year are not always the same as the boat model year. The year you were born is important. wouldn't you want to know when your boat was born?
Start by looking at the last 4 characters of the boat's HIN. Here is where it can get complicated. There are 3 different formats for HIN numbers from 1972 and 1984. You might see a letter "M" in position 9 if the boat HIN Type format is from 1972. If all 4 characters at the end of the HIN are numbers, then it would be the other format from 1972. Here is a handy table to lookup the month codes.
Below is a video explaining the three kinds of HIN formats.
In short, here are the three hull number formats:
Letter M then two numbers, then a letter: Model-Year format from 1972
Four numbers only and no letters: Straight-Year format from 1972
One Letter followed by three numbers: Current format from 1984
These formats came from the ISO 10087. This standard is described in detail here and on the hindecoder website.
Example, YAM12345D202 and this would be Yamaha Jet Ski HIN Number. The details of the year and make would be in the HIN decoder. The HIN hin location would be on the transom.
#HINFormats #HINTypes #HullIdentificationNumbers
How do I know what model boat I have? What kind of boat do I have? How do I find out what model my boat is?
The HIN formats described above do not contain the model of the boat. It cannot be decoded from the HIN. You can still lookup the boat model name by searching its HIN on hindecoder.com.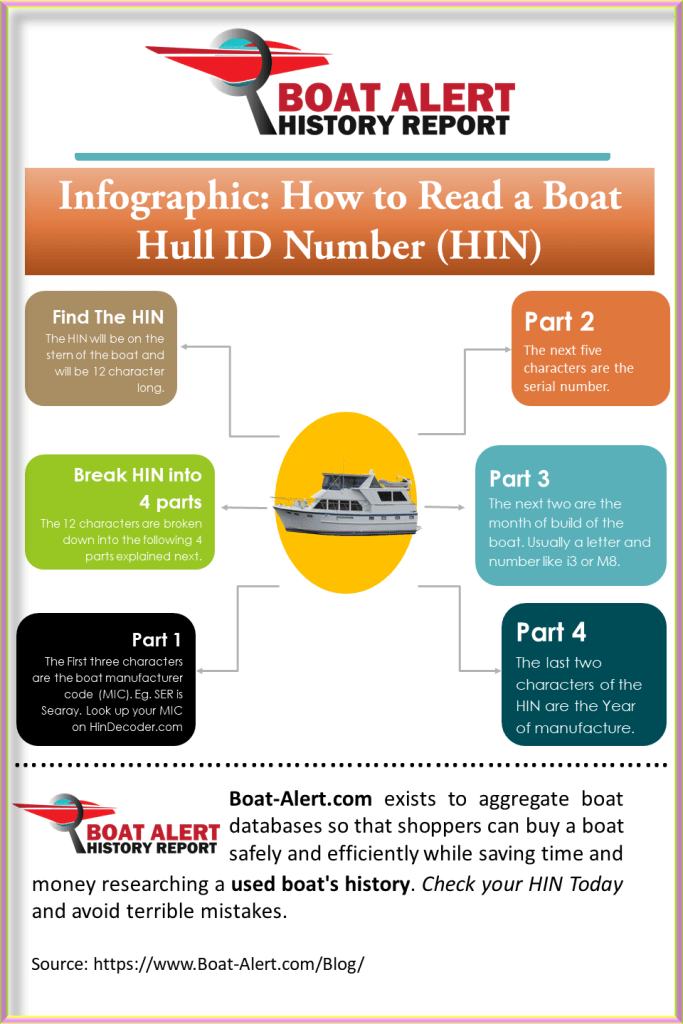 Is the hull ID the same as the serial number? Where is boat serial number located?
The boat hull identification number is also called hull serial number by some people. Having said that, the serial number is actually embedded into the HIN and is 5 characters long after the MIC code as shown in the image above.
Boat Engine Hull Number or serial?
If you have a 200hp or 250hp outboard engine, it does not matter because either way the engine should have its own serial number that is different from the 12 character HIN format. The boat engine serial can be used for many applications for boat buyers and boat owners including warranty lookups when working with manufactures to fix something. Again, the Engine serial (created by engine makers) is different from the boat serial number (created by pleasure craft builders during production).
What do HIN numbers mean? What do hull numbers mean?
If you are in the USA, Canada, or Australia, they should all be following the HULL ID Number standard that came into effect August 1st 1984 and is subject to ISO 10087:2006(en). There is no certification for this standard but it must be follows by all boat manufacturers. Even if the vessel is a catamaran or jet ski, it needs a valid HIN and must follow coast guard regulations. Consumers should be aware the steps above how to read a HIN number and tell it apart from boat registration and title numbers. This is a safety purpose from bad sellers and is something surveyors may not check on a used boat!
The articles we have are enough to learn all about HIN numbers so you don't need any course on the subject but make sure to lookup damage reports and accidents in our Boat-Alert databases. Boat dealers are responsible to title the boat when selling it to you and to do it with the correct HIN and decal stickets.
In conclusion, we have explained how the HIN on a boat is placed on the stern by the manufacturer. We also gave a step by step on how to read your HIN manually and indicated that you can get it decoded automatically at hindecoder.com. You now know how to decipher a pontoon HIN / hull identification number.
Read Related Articles:
Categories:
To learn more about Boat-Alert.com History Reports for used boats and boat vin number lookup visit: www.Boat-Alert.com
About Boat-Alert.com®
Boat Alert History Reports© exists to aggregate boat databases so that shoppers can search and buy a used boat safely while saving time and money researching a used boat's history. We began in 2015 and constantly adding more hin hull identification number data for USA and Canada to ensure that your boat has a clean history. We are happy to offer a 60-day money back guarantee and proud to have served more than 15,000 customers with their boat HIN Search History needs. how to check a boat's history ©. Two percent of all proceeds go to charity. We value fair treatment of employees, customer satisfaction, having the most databases possible, and fast customer service at the core of our brand. View our
LinkTree
.