How to Register a Boat in Canada | Update 2022
Canadian Boat Registration
In order to register your boat in Canada, you first have to know the two ways boats are recorded. We have covered the topic of Pleasure Craft Licensing (PCL) in our blog article on How to Licence a Pleasure Craft in Canada, but did you know that boats can be either registered or licensed in Canada?
There are many factors that determine which one you should be doing for your vessel and we will deal with Registration in this article. You will learn which vessels need to be registered or licensed, and who may own a registered vessel in Canada. You will also learn the difference between a commercial vessel and a pleasure craft.
PLEASURE CRAFT OR REGISTERED VESSEL IN CANADA
First, what is a pleasure craft? A pleasure craft is a vessel that is used for recreation and does not carry passengers. Second, what is the distinction between a licensed pleasure craft and a registered vessel? The PCL licence is just a boat number that is displayed on the bow, used to contact you in emergencies, and it is free. While boat registration is more official since you get issued an official number and ownership is tracked. Registration provides certain benefits, such as the right to fly the Canadian flag on your vessel. It is also required if you want to use your vessel as security for a marine mortgage (or boat lien) when financing the boat purchase. Financed boats must be registered (not PCL).
When ownership and liens are tracked for registered vessels, this means that you can get the history of the boat by ordering a Vessel Transcript of registry.
What is the difference between Canadian & U.S. Terminology
Many people confuse Canadian and American terms: Canadian licensing is similar to the U.S. boat registration or state titling. On the other hand, Canadian registration is similar to U.S. Coast Guard documentation, and is designed for commercial vessels and ships.
How to tell if your vessel is licensed or registered by looking at the number itself:
Licensed and registered vessels are marked with different numbering info and the location of the number will be different on the hull. Here is a handy table to compare the license number to the official number:
Example numbers on the vessel
What is looks lie
Location on vessel
Is your vessel licensed or registered
50E12345
BC123456
Combination of letters and numbers that do not begin with the letter C
Exterior
Licensed pleasure craft
Happy Dolphin
Vancouver, BC

O.N. 123456
N.R.T. 10.52
Name of the vessel
Port of registry
Official number
Net registered tonnage
Exterior: vessel name and port.

Interior: official number and net registered tonnage.
Registered in the Canadian Register of Vessels
C12345BC
Starts with the letter C
Exterior
Registered in the Small Vessel Register
Table comparing different boat numbering in Canada #BoatRegistration
Explaining boat numbers
New boat licence numbers begin with provincial digraphs (MB, ON, NS) followed by digits. but for registered vessels, the number will begin with a C or O.N. depending if it is in the small or large register of vessels. Note that Licences beginning with 'port' digits are not issued any more since 2007.
Be careful when reading the boat numbers because "NB" on boats can be either Nebraska or New Brunswick!
Vessel Registration Number Marking Requirements
PLEASURE CRAFT LICENSE NUMBERS FOR HULL – minimum 3″ (77MM) marking
You must licence your pleasure craft if it is over 10 HP and used for non-commercial purposes. There is no fee to licence your pleasure craft but it is necessary for marine safety and identification. In Canada, minimum 3 inch BLOCK numbers that display your pleasure craft licence are to be displayed/affixed to the hull on both sides, as far forward as possible on the bow. These are to be contrasting in colour to the colour of the hull to which they are affixed. Most people use a durable 7 year custom cut vinyl. #VesselMarkings
REGISTERED VESSEL REGISTRATION NUMBERS FOR HULL – MINIMUM FOUR INCH 4″ (10CM) marking
If you register your vessel, for which there is a fee, you are required to display the number with a minimum of 10cm or 4″ Marking on the each side of the bow. These include the vessel name and the port to which it is registered. You are also required to have information inside the vessel, and permanent markings etched or affixed regarding tonnage etc. Fonts can vary as long as the color contrasts with the hull.
OFFICIAL REGULATION for TRANSPORT CANADA LICENCED PLEASURE CRAFT AND REGISTERED VESSELS
PLEASURE CRAFT LICENCE
Again, Transport Canada requires all pleasure-crafts over 10 horsepower (7.5 kilowatts) be licensed and the license number must be displayed on the hull. For a full FAQ on the topic see here.
REGISTERED VESSEL CANADA
IN CANADA MINIMUM 4″ MARKINGS are required on the hull. Please see the detailed information from Transport Canada:
Q. What are the marking requirements?
A. Your Certificate of Registry is not valid until you have your vessel marked according to requirements noted on the back of your Certificate of Registry:
Name and Port of Registry: For pleasure craft and air cushion vehicles, both the name and port of registry must be marked together on a clearly visible exterior part of the hull. For commercial vessels, the vessel name must be marked on each bow and the vessel name and port of registry must be marked on the stern. If the vessel has a square bow, the name may be marked on a clearly visible exterior part of the bow. You may make the markings by any means and materials that result in durable markings. All must be at least 10 cm in height, made in clearly legible letters of the Latin alphabet or Arabic or Roman numerals.
Transport Canada manages the National Vessel Registry and there were about 2.2 million pleasure boats licensed in Canada in 2006, with an average of 105,000 new and transferred licences granted annually.
Commercial vessels
Examples of commercial vessel use include:
passengers who paid to be on board
people on board as part of their job (other than the crew)
the operator of the vessel uses it to provide a service
the vessel is operated by a government (provincial or federal)
Pleasure craft
A #PleasureCraft is a vessel used for:
Fun activities like boating or getting to the cottage.
Recreation such as waterskiing or fishing for pleasure.
Daily living (includes those activities that are not part of your employment or business, such as fishing for your family or for travel)
Steps for initial registration of a Canadian boat
The first time you register a boat with Transport Canada, you will need to fill out the application forms but first, you want to know which boats are exempt, however, you do have the option to voluntarily register these vessels. We recommend this so that vessel data and history is tracked.
You do not have to register all commercial human-powered vessels, such as canoes and kayaks or any small sailing vessels less than 8.5 meters. You do not have to register small power-driven vessels with motors less than 7.5 kW (10 horsepower). These exemptions do not apply to vessels that carry more than 12 passengers.
There are 4 forms to fill and a $50 fee. After payment, you will receive a certificate of registry by mail and the certificate of registry will show the official number of your vessel which will begin with the letter "C" (eg, C001548QC). It usually arrives in 30-45 working days.
Buying a Used Boat and transferring registration in Canada:
If a vessel is registered and you buy it, there is a procedure to transfer ownership. You will have to pay a $50 CAD fee and complete 4 forms. When you buy or sell a registered vessel, you must send a copy of the Bill of Sale to the Vessel Registration Office. It's the registered owner's (seller) responsibility to ensure that the transfer of ownership is completed. The fee will be $250 if it is a large vessel being registered in the "Canadian Register of Vessels" or when you have a mortgage on it.
Boat Bill of Sale
Transport Canada requires the boat bill of sale for have specific information on it to be acceptable proof of ownership before you can register or licence your ship. Read more about why you need a Bill of Sale for your Boat. There are other ways to provide evidence of ownership listed on the TC website.
Canadian Vessel Certificate of Registry
Once you get your certificate you can celebrate but there are other things you will need to do. The Certificate includes important identification information and should be kept on your vessel at all times. There are fines for not having it.
Transport Canada recommends that you store your certificate in a plastic bag to protect it from damage but do not laminate your certificate as those are considered invalid.
Next, you will need to mark you vessel as discussed above. Your certificate of registry will give you an official number that begins with the letter "C" (eg, C00000BC) and is unique to your vessel but your certificate is not actually valid until you mark your boat with the numbers in block characters not less than 75 mm high and in a colour that contrasts with the background colour. It must be located on each side of the bow of the vessel (for small registered pleasure craft), or on a board permanently attached to the vessel as close to the bow as possible, so the number is clearly visible from each side of the bow.
How to get a replacement Vessel Certificate of Registry
Thankfully there is no fee if you have lost or misplaced your certificate of registry. Simply send a written request for a replacement certificate of registry by mail, fax or email to the Vessel Registration Office. You will need to include your official number and your address so it is good to have that number stored elsewhere. It can take 5 working days to get the new replacement.
Buying or importing a U.S. boat:
Canadian residents who licence or register a boat in another country, can only bring it into Canada for a limited time before they must pay duty and tax on the boat (GST & PST). The Free Trade Agreement provides for low duty to import a domestically manufactured boat and none for some types of marine safety equipment. #BoatTaxes
How long is the vessel registry Valid for?
When registering a vessel in Canada, it will be valid for 5 years. #registry #canada
When should you register in the LARGE vessels registry?
You will be required to register a vessel in the "Canadian Register of Vessels" (large) if your vessel:
is a commercial vessel with a gross tonnage of 15 or more and powered by motors totaling 7.5 kW (10 horsepower) or more
will have a marine mortgage
needs a reserved name
will travel outside of Canada
Which one do I need?
Transport Canada has a great questionnaire that helps you determine which type of registration you need.
Who can register and own a vessel in Canada?
A vessel registered in Canada may be owned by:
Canadian citizens
permanent residents of Canada
Canadian corporations
Canadian governments (provincial or federal)
foreign corporations (with a Canadian authorized representative)
Transport Canada does not register vessels owned by foreign citizens, partnerships or trusts. but, A pleasure craft vessel licensed in Canada can be owned by any person or organization, by a maximum of 2 people.
Do I require a survey to register my vessel in Canada?
Registering a vessel used to require a survey by a licensed surveyor. in the past but currently, some boats don't require a survey, but the registration fee is higher, and regular renewal is required.
Can you change your port of registry or vessel name?
Yes, it is possible to change the port of registry or vessel name. Simply full out form 13.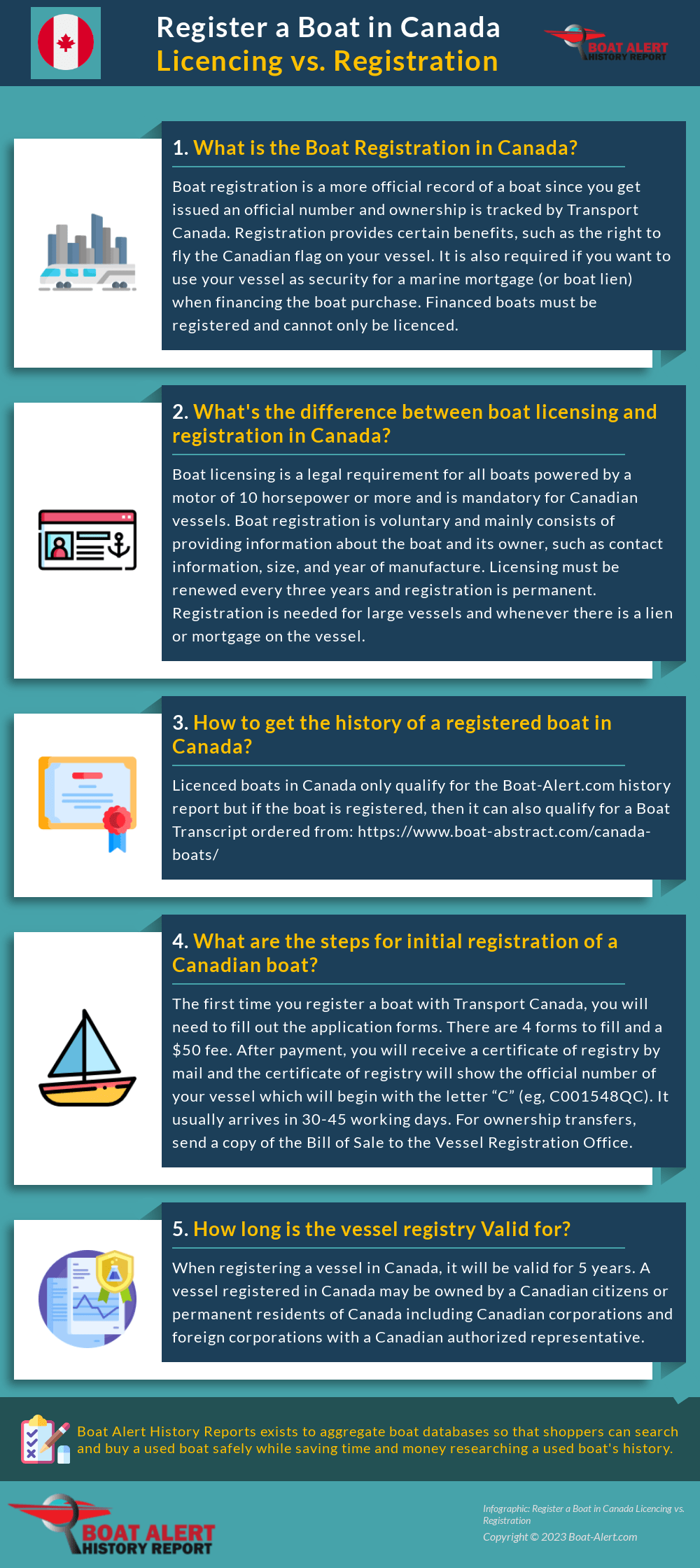 Safe boating in Canada
Read the Transport Canada safe boating guide to find out more.
Read Related Articles:
Categories:
To learn more about Boat-Alert.com History Reports for used boats and vessel numbers visit: www.Boat-Alert.com
About Boat-Alert.com®
Boat Alert History Reports© exists to aggregate boat databases so that shoppers can search and buy a used boat safely while saving time and money researching a used boat's history. We began in 2015 and constantly adding more boat hin lookup data for USA and Canada to ensure that your boat has a clean history. We are happy to offer a 60-day money back guarantee and proud to have served more than 15,000 customers with their boat HIN Search History needs. hin numbers ©. Two percent of all proceeds go to charity. We value fair treatment of employees, customer satisfaction, having the most databases possible, and fast customer service at the core of our brand. View our
LinkTree
.