Boat Shipping and Transportation [Ultimate Guide to Hauling your Boat]
So, you bought a boat or yacht from another state and need to ship it to its new home? Look no further. This ultimate guide will tell you all about Transporting a Boat on a Trailer and How to work with transport companies. You will know what to ask and what to look for after reading this blog post.
If you want to send a boat transport cross-country, then you will require boat transportation quotes.
How to Transport a Boat Long-Distance With a Transport Company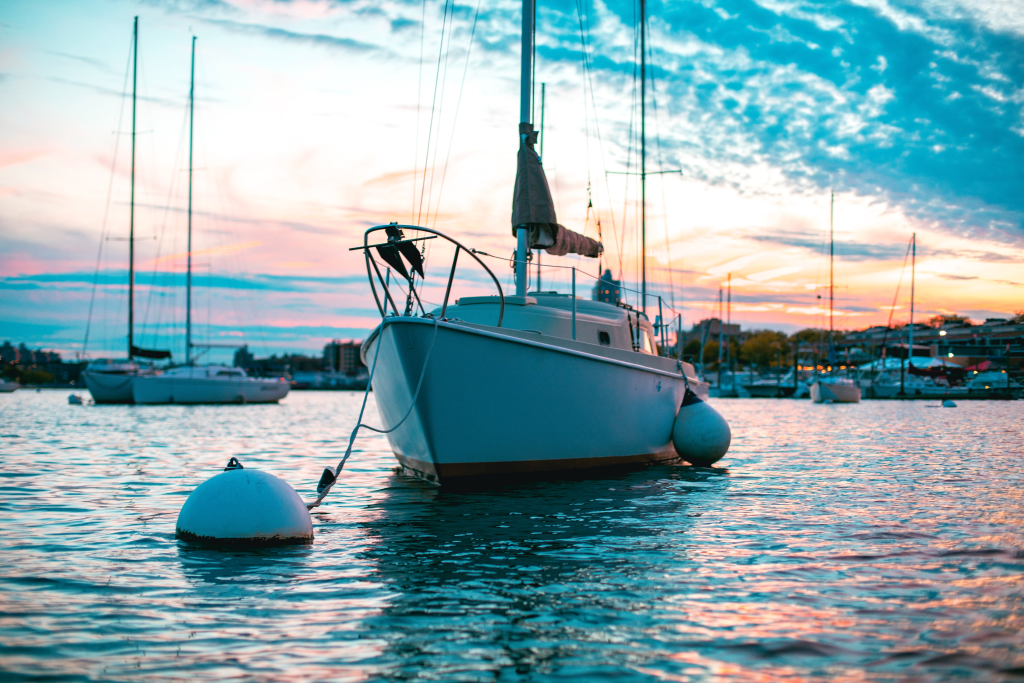 Looking to take your boat with you on a cross-country vacation? Or maybe you've bought one in another state and need it shipped to your home?
Whatever the case, transporting your boat on a trailer can be an excellent option. But how does it work, and what steps should you take to ensure safe shipping? Read on to find out.
Trailer Transport – What to Keep in Mind when Boat Hauling
If you're using a trailer to ship your boat, there are a few things you should consider. The first one is the size and weight of the boat. You can use this article to learn more about achieving proper measurement and fit: https://www.a1autotransport.com/boats/ or call 1-888-245-1949.
Once you've found the right trailer that can support your boat, you need to make sure it's properly secured to the towing vehicle. The ball and hitch should be aligned, with the trailer hitch lowered over the ball. Then you need to attach the safety chains to the truck, making sure they're crossed for additional security.
These are only some of the many things to keep in mind when towing your boat on a trailer. Unless you're certain you can do it yourself, it's always best to leave it to a professional boat transport company. After all, your boat likely involved a hefty investment, and any damage can easily burn a hole in your pocket.
Make sure you know the boat shipping company address if if they do their boat shipping services anywhere.
If you decide to go with a transport company, here are some tips for finding the right one and making sure your boat gets to its destination intact:
1. Check for Licenses and Certifications
When browsing boat transport companies, ensuring they have the proper licenses should be the first qualification. If a company you're looking at doesn't have them, you'll probably want to go with another option. Illegal hauling isn't uncommon, but you don't want to put your boat in danger of getting damaged or stolen by a company that lacks proper certification. Much like you've probably checked the boat's history when you bought it to avoid scams, you should do the same with transporters.
Every legitimate boat transport company will be happy to show their credentials if you ask for them. If you notice anything fishy, keep looking elsewhere.
2. Look Beyond the Price
A low towing quote can be quite appealing. After all, who wouldn't want to save a couple of hundred bucks?
However, if a quote sounds too good to be true, it probably is. Boat hauling isn't an easy process, and it involves expertise worth paying for. It's always better to pay a bit extra and make sure you're getting the best possible service for your money.
This doesn't mean that you shouldn't question the quote you get. Ask the company for a transparent breakdown of the costs to know what you're getting for your money, and then compare different options to find an optimal one.
3. Check Their Experience and Online Reviews
How long has the company you're considering been in business? Have they undertaken long-distance hauling of a boat similar to yours?
These are all important questions you should ask when choosing a boat transporter. You need someone with the skill and resources it takes to transport your boat safely.
Since customers always trust their peers more than companies, don't take everything the hauler says at face value. Go online and see what their previous clients are saying. If you run into anything concerning, make sure to discuss it with the company before proceeding.
4. Don't Forget About Insurance
Even the most skilled professionals make mistakes. When transporting a boat, every mishap can be a costly one. It's always a good idea to have proper insurance instead of leaving things to chance.
A reliable transport company should offer at least some cargo insurance. The actual amount and conditions will vary, but you should be able to negotiate a good deal. Still, there's a chance the provider's insurance won't offer 100% coverage, in which case you'll want to consider getting some additional security from a third party.
5. Look for a Fair Payment Structure
Some boat transport companies might ask for upfront payment. While this isn't necessarily a red flag, it's not the standard, either. In most cases, you'll pay half up front, and the rest once your boat has reached its destination. Make sure to read the boat haulers deposits info and boat delivery considerations because the boat loading and boat insurance during transport are very important and can drive up the cost.
Your transporter of choice should be willing to show some good faith, so those willing to agree on the payment structure mentioned above are preferred. Once you've reached an agreement, make sure to thoroughly examine the contract to make sure there are no deviations.
6. Ask About Boat Tracking
Transporting your boat long distance can bring about some anxiety. It's a valuable asset, so it's normal if you don't want to lose sight of it.
Good transporters understand this and know how to provide you with the peace of mind you need. Most commonly, they'll have GPS on their transporting vehicle and allow you to check where your boat is at all times. In case of any issues like the boat disappearing from the map, they should be reachable and able to provide a reasonable explanation.
7. Request a Detailed Timeline
When you first inquire about the transport of your boat, every company should be able to give you a rough estimate. However, a serious transporter should be able to offer a detailed timeline and breakdown of all the key deadlines.
If you already have a date by which you'd like your boat delivered, ask the company for a guarantee that they can transport it in that timeframe. If there are any checkpoints along the way, you should be able to agree on reasonable deadlines the company should meet.
How Much Does It Cost To Transport A Boat?
It is difficult to give an accurate price range because there are a number of variables that can affect quotes, but on average the cost for boat transportation (depends on the distance and the needs for your boat to be safely transported) is around $600 to $1,000. Boat shipping cost can be found by getting competing quotes from multiple companies below. Consider if you are transporting your sailboat cross country (interstate) or just to another city or marina.
A Safe Journey for your boat on the road
Towing a boat on a trailer is no easy feat. Many things can go wrong if any stage of the process doesn't go as planned. That's why you need a reliable transporter who will put your mind at ease and ensure the boat arrives as good as new.
Advantages and Disadvantages of Boat Transport
There are both advantages and disadvantages to transporting a boat on the road. On the plus side, it can be a great way to get your vessel to another marina without having to trailer it or drive it in the ocean for days. This can save you time and wear and tear on your yacht (and truck). However, there are also some potential drawbacks to transporting a boat. If you do it yourself, you will need to have a large enough vehicle to accommodate the size and weight of the boat. Additionally, you will need to take care in securing the boat so that it doesn't shift during transit and get damaged. What is the best way to transport a boat? it all depends on the situation so speaking with professional boat movers is recommended.
#BoatTransport # BoatShipping #uship #A1Transport #BoatTransportQuotes #shiply
Best Websites to Get Quotes to ship your boat
A1AutoTransport
uShip
Shiply
RedfootHaulers (Canada)
Conclusion – cheapest way to ship a boat
Now that you've seen what to look for in a trusted provider, go ahead and browse the options at your disposal. Remember to ask all the key questions, and don't make compromises you're not comfortable with. Trust, expertise, and transparency are crucial to making sure your boat is successfully transported, so make sure to find a towing company that can provide them before you book your hauler.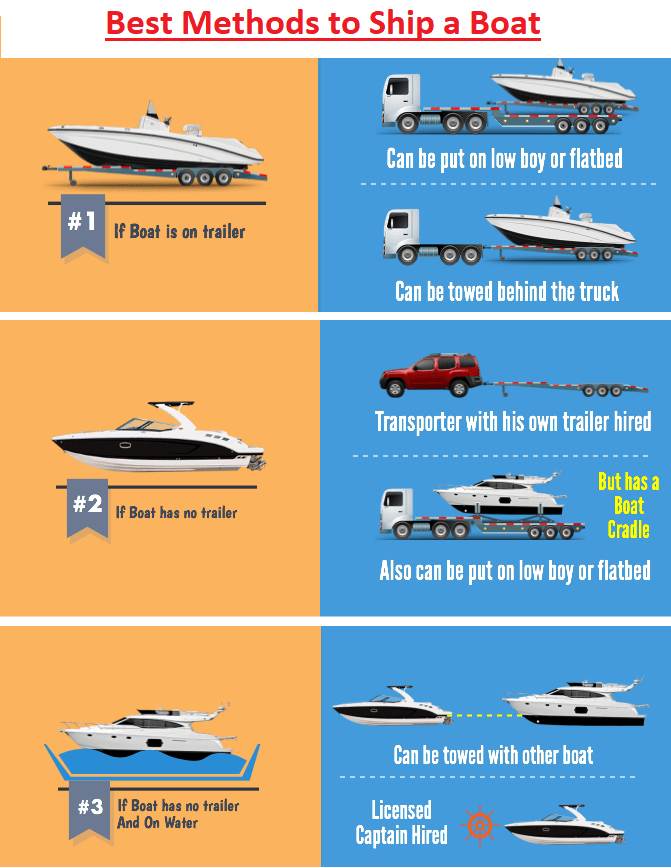 Methods of Shipping a Boat
Delivered by a pro delivery captain
Shipping a Boat on a Yacht Transport Ship
Shipping a Boat on its Own Bottom
Shipping a Boat Over Land on a flat-bed
Shipping a Boat on its Own Trailer
Towed by another boat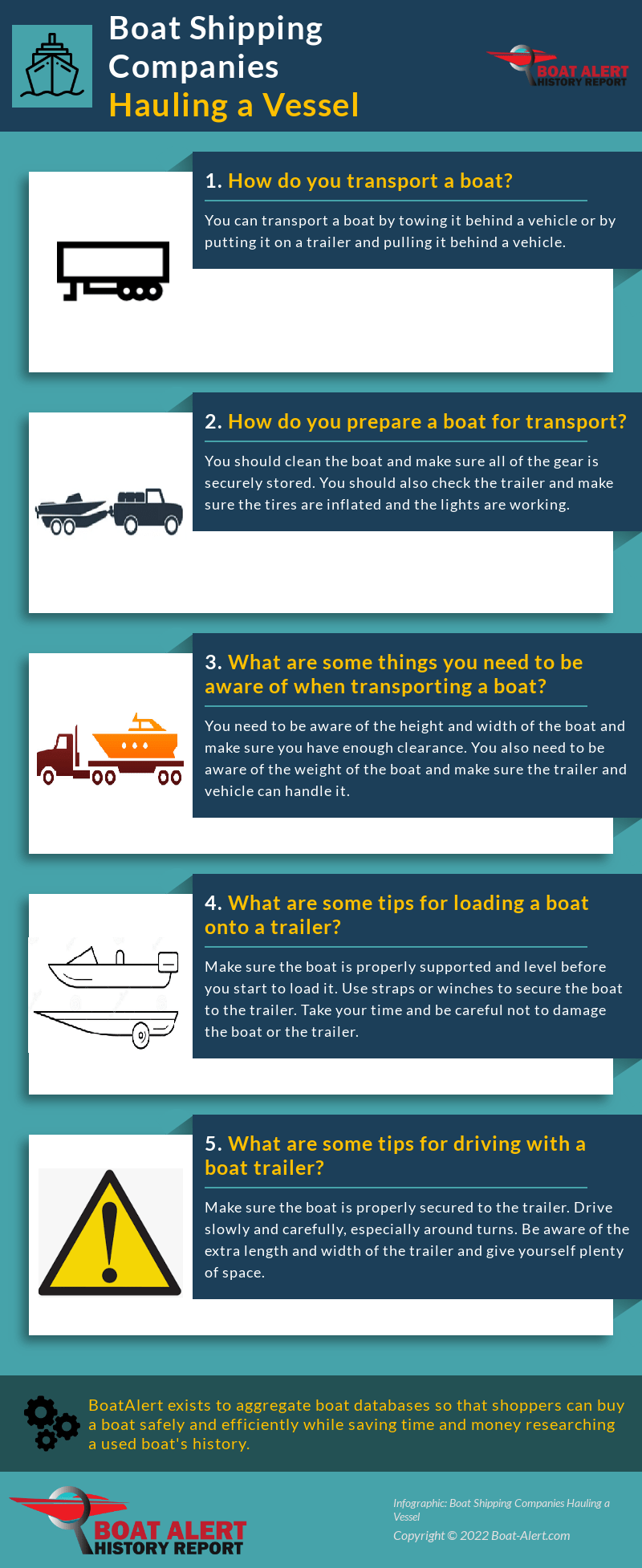 Read Related Articles:
Categories:
To learn more about Boat-Alert.com History Reports for used boats and boat check visit: www.Boat-Alert.com
About Boat-Alert.com®
Boat Alert History Reports© exists to aggregate boat databases so that shoppers can search and buy a used boat safely while saving time and money researching a used boat's history. We began in 2015 and constantly adding more boat serial number check data for USA and Canada to ensure that your boat has a clean history. We are happy to offer a 60-day money back guarantee and proud to have served more than 15,000 customers with their boat HIN Search History needs. boat history ©. Two percent of all proceeds go to charity. We value fair treatment of employees, customer satisfaction, having the most databases possible, and fast customer service at the core of our brand. View our
LinkTree
.