Do Jet Skis have Hull Identification numbers?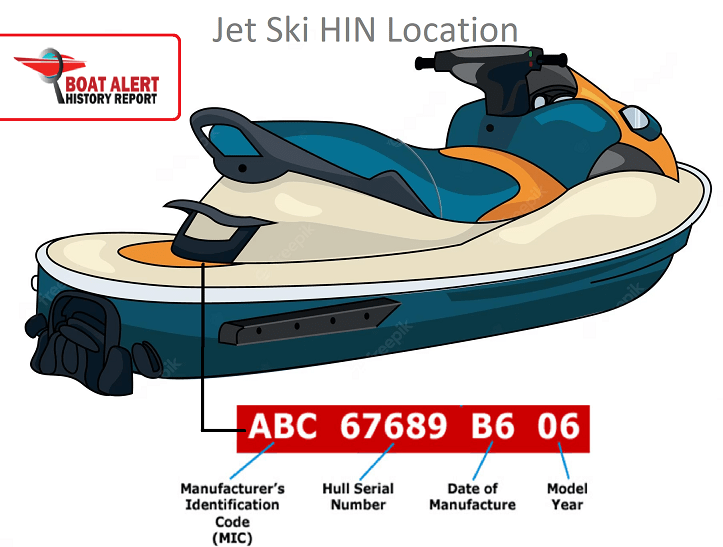 Whether you are selling, buying, or trying to impress your friends, knowing how to identify a jet ski can be handy. Like other watercraft, jet skis have a hull identification number (but offer more adventure!), the single surefire way to uniquely identify them.
If you wish to learn more about a jet ski's HIN, its importance, and its uses, this article is for you! We have gathered all the relevant information on the topic, so you make well-informed decisions.
What is a HIN?

A Hull Identification Number or HIN is a serial number assigned by the manufacturer that uniquely identifies a watercraft, including boats, ships, and personal watercraft. A HIN is analogous to a Vehicle Identification Number (VIN) on an automobile.
The HIN format prescribed by the Coast Guard of the US contains 12 characters: The first 3 digits are the Manufacturer Identification Code (MIC), which the guard or the importing party provides. Characters four to eight show the unique serial number assigned by the manufacturer. The last four digits show the month and year of the boat's manufacturing dates, enabling you to easily identify the year. It has come into effect August 1st 1984 and is subject to ISO 10087:2006(en).
Do Jet Skis Have HIN?
Yes, jet skis are legally required to have hull identification numbers. The US Coast Guard categorizes jet skis as class-A inboard boats. The same registration requirements apply to them as other motorized boats. Moreover, the Hull Identification and registration numbers must be displayed on the jet ski, and the registration documents must always be kept on board. You can also look for the HIN on titles, registrations, and manufacturing certificates.
Did you know that boat engines have a serial number too?
Do Jet Skis have to be titled?
Many jet skis need to be titled if they are required to do so by their state. However, not all states have a legal titling requirement for jet skis. In such a case, the watercraft owner may voluntarily decide to get a jet ski title to have solid evidence of their ownership.
A jet ski title contains information regarding the PWC's owner. It can include their registered name and address, HIN, registration number, model, make, and year. It may also contain the registration date, lienholder's name and information, and market value of the jet ski.
Where is the HIN located on a Jet Ski?      
Legally, all jet ski manufacturers are required to locate the HIN on the outside of the hull at the rear of the PWC. The primary hull number is displayed on the stern or aft deck of the watercraft, while the secondary hull number is located somewhere on the jet ski or under the hood. The HIN may also be marked behind a detachable fixture or affixed to the engine.
Law enforcement agencies also have information about the HIDDEN HIN (also called confidential HIN). This is so that thieves cannot tamper with it. Here is an ebook that police have been using to learn about PWC HIN and identification methods. Police can also use it in case of vessel abandonment to find the boat owner.
Does a SeaDoo Have a Hull Identification Number?
Yes, like all personal watercraft (PWC), Sea-Doo are legally required to have a Hull Identification Number. These are all synonymous brands of PWCs: waverunner, seadoo, jetski…etc. Check with your boat dealer which make and model you have.
Where is the Hull Serial Number Located on a Sea Doo?
A Sea-Doo is a type of personal watercraft manufactured by Bombardier. The hull serial number of a Sea Doo is located on the top of the rear platform. If the number has been scratched, damaged, or incomprehensible, you can look for it on the Sea Doo's title, registration, or insurance certificate. You can also try contacting the manufacturer and see if they can help.
Where is the Serial Number Located for a Jet Ski's Model Parts?    
The serial number of a jet skill is represented by the 4th to 8th characters in the hull identification number. For example, if the HIN reads as ABC-12345-S3-04, then the serial number is "12345". The serial number is uniquely assigned to each jet ski by the manufacturer and may contain a combination of numbers and letters. The letters "O," "I," and "Q" are generally omitted since they could be misinterpreted as numbers.
The Engine Serial Number or ESN of a jet ski is found on a plate mounted on the front part of the engine block. It is a unique identifier found on decals and product plates. The exact location of the number may differ depending on the manufacturer and jet ski model.
Can I tell What Year the Jet Ski was Made from the jet ski hin number?
First and foremost, you can check the manufacturing year of the jet ski on its registration certificate or title. If you cannot access these documents, you can also read this information from the watercraft's HIN. The third last character of the hull number represents the manufacturing year. If the HIN number is ABC12GT2S305, then number 3 shows the year of manufacturing. In this case, the year is 2003. The last two digits show the jet ski's model year. We suggest using HinDecoder.com to decipher your boat VIN.
To maintain consistency, the Coast Guard uses the date the manufacturer verifies the watercraft meets federal regulations. Once the HIN is given and affixed, the date becomes the jet ski's model year, irrespective of when it was finished.
Why is my Jet Ski HIN Missing?
The hull number of your jet ski may be missing if it was homemade or manufactured before 1972. It could also lack a HIN if it was stolen, salvaged, or involved in an accident before the purchase. A lot of scammers remove the HIN of watercraft before selling them so they cannot be tracked down.
If your jet ski is missing its hull number, you can first try looking at the relevant documentation, such as the bill of sale, title, or registration. If you can track down the HIN, do a thorough background check using Boat-Alert.com to ensure the watercraft doesn't have a questionable history.
If you fail to find the HIN anywhere, get in touch with the manufacturer, builder, or importer of the jet ski and enquire for the number. Use the HIN to search for the jet ski's background history to be on the safe side.
Does a PWC carry a HIN?
A PWC is a small recreational watercraft, but its legal regulations are similar to any other powerboat in the Class A inboard motor vessels category. As per these regulations, all PWCs are required to have a HIN attached to their hulls in a way that they are visible. Different manufacturers of PWCs will have different MIC in the hull number. For example, the manufacturer code is YDV for Bombardier, YAM for Yamaha, and KAW for Kawasaki.
How do I decode a PWC HIN number or jetski VIN?
A jet ski doesn't have a Vehicle Identification Number or VIN. Instead, they are identified through their Hull Identification Number or HIN. Let's break down the 12 characters of a HIN based on what they represent.
The first 3 alphabets of a PWC HIN include the manufacturer's identification code that shows its manufacturing details.
The next 5 numbers show the watercraft's unique serial number.
The next 2 digits represent the month, and year the boat was manufactured.
The last 2 digits show the PWC's model year.
Let's use a fictional HIN that reads YAM -45890 –J909. In this case, the YAM represents the manufacturer (Yamaha); 45890 represents the unique serial number given by the manufacturer; the J represents the manufacturing month, where the month is October (tenth month, like J in the English alphabet); the 9 represents the year of certification, i.e., 2009; and 09 shows the model year, which in this case is also 2009.
Use hindecoder.com to decode the HIN and detect any errors or typos in your Hull number.
Can I look up a Jet Ski HIN online for Free? | jet ski hin-check
You can perform a jet ski HIN lookup online at Boat-Alert.com. The website provides access to all the relevant information about the PWC, from HIN and registration to names, jet ski value, pollution incidents, and auction data.
With a free HIN search, you will be able to find out the basic information registration details about a PWC. If you plan to buy a used PWC and wish to learn more about its previous owner and general background, then a history report is a must.
A jet ski history report may reveal key elements of a PWC's history which could adversely influence its title status or sale value. These include details about whether the jet ski was previously stolen, damaged, seized, repossessed, recalled, salvaged, or involved in any accidents which may have incurred a liability on its owner. These background checks offer valuable insight into whether buying the jet ski will be worthwhile and is a vital tool for both potential buyers and sellers.
Boat-Alert.com collects data from over 90 databases and brings you critical information from different categories related to a PWC's background. These include a hull number check, accidents check, auctioned watercraft check, pollution incidents check, abandoned and misappropriated personal watercraft check, theft check (USA and International), and manufacturer data verification check, amongst other valuable services. Order your comprehensive history report with Boat-Alert today!
Conclusion
In this article, we answered, "Do jet skis have HIN?" We also reviewed the details of locating a HIN, what to do when you can't find it, and how to search online for a jet ski HIN. Visit Boat-Alert today to verify the authenticity of your PWC for free!
#JetSkiHINLookup #JetSkiHINOnlineSearch #JetSkiSerialNumber #PWC #HIN #HullID
Categories:
To learn more about Boat-Alert.com History Reports for used boats and hull check visit: www.Boat-Alert.com
About Boat-Alert.com®
Boat Alert History Reports© exists to aggregate boat databases so that shoppers can search and buy a used boat safely while saving time and money researching a used boat's history. We began in 2015 and constantly adding more hin boat data for USA and Canada to ensure that your boat has a clean history. We are happy to offer a 60-day money back guarantee and proud to have served more than 15,000 customers with their boat HIN Search History needs. boat registration search ©. Two percent of all proceeds go to charity. We value fair treatment of employees, customer satisfaction, having the most databases possible, and fast customer service at the core of our brand. View our
LinkTree
.