Hull Identification Number lookup – HIN Search
To get, transfer, and maintain boat registration in the United States, you need to know its unique Hull Identification Number or HIN. A HIN is analogous to the VIN of a vehicle and distinctly identifies one boat from another and helps prevent theft.
In this article, we talk about conducting a HIN search, components of a HIN, how to locate it, and why it matters for those needing to lookup a boat HIN. Our years of experience with databases and HIN lookups has been poured into this article.
What is a Hull Identification Number (HIN)?
A Hull Identification Number is a federally issued serial number that distinguishes the model and manufacturer of a vessel. It is similar to a Vehicle Identification Number (VIN) assigned to land-based vehicles, such as cars, trucks, motorbikes, etc.
Boats built or manufactured on or after 1st November 1972 must have a HID. Vessels built or imported before this date are exempt from this requirement when manufacturers identify boats on an ad hoc basis.
The HIN is a 12-character serial number unique to each boat, is generally used during the boat registration process, and must be included on any bill of sale. This number can also help confirm whether the vessel is registered in a US state or documented by the US Coast Guard.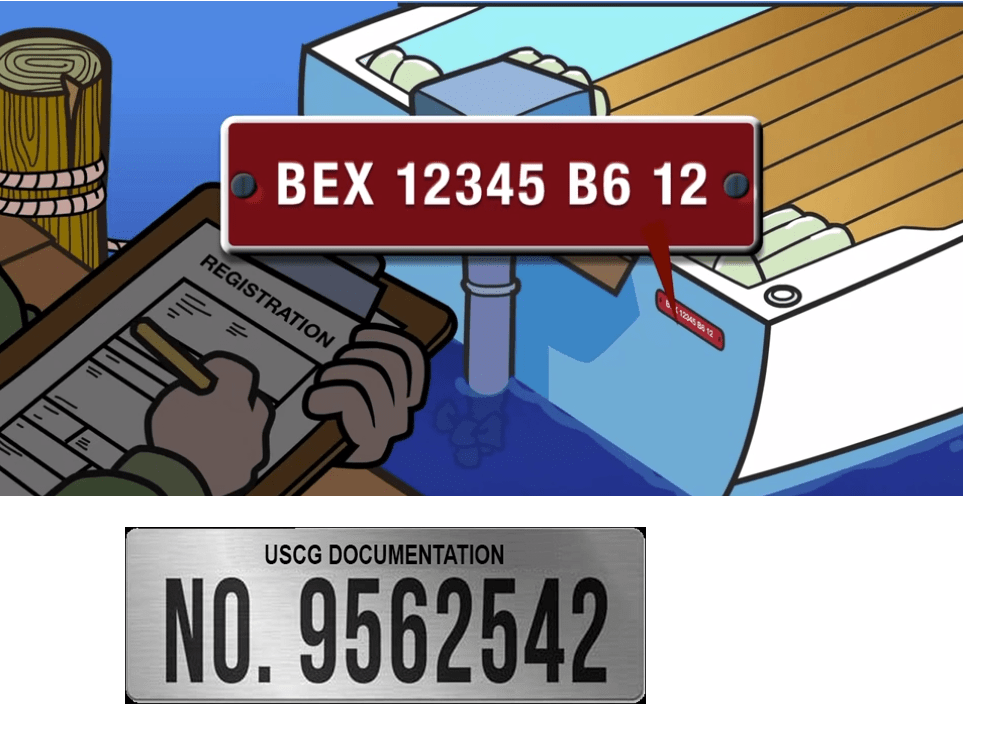 The HIN is not the same as a State Registration Number and thus does not identify registration or ownership except through a bill of sale. Conversely, a State Registration Number is a component of the boat registration procedure that can help the police or rangers verify the boat's ownership.
When do you need a HIN?
You will need to provide the HIN when buying a vessel and registering it for the first time. You will also need it during the transfer of registration and for registering second-hand vessels for the first time.
Having a HIN can also be very beneficial if you are trying to do a background check related to a specific vessel.
Why Do a HIN Search? | Can HIN lookup reveal damage?
HIN search is important for numerous reasons. First and foremost, it provides an insight into the history of a vessel and can help you dig out information related to its past involvement in any accidents, theft, collisions, pollution incidents, or factory recalls. Before investing in a second-hand boat, this information is crucial so you can avoid legal consequences and hefty fines.
Perhaps you are searching for your grandparents' old 'boat and need basic information like its manufacturer, model, and manufacturing year. Or perhaps you have come across a loose boat and are trying to track down its owner and return the boat. A HIN can bring you closer to your end goal in both situations.
Another benefit of doing a HIN search is to avoid investing in a boat with expensive hidden problems. A HIN lookup can fetch data that reveals if the boat you are interested in has been involved in any accidents, hurricanes, fires, theft, or was run aground.
Boating accidents cause damage to the boat itself and may incur liabilities that could pass on from one owner to the next. A HIN search can generally expose this information so potential buyers can invest smartly.
Where is the Boat History Database?
The Boat-Alert.com database combines 90+ nationwide databases into a single place so you can search in a matter of minutes. These include records for stolen boats, marine lien claims, boating accidents, pollution incidents, auctioned boats, factory recalls, and boat manufacturers.

Why is a Hull Number Important?
A Hull Number is the quickest and most foolproof way to identify a vessel. It is normally located on the hull on the starboard side of the transom within 2 inches of the gunwale, transom, or deck/hull joint, whichever is lowest.
Hull Numbers are critical when doing a boat registration lookup and can help you to verify that it is free from damage and legal scrutiny. A HIN can also help people looking to buy used boats by providing a detailed overview of its history, enabling them to negotiate a fair boat price.
Where is a Hull Number Located?
The Hull Identification Number is legally required to be displayed on the boat's transom so that it is visible from a distance. On boats that do not have transoms or difficult-to-access ones, the HIN is normally affixed to the starboard's right side, on the hull's outboard side, within 1 foot of the stern and 2 inches of the top of the deck/hull joint, gunwale or hull side, whichever is lowest.
On pontoon boats and catamarans with replaceable hulls, the HIN is generally within one foot of the right side of the starboard, affixed to the aft crossbeam.
The secondary hull number must be affixed in an uncovered location inside the boat or underneath a hardware fixture. Each HIN must be carved, stamped, embossed, burned, bonded, molded, or otherwise permanently attached to the vessel to make removal, replacement, or alteration obvious.
Understanding a Hull Identification Number
A Hull number features a combination of 12 numbers and alphabets unique to each vessel. These characters signify different details regarding the boat, such as:
The Manufacturer Identification Code or MIC: These are the first 3 letters of the HIN, which can be used to lookup the boat's manufacturing details.
Serial Number: The next 5 characters show the unique serial number provided by the manufacturer. This may be a combination of numbers and letters. The letters Q, O, and I are omitted to avoid confusion.
Certification Month: The next alphabet generally represents the month construction started. The alphabets A through L represent the 12 months. For example, "C" means March.
Certification Year: The next number represents the year of certification and is the last digit of the year during which the vessel was manufactured. For example, "6" designates 2006.
Model Year: The last two characters represent the vessel's model year.
With the help of a MIC, you can further search for the vessel's specific details, including horsepower, engine particulars, etc. Knowing the boat's model year can help you determine its age, an important factor to consider when investing in one.
Older boats are generally more susceptible to damage, while newer boats are more damage-resistant and feature better technology. If you are unsure about the authenticity of your HIN or are having trouble decoding it, use hindecoder.com  for a quick and easy check.
Can I Determine The Validity Of A Hull Number?
The validity of a HIN tells you whether or not the number is free from typos and correctly follows the standard with accuracy. You can determine the validity of a hull number in the following ways:
First, validate the number by checking if it can be decoded using a HINdecoder. Count the number of characters to ensure it is 12 digits long. You can read the HIN manually or with the help of hindecoder.com.
Second, verify the HIN against private and public databases to search its boat history report. The databases show the relevant history of the boat, including the manufacturer's details and other events (such as accidents, factory recalls, etc.). You can use this information to determine the boat's value, which will significantly help speed up your decision to invest in it.
If the hull number you are trying to validate is incorrect or nonexistent, online decoders and national/state databases will be unable to fetch related data from the agencies.
How to look up Hull Identification Numbers?
Step 1
Search for the hull identification number on the hull of the vessel. You can also browse through the bill of sale to find the HIN. Your dealer should be able to provide it as well.
Step 2
Validate the HIN format using hindecoder.com to ensure it is correct before you do any boat hull id lookup.
Step 3
Use Boat-Alert.com (the carfax of boats) HIN Search Online for a HIN number lookup free. You can instantly check all the important information about the boat, including its HIN and USA registration numbers (if applicable). You will also get access to boat names, boat values, auction data, and pollution and accident incidents. Here is a short table to help you compare the features of Boat-Alert, Boatfax HIN Decoder, and Boat History.
HIN Search boats registered in another state
If you want to search for a boat HIN in another state, you will need to obtain state-specific information. Different states have different boat registration requirements, including titling information. Boat-Alert uses over 90 boat databases from many US states to gather detailed information about the relevant state and its registration requirements. This includes some liens encumbrances databases but not all.
USCG documented the boat HIN search by vessel numbers
Large boats are documented on a federal level with the US Coast Guard (known as USCG Documentation). These vessels receive an official number and title to the boat compared to a state registration number granted to smaller boats. To do a USCG vessel owner search, you may apply for an official USCG Abstract of Title from Boat-Abstract.com. You can also use Boat-Alert HIN Search Online for a quick USCG Document Number cross-reference.
Conclusion
In this article, we discussed the HIN, its components, location, and importance when doing a vessel background check. We also discussed how Boat-Alert could provide immediate access to HIN number lookup so you can search a HIN against 90+ databases at once.
#FreeHINLookup #BoatAlertHINSearchOnline #HINSearch #HIN #Lookup
Categories:
To learn more about Boat-Alert.com History Reports for used boats and boat id lookup visit: www.Boat-Alert.com
About Boat-Alert.com®
Boat Alert History Reports© exists to aggregate boat databases so that shoppers can search and buy a used boat safely while saving time and money researching a used boat's history. We began in 2015 and constantly adding more boat vin number check free data for USA and Canada to ensure that your boat has a clean history. We are happy to offer a 60-day money back guarantee and proud to have served more than 15,000 customers with their boat HIN Search History needs. boat vin number check online ©. Two percent of all proceeds go to charity. We value fair treatment of employees, customer satisfaction, having the most databases possible, and fast customer service at the core of our brand. View our
LinkTree
.