8 Ways to Sell your Boat Online for Top Dollar
The process of selling your boat privately can be an overwhelming task. If you want to learn the dos and don'ts of selling your boat online, this article covers everything you need to know for the best ways to sell a boat. Having been in the industry for many years, we have compiled a comprehensive list of suggestions to ensure you sell your boat fast and for top dollar.
When is the Best Time to Sell a Boat?
There are specific times of the year when you will have more success selling your boat online, which is normally when people consider boating. Thereby, putting your boat for sale in summer or spring will give you the highest probability of attracting a potential buyer. February to June are some of the best months to sell your boat online.
Some other factors that will influence the demand for boats are fuel prices and the economy. If people don't have enough money to finance luxury purchases, you will probably have a harder time convincing them to buy the boat. Similarly, if fuel prices are skyrocketing, most people will not be willing to invest in something that could end up costing them a lot in the long term.
How Much Should You Sell Your Boat for?
The primary step in selling your boat online is to decide how much the vessel is worth. When determining the price, be sure to keep its sentimental value aside. This is because potential buyers will only show interest if they see the boat as a worthwhile commodity.
Numerous online tools and guides can help you set a fair price but you might still need appraisals. You can also do an internet search and see what other sellers are charging for boats that are similar to yours. You could get in touch with a dealer and see how much they'd sell the boat for.
A few factors to consider when setting a selling price are the vessel's age, the model and manufacturing date, its current condition, and what you think is a fair price. At the end of the day, you get to call the shots as a seller, but being flexible will be in your best interest.
Can I Sell the Boat Online for Top Dollar?
With the right platform, advertising types, and selling strategies, you can quickly sell your boat online for top dollar.
Choosing the Right Listing Platform for selling your boat
If you want to get the most money out of your boat sale, the best option is to sell it yourself. If you decide to go with this option, there are numerous platforms that you can choose from, such as:
Best Place to Sell a Boat Online Free
Craigslist is a free online forum where you can sell your boats. You list the vessel according to your geographical location, and potential buyers looking for a boat like yours will contact you.
The platform you choose to sell your boat on should be reputable, with plenty of good reviews and a wide audience. Moreover, you should pick a website offering a comparatively low listing fee and less competition. Lastly, as with any online platform, exercise caution when responding to queries and do not allow buyers to drop by your house to see the boat.
Should you sell your boat through a company, broker, or dealer?
Besides selling the boat online on your own, you can also sell it through a company, broker, or dealer.
Will boat dealers buy used boats? | Sell the boat to the dealer
Most dealers do buy used boats. However, if you decide to sell your boat through a dealership, you may find that they won't give you the sale value that you were hoping for. This is because dealers have to consider their overhead expenses and keep in mind an estimated price they can get for it when they sell it. In return, you can expect the whole selling process to be hassle-free and quick compared to doing it alone.
Are Boat Brokers Worth It?
Boat brokers are similar to real estate agents. When you sign a contract with them, they will take charge of most of the responsibilities and make the process as smooth as possible. Your broker will also attend to the delivery, verifying the deal alongside the buyer. In exchange, you will pay a fixed fee, normally the percentage of the final sale price of the vessel.
The presence of a middleman could mean you won't have as much control or transparency in negotiating the best deal. On the other hand, you can benefit from the industry expertise of the broker, as well as their neutral reasoning and effective marketing and pricing strategies. Brokers can be a worthwhile option if you have a busy schedule and don't mind giving up a small percentage of your sale value.
Sell Boat on Consignment
Selling a boat on consignment is where a consignee agrees to pay you the money after the boat sells. this is similar to broker commission but technically different. You can retain the ownership while the boat isn't under contract, but the consignee holds the boat. The consignee will also look after and arrange the boat registration, finance payouts, and take care of most of the responsibilities.
Tips to increase boat resale value online
There are many reasons why you may want to sell your boat. If you are ready to let go of your old boat, here are some ways to achieve this without compromising your resale value or boat appraisal.
Repair What Needs Attention
Get rid of all the non-essential items from the boat to make it look presentable. Do a thorough inspection of the vessel and see which parts require repairs.
Make a Descriptive Listing | Make your boat listing stand out
If you want to sell your boat fast online, you need to make it stand out with a stellar description, high-quality photos, and excellent communication. Use specific keywords and phrases that show your eagerness to sell and back it up with detailed advertisements so buyers can have a descriptive vision of your boat. Note that boat videos make a big difference!
Remember that high-quality pictures play a key role in online selling, so be sure to click ample photos of your boat from every angle. Nowadays, buyers don't even bother opening a listing if the photos seem poor-quality or insufficient, so pay extra attention.
Add a beautiful backdrop to your photos, such as a fancy house in a nice neighborhood or a beach view. Also, add photos from different times, e.g., sailing on the water, fishing on it, etc. Attach a "for sale" tag on the boat, and use word-of-mouth advertising to market the vessel. Write any disclosure you need to earn trust and prepare all important documents to sell the boat and mention any upgrades to the vessel.
Search for the Right Platform
There is not necessarily a single best place to sell your watercraft online. Choosing the right listing platform will depend on several factors, such as listing fees, level of competition, and reputation. There are a lot of scammers out there, so do your due diligence before putting the details of your boat online. We talk about ebay, marketplace, boattrader, and other websites on your blog.
Be Prepared for a Sea Trial
A sea trial is needed to ensure the buyer is satisfied with the boat's condition before the sale is finalized. How well you communicate with the buyer and demonstrate professionalism is crucial for a fast sale. Do a quick boat cleaning before a trial, and make it as presentable as possible.
Communicate Quickly
Quick communication is essential if you don't want to lose a potential buyer to your competitors. Be responsive, friendly, and polite when a buyer asks you a question or makes a request.
Know how to Negotiate
Buying a boat involves a heavy investment, so be prepared to go back and forth regarding the price and other terms. Hiccups, no-shows, and no-responses are quite common. Make it clear that your offer is on a first-come, first-served basis.
Be a Good Salesperson
If you give the impression that you are only trying to make money, this may put a prospective customer off. Engage the buyer in a dialogue about what they want in a boat, and make them see what your boat offers.
Go with Cash
Opt for cash as a payment since it is easy to forge checks and online payments. Be sure to look out for fake notes by examining the dollar bills. You can also hire a third party to count and check the cash before releasing the vessel.
Issues: selling a boat with a lien on it
If you are selling a boat with a Lien on it, you will need a settlement of the sale, including your lien holder. Normally, the buyer must pay the lien holder for the balance owed, plus payment is given to you for the extra sales price.
Issues: selling boat without title
In the absence of a boat title, a bill of sale can be used to prove ownership of the vessel. It is important to know the specific laws in your state for this.
Issues: when you sell a boat, do you pay taxes
If you sell the boat for more than you paid, the profit is taxable as a capital gain.
Issue: protect yourself from scammers when selling a boat.
When selling a boat online, there are common scams you need to learn to avoid. We dedicated this article for the topic.
Conclusion
This article comprehensively covered the basics of selling your boat online, including the right time, platforms, and options for yachts. We also discussed ways to increase your boat's resale value and make the boat selling process as hassle-free as possible.
#sellboat #sell #boat #SellYourBoatOnline #BestBoatListingPlatform #IncreaseBoatResaleValue #craigslist #ebay
Final Step – the report
Finally, offer a boat-alert history search on the boat hull identification number with the boat listing to potential buyers to show that you have nothing to hide and don't neglect the oldest school method which is to put a sign on the boat.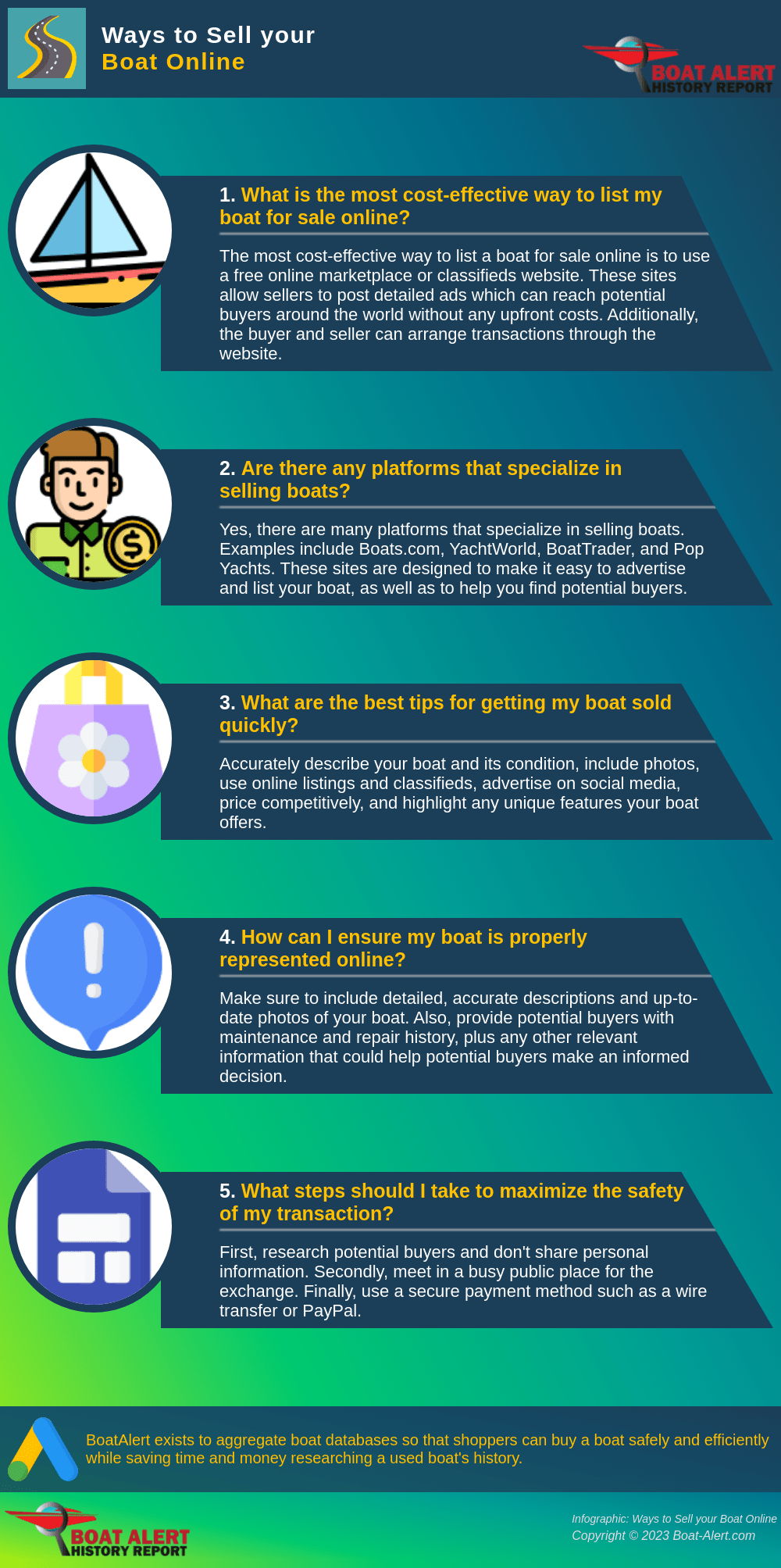 Read Related Articles:
Categories:
To learn more about Boat-Alert.com History Reports for used boats and boats information from hull number search visit: www.Boat-Alert.com
About Boat-Alert.com®
Boat Alert History Reports© exists to aggregate boat databases so that shoppers can search and buy a used boat safely while saving time and money researching a used boat's history. We began in 2015 and constantly adding more boat title lien search service data for USA and Canada to ensure that your boat has a clean history. We are happy to offer a 60-day money back guarantee and proud to have served more than 15,000 customers with their boat HIN Search History needs. boating history ©. Two percent of all proceeds go to charity. We value fair treatment of employees, customer satisfaction, having the most databases possible, and fast customer service at the core of our brand. View our
LinkTree
.