Best Boating Forums – 20 Most Popular Boating Forums to Join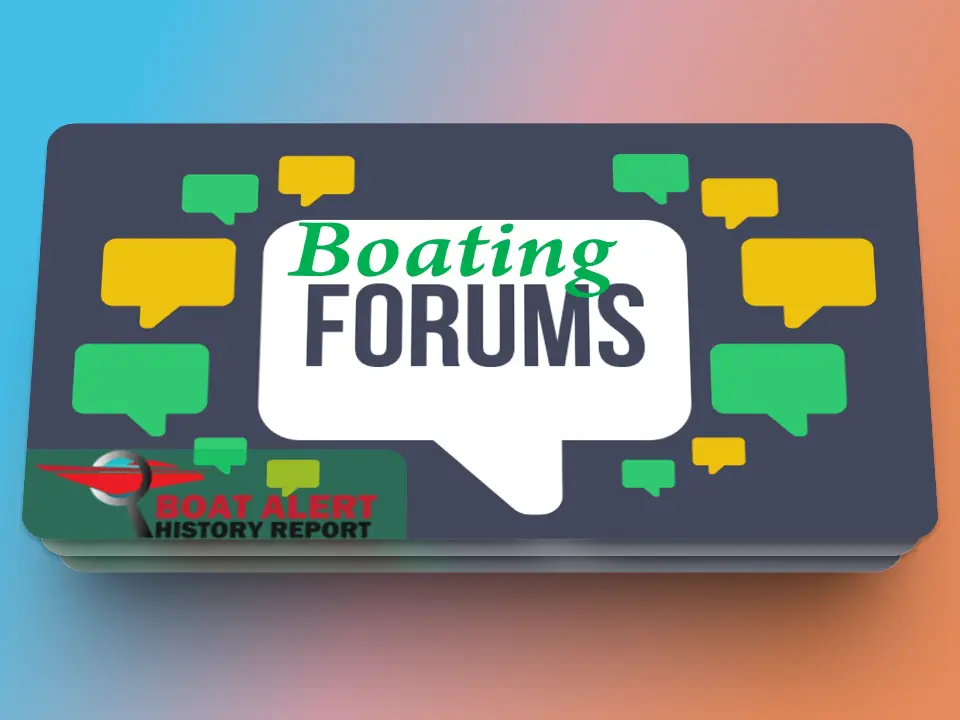 If you are a boat owner, make sure you are following some of the most popular internet forums for boaters to stay on top of your boating game. These platforms allow you to learn more about the current boating trends, learn from industry experts and connect with fellow boat aficionados.
In this article, we compiled a comprehensive list of the top 20 popular boating forums & communities you must join. We have been in the industry for many years and are here to help you connect with the right people.
We also mention some boating subreddits for those redditors among our readers. If you want video content, check out the YouTube Boating Channels you must follow.
Types of Boating Forums
Boating forums are divided into different categories; some offer general information, while others are more specific niches. These include:
Boat-type specific forums (sailboats, yachts, pontoons, trawlers, wooden boat etc.)
Brand-specific forums (Sea-Ray boats forum, Bayliner, etc.)
For activities like repair, restoration, tow sports, offshore fishing, etc.
For a specific location or city
Methodology
We collected a list of the most popular forums online and compared their number of members and number of posts to come up with the best 20 online communities for boaters. Range of topics as well as ongoing live activity make these the most rewarding.
A successful boating forum should have a variety of topics and discussions that are of interest to a wide range of boaters. It should also have an active and engaged community of members who are willing to share their experiences and advice.
Additionally, a good boating forum should have moderators who are knowledgeable about boating and can help answer questions and provide guidance. Finally, an up-to-date and easy-to-navigate website makes a successful boating forum more enjoyable for members. Some of them offer a level of advertising that might be annoying but offers an advantage to fund the site.
Top 20 Boating Forums
The Hull Truth (THT)
The Hull Truth is the largest online boaters forums available. You can find all kinds of information here since 2006, and get in touch with dedicated community members who are always willing to help. You can participate in industry discussions, learn about different water activities, check schedules for boat shows and events, and hone your skills with detailed "how-tos".
Visit The Hull Truth – Boating and Fishing Forum
Band of Boaters (BOB)
BOB is managed by industry specialists and is a very useful and interactive boating platform. You can find all kinds of boating information from vendors, get useful advice, check out the classifieds, and talk about anything boat-related.
Visit BandOfBoaters.com – Discussion with the Boating Industry's Leading Experts
JetBoaters
JetBoaters is an active platform you should join if you are a jet boat owner. You will be able to interact with other jet boat owners, learn from their experiences and advice, and have your questions answered immediately.
Visit JetBoaters.net – The World's Largest Jet Boat Forum!
Performance Boats Forum
Performance Boats Forum focuses on offshore racing, performance, builds, modifications, maintenance, troubleshooting, and more. Join this boater forum if you are a speed and adrenaline junkie.
SpeedWake
SpeedWake is an ideal community forum for Powerboat owners and aficionados. You can participate in various discussions related to performance, watercraft maintenance, troubleshooting, classifieds, and modifications. The forum is not as active as some of the others on the list, but it is a helpful one, nevertheless.
Classic Mako
Classic Mako forum brings different members together thanks to their fun discussions and informative sessions. These include new and old boats, rebuilding and customizing Mako hulls, and discussing safety precautions when undertaking boat-related measures on this bulletin board.
Iboats
iBoats is the forum if you enjoy talking about motors and want to learn more about particular troubleshooting issues. This platform has all the answers and pieces of advice that you might need to take care of your boat better or even searching what boat you wish to buy.
Visit Boating Forum – iboats Boating Forums to join the message board
YBW Forum
YBW (Yachting and Boating World) is the largest motor boats and sailing community that also features used boats for sale, weather forecasts, yacht racing reviews, and more. YBW forum is part of YBW that covers topics like Yachting Monthly Book Club, Crewing Opportunities, web auctions, and yacht tech and design. When you visit the online forum, you will be greeted with an array of discussion forums
Microskiff
If you own a skiff, you should join this online boating forum that will offer you a place to introduce yourself and ask for advice. You can also participate in discussions about the environment, boatyard basics, products for sale, and much more. All you need to do is sign in and add to any discussion you like in the discussion group.
Downeast Boat Forum
Downeast Boat Forum is perfect for commercial fishermen, boat lovers, and boat builders from the Northeast. You can register for free and benefit from both general and topic-specific discussions (discussion board), such as boats for sale, classifieds (downeast boats classifieds), and industry news.
Key West Boat Forum
Key West Boat web forum is a resource and discussion forum for people who want to learn more about repairs, rebuilds, customizations of engines, restorations, outboards (engine topics), accessories, gear, and more. If you are unsure about a topic, you must create an account and "start a new topic."
Offshoreonly Forum
Offshoreonly Forum is the largest discussion space for high-performance boating lovers. You can find information on all topics related to financing and insurance of boats and boating accessories. Having adequate knowledge before buying or selling a boat is extremely fundamental, and Offshoreonly Forum is the place to go when you are feeling stumped.
SailingAnarchy
SailingAnarchy is yet another forum (discussion site) that specializes in sailing. You will learn a lot and indulge in interesting discussions about racing, sailing, cruising, and even topics that aren't directly related to sailing. You can discuss just anything with the new members you get acquainted with.
Sailnet Community
Another beloved online platform for sailboat fans is Sailnet, where you will find a little bit of everything boating-related. There's even information about cruising and living abroad. You can also read an array of reviews, participate in giveaways, and read what the experts have to have about becoming a better sailor. Introduce yourself to the community and start building your boating network.
BoatBlurb
BoatBlurb is your one-stop spot for all things boating. The platform's main objective is to educate and excite boaters by broadcasting interesting insights and news about the boating community. You can find the latest publications about products, tips, reviews, ads, destinations, and boating culture. Simply reading the blog posts on this platform will help you upgrade your boating knowledge by a landslide.
Cruisers Forum
As the name suggests, this forum is dedicated to cruises. However, you can discuss content beyond that. Checking out this platform from time to time will help you stay updated on relevant boating information.
Intlwaters
Intlwaters is a radio & remote control boating forum for props, motors, engines, electronics, races, etc. You can find general information about RC boats, boat classifieds, race schedules and events, and even a forum dedicated to gas boats.
Classic Seacraft
This online boating platform is very useful if you are interested in boat repairs, performance and mods, event gatherings, and boats for sale. Everything posted on the platform is related to SeaCraft boats, so if you own one or are a fan, check it out.
Grady White Forum
The Grady White Forum is where Grady White boat owners come together to discuss their boats, share tips, and discuss any issues with their watercraft. You can also browse listings and see if a boat catches your eye. A general discussion forum also allows members to ask questions and seek help from fellow boat owners.
Outdoors Directly: The Alaska Boating Forum
The Alaska Boating Forum is particularly designed for boats and boating in Alaska. Discussion topics generally include canoes, kayaks, rafts, riverboats, skiffs, lakes, rivers, etc. You can find plenty of publications, activities, and tips related to boating. These Forum messages are archives that contain information since 2004. You can also find their current boating forums on the web page.
Top boating Subreddits
Reddit is a valuable social media platform that allows you to interact with real-life people, experts, and hobbyists. Listed below are the top boating subreddits you need to check out.
r/boating – With over 66,000 members, this subreddit is the perfect place to discuss everything related to boating. The environment is friendly and responsive, so you don't have to worry before asking for help.
r/sailing – This subreddit has over 150,000 members and is a platform to share, ask about, show, and enjoy everything about sailing, sailboat racing, and other technical discussions.
| | | |
| --- | --- | --- |
| Boating Forum | Number of Members | Number of Topics/threads |
| TheHullTruth | 426,008 members | 1,211,178 threads |
| Iboats | 587,438 members | 116,000 threads |
| Band of Boaters | 3,990 members | 9,000 topics |
Top boating forums with number of threads and members.
Other online boating communities
Facebook Groups
Facebook groups remain one of the best forms of online boating community since they offer a direct space to discuss everything related to boats. Facebook groups are comparatively informal, making it easy for you to communicate with fellow members and get answers to your questions. Some boating enthusiasts like to discuss each boat manufacturer and give their opinions with some interesting boating discussions!
Sailboat Owners Forums
Sailboat Owners is the world's leading forum for owners of popular sailboats. You can get in touch with cruising sailors and trailer sailors, read boat reviews, look for boats that are up for sale, share photos, and ask questions from experienced owners. The best internet sailing forums are the Cruisers Forum, the SailNet Community, the Sailing Anarchy Forums, the Sailing Forums, and the WoodenBoat Forum.
BoaterEd
BoaterEd is dedicated to boater education and contains all the technical information regarding engines, plumbing, electrics, etc. There is a forum called "Ask the Captain," where you can get direct advice from boat captains. Currently, there are over 560,000 members in the community, with more than 53,000 discussion threads, making it one of the top boater communities.
BoatDiesel
If you are into diesel boat engines, this niche forum is for you. It contains all the information regarding buying, maintaining, and selling diesel engines.
For Canadians, try Canadian Fishing Forum and for PWC & jetski lovers check out Personal Water Craft Forum (pwcforum.com) for your specific models and problems. Finally, there is Wake World – Forum for Wakeboarding Discussion groups.
How should you pick a boating forum to join?
Determine the type and size of boat you own or plan to purchase.
Read online reviews of various forums to find out which ones are active and provide helpful resources.
Consider the topics discussed in the category list on the forum and determine whether they are relevant to your interests.
Join a few forums and take a look around to get a better feel for the atmosphere.
Ask questions and participate in discussions to see how helpful and friendly the members are.
Consider the cost of membership and determine if it is worth the benefits.
Read the sticky posts to know the rules & guidelines.
Use social media to connect with other boaters and learn more about the forum.
Conclusion
In this article, we discussed the best boating forums that you could find online. We also briefly touched on other social media platforms that act as alternatives for conventional online boating platforms & classifieds, such as Facebook and Reddit.
Depending on the type of boat you own, your interests, and your specific concerns, you can choose from a sea of boating platforms. Keep in mind that some boating forums are general, while others are more specific, so if you are a boating novice, it is best to start by joining a more general forum.
#boatingforum #forums #community #online #THT #thehulltruth #iboats
Read Related Articles: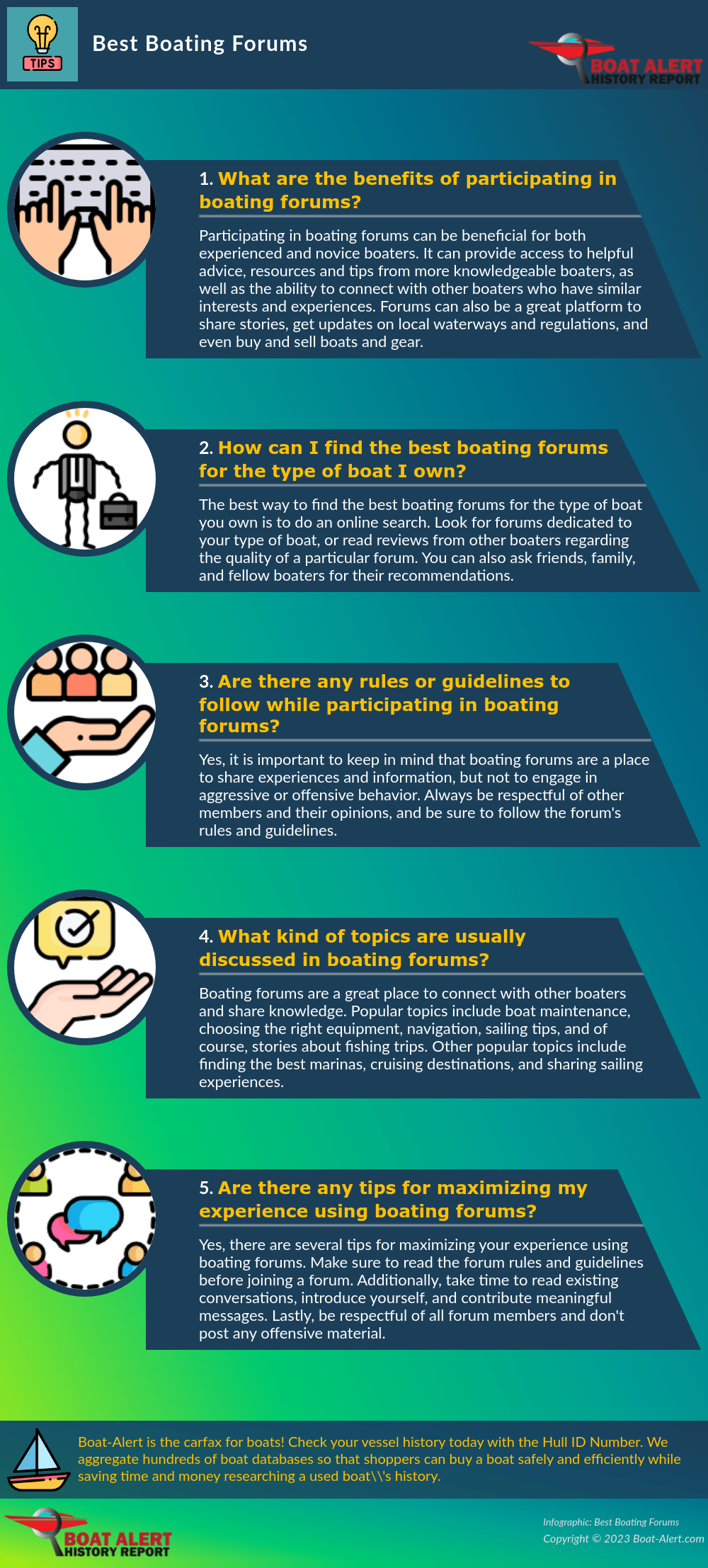 Categories:
To learn more about Boat-Alert.com History Reports for used boats and boat registration visit: www.Boat-Alert.com
About Boat-Alert.com®
Boat Alert History Reports© exists to aggregate boat databases so that shoppers can search and buy a used boat safely while saving time and money researching a used boat's history. We began in 2015 and constantly adding more boat search data for USA and Canada to ensure that your boat has a clean history. We are happy to offer a 60-day money back guarantee and proud to have served more than 15,000 customers with their boat HIN Search History needs. boat identification numbers ©. Two percent of all proceeds go to charity. We value fair treatment of employees, customer satisfaction, having the most databases possible, and fast customer service at the core of our brand. View our
LinkTree
.