Best Used-Boat Classifieds
Buying a used boat is a big decision you shouldn't jump into without giving it adequate thought. The first step to a successful boat purchase is to look for it in the right places.
In this article, we talk about the best used-boat classifieds and "boats for sale" websites you need to know as a potential buyer or seller. Working in the marine industry for many years, we have done the research to find every alternative boat classified site out there.
Using the wrong platform can be a waste of time so it's important to know the best ones out there.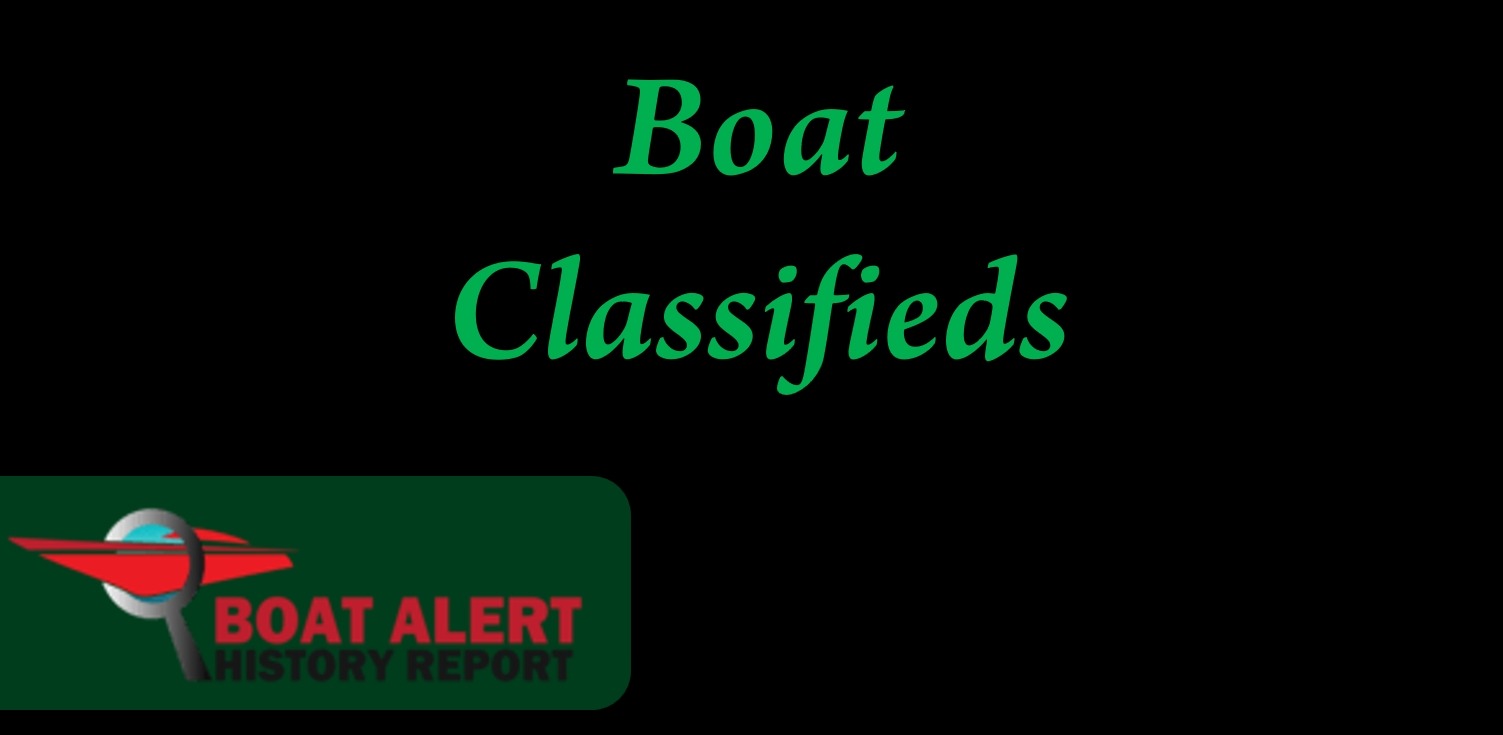 We start with reasons why and then list the best boat classified:
Reasons to Buy a Used Boat
Sure, investing in a brand-new boat may be tempting, but there are plenty of reasons to buy a used boat instead:
Budget-friendly
This is a no-brainer advice, but used boats are cheaper than new boats. Once a boat has been used, its value depreciates even if it is in perfect working condition. This means you can get a bigger boat for less money and still save a ton. If you buy through a broker, you can negotiate prices further and benefit from substantial savings as a boat buyer.
Less Depreciation
Used boats lose the most value during their first year of ownership. When it comes to used boats, this depreciation has already taken place, meaning that they will maintain most of their value from there onwards.
No teething Issues
Second or third-boat owners can usually avoid common teething issues in new boats, including leaks and equipment problems. The previous owner(s) have already solved these issues, so you won't have to deal with them. However, it's recommended that you do a thorough inspection and a sea trial to ensure no long-term problems with the boat.
There's a Sea of Options Available
Used boats are available everywhere. From Boat Trader, eBay, and Facebook to yard sales, consignment boats, and boat shows, you can find them in different models, brands, and sizes. Canadian boaters can also use Kijiji.
Used Boat History Search Reports
When buying a used boat, performing an online HIN look-up and background check is important. A background check offers a detailed insight into the boat's ownership history, lifespan, and whether it has been involved in any accidents, theft, or other offenses. A pre-owned boat can unleash many surprises, some of which may not be uncovered until after the sale has been finalized.
This is relevant not only to the ownership title and liens but also to the boat's structural and mechanical integrity. Sometimes, even the seller may be unaware of the fundamental problems that occurred before assuming ownership. This is where a background check can help by highlighting any pre-existing issues that could impact the boat's market value and equity position. It complements the survey.
To avoid such problems, getting a Boat-Alert.com history report is crucial to access critical information such as the boat's name, value, lien information, pollution incidents, factory recalls, theft, auction data, and accidents.
You can also perform a quick and free HIN lookup on the website by yourself – Simply enter the HIN of the boat you are interested in into the tool's search bar to verify the boat's basic registration details. We also have data of previous listings on boat sales websites and marine classifieds.
What makes a classified site the "best"?
When evaluating the best used-boat classifieds, we consider the following criteria:
Variety and Quality of Listings: Look for a classifieds site that offers a wide variety of boats in different sizes, types, and price ranges. The site should also have detailed and accurate descriptions, high-quality photos, and any relevant information about the boat's history, condition, and features.
User Interface and Navigation: A user-friendly interface and easy navigation are essential for any classifieds site. The site should be easy to navigate, with search and filtering options that allow users to quickly find what they're looking for.
Seller Credibility and Reputation: A trustworthy classifieds site should vet its sellers and provide feedback from previous buyers. This helps ensure that buyers are dealing with credible sellers who have a good reputation in the boating community.
Customer Support: The classifieds site should have a responsive customer support team that can assist users with any issues or questions they may have. The site should also provide resources and guidance for buyers and sellers to ensure safe and fair transactions.
Cost and Value: Evaluate the cost of listing a boat on the site and whether it's worth the value. Look for a site that offers affordable listing fees and provides good value for the price, such as a wide audience reach and effective marketing strategies.
After evaluating classifieds sites based on these criteria, we can find the best platform to buy or sell a used boat below:
Where to Look for Best Boat Classifieds?
Whether you are looking to buy or sell a used boat, you should be aware of the most popular platforms to list your boat for sale or search for your next boat investment. Listed below are the top 10 websites for best boat classifieds.
1. Boat Trader
Boat Trader is the largest online marketplace for boats in the United States. Buyers can find thousands of new and used boats, engines, outboard motors, and trailers from around the world, along with their prices. Similarly, sellers can easily list any type of boat for only a one-time up-front fee, and the entire process requires a few simple steps.
Boat Trader is owned by BoatsGroup.com and has 20,000+ active boat listings from private sellers and boat dealers.
2. YachtWorld
A subsidiary of Permira, YachtWorld is a Miami-based boat sales platform with multiple listing services that allow professional yacht dealers, brokers, and manufacturers to sell their yachts. You may reach out to a professional yacht broker who will help you advertise your boat for sale or assist you in buying a new or used boat. If you want to sell your boat and wish to have professional representation by a broker, you can post the listing for one month.
3. YachtAll
YachtAll is a US-based platform owned by a parent company called Yacht All, LLC. It primarily serves the United States, Canada, and Australia. You can find a wide selection of private and dealer listings on boat classifieds, and you can also list your boat for sale through a broker. There are a total of 18,000+ active listings on this website.
4. BoatBuys
With over 60,000 listings, BoatBuys is one of the largest portals for buying and selling new and used boats, outboard motors, personal watercraft, and more. The boat inventory is updated multiple times throughout the day, and you can find boat brokers, dealers, and private sellers on this platform.
If you are a buyer, you can directly contact sellers using their email or toll-free phone number to inquire more about prices and other information. You can also browse through a sea of video boat tests and reviews along with buyer guides, so you can be sure about making the right investment decision.
Read boat selling strategies
5. Boats.com
Boats.com is an online marketing website based in Miami, Florida. It also serves in Padova, Italy, and Fareham, England. The company has websites in 9 markets and 8 languages, listing over 350,000 boats in nearly 152 countries.
You can buy and sell new and used boats, PWCs, and other types of watercraft. Sellers are offered three main packages: Basic for 2 weeks ($39), Enhanced for 6 weeks ($99), and Premium for 12 weeks ($139). Buyers can browse reviews, how-to guides, and other important information before buying a boat.
6. Boat Export USA
Boat Export USA is one of the largest online marketplaces of used boats for sale by US owners available for export internationally! You can currently find 9,800+ listings for export with no restriction on the type, size, or brand of the boat. The boat export process starts when you request a quote on the company's website. Your request is directed to the sales team, who then figure out the entire shipping process in a few stages. This platform best suits serious buyers looking to invest in high-end international boat brands.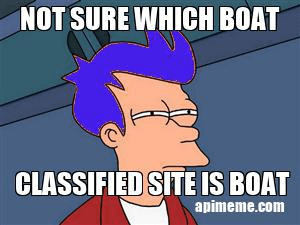 7. Marine Max
Headquartered in Florida, Marine Max is a reputable name for buying and selling new, used, and brokered boats. You can find their branches in more than 60 locations nationwide and 125 locations worldwide, including 57 marinas and 78 dealerships. You can find all the popular boat brands, such as Grady White, Boston Whaler, and Chaparral.
8. Facebook Marketplace
Facebook Marketplace may not be a platform dedicated to boats, but it is certainly useful for finding or listing used-boat ad classifieds. There is no listing fee, and Facebook only charges a 5% seller's fee on the boat's sale value. Using specific keywords, you can find boats to buy or sell within your locality.
9. Craigslist Used Boats
Craigslist.org boat classifieds is a tool that directs you to new and used boat classified ads. You can select your area and browse through thousands of boats listed on the website at any given time for free. For example, you can check listings for boats in Mexico, Canada, and the Bahamas. If you are searching for a particular model or price range, you can create a "boat wanted" ad.
10. Newspapers and Magazines
Instead of the above boat marketplaces, newspapers and boating magazines are also excellent sources to look for used-boat classifieds when boat shopping. Online magazines like Good Old Boat also have an adverts section where you can enter your location, category, and related keywords to search for a specific boat model or brand.
Boat advert Pricing:
| | |
| --- | --- |
| Boat Advert Website | Boat Advert Pricing (Listing Price) |
| Boat Trader | The basic Package costs $69Enhanced Package costs $159Premium Package costs $229 |
| YachtWorld | $10 to $15 per month per boat |
| YachtAll | $32 for 1 – 15 boats per month$53 for 16 – 50 boats per month |
| BoatBuys | No listing fee for private sellers |
| Boats.com | The basic Package costs $39Enhanced Package costs $99Premium Package costs $139 |
| Boat Export USA | $5000 per boat |
| Facebook Marketplace | No listing fee is required |
| Craigslist | $5 per boat |
Each website has different search criteria options
Alternatives Boat Classified sites for Advertising your Boat
If you want to learn more about the different alternatives for advertising your boat besides boat classifieds, consider reading our other blog article on the topic where we list 32 other sites! (examples, include boatcrazy.com for boats and jetskis classifieds)
We also have some detailed tips and tricks on how to sell your boat on the following platforms:
Conclusion
In this article, we talked about the best boats-for-sale websites where you can find a wide variety of new and used boats from owner listings. Whether you are interested in buying or selling a used boat, you can choose to create a listing here to take advantage of maximum visibility and other add-on features.
#BoatClassifieds #UsedBoatAds #BoatClassifiedsWebsites #FSBO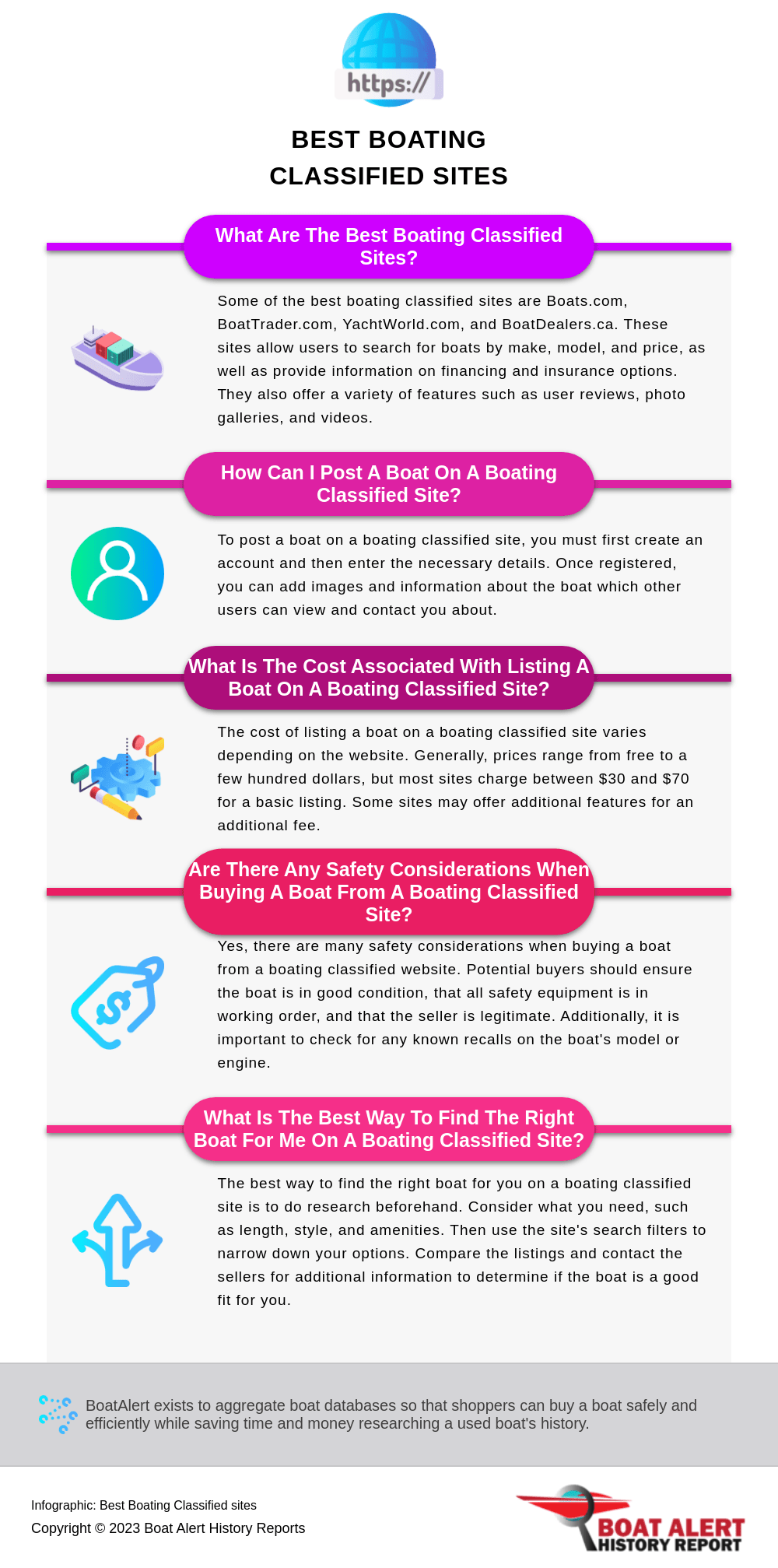 Read Related Articles:
Categories:
To learn more about Boat-Alert.com History Reports for used boats and boats information visit: www.Boat-Alert.com
About Boat-Alert.com®
Boat Alert History Reports© exists to aggregate boat databases so that shoppers can search and buy a used boat safely while saving time and money researching a used boat's history. We began in 2015 and constantly adding more boatalert data for USA and Canada to ensure that your boat has a clean history. We are happy to offer a 60-day money back guarantee and proud to have served more than 15,000 customers with their boat HIN Search History needs. boat registration number lookup website ©. Two percent of all proceeds go to charity. We value fair treatment of employees, customer satisfaction, having the most databases possible, and fast customer service at the core of our brand. View our
LinkTree
.