Boat VIN Lookup
Boats, similar to other kinds of vehicles, have an identification number from the manufacturer. However, contrary to popular belief, they use a Hull Identification Number (HIN) instead of a Vehicle Identification Number (VIN) like the one used by cars.
A lack of understanding of boat numbers can be confusing. This article takes a deep dive into some ways to perform a boat VIN lookup and decode the information using free and paid tools. With many years of industry experience, we have the knowledge and expertise to effectively guide you regarding the best boat VIN search methods & services available that give accurate accounts of historical public records.
Why Do a Free Boat VIN Check?
People who own boats for recreational or business purposes know the importance of routinely checking the vessel's identification number before buying a used boat. Having this information can help determine the legitimacy of the boat & paperwork, makes it easy to identify each boat, know if its been in an accident, prevents buying a stolen boat, and helps recover stolen vessels.
On the other hand. even if you are not a boat owner, you may encounter a lost boat that must be looked up and reported to authorities promptly. Regardless of the reason, you can greatly benefit from a free boat VIN check. There are paid services that will check even more than the free boat vin lookups below.
Do Boats have a VIN?
Yes, boats have an identification number. Unlike cars, trucks, and other vehicles, boats do not have a 17 character Vehicle Identification Number or VIN. Instead, they are identified using a Hull Identification Number or HIN. Some people call it the equivalent to VINs for boats.
Simply put, a Hull ID number is a manufacturer issued serial number of a boat that identifies the manufacturer, year, and make of the boat. Moreover, this number can help verify whether the boat is registered in a US State or documented at the USCG. However, a HIN doesn't identify ownership or registration except through bill of sale records at the local agency. On the other hand, a state registration number is an element of the boat registration process that allows state rangers or police to identify the boat's ownership.
Do Boat Engines have a VIN?
Yes, every boat engine has a VIN engraved on its transom mount, including its serial and model numbers. The engine's VIN is not the same as the boat's HIN. Currently, there is no company the can lookup a boat engine's VIN. Such inboards and outboards have not been tracked well in the industry so a stolen motor boat can be a common untraceable thing.
What is a Vehicle VIN?
A Vehicle Identification Number (VIN) is used to identify most land-based vehicles, including trailers, cars, motorcycles, trucks, RVs etc. It is generally 17 characters long and displays the car's unique features, manufacturer, and specifications. In the USA, any vehicle with a VIN can be looked up in the NMVTIS database.
Is a Boat VIN the same as HIN?
Yes, a boat's HIN is the same as the VIN of a boat. They are just different names for the same hull identification number that is 12 characters long (or 15 if you include the "US-" prefix).
Is a Boat HIN the same as a Serial Number?
A boat HIN is not synonymous with a boat serial number; the Hull ID contains a boat serial number in the middle 5 characters: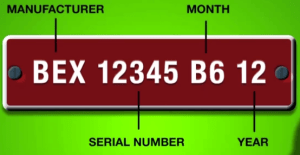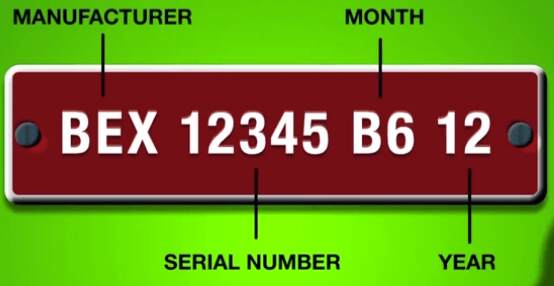 How do I find out what year my boat was made by its serial number?
The third last digit of the HIN represents the boat's build year or the year it was certified. The last two digits show the boat's model year. For example, if the last two digits of the HIN read "04", it stands for 2004.
How do I find the built-by and model number of my boat VIN?
To look up the MAKE and MODEL number of the boat, you need to first look for the HIN. Once you have the 12-digit alpha-numeric Hull ID, note down the first three letters: This is your boat's Manufacturer Identification Code or MIC.
Next, use the USCG Manufacturer's Identification page to enter the MIC of the boat, select 'All States', then click 'Submit.' Through this page, you will be able to retrieve information on the boat's manufacturer, including the company name, address, and operational status.
How to Decode a Boat HIN? | Reading your Boat VIN Lookup
If you want to know how to decipher a boat VIN, use the following guide:
The first 3 letters are the manufacturer's code that shows the boat's manufacturing details.
The next 5 characters represent the boat's unique serial number
The last 4 characters show the manufacturing date and the boat's model year. These include the manufacturing month and year as well as the model year of the boat.
Read more about the 3 types of HIN formats and how to read each one.
If you are having trouble decoding a HIN, you can use a free boat VIN decoder at Hindecoder.com to help you with the verification process. This will validate the HIN to be free of any typos as well.
How do I find the History of a Boat by serial number lookups?
If you want to learn more about a vessel's history or owner's information, you can use a few methods to access the relevant information. These include:
VIN/HIN
The VIN/HIN number is the single most absolute way to find a boat's history and is normally on the exposed lower corner of the transom or the stern. You can also look for them on titles, manufacturing certificates, or registration papers. Enter the HIN on Boat-Alert.com to access boat registration details.
State Registration Number (reverse VIN lookup for boats)
Small boats are registered with the state and are assigned a State Registration Number that can be used to identify the vessel's owner. This number will help you directly look for the history of the boat on Boat-Alert.com with a reverse lookup. The platform will track the HIN and display it on the home page. This method allows you to use the Hull ID number to run the boat history lookup by HIN.
Boat VIN Lookup in Canada
Many people confuse Canadian and American Terminology. Here is a comparison:
Canadian Licencing is similar to the U.S. boat registration at State levels. Licencing is free and it is for tax purposes mainly in the province. You will see the letters of the province in the licence number usually. Display your Pleasure Craft License (PCL) number on both sides of the bow. It is not a Title and PCL boats do NOT qualify for Transport Canada Transcript of Registry since they are not registered.
Canadian Registration on the other hand is similar to U.S. documentation at the federal level, and is designed for commercial vessels and ships. There is a cost to register a boat in Canada. These boats qualify for Transport Canada Transcript of Registry if you want more info on the vessel.
Boat-Alert focuses on USA boats but we do search both Registered and Licenced (PCL) Canadian vessels. When it comes to theft-search within the RCMP boat theft database, we search any HIN regardless if it was PCL or Registered.
Article to read: Learn about Registration and Licencing in Each Canadian Province
USCG Documentation Number (for boat-abstract.com)
Large boats are documented on a federal level with the US Coast Guard (known as USCG Documentation). These vessels receive an official number and title to the boat as opposed to a state registration number. To find the complete history of a boat, you may apply for an official USCG Abstract of Title from Boat-Abstract.com assumig your boat has an official number.
Boat-Alert.com – Carfax, but for boats
Boat-Alert.com offers a wide range of boat databases to help buyers invest in legit and safe used boats while saving time looking up their history. Simply enter the boat's HIN in the website's search bar to access the vessel's basic registration details.
For a detailed report, you will be required to pay a fee to do a boat hull id lookup. The report contains a thorough cross reference between each HIN and each registration number. A boat registered in multiple states could match the VIN/HIN to more than one registration number during the lookup process.
Many people confuse the HIN with the State registration number or USCG Number. To eliminate any confusion, here are examples of three types of boat numbers and where their VINs are located on the boat.
| | | | |
| --- | --- | --- | --- |
| Type of Boat Number | Example | Length | Location |
| HIN | BLBA47EKL788 | 12 characters | Transom |
| State Registration Number | TX 1548 BY | 6 to 9 characters | Bow |
| Coast Guard Documentation Official Number | O.N.1138330 | 5 to 7 characters | Inside the boat |
What to do when the Boat's VIN Doesn't Match the Paperwork?
Before buying a used boat, it is crucial to do a thorough boat VIN check on Boat-Alert.com and all the paperwork the seller has. If the VIN doesn't match the vessel's documents, it is best to leave the purchase and look for other options. Verifying the VIN against relevant documents, including the boat title, bill of sale, etc., is fundamental to avoid serious legal consequences later.
Is a Boat VIN Lookup Important Before Buying a Used Boat?
A boat VIN lookup is of utmost importance when buying a used boat. Since the investment involved is hefty, and the ownership process comes with a range of complex legalities, it is critical to know what you are getting into. While effective, a 'free boat VIN lookup' doesn't provide sufficient information to seal the deal.
Supplementing it with a paid VIN lookup for stolen boats and a VIN lookup for vessels involved in an accident is important. A free boat history report check, including the NADA boat VIN lookup, is not enough when doing due diligence for a boat purchase.
Our suggestions is always that you get all the reports from all Boat VIN Lookup companies if your budget allows.
How to Check a Boat Trailer's VIN?
A boat trailer VIN is usually 17 characters long. Trailers are generally registered at the DMV, whereas boats are registered at the DNR. The exact requirements may vary depending on the state, so you might need to apply for an NMVTIS title report at VINAlert.com. You can also check the NICB vincheck database for free.
Pros and Cons of Boat VIN Check
| | |
| --- | --- |
| Pros | Cons |
| Boat VIN search can be easily performed online using Boat-Alert.com | Detailed Boat VIN lookup tools requires a fee payment |
| Provides the history of the vessel, making it easy for you to buy a used boat | Can be difficult if you don't have the complete or correct information. Some titling laws prevent sharing owner information. |
| Allows you to contact the owner in case of a boat collision so quick measures can be taken | May not be available for all boats depending on the region or country reporting damage after a disaster or hurricane. |
| Helps prevent theft and illegitimate selling & identification purposes | Lack if info is not conclusive but at least saves you time doing research from multiple websites. |
Table comparison of pros and cons of boat vin lookup
Conclusion
This article discussed what a boat VIN is and how it relates to a HIN. We have also explained how to decode a boat HIN as part of your Boat VIN Lookup process. Finally, the piece talks about the importance of doing a thorough history search of a used boat using Boat-Alert, regardless of the vessel's age.
Utilizing more than 90 boat databases simultaneously to bring quick results, this is the best boat VIN lookup service you can find online. Make sure you have the HIN on hand before you get started. Once you have the boat HIN, you can easily access a detailed boat history report at competitive rates.
#FreeBoatVINLookup #BuyingaUsedBoat #BoatHistoryCheck #BoatAlert #BestOnlineHINLookup

Categories:
To learn more about Boat-Alert.com History Reports for used boats and how to check boat history visit: www.Boat-Alert.com
About Boat-Alert.com®
Boat Alert History Reports© exists to aggregate boat databases so that shoppers can search and buy a used boat safely while saving time and money researching a used boat's history. We began in 2015 and constantly adding more free boat history report data for USA and Canada to ensure that your boat has a clean history. We are happy to offer a 60-day money back guarantee and proud to have served more than 15,000 customers with their boat HIN Search History needs. vessel registration search ©. Two percent of all proceeds go to charity. We value fair treatment of employees, customer satisfaction, having the most databases possible, and fast customer service at the core of our brand. View our
LinkTree
.