Boat Registration Lookup (Best Services)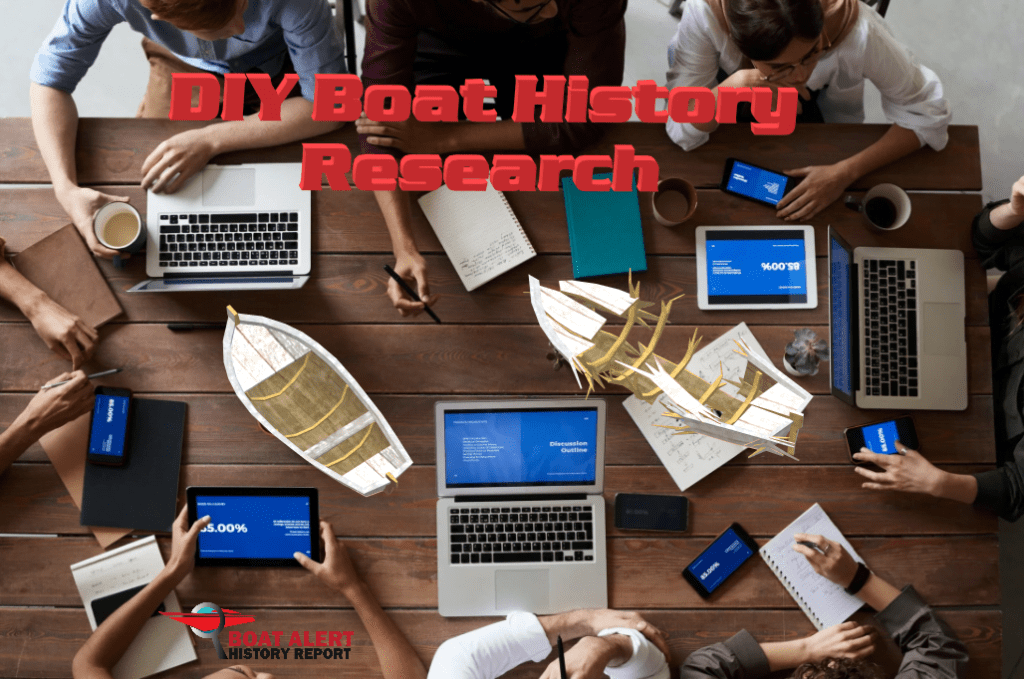 Did you know that unlike cars, trucks, and other vehicles, boats do not use a 17 character Vehicle Identification Number (VIN)? Instead, they can be tracked using a Hull Identification Number (HIN) and you can get a boat registration number issued by the state.
This article takes a comprehensive look at some ways to do a boat registration lookup using free and paid services. Having been in this industry for years, we have the expertise to show you the best boat registration lookup methods.
Why do a free Boat Registration Number Lookup?
There are many reasons why you may want to look up a boat registration number; perhaps you found a boat abandoned on your property, or you are considering buying a boat and wish to do a thorough background check on its history, or maybe you are dealing with lost title papers and want to start your search.
Boat documentation lookup also comes in handy if a boat has suffered damage and you are trying to get in touch with its owner or in a situation where you are trying to find liens. Regardless of the reason, getting access to this information including addresses can be quite difficult due to the presence of all the confidentiality laws and the Family Act in many states (Marine Law for Boat Owners). 
Let's dive into Boat Registration Lookup Services Online:

How to Lookup Boat Registration Number?
Searching for a boat registration number can be tricky if you don't know where to begin. Before you can find the registration number, you must know what type of boat you are dealing with and in which state agency it is registered.
1.      Identify the Type of the Boat before doing Boat Registration Lookup
The initial step to finding a boat's registration information is identifying the boat. Different types of boats have different features that are unique to them, such as their names, registration numbers (or USCG No.), and hull identification numbers. The easiest feature to spot is the name or registration number.
Boats are either registered at the state level or 'documented' at the federal level with the US Coast Guard. Typically, boats that are found on maneuverable waters, including rivers, lakes, and oceans, and that are larger with a displacement of at least 5 tons could be federally documented. A Hull Number and the USCG official number are required for such a vessel. For smaller recreational boats, you would typically register it with the DMV or DNR in your state..
2. Look for the HIN & the Boat Registration Number
It is important to note that unnamed boats in the United States will have a registration number written on the boat. This number uses a combination of letters and numerals with the following format: XX 4567 XX. The first two letters contain the state's abbreviation, while the following numbers and letters are unique to the vessel.
The HIN number is the single surefire way to identify the boat and is generally found on the stern or the exposed lower corner of the transom. They can also be seen on registrations, manufacturing certificates, or titles.
HIN Number Format after 1972
The prescribed format of the HIN contains 12 characters: The first three characteristics are the Manufacturer Identification Code (MIC), which the Coast Guard or the importing party assigns. Characters four to eight are the serial number given by the manufacturer. The last four characters show the month and year of the boat's manufacturing dates, allowing you to easily see the year. We have covered the HIN formats in detail in our other article. #HullIDNumber #HIN
Can you look up a boat's serial number to tell the year and model?
The model/type of the boat cannot be found in the Hull Identification Number because the standard format does not have this information embedded in the HIN. You can however use services like HinDecoder.com to check what the boat model is by the HIN. It also helps with verification of the HIN format.
Where do I find my boat's registration number?
Before you can do a boat registration lookup, you need to find the reg. no. It is usually on the outside bow of the vessel with the following format: XX 1234 XX. It is important not to confuse the HIN for the registration number. One is issued by the manufacturer and the later by the state. #RegistrationLookup
3. Search the boat's History on Boat-Alert.com
Use the Boat-Alert.com website to check all the relevant information about the boat, from HIN and USA/Canada registration numbers. It will put up boat names, boat values, auction data, and pollution and accident incidents. You can also contact your local state agency and go through an application process. We covered those steps in our guide to getting a FYI/Free boat history.
4. For Federally recorded boats, use Boat-Abstract.com
Boats that are federally registered with the US Coast Guard (known as USCG Documentation) receive proof of title to the vessel and an official number (documentation COD) rather than a state number. If you want to find the boat's owner or its complete history with bank names, you may request an official USCG Abstract of Title from Boat-Abstract.com.
5. Take Caution: Spring is Dumping Season
Smugglers frequently use stolen boats and are generally armed. If you see a loose boat, get in touch with the state's authorities or search for its HIN online. Abandoned boats are a major problem for people and municipalities alike. Your local county clerk or sheriff's office can help in this regard. We also covered ways to find the boat owner in Florida specifically by doing a florida boat registration lookup.
Boat Registration Lookup Using VIN Number in the USA
Boats do not have a VIN Number. Instead, they have Hull Identification numbers. You can run these HIN numbers on Boat-alert.com which covers boat registration databases in the USA. The price is the lowest in the industry and you get a check of 90+ boat databases at once. You can even get one from your boat dealer.
Boat Registration Lookup Using Hull Number in Canada
For boats in Canada, you should first identify if they are federally registered or provincially licensed (PCL). If the boat is registered at the federal level, it will have a Canadian number that can be used to check the Canadian Boat Transcript on top of the Boat-Alert history report. You will have to look for its specific provincial database if it is provincially licensed (not registered). We explain the difference between Canadian boat registration and PCL in depth here. Think of it like a boat certificate.
Are Hull Numbers Useful?
Hull Numbers are the most useful and commonly used tool to identify a boat (boat registration look up), similar to the VIN on a vehicle. These ID numbers help distinguish one boat from another and prevent theft. They also help used-boat shoppers avoid buying a lemon boat by knowing its history and negotiating a fair boat value for the sale/purchase.
Watercraft Registration lookup: Steps to Find the Boat Title Holder
Step 1: Look for the boat's registration number on either side of the bow to identify its registration status (federal or state-registered).
Step 2: Note any identification information on the boat's sticker, such as name and hailing port.
Step 3: Enter the information in the Coast Guard database if registered federally to order the abstract of title. If registered with the state, use boat-alert's database search for a free boat registration lookup.
Will the Owner's Name Always be attached to a Boat?
In general, yes. However, there are exceptions in cases of human-powered crafts like kayaks and canoes, government-owned boats, and homemade boats. Registered homemade boats have a HIN starting with XXZ, where the first two characters are the state codes. Some privacy laws prevent sharing owner names but here are some tips to look up a boat registration owner name.
Boat Registration Query: Tips to Find a Boat's information Using Hull Number
Ask the employees or patrons for any leads if the boat is found at a marina.
Post a notice with the boat's picture and your contact information.
Enter the boat's name on Google and try doing a deep internet search.
Post on Facebook groups and other social media.
Visit the Vessel Registration department of the province or state
Vessel Registration Lookup: Using Hull Number and Boat History to Track down Vessel Data
Step 1: The first step to vessel registration lookup is to note the HIN from the upper right corner of the stern, a bill of sale, or a registration certificate.
Step 2: Visit sites like Boat-Alert.com that sells boat history reports.
Step 3: Enter the HIN and follow the listed instructions for the HIN lookup. You will have to pay a small fee to obtain in-depth information.
How to look up the boat registration number using the HIN?
Enter the HIN on the Boat-Alert.com search for instant access to basic boat registration details. You will have to pay a fee for detailed information. The report will show you a cross reference of which HIN belongs to which registration number. During the lookup of the registration data, a boat that has been registered in more than one state could match the HIN to multiple registration numbers.
Remember that some states only require boat registration, while others issue boat titles. Make sure to check with your state boating department for more information because there is a difference between the two. To make things a bit more complicated, the carfax for boats law is taking effect in some states making the titling laws more robust.
How to look up the boat HIN using the Registration Number? (Reverse Lookup)
You can use a boat registration number to directly look for the boat's info with a reverse-lookup on Boat-Alert.com.The website will get the HIN and show it on the home page. This way you can use the HIN to run the boat history lookup by HIN. The other option is to contact customer service, who will be able to guide you better for the reverse HIN lookup from a registration number or USCG number..
Boat Registration Search for Vessels in another State
If you are trying a boat registration records lookup in another state, you will need to acquire specific information. Different states have different boat registration requirements, including titling information. The same concept applies to boat trailers. Use Boat-Alert's boat registration database to get information about the relevant state and its boating registration requirements. We check 90+ databases from many US States to give you the most comprehensive Boat Registration Search we can.
Pros and Cons of Boat registration Lookup
Boat registration number lookups offer an array of benefits and a few drawbacks. It can be challenging because the boating industry is so disorganized compared to the automotive industry. Data is all over the place but we do every effort to gather it for you in one place here at boat-alert reports.
| | |
| --- | --- |
| Pros | Cons |
| Boat registration number lookup offers a key piece of information for identifying lost or stolen boats | Boat registration lookup can be quite tricky if the information is incorrect or outdated |
| Helps acquire more information before a purchase | Requires payment in case you want detailed or crucial information, such as the owner's name or the boat's abstract title |
| Allows you to contact the owner in case of a problem | Depending on the region or country, it may not be available for all boats. |
| Helps distinguish a boat's authenticity- enables you to distinguish fake sellers from genuine sellers as well as avoid HIN cloning. | Absence of data is not conclusive data when doing a vessel registration search. |
Table of pros and cons of boat registration lookup
Conclusion
In this article we spoke about how boat registration number Lookup is simple if you know where to look. We also explained the different boat numbers and where they are located. With all the tips and tricks above you should be able to search a HIN in any state including Florida, Arkansas, North Carolina, MS, MD, Arizona, Pennsylvania, California, MS, and Illinois.
Depending on the State or province as well as the registration status of the boat, you can use the HIN, Coast Guard Number, or State number to run a Boat-Alert Registration Lookup.
Where is the National Boat Registration Database?
The Boat-Alert.com database combines 90+ nationwide databases into a single place so you can search in a matter of minutes. These include records for stolen boats, marine lien claims, boating accidents, state regustrations, auctioned boats, factory recalls, and boat manufacturers info.

#BoatRegistrationNumber #BoatAlert #LostBoat #BoatRegistrationNumberLookup #FreeBoatHINLookup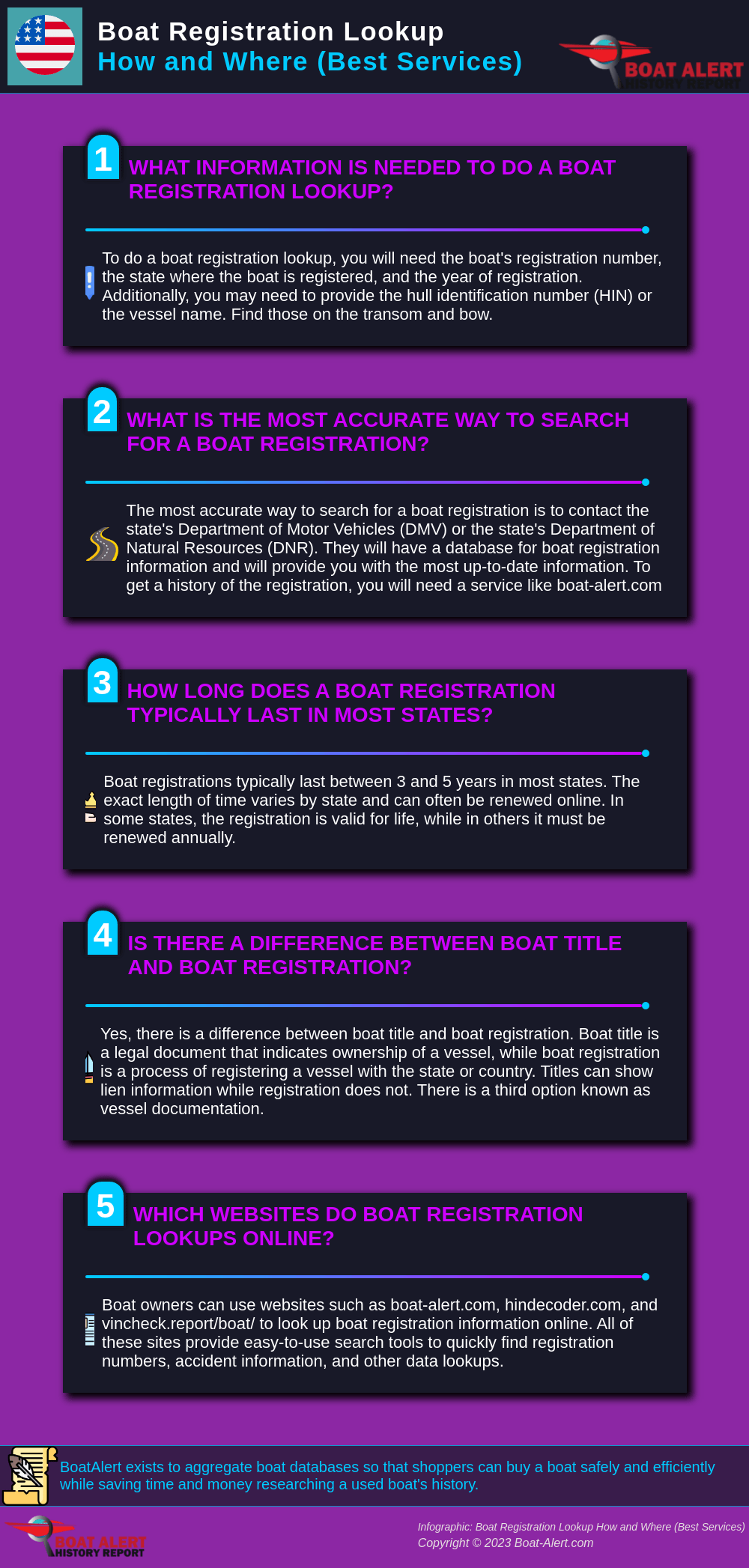 Boat Registration Lookup is a service that allows users to quickly and easily find information about registered boats. With this service, users can search by boat name, registration number, hull identification number, and other Boat Identification Numbers to access information about the boat's registration status, owner, and more. Our Boat Registration Lookup provides a secure and reliable way to access this information, making it an invaluable tool for boaters needing a boat title search.
Categories:
To learn more about Boat-Alert.com History Reports for used boats and boat vin number check free visit: www.Boat-Alert.com
About Boat-Alert.com®
Boat Alert History Reports© exists to aggregate boat databases so that shoppers can search and buy a used boat safely while saving time and money researching a used boat's history. We began in 2015 and constantly adding more boat hull id data for USA and Canada to ensure that your boat has a clean history. We are happy to offer a 60-day money back guarantee and proud to have served more than 15,000 customers with their boat HIN Search History needs. boat owner history ©. Two percent of all proceeds go to charity. We value fair treatment of employees, customer satisfaction, having the most databases possible, and fast customer service at the core of our brand. View our
LinkTree
.