How to Check if a boat Motor is Stolen
Did you know that boats are much easier to strip for parts and resell than cars, making them a profitable target for scammers and thieves? Boats are easier to steal due to fewer governmental regulations, more lenient security features, and an easily accessible storage location.
Did you know how many engines are stolen annually? Turns out there are no national figures and no one is keeping track but it is probably more than 800 per year!
In this article, we discuss how to check if a boat motor is stolen and the appropriate measures you can take to prevent that from happening.
Signs of Stolen Boat Motor
Many boats and motors are generally easy targets for thieves, whether at a marina or stored in someone's backyard. Scammers generally try to replace the motor's sticker with a fake one, making it seem the stolen motor is genuine. If the boat motor is going to be sold, thieves must alter or change the serial number and obtain or forge new government documents like registration and bill of sale.
Moreover, it is difficult for understaffed bureaucracies to conduct due diligence when assessing applications, giving criminals easy access to slip through the cracks. For boat motors that are federally documented, documents become a lot more difficult to acquire legally and are typically forged.
If you plan to buy a used boat, it is important to check if its parts, specifically the motor, are not stolen. Here are some of the ways to see if the boat motor is stolen or not:
Incorrect Serial Number Format
Serial numbers are found on boat motors (inboard and outboard engines). This number will be located on a decal or plate near the motor mount for outboards. You can usually find this number on a metal tag affixed directly to the engine's block for inboards. Another number will be cast into the block, known as the casting number.
A good way to tell if your boat motor is stolen is to check the serial number's format. Contact the motor's manufacturer, and confirm how they organize their numbers. If the serial number of a boat motor doesn't have the correct format, it is most likely obtained through illicit means.
Contradictory or incomplete information
To check the legitimacy of the motor, you should thoroughly examine all registrations, titles, maintenance records, purchase receipts, and build sheets to ensure all numbers match. Contact your local titling and registration agency, such as the DMV or DNR, to verify the documents are in the correct format and come with the right seals.
Tally all the numbers on the documents against the engine stickers, paying special attention to the registration number, engine serial number, and hull identification number of the vessel. Vessels with a lot of accessories could be masking problems. Always ask the seller for an affidavit that they own the vessel and engine and consult an attorney or boat insurance agent if you suspect boat engine theft.
Altered Registration Numbers and Serial Numbers
Altering or changing numbers is relatively easy. If you find any scratched numbers, dirty or missing serial number stickers, and residue from missing registration decals, there is a high probability that your boat motor will be stolen.
If your boat is stolen, its engine will also be automatically stolen. To ensure that your boat is legit, look for the HIN. The HIN is generally located on the transom of most runabouts and small boats. It features 12 characters and is a foolproof way to check if your boat is stolen.
A common way thieves obscure or alter this number is by removing the old HIN from the hull and replacing it with a new one by simply repainting over it. To alter the number fully, the surrounding area must be repainted, so look for a new gel coat.
'Stolen' Status Showing on an Online Lookup
After you have confirmed the documents and carefully examined the boat, use an online website like Boat-Alert.com to verify the HIN, serial, and registration numbers. If the numbers show a 'stolen' status, contact the local authorities immediately rather than confronting the seller yourself.
Tips to Protect your Boat Motor from Theft
Store your boat in a well-lit location with ample security. Lock the motor, outdrives, and the cabin. Do not leave the keys in a cockpit locker or near the boat. There are secure storage facilities that are heavily monitored – so consider keeping your boat in one if you don't have access to a safe indoor storage area.
Document every component of the boat, including the motor and other valuables. Write down a brief description, the model number, registration number, motor serial number, and manufacturer details. Take plenty of photos of the engine from all angles to have proof of ownership. That way, if your motor gets stolen, local authorities will have a better probability of tracking down the culprits.
Wire the engine with a simple alarm system which will be enough to scare off a thief. Make sure the alarm system is designed to withstand the moist marine environment. Non-marine alarms may trigger false alarms, have a shorter life expectancy, and have a higher probability of malfunctioning.
Use a coupler lock to prevent the thief from quickly hooking up to your trailer and pulling it away.
Can I Check Stolen Boat Motor Using the Serial Number?
Yes, you can check if a boat is stolen using a serial number. This number is found on the side of your motor on a plate or decal. Different model plates contain the same information but with different layouts. You can either contact the motor manufacturer to confirm the motor status or perform an online search with Boat-Alert.com to see if the boat motor is stolen. Crimes conducted by boating crooks/felons are hard to detect especially given that there is no central stolen boat database or police agency that has this data compounding the problem even more.
Where is a boat motor VIN located?
Boat motors have an Engine Serial Number or ESN instead of a Vehicle Identification Number (VIN). The ESN is a unique identifier found on product plates and decals. The exact location of the number will vary depending on the model and manufacturer.
Where is a Yamaha boat motor serial number?
For Yamaha Outboard, you can find the motor serial number stamped on a metal plate on the clamp bracket assembly located on the left port in the center section of the engine. The format is as follows:
        Serial number
        Model name
        Height of the motor transom
        Verified model code
Where is the "Mercury" engine serial number located?
For Mercury Outboard, you will find the engine serial numbers on a rectangular tag on the right side of the starboard on the transom mount. Engines with a horsepower of 8 and higher feature the ESN on the right side of the starboard – midway down the transom assembly and just underneath the engine's powerhead. For engines that have a horsepower of 6 and lower, the ESN will be located on the top of the swivel bracket.
Can you tell the year of a boat motor by the serial number?
Yes, you can tell the year of a boat motor by its serial number. The plate which contains the ESN is also marked with the engine's year. Different manufacturers use letter codes to represent the engine's year, so contact the brand beforehand.
National stolen boat motor registry
Before buying a used boat, the first step is to closely examine all identification numbers affixed to the boat and the engine. This includes the HIN, official boat documentation number, engine serial number, and state registration number. You may also consider searching the national stolen boat motor registry, which features reliable information you can use to determine the genuineness of your boat.
You can also contact your local law enforcement agency or run a background check on the seller to see if they are reliable and responsible.
Can I Check Stolen Boat Motor Using the Hull Number?
You can use the hull number of a boat to do a background check, which will reveal important information related to it, including stolen motor check, accidents check, pollution incidents check, theft check, auctioned boats check, abandoned and misappropriated boat check, and manufacturer data validation check amongst other valuable services.
Stolen boat engine lookup
You can use Boat-Alert.com to get a boat history report, which will provide you with essential background information, including the status of the boat engine. Moreover, there are no complicated instructions that need to be followed – all you have to do is enter the boat's hull ID number on the web page's search tool. You will be immediately directed to its basic registration details. You will have to pay a fee for a detailed history report.
Can I Check Stolen Boat Motor Using Engine Number?
The engine and motor serial numbers are the same and can be used to check if a boat motor is stolen. Contact the engine manufacturer or use Boat-Alert.com to verify the engine serial number.
Stolen outboard motor database
You can look for stolen boat engines online using the stolen outboard motor database. This will help you verify if you are making the right investment decision before buying a used boat.
Conclusion
In this article, we talked about the ways to check if a boat motor is stolen. We also went over preventative measures that are important to ensure the safety of your engine. If you have doubts about the authenticity of your boat's engine, use Boat-Alert.com for a thorough background check.
Finally, make sure you have theft coverage in your boat insurance plan.
#Boat #motor #stolen #theft #BoatMotorLookup #ESNSearch #StolenBoatEngine
Additional links:
Read Related Articles: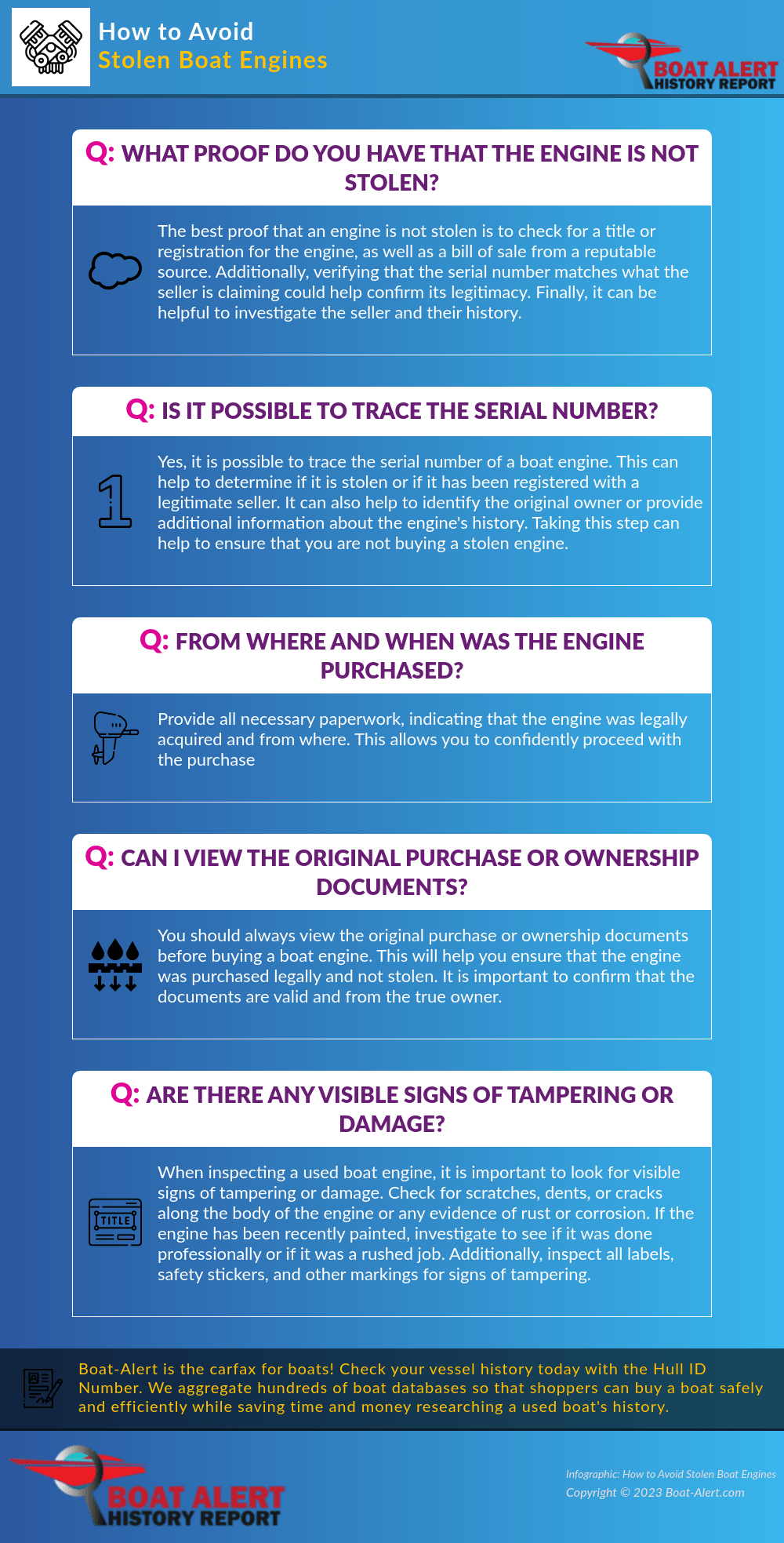 Categories:
To learn more about Boat-Alert.com History Reports for used boats and boat hin check visit: www.Boat-Alert.com
About Boat-Alert.com®
Boat Alert History Reports© exists to aggregate boat databases so that shoppers can search and buy a used boat safely while saving time and money researching a used boat's history. We began in 2015 and constantly adding more boat hin check free data for USA and Canada to ensure that your boat has a clean history. We are happy to offer a 60-day money back guarantee and proud to have served more than 15,000 customers with their boat HIN Search History needs. best boat history report ©. Two percent of all proceeds go to charity. We value fair treatment of employees, customer satisfaction, having the most databases possible, and fast customer service at the core of our brand. View our
LinkTree
.