All you need to know about stolen boats (Ultimate guide)
How do you check if a boat is stolen? and How to protect your vessel from theft? (Complete Guide)
Nowadays, it's a lot easier to steal boats than cars. The reason is that stolen boats can be easily stripped and sold, unlike cars. Most criminals have found the stolen boat business lucrative and they are not about to stop anytime soon unless you educate yourself on how to protect your boat.
In this complete guide, will explain why boats are stolen, how to protect your boat, and how to avoid buying a stolen boat or jetski. We also cover boat liens.
How to tell if a boat has been stolen?
If you are interested in ever buying a boat, then you need to make sure that you do not buy a stolen boat as this could result in criminal charges against you. You need to learn how to identify a stolen boat, so you do not run into trouble with the authorities of your country. Besides, you will lose a huge sum of money as the stolen boat will most definitely be returned to its original owner. The only way to recoup damages after buying a stolen boat might be through litigation which may be costly and could also implicate you as a conspirator in the crime.
The most crucial step to finding out if the boat you are about to buy is stolen is to contact the local enforcement agency of your state, province, or region to check the national database (NCIC). The national database from the FBI has been fighting crime for 50+ years and typically has detailed information about stolen boats. If the law enforcement agency can't match the name in the database to the person who is about to sell the boat to you, then there are chances it's a stolen boat.
Are there any stolen boat database lookups or stolen boat lists that can be consulted like a stolen boat register? Yes, there are many and the FBI and NICB would be the biggest ones.
If you are in the United States or Canada, checking the Hull Identification Number (HIN) of the boat you are about to buy could also help you figure out whether or not it's a stolen boat. All boats that were manufactured after 1972 have HINs, so if someone wants to sell a boat to you without the Hull Identification Number, there is a possibility it's a stolen boat. That said, if a seller can't produce the HIN, that doesn't necessarily mean the boat is stolen because nowadays, many locales have made provisions for people to register homemade boats without documentation.
You can also run a report from Boat History Report or boatfax using the HIN on sites like Boat-Alert.com or boathistoryreport.com to verify if the HIN format and other registration details provided by the seller are correct. After running a report on these platforms, you will be given details on all important aspects of the boat you are about to buy. Run as many reports as you can since each company searches different databases.
These Boat lookup companies also perform stolen boat check using stolen boat VIN or HIN. Such a HID check using the hull identification number will be a good complement to hiring theft investigation companies Also check the NICB vincheck database. Watch out for "HIN cloning" and Title fraud by educating your self on what those are and how to detect them by comparing paper work.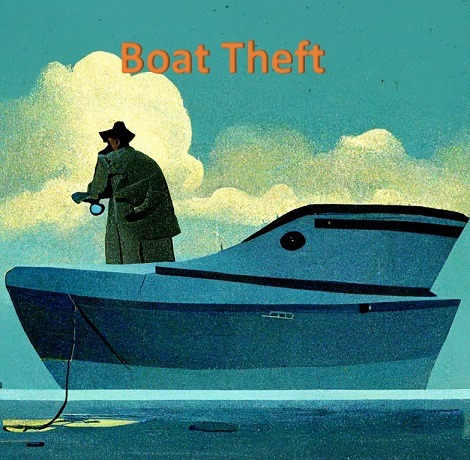 Another indicator of a stolen boat is the absence of the boat trailer. Most regions and provinces require the titles for trailers before official registration. The Uniform Certificate of Title for Vessels Act (UCOTVA) was specifically passed to regulate the titling of boats so that the rightful owners are easily identifiable and damage is listed on the title papers. This only means that if a potential seller can't produce a trailer or a title for their trailer, there are also chances it's a stolen boat.
Forging documents for boats registered at the national level can be easy. This is why it's of the utmost importance for you to always verify all documents with the relevant authorities before buying any boat. This includes running the Boat Abstract of Title if the boat is federally documented. If you suspect foul play but do not want to go through the hurdles to verify the documents and the HIN, your best bet is to take the matter to authorities like the police department or the State Department of Natural Resources. These institutions will run the HIN through the National Crime Information Center (NCIC) system to verify if what you are about to buy is a stolen boat.
How do you check if a boat is stolen in Florida, specifically?
If you are in Florida and buying a Florida-registered used-boat, then make sure to search the Florida Crime Information Center PAS system by the FDLE
How do you check if a boat is stolen in Canada?
It's easy to buy a stolen boat in Canada because of the challenges in proving ownership. When someone buys a boat in Canada, he can decide to either make a new registration or allow the previous owner to transfer the license to him. If you chose the second option as a buyer, you can be sure it will be challenging for you to sell the boat since it is not registered under your name.
Sometimes, even the seller has no clue that what he has it's a stolen boat. So, if you're considering buying a boat in Canada, you need to do a background check to ensure that a stolen boat is not sold to you. Here are a few ways to check if a stolen boat is about to be sold to you in Canada. Check the with the RCMP if this boat is reported stolen.
Top ways to lookup stolen boats
How can you tell if a boat is stolen? There are tell tale signs to to find out if a boat is stolen or not.
1. Do a lien check
A lien check will help you verify the Hull Identification Number (HIN) of the boat as well as claims on the boat. There are different kinds of liens so make sure to check out our article on liens on boats. This is because you don't want to buy a boat with money owing on it.
2. Do a police check
The police are always available to help you investigate matters of suspected theft or foul play. So if you feel like you are about to purchase a stolen boat, your best bet is to take the matter to the police. The police will help you verify the boat name and its HIN on the NCIC database, NICB, or the Canadian Police Information Center (CPIC). These are government databases where searches for stolen boats and other properties can be made.
As you can see, there are many databases and using a service like Boat-Alert.com will help you search many databases in one shot.

#HINLookupService
3. Hire a theft investigation company (marine investigators)
Alternatively, you could decide to hire the services of a theft investigation company to help you verify if the boat you are about to buy is stolen. A good theft investigating company will give you detailed info about the boat you are about to buy from its engine to the trailers. Although hiring the services of a theft investigation company could be expensive, it's going to save you from the consequences of buying a stolen boat. These marine investigations companies perform "stolen property search". You can also try to Find The Owner Of A Boat by HIN.
4. Do a free stolen boat registry search
You can as well do a free search on the National Stolen Boat Registry. It's a free service for the general public that affords a unique opportunity to expose stolen boats of all types. Here https://www.marinetitle.com/resources/stolen-boat-registry.aspx and here http://www.stolenboats.ca/. These companies try to list watercraft theft reports.
Actually, it is best to Google the HIN just in case it comes up with social media posts.
5. Educate yourself about the laws surrounding buying and selling of boats.
There are many laws surrounding buying and selling of different items but the Carfax for Boats law (UCOTVA) was specifically implemented to enable boat buyers and sellers to have access to the history of boats, including accidents, damages, or theft. Being conscious of these laws and knowing when they take effect in your State will enable you to know exactly what to investigate about the boat you intend to buy and what to look for on the title papers. Until UCOTVA is pliassed, all boat titles appear 'clean'.
Make sure you know the differences between titling and registration. Not all states title boats. If a state issues titles, then the title records will show a stolen brand/title but only if the state does record that info otherwise the title will always be 'clean'. Vessel titles can be faked or appear clean if the state does not track brands on the title

Find out if your state has boat titles and search for title brands.
6. Make a purchasing agreement
To be safe, you need to make a purchasing agreement whenever you are about to buy something as significant as a boat. This is sometimes called bill of sale for a boat. Make sure that you include clauses in the agreement, such as how much you bought the boat, the state of the boat at the time of purchasing, and who you bought the boat from. This is important because if you end up with a stolen boat, you could use the purchasing agreement to make a case. The seller has to put in writing that they warrant that it is not a stolen boat.
Write the following clause in the purchase agreement: "I certify that I am the rightful owner of the boat and that the boat has no liens on it". With this clause, if all else fails and you end up with a stolen boat, maybe you can have some legal remedies to recuperate some costs.
Do dealers validate if a used boat is stolen before they sell it? most reputable dealers will work with a boat history check service and do their due diligence when selling a used boat.
7. How to know if you're buying a stolen boat from Craigslist or eBay?
in order to know if a boat you are buying online is stolen and being listed on Craigslist or eBay, you need to validate all the paper work and look up the HIN and check with the police.
When and where are boats stolen from?
Almost all boats can be stolen but smaller ones are always an easy target for thieves and criminals. It's way easier for criminals to strip smaller boats into parts like the engines, anchors, and electronics and sell them without being noticed. Boat thieves can also easily change the appearance of small boats by repainting them and selling them to unsuspecting people. Moreover, small boats have a lot fewer security features, little or no government regulations, and are often stored at accessible locations by their owners. They can be changed and registered as homemade boats with a new HIN issued by the state!
Most often, boats are stolen while they are on trailers. The reason is that most trailers are parked in driveways or backyards and also come complete with wheels, making it easy for thieves to target and get away with them.
In terms of the timing, boats can be stolen at all times of the year, provided the thieves find an opportunity. However, boat thefts are more rampant during the summer periods when most boats are actively in use by their owners.
There are shreds of evidence that most stolen boats were accessible to thieves. While some thieves, steal boats directly from the owner's backyards or driveways, highly experienced thieves rather visit seaports, marinas, and small docks, where a variety of boats are parked to steal one at the slightest opportunity.
How easy is it to steal a boat from a marina?
It is quite easy to steal a boat from a marina but this doesn't happen a lot because of security reasons and the difficulties in getting rid of a stolen boat. The security systems of most marinas are weak because they have easy-to-access gates and do not provide a 24/7 guard.
Boat theft is not necessarily limited to stealing an entire boat. Because of the difficulties in selling a stolen boat, some boat thieves have instead resolved to steal and sell boat parts such as engines, anchors, biminis, and electronics. Some might just steal items that you leave on board like a GPS. Make sure not to leave any items that attract theft.
Why are boats stolen?
Boat theft is increasingly becoming rampant in most parts of the world. While many boat owners have become aware of the need to keep their boats in secured places, boat thieves are continuously looking for ways to steal. Let's face it, there are many motivations behind stealing a boat;
For personal use – Some criminals are just comfortable stealing boats for their personal use. As far back as many centuries ago, human beings were using boats for various activities. The situation is the same today as criminals now use stolen boats for personal activities such as traveling, sports, fishing, and transporting their goods from one location to another.
To sell and make money – Another motivation behind boat theft is money. Boat thieves can easily forge documents on a stolen boat making it convenient for them to sell on the black market. This is why as a potential buyer; you need to always do your background checks before spending your hard-earned money on any boat. A boat thief may decide to sell the entire boat or split it and sell its parts like the anchor, engine, and bimini separately.
For criminal activities – Stolen boats are also used for criminal operations such as human trafficking or smuggling of illegal goods. However, most thieves who use stolen boats for criminal activities always destroy them after use so there will be no evidence against them.
How to protect your boat from theft?
The fact that boats have mobility and high values make them very tempting to thieves. As a boat owner, you need to implement several security measures to protect your boat or its parts from being stolen. Here are some security measures to protect your boat from being stolen:
1. Guard your keys well
Avoid keeping the keys of your boat in obvious places in the boat like the cockpit locker. Thieves are quite experienced and they know exactly where to look for the keys once they make their way to the boat. It is, therefore, safer to always take the keys to your boat with you after parking it.
2. Use locks to secure it
Your best bet to securing your boat is to use locks on it. There are chances most stolen boats had weak locks that could easily be damaged with simple instruments like a screwdriver. Therefore, to secure your boat, you need to go for locks made with top-quality and durable material. Moreover, you need to ensure that the different parts of your boat are properly locked. For example, you could lock a chain around the tires and wheels, and also lock the engine to the vessel.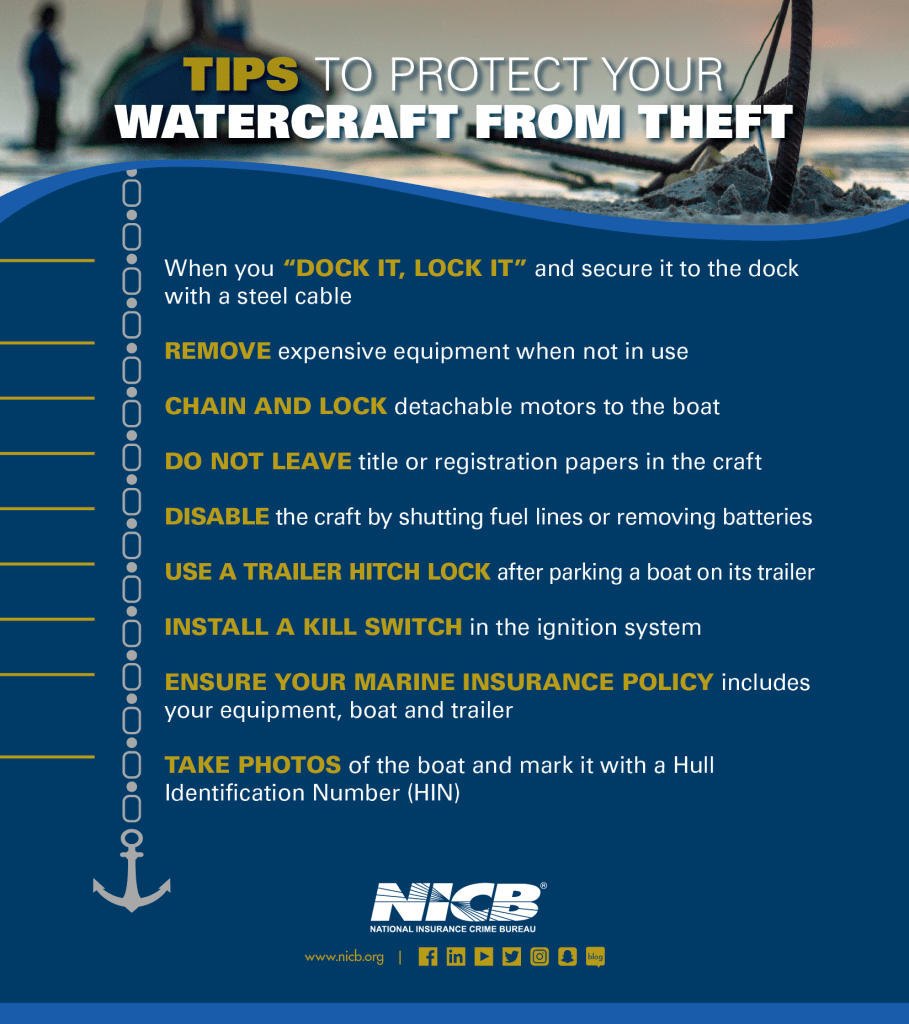 3. Invest in an effective alarm system
Boats have a high value and that's why you need to invest money in securing them. Having an effective alarm system on your boat could go a long way to scare thieves from stealing it.
4. Install fuel or an electrical cut-off device
You will never go wrong with fuel or an electrical cut-off device in your boat. Installing such devices may be pretty expensive, but rest assured they will help foil the efforts of bandits.
6. Document your boat
You need to document your boat by keeping a record of all its important information. Save all its important numbers somewhere, including its HIN, state registration number, decal number, as well as the serial numbers of the engine, outdrive, or transom assembly. In addition, take as many pictures of the different areas of your boat like the exterior, the interior, the engines, and other unique features. Photos will help you prove ownership of your boat whenever it's stolen.
7. Buy an insurance policy for your boat
Buying an insurance policy for your boat and all the equipment in it won't prevent it from being stolen, but will protect you in the event of theft since your insurance company will most likely reimburse you.
Read more at https://www.boat-alert.com/blog/wp-content/uploads/2021/07/NICB-Boat-Theft-guide.pdf and How To Prevent Your Boat From Being Stolen | GEICO Living
Things you should record about your boat in case it gets stolen
As boat owner, have this list of things recorded in a safe place:
When was the last time you saw your boat and Where was your boat last docked
Who has access to your boat and Do you have a GPS tracking device on your boat
Is your boat currently insured? what policy number?
Keep a photo of boat and paper work.
Date of purchase, make, model year, length, color, motor serial
What is the hull identification number of the boat and What is the name of the boat
Are there any identifying marks or features on your boat
How long has it been missing since the incident
Were any valuables on board the boat when it was stolen
Do you have any surveillance footage of your boat being stolen
What to do when your boat is stolen
If you suddenly discover that your boat has been stolen, here are a few things you need to do immediately
1. Contact the marina where the boat was stolen from
If your boat was stolen from a marina, then the first logical thing to do is to inform the marina authorities. They will most definitely start an in-house investigation that can provide a lead towards identifying the thieves and recuperating your boat in time before it is sold or split into parts.
2. Report to the relevant authorities of your state, city, or region
Instead of sitting and worrying about your stolen boat, you need to make an official report to the right agencies including the police or local law enforcement agency, the state boating law administration, the local sheriff, and the insurance crime bureau. These institutions have the resources to investigate your stolen boat through various means including property search. Besides, your insurance company will want to know if you have reported the theft to the right authorities before reimbursing you for your stolen boat. You can either make a report in person to these authorities or make an online report through their official websites.
Contact NICB: Call 800.835.6422
Contact state boating law administrators (NASBLA) and the local sheriff.
3. Report to your insurance company
If your boat was insured, the next logical step is to report to your insurance company. Your insurance company will likely reimburse you for your stolen boat as long as all the right criteria are met.
4. Announce the theft on social media platforms
Social media is currently one of the most powerful tools when it comes to disseminating info to a large audience. Use a photo of your stolen boat and make a post so that your social media followers have an idea of what they are helping you to look for. Tell them when and where the boat was stolen so they can stay vigilant to help you catch the culprits.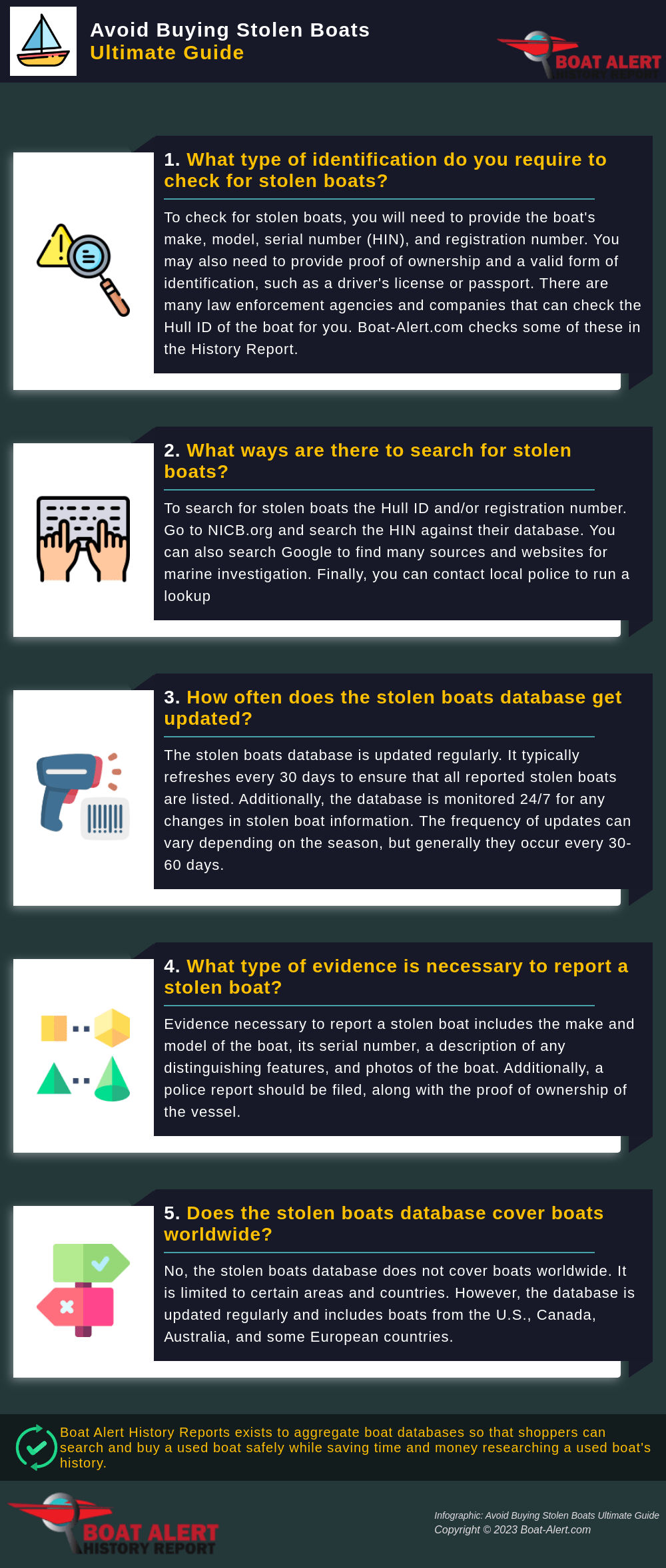 How do you report a stolen boat? – Stolen Boat Database
You can submit reports to different places and websites after working with local police to get added exposure. If you make the boat too hot to handle, thieves might just leave it on the side of the road.
Once you have reported the boat to the Police then call Digitpol to request when required assistance with the search for the stolen boat. If your Boat is stolen you need to report the theft immediately to the nearest police station and then contact Digitpol to assist in the search. Digitpol provides operational support with the Search and Recovery.
Does insurance cover a stolen boat?
Most boat insurance policies cover boat theft but that will depend on several factors. If your boat has been stolen, here are the things you need to consider about your insurance;
1. The circumstances surrounding the theft
An insurance company will have to consider the circumstances surrounding the theft before reimbursing you for your stolen boat. Your insurance company will likely provide full coverage for your stolen boat if it got missing at a dock, or a marina, unlike those stolen from marina storage buildings. This is because, for boats kept at storage buildings, the primary insurance is often held by the facility owners while your policy provides secondary insurance. At the end of the day, your insurance company will only compensate you for your stolen boat according to the terms and conditions stipulated in your contract.
2. The boat equipment
Insurance policy coverages for boats typically include the boat itself and all the equipment permanently attached to it. This, therefore, means that in the event of theft of the entire boat or any of the permanently attached parts, your insurance company will have to compensate you. However, if your boat gets stolen alongside other important and valuable equipment that was never included in the insurance policy, there is a high possibility that only the boat will be compensated and not the other equipment.
How much will an insurer reimburse you for your stolen boat?
There is truly no accurate answer to this question as the amount you will be reimbursed for your stolen boat will depend on several factors, including the type of boat and the amount of coverage you bought. However, you must note that boat policies typically offer coverage either as an actual cash value or an agreed amount value.
If you settled for the actual cash value option, it means you will be reimbursed the depreciated value of your stolen boat. On the flip side, settling for an agreed value of a stolen boat means you will be reimbursed a specific amount that was initially agreed upon by you and your insurer.
When it comes to choosing your boat coverage, you need to be able to estimate how much you can conveniently pay from your pocket to replace it if it ever gets stolen. Although no one buys a boat expecting it to be stolen, boat insurance guarantees peace of mind as you would be compensated whenever your boat gets stolen.
Actual cash value. This is typically the depreciated value of the boat at the time it is stolen. If you wanted to replace the stolen boat with a more expensive model, you'd likely need to pay the difference out of your own pocket.
Agreed amount value. The amount paid is a specific amount you and your insurer previously agreed you would be reimbursed if your boat was stolen and declared a total loss. This type of coverage is generally available for newer boats. While you may pay more for this coverage, your insurer will not factor depreciation into the amount you're reimbursed if your boat is stolen.
When choosing your coverage, it's a good idea to consider how much you would be willing (or able) to pay out of pocket to replace your boat if it's stolen.
Whether your boat is on the water, hitched to a trailer or in storage, you probably don't expect it to be stolen. But boat insurance can give you the peace of mind that comes with knowing you have some safeguards in place, just in case a thief targets your boat.
IF YOUR BOAT IS BROKEN INTO, WHAT'S COVERED?
A boat insurance policy's property coverage generally helps cover the boat itself and equipment that is permanently attached, such as the anchor, fuel tanks, motors, masts, spars, horns, lights, depth finders, mooring cleats and lines.
Unless other items are specifically scheduled or added by endorsement, standard boat insurance policies typically provide limited coverage for accessories such as fish finders and navigation devices, televisions and satellite receivers, sound systems, computers, scuba and diving gear, and water skiing and fishing equipment. You may be able to purchase additional coverage for your boating equipment or personal effects.
Non-boating-related belongings that you bring on board, like prescription glasses, cameras, money, clothing and jewelry, are not usually covered by standard boat insurance policies. However, if you have homeowners insurance, it may help provide coverage for those types of belongings.
Some boat insurance policies also cover dinghies and tenders and their attached motors. Ask your insurer whether your policy covers that type of equipment.
Adequate insurance can be important for a boat owner, so it's a good idea to find out exactly what is covered by your policy and ask your agent what you can do to help protect important belongings that aren't covered by your standard policy.
What are the recovery rates on stolen boats?
Most stolen vessels are not recovered but around 30% are! This is slightly positive news: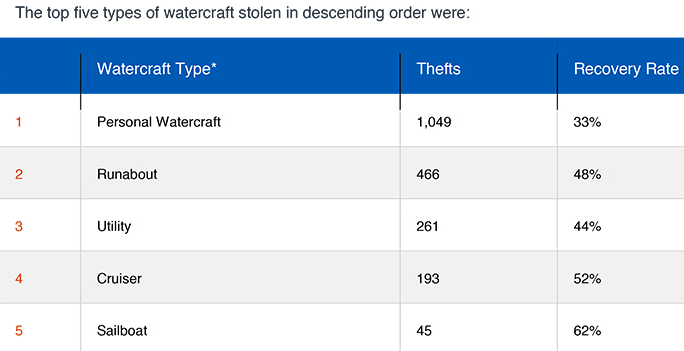 According to anther source the recovery rate of watercraft thefts in the United States in 2019 fluctuates each year by boat type:
| Characteristic | Rate of recovery |
| --- | --- |
| Sailboat | 62% |
| Cruiser | 52% |
| Runabout | 48% |
| Utility | 44% |
table: recovery rates for stolen boats
Which states have the most boat thefts?
How common is boat theft? there are about 5000 stolen boats every year out of 15 million registered boats in the USA. This means you have a 0.03% change of a boat theft but this can increase in some states. By far, Florida has the most boat thefts of all states followed by California and Texas.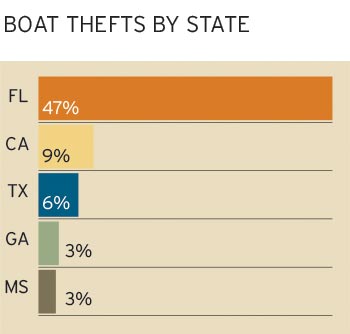 Which boat brands are targets for theft?
Boats within 20 to 26 feet are the types that are most often stolen. 30 feet or more are rarely stolen and are only 10 percent of thefts. The boat brands and makes that are highly targeted for boat theft are listed below:
Sea Ray
Bayliner
Wellcraft
Boston Whaler
Sea Fox
Tracker
Mako Marine
Contender
Pro-Line
Chaparral
Conclusion
Boats can easily be stolen from docks, marinas, and in the backyard. Before buying a boat, you need to do a thorough investigation to ensure that a stolen boat is not sold to you. Boat-Alert.com HIN check can be one of your best assets to search multiple databases in one place and the free NICB database would be one that you cannot afford to miss. As a boat owner, you also need to take several precautions to secure your boat from being stolen. However, if your boat is stolen, you should immediately report it to the relevant authorities including your local law enforcement officer and your insurance company.
Read Related Articles:
Categories:
To learn more about Boat-Alert.com History Reports for used boats and boating history visit: www.Boat-Alert.com
About Boat-Alert.com®
Boat Alert History Reports© exists to aggregate boat databases so that shoppers can search and buy a used boat safely while saving time and money researching a used boat's history. We began in 2015 and constantly adding more hin number lookup data for USA and Canada to ensure that your boat has a clean history. We are happy to offer a 60-day money back guarantee and proud to have served more than 15,000 customers with their boat HIN Search History needs. boat accident report ©. Two percent of all proceeds go to charity. We value fair treatment of employees, customer satisfaction, having the most databases possible, and fast customer service at the core of our brand. View our
LinkTree
.