What is HIN Cloning & How Does It Affect Me?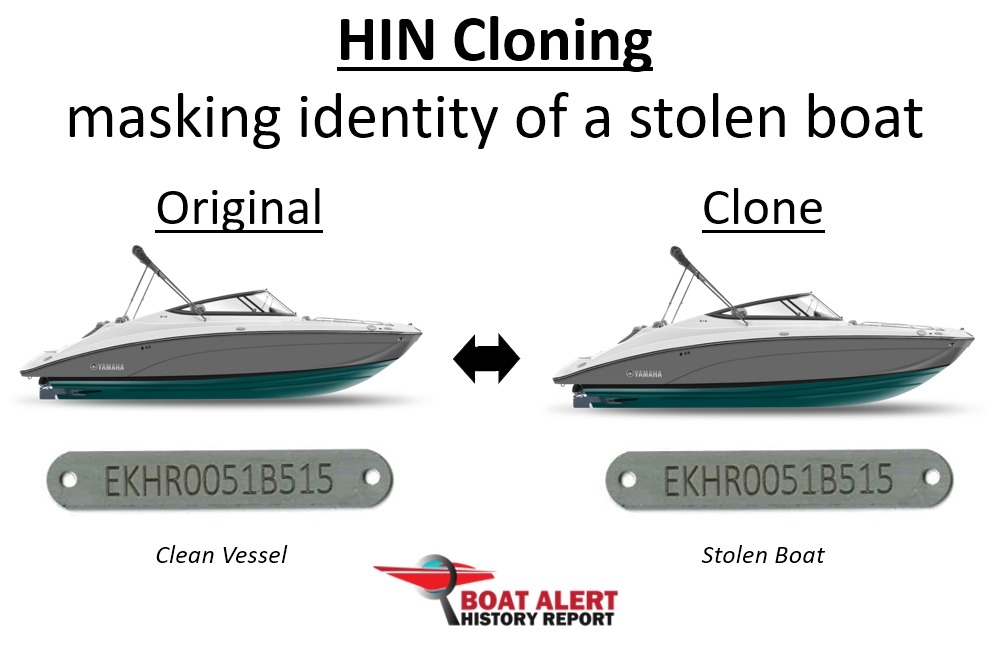 Hull Identification number cloning is used to hide problems with a boat
So, you're finally in the market for your dream boat. You've been saving up for years, and now you're ready to take the plunge. But before you hand over your hard-earned cash, there's something you need to know about buying used boats: HIN cloning is a real problem, and it could cost you big time.
In this article, I will explain what is HIN cloning and how to avoid falling for this scam when buying a used boat.
What is a boat HIN?
Much like a car's VIN number, the Hull Identification Number or HIN is a unique 12-character code used to identify boats. The HIN must be displayed on the hull of every vessel that is registered or documented in the USA. This number can be used to track a boat's ownership history and to help identify stolen boats.
The HIN consists of a manufacturer's identification code, a unique serial number, and dates of manufacture. The first three characters of the HIN are the manufacturer's identification code. This code is assigned by the Coast Guard and is used to identify the manufacturer of the boat. The next five characters are the hull serial number, which is assigned by the manufacturer. The last four characters of the HIN are the dates.
What is HIN cloning?
HIN cloning is the illegal practice of modifying the HIN on a boat so that it appears to be a different vessel.
This can be done by altering the hull identification number, or by changing the Hull Identification Plate (HIP). The HIP is a metal plate that is affixed to the hull of the boat and contains the vessel's HIN.
HIN fraud can be done for a variety of reasons, such as to avoid paying import taxes on a boat or to make a stolen boat harder to identify. HIN cloning is a federal crime in the United States and can result in a prison sentence of up to 10 years.
#StolenBoats #HullIDNumber #HINCloning #Theft #boating
How does HIN cloning affect me as a used boat buyer?
This scam is typically used on used boats. HIN cloning is a serious problem because it can be used to hide a boat's true identity.
The buyer may not be aware that the HIN has been tampered with, and as a result, they may not be able to register the boat or insure it properly. If the boat is stolen, the clone HIN will make it more difficult for law enforcement to identify and recover the vessel.
Cloned boats may have also been stolen, or they may have been involved in accidents or other incidents that the new owner wants to hide.
Avoid being a victim of HIN cloning
If you are thinking about buying a used boat, make sure that you do your research to ensure that the HIN is legitimate.
Here are some other tips to avoid being a victim of HIN cloning:
Review the HIN via boat-alert.com (CARFAX for boats) to view the history and HIN number to ensure the boat is legitimate
Check for any signs that the HIN has been tampered with, such as scratches, dents, or other damage to the Hull Identification Plate
Get the boat's history in writing from the seller
Check with your local law enforcement to see if the boat has been reported stolen
Be wary of deals that seem too good to be true
If possible, have a qualified marine surveyor inspect the boat before you purchase it
If you think you may have been a victim of HIN cloning, contact your local Coast Guard office or the National Insurance Crime Bureau (NICB)- or RCPM in Canada. BoatAlert.com boat history title reports can also help you catch HIN cloning issues by checking boat's specifications, stolen records, registration history from official sources. It should match the boat you have in front of you and its location.
#StolenBoats #HullIDNumber #HINCloning #Theft #boating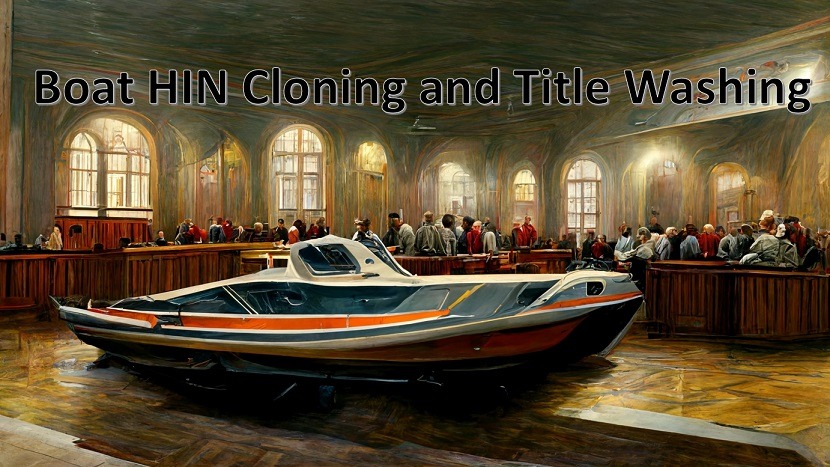 What does "cloned HIN" mean for a used boat?
A cloned boat is a vessel that has had its HIN modified or tampered to match the HIN of another boat. This is typically done to mask the HIN of a stolen boat.
This means a ship has had its HIN changed to match the HIN of another clean-title boat. This is typically done by vessel thieves to hide a HIN that is registered as stolen or salvaged/damaged. A stolen boat that has had its HIN changed could be seized by police!
The owner of the boat must contact the DMV or DNR with the fraudulent HIN to issue a "Cloned HIN Alert".
If the Boat Alert History report is showing historical records in another state or province, double check with the seller to make sure it's accurate first. Typing the wrong HIN often shows the wrong boat report. If the boat seller or dealer says the boat has never been to another location or registered in another region, yet it's shown on the report, please contact our customer support team to investigate this further. If a HIN is cloned, there are steps the owner must take to have the incorrect records revoked.
HIN cloning is one of the main ways that thieves are changing the identity of the boats in order to sell them or ship them out of country. Police are seeing a rise in the number of stolen boats that are re-HINed as clones of legitimate boats or with false HINs.
How does HIN cloning work?
HIN cloning typically happens when a stolen boat is involved. In this case, the HIN number that was originally installed by the manufacturer is taken off the stolen boat and replaced with a different one that was "cloned" off another vessel. The second HIN is a valid and genuine number from a boat that is of similar make and model to the stolen boat. For Cars and vehicles, there is NMVTIS system to fight VIN cloning but for Boats, there is still no system in place to fight it but UCOTVA is slowly coming into effect.
The purpose of cloning the HIN is to enable the stolen boat to be registered in another location. Of course, those who are planning to do so will also have additional fake documents to prove their "ownership" of that vessel. So for example, if the stolen vessel was originally registered in Florida, changing a cloned HIN attached to it will now allow the vessel to be registered using a different "identity" in another region.
A lot of criminals that clone vessels are also looking to sell these cloned boats both to knowing and unknowing buyers. As you can understand, illegitimate vessel sales like these produce negative effects on the economy and cause millions of dollars' worth of losses to the industry, the consumers, and the insurers.
Steering clear of HIN cloning
If you're boat shopping, beware of a vessel being sold for a substantially lower price than comparable makes and models.
Get a copy of the Boat Alert history report.
Check out the HIN plate on the transom for any evidence of tampering (scratches, etc.).
Look for incorrect spellings on paperwork, like boat registration and titles.
Trust your intuition — if it sounds too good to be true, it probably is!
Look for any bills that were from other places or even web listings in other states/cities
Verify the HIN in Multiple Locations: Inspect the HIN in various places on the vessel if you can find the other places it was etched. Ensure that the HID matches across all locations and is not tampered with or altered.
Compare the HIN with Documents: Check that the HIN on the vessel's title, registration documents, and insurance paperwork matches the one on the physical vehicle. Any inconsistencies or discrepancies should raise a red flag.
Inspect for Signs of Tampering: Look for signs of tampering around the HIN plate. Pay attention to any irregularities in font, alignment, or physical damage. Tampering may indicate an attempt to clone the vehicle.
Conclusion
If you're in the market for a used boat, it's important to be aware of HIN cloning and title fraud. These scams can have serious consequences, so it's crucial that you do your research before making a purchase.
The best way to protect yourself is to use a service like boat-alert.com, which can help you verify the HIN and ensure that the boat is not stolen or damaged.
Don't wait! Use boat-alert.com to check the HIN of any boat you're thinking about buying and avoid being a victim of HIN cloning.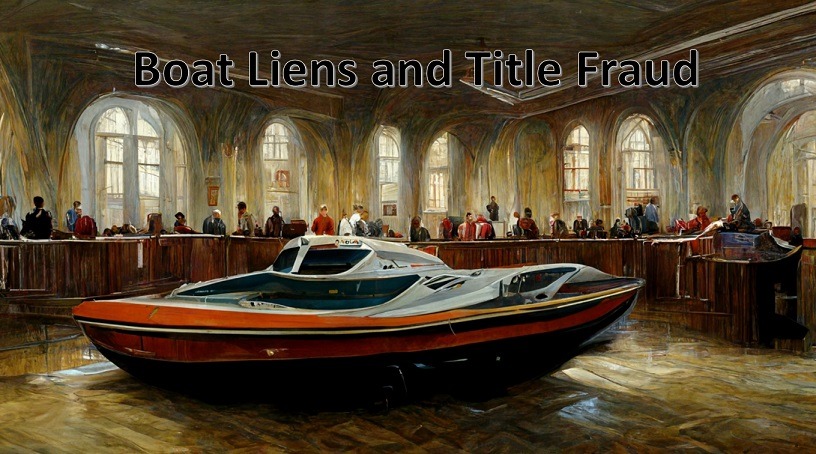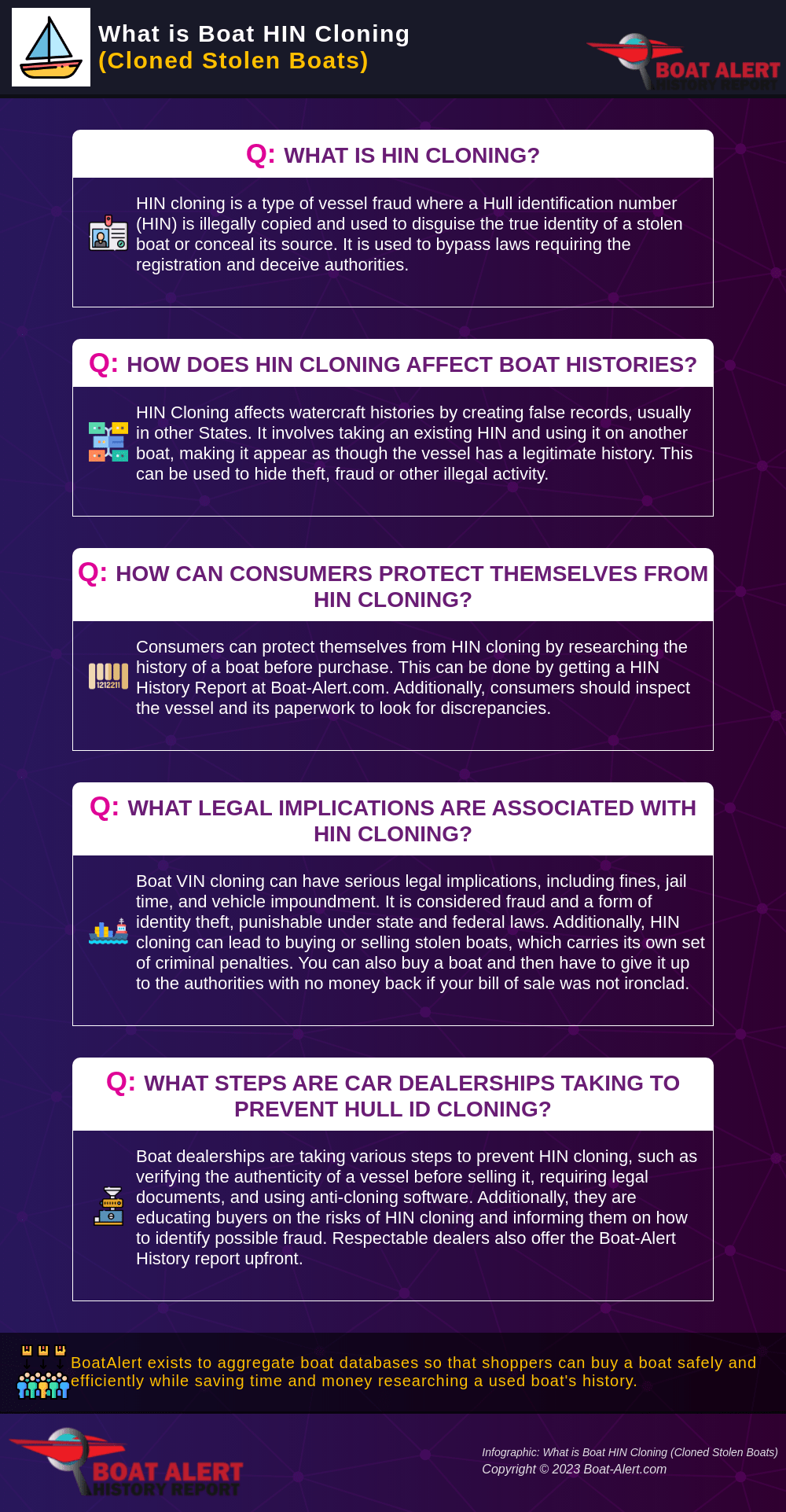 Read Related Articles:
Categories:
To learn more about Boat-Alert.com History Reports for used boats and boat cf number lookup visit: www.Boat-Alert.com
About Boat-Alert.com®
Boat Alert History Reports© exists to aggregate boat databases so that shoppers can search and buy a used boat safely while saving time and money researching a used boat's history. We began in 2015 and constantly adding more free boat hin lookup data for USA and Canada to ensure that your boat has a clean history. We are happy to offer a 60-day money back guarantee and proud to have served more than 15,000 customers with their boat HIN Search History needs. boat title lien search service ©. Two percent of all proceeds go to charity. We value fair treatment of employees, customer satisfaction, having the most databases possible, and fast customer service at the core of our brand. View our
LinkTree
.