What to Look for on a Sea Trial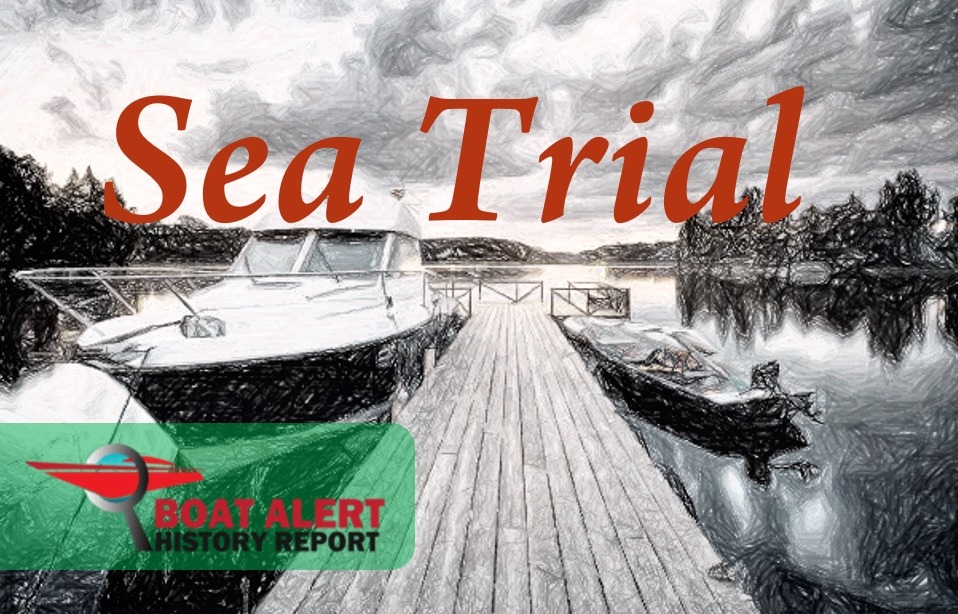 If you are in the process of buying a boat, a sea trial should be an important part of your to-do list. However, what to look for during this test run isn't always clear to novice boaters.
In this article, we shed light on some of the most crucial aspects of a sea trial. We cover what to expect on a sea trial – things you should look for, how to prepare for it, and how to conduct it effectively.
We explained marine surveys and their types in other articles on this blog.
What is a Sea Trial? | What does a sea trial consist of?
A sea trial is a test run to assess the performance of a new or used boat and prove its seaworthiness. It is when you take a boat that you plan to buy on the body of water you wish to use, such as a freshwater lake or ocean.
After a major refit or repair, you may also conduct a sea trial on your own boat. The main idea behind this activity is to use the vessel the same way you intend to use it post-purchase, taking special note of how well it performs. A typical sea trial consists of the following:
Creating a "real-life" environment on the boat to accurately replicate a normal day.
Testing performance targets and inquiring about horsepower options.
Playing the role of both passenger and driver to get an in-depth feel of the boat
Bringing the boat to 30 MPH, performing a hard turn, and testing conditions in rough waters if possible.
Why is a Sea Trial Important? | Is a sea trial necessary?
A sea trial is one of the most important steps in the boat-buying process, as it uncovers any hidden concerns you may have overlooked.
By testing the vessel in person and seeing how it performs under different conditions, you can ensure it is worth investing in. This is especially true if you are buying a used boat. Even if the boat seems perfect from the surface, you should still get a feel for how it rides the water and what your line of sight will be while standing by the helm.
It all about safety!
How Does a Sea Trial Work?
During a sea trial, you essentially take the vessel on the water and operate it like you normally would on a typical boating trip. This includes riding it at different speeds, maneuvering on varying water conditions, and putting extra weight on the board.
Even though it is generally a fun experience, you shouldn't get too carried away with the excitement of a new boat.
Make sure your focus lies on how well the boat performs (not accessories), and take notes to compile a sea trial report for future reference.
For a professional opinion, you may consider taking along a marine surveyor, industry expert, or mechanic who can properly examine the boat and compile a report. Such specialists are trained to detect potential problems that may not necessarily be visible to you.
Make sure the specialist is part of an association so you don't get taken for a boat ride!
What Should You Look for During a Sea Trial Process? | Boat Sea Trial Checklist
The following checklist will help you do a detailed inspection of the boat, both on land and on water.
On Land
Interior: Inspect the interior of the boat with a keen eye. Observe any wooden work or upholstery for overlooked damage, such as chips, tears, or scratches.
Exterior: Pay close attention to surface damage, including paint chips, corrosion, or cracks. Check the propeller for damage.
Moving components: Check the functionality of the moving elements, such as doors and windows. Do they open easily? Are there any loose cables? Are the safety mountings in place?
Smell: Smell can be a good indicator if something is amiss with the boat. For example, a musky mildew smell could indicate a mold infestation, or an excessive fuel smell could mean a leakage.
Seating: Check if the seating is enough to meet your cruising needs.
Electronics: Make sure the electronics on the boat are fully functional and in good condition.
On Water
Steering: Check if you can steer the boat quickly and efficiently. Count the times you need to turn the steering wheel from lock to lock. 3 to 4 times indicate a quick response, but anything more could be bad news. Focus on maneuverability.
Speed: Accelerate the boat and see how it feels and whether it makes unusual noises. Shift the throttle and note how the speed holds and moves through every transition. Lastly, make multiple turns while going at each speed. The slower the planning speed, the better.
Maneuverability: This refers to how easy or difficult it is to move the boat around on the water. Observe any factors that hinder the performance, such as currents or strong winds, jarring movements, or uneven steering. Do a variety of turns, including right and left turns, full-circle turns, docking and backing in, etc.
Sounds: While it is common for vessels to make noise, certain sounds are big red flags. For example, loud clunking or rattling when starting the boat isn't normal. Similarly, if the engine makes powerful vibrations, cracking, or thumping noises, that could indicate something serious. Start when the vessel is cold to check the engine for unusual sounds.
How long do sea trials last?
A sea trial procedure can last for a few hours. Every boat dealership has guidelines and rules for conducting sea trials, so discuss your expectations with them beforehand. If you need more time to test a boat on water before deciding, ask about their policies.
During this time, your marine surveyor or boat dealer may also discuss some limitations due to liability and insurance laws.
How much does a sea trial cost?
A sea trial typically involves towing a boat in and out of the water, which can cost anywhere from $100 to $1500 each way, depending on the size of the boat. Sometimes you need a captain. If you hire a marine surveyor, you can expect to pay between $18 and $25 per foot, typically including an out-of-water check, a system test, a sea trial, and a detailed survey report.
The exact cost will vary depending on your chosen surveyor and the length & type of vessel in question. Just make sure to pick someone well versed in this type or make of vessel.
Who pays for a sea trial? (debatable)
Generally, sellers are responsible for financing the commissioning of the boat, a sea trial as part of the marine survey, and launching the boat…etc. Everything is negotiable yes, but the sea trial is only to be done with serious buyers as a final acceptance.
Do it after a deposit is paid too and bring the surveyor along on the sea trial. Doing many sea trials can be expensive for a seller if people are "just shopping".
As a buyer, you will be responsible for paying for the marine survey and inspection, so make sure to opt for a reputable and state-approved or certified marine surveyor.
There is much debate on this but, to avoid any confusion, spell it out on the bill of sale and purchase agreement for the boat.
Sample sea trial survey report
A sea trial survey report confirms that a vessel has undergone a sea trial at a specific date at the buyer's request. It generally consists of the vessel's details, onboard check, engine check, and other key observations made during the trial.
Listed below are two detailed samples of a sea trial survey.
What a sea trial doesn't tell you | Caveats to a Marine Survey
While it is important to conduct a sea trial for a vessel before investing in it, there are certain limitations that buyers must be aware of. A sea trial only tells you the physical state of the vessel and uncovers any potential problems related to its performance. However, it doesn't uncover any important information regarding the vessel's history, past ownership, or validity of current paperwork.
To ensure that the boat you wish to buy is legit and has no questionable past, you will need a Boat-Alert.com history report to complement your marine survey.
This report will give you immediate access to critical information such as the boat's name, value, lien information, pollution incidents, factory recalls, theft, auction data, and accidents.
You can perform a HIN lookup on the website by yourself – All you need to do is enter the HIN of the boat you want to buy in the tool's search bar to check its titling/registration details.
Tips for Buying a Boat
Here are some tips to help you make the most of your yacht sea trial.
Bring along your friends and family. This will help you understand what the boat will be like on a normal sailing day. This means riding it at full-fuel levels, with the added weight of passengers. Plus, you will be able to hear the thoughts of your loved ones and whether they notice anything concerning.
Ask for help. If you are unsure what to do during a sea trial, ask as many questions as possible. If you are concerned about an issue, contact a marine specialist and get a second opinion.
Spend some time as the driver and the passenger. This will help you get a comprehensive feel of the boat from all possible angles.
Do a background search on the dealer and the boat. Use Boat-Alert.com to perform an online HIN lookup to be sure of the boat's legitimacy.
Conclusion
In this article, we discussed what to look for on a sea trial, the importance of conducting a sea trial, and other steps to follow when buying a boat. We also discussed the limitations of a sea trial and the need to supplement it with a Boat-Alert boat history report.
#SeaTrial #SeaTrialProcess #WhatHappensOnASeaTrial #evaluation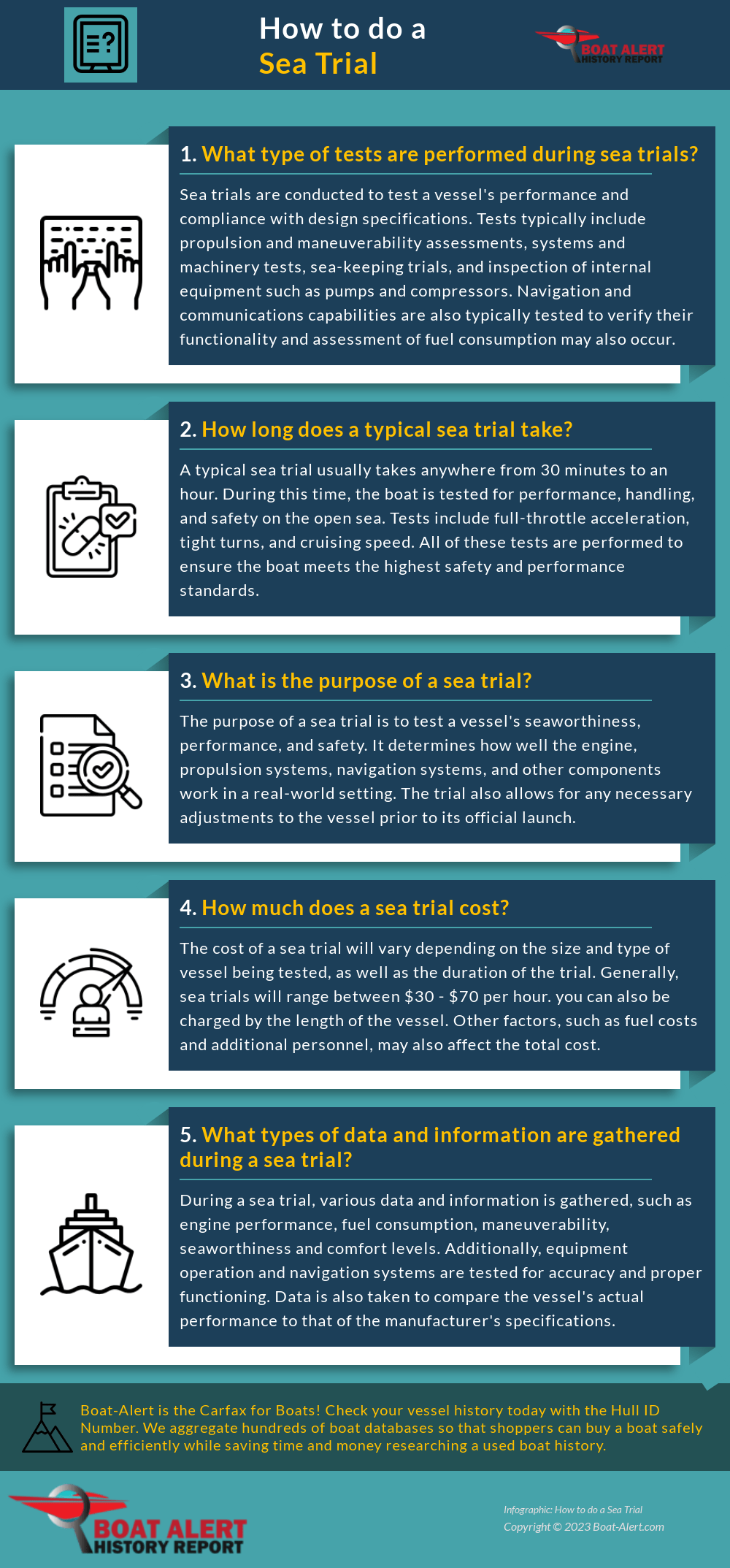 Categories:
To learn more about Boat-Alert.com History Reports for used boats and hin numbers visit: www.Boat-Alert.com
About Boat-Alert.com®
Boat Alert History Reports© exists to aggregate boat databases so that shoppers can search and buy a used boat safely while saving time and money researching a used boat's history. We began in 2015 and constantly adding more boat title search data for USA and Canada to ensure that your boat has a clean history. We are happy to offer a 60-day money back guarantee and proud to have served more than 15,000 customers with their boat HIN Search History needs. find a boat registration search service ©. Two percent of all proceeds go to charity. We value fair treatment of employees, customer satisfaction, having the most databases possible, and fast customer service at the core of our brand. View our
LinkTree
.