Everything you need to know about NMMA Certified Boat Manufacturers
NMMA Certified boat brands are recognized as the benchmark for product quality worldwide. For this reason, over 90% of the vessels sold in the USA yearly are NMMA Certified. A recent survey shows that such boats are 7 times less likely to be recalled by the US Coast Guard on the grounds of safety issues.
NMMA Certification is an assurance that your boat has been designed and built to meet the highest standards of safety, reliability, and performance.
In this article, we will explain what NMMA Certification is, why it is important, and how to identify certified boat manufacturers so you can make an informed purchase decision. Read on to learn everything you need to know about NMMA Certified boat manufacturers.
Who is the NMMA?
It is a non-profit that was created in 1979. They mention about themselves that: "The National Marine Manufacturers Association (NMMA) is the nation's leading trade association representing boat, marine engine and accessory manufacturers. Collectively, NMMA members manufacture an estimated 80 percent of marine products used in North America. NMMA is a unifying force and powerful voice for the recreational boating industry, working to strengthen and grow boating and protect the interests of its member companies." – source.
The primary objective of NMMA is to unify the recreational boating industry and work to strengthen the interests of its member companies & adherence to standards. 
What is NMMA Certification?
NMMA Certification is a program established to help boat manufacturers follow industry construction and safety standards and federal regulations.
It is designed by the National Marine Manufacturers Association (NMMA), the nation's most prominent trade association representing boats, marine engines, and accessory manufacturers.
To become NMMA Certified, a boat manufacturer must certify each boat model they produce. Besides boat certification for manufacturers, dealers can acquire a Marine Five Star Certification to ensure that purchasing and maintaining a boat are hassle-free experiences for buyers.
What does it mean to be NMMA Certified?
All boats sold in the United States are required to meet US Coast Guard regulations. NMMA Certified boats must not only meet these minimum regulations but also the more detailed standards set by the American Boat & Yacht Council (ABYC) that cover more components and systems.
To get certified means, there are hands-on, third-party inspections done on the boat, an inspector visits the manufacturing facility, and certain regulations and benchmarks need to be met to ensure the highest quality and safety levels in the new boat.
What does NMMA Certification cover?
The NMMA Certification program covers more than 30 categories of standards, which differ depending on the type of boat and may include:
Weight and passenger capacity (for boats under 26 feet)
Fuel systems
Ventilation system
Horsepower capacity ( for boats under 20 feet)
Electrical systems
Flotation (for boats under 20 feet)
Navigation lights
Steering systems
Warning label placement and guidelines
How does NMMA Certification Work for Boat Manufacturers?
Boat manufacturers can become members of the NMMA, have their boats certified, and even undergo regular audits to ensure their compliance with the frequently evolving regulations.
For each certified boat, the NMMA will provide a sturdy plate affixed and displayed on its transom. Let's take a look at what the process generally entails.
The boat manufacturer builds a boat following the USCG and ABYC standards under the guidance of an NMMA-trained specialist.
NMMA inspects the manufactured boat to ensure it complies with industry regulations and standards. If any shortcomings are detected, the manufacturer must bring the boat to compliance by addressing and documenting the required changes.
The boat that meets the NMMA standards and passes the inspection procedures is deemed NMMA Certified.
Benefits of an NMMA – Certified Boat Manufacturer
NMMA certification is voluntary, but it offers a range of benefits to boat manufacturers, such as:
Confirmation that their boats meet the industry standards established by the ABYC
A comprehensive inspection and verification procedure
Enhanced buyer confidence and trust in the manufacturer's brand
Improved brand reputation
Product liability insurance and liability protection
Increased sales due to greater customer trust
Boat manufacturers that are members of NMMA can benefit from many exclusive benefits, some of which are listed below:
Free access to NMMA's Business Intelligence publications, including the US Recreational Boating Statistical Abstract worth more than $8,000
Booth space discounts between 5% to 20% at specific NMMA boat shows and IBEX
Exclusive access to the Marine Industry Retirement Program that helps businesses save money and minimize expenses
Can I tell if a Boat Manufacturer is certified?
You can tell whether or not a boat manufacturer is NMMA Certified by looking for its logo on the yacht or capacity plate, which is located near the helm. You can also directly ask the manufacturer or the dealer for further clarification.
NMMA Certification and Logo
Listed below are the NMMA Certification logo and NMMA Certification document.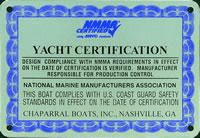 Where is the NMMA plate on a boat?
It will be on the transom usually,
How Does ABYC Compare to USCG Standards?
The USCG regulations work to ensure the safety of people on board. Every new and used boat must carry the required safety equipment and comply with federal and state regulations for operation and numbering. The USCG regulations cover various aspects related to recreational boats, some of which include:
Vessel documentation
Documented vessel marking requirements (HIN display)
Interior display and equipment requirements
Ventilation requirements
Fire extinguisher requirements and maintenance
Sound-producing devices and navigation lights
Size regulations
Pollution regulations
On the other hand, the ABYC standards are continuously being researched, developed, and revised by more than 400 volunteer marine experts from all fields of the industry, such as the USCG, private organizations, and private entities. Its standards cover all the main boat systems, such as:
Marine Liquefied Petroleum LPG Systems
Cooking appliances
Firefighting equipment
Refrigeration and air conditioning equipment
Solid and liquid-fueled boat heating systems
Propane and gasoline gas detection systems
Marine CNG Systems
Installation of electric navigation lights
Sound signal equipment
Boatload capacity
Boat water systems
Buoyancy in case of swamping/flooding
Field of vision from the helm
Marine transmissions and inboard engines
These are just some of the aspects covered by the ABYC standards. For a complete list of standards, click here.
Which Boat Manufacturers are NMMA Certified?
Here is a list of some of the boat manufacturers that are NMMA Certified or currently in the process of completing certification for 2023. For a complete list, click here.
Axis Wake
Bennington
Bayliner
Brunswick Commercial
Boston Whaler
Chaparral
Cruisers Yachts
Chris Craft
Duckworth
Dave's Custom Boats
Midnight Express
Nautique
Pathfinder
Stingray Boats
Sea Ray Boats
Tiara Yachts
Xcursion
Yamaha Boats
Should you only buy Yachts/Boats/PWCs from NMMA Certified Manufacturers?
Studies have shown that NMMA certified boats are seven times less likely to be recalled by the US Coast Guard, as compared to uncertified boats (source).
NMMA certifications are voluntary, so when you are looking at a certified boat, it shows that the manufacturer has chosen to go above and beyond the minimum requirements. When you buy NMMA-certified boats, yachts, or any other type of watercraft, you can expect the following benefits:
Less likelihood of a boat recall compared to an uncertified boat. This is because NMMA Certified yachts and boats rigorously meet the marine certification requirements, making them less susceptible to hidden issues.
In some cases, the certification goes beyond the boat itself and extends to PWCs, trailers, and even marine oils. When you use certified products, you can have greater peace of mind and confidence in their quality and safety.
NMMA standards constantly change and improve based on the industry's needs, making them a very dependable grade of excellence. NMMA Certified Manufacturers will stay with you throughout the buying process and offer you all the required information needed to make the right decision based on your needs and preferences.
NMMA Certified manufacturers can also help you with the insurance process, financing, and other forms of support that you might need to buy a boat.
While buying a watercraft from NMMA Certified manufacturers is highly recommended, it is not a federally bounding requirement. NMMA Certified boats are more expensive than noncertified boats since they undergo rigorous audits and inspections. Read more on boatus.
If you have budget constraints, you may consider opting for a manufacturer that is not NMMA Certified.
If you are buying a noncertified boat, perform an online HIN lookup on the website or get a Boat-Alert.com History Report to check if the seller is reliable and the boat is free from a tainted past.
You should also arrange a Sea Trial to evaluate its performance, prove its seaworthiness, and make sure you are comfortable using it. Lastly, you should research the manufacturer thoroughly, read testimonials and look for their ratings online.
Stolen Boats and Police
When buying a used boat, you must ensure it is not stolen. Every vessel has a 12-character hull number that the police can use to track down a stolen boat. How is this relevant? Well, NMMA-certified boat builders are required to participate in the NICB reporting program to help build a database of vessel information for law enforcement. 
This advantage allows the police to look up even more information than what can be decoded in the Hull ID. HinDecoder.com cannot tell where the hidden HIN is located on a vessel nor is the boat's length encoded in the HIN.
How this helps used boats?
Once a boat has had NMMA certification and is still within 10 years of age, it can be sold by a dealer as "certified pre-owned boat". Read more about CPO boats here.
Conclusion
This article discussed what NMMA Certified boats are, what is covered under the program, its benefits, and how manufacturers can get their boats certified by the NMMA.
You should choose a certified boat manufacturer for many reasons, but at the end of the day, you want to see if it's the right financial decision for you in the long run.
#NMMA #Boat #manufacturers #Certification #NMMACertified #BoatBuilder
Read Related Articles:

Categories:
To learn more about Boat-Alert.com History Reports for used boats and boat owner history visit: www.Boat-Alert.com
About Boat-Alert.com®
Boat Alert History Reports© exists to aggregate boat databases so that shoppers can search and buy a used boat safely while saving time and money researching a used boat's history. We began in 2015 and constantly adding more free hull id number search data for USA and Canada to ensure that your boat has a clean history. We are happy to offer a 60-day money back guarantee and proud to have served more than 15,000 customers with their boat HIN Search History needs. check a boats title problems online ©. Two percent of all proceeds go to charity. We value fair treatment of employees, customer satisfaction, having the most databases possible, and fast customer service at the core of our brand. View our
LinkTree
.