What is a Certified Boat Dealer? Marine Industry Five Star Dealer (MICD)
Disclaimer: Boat-Alert.com is not a MRAA Member, Partner, nor has any affiliation with the MRAA CPO program.
Buying a boat is a risky and overwhelming process. As a buyer, you may not know which dealership to buy a boat from and which ones have a high standard.
Fortunately, the marine retailers association (MRAA) has a certification program for dealers. Look for the blue "MICD" logo at your local dealership.
In this article, we explain what is the "Marine Industry Certified Dealership" designation and why this Marine Five Star Certified Dealer logo is a good place to start your search for the perfect boat.
The program is advertised online under two names: it is known as Marine Industry Certified Dealership (MICD) or Marine Fire Star Certified dealerships (MFSDC) and has many benefits including showing the dealers Banner on BoatTrader listings.
What is MRAA Certification for Boat Dealerships (MFSDC)?
The Marine Five Star Dealer Certification Program is designed to give the buyer complete peace of mind when servicing and purchasing a boat. The dealer is committed to customer satisfaction and goes above and beyond to meet high industry standards, quality of service, professionalism, and superior follow-up.
The primary aim of the certification is to distinguish dealers who are continuously driven to improve and strive to do their best to create a favorable customer experience. It is also designed to boost industry sales, profitability, and long-term customer loyalty by providing a cutting-edge retail experience.
This benefits all the parties involved: manufacturers, dealers, and customers. The MFSDC is part of Grow Boating, Inc. and is managed by the Marine Retailers Association of America (MRAA).
How Does MRAA's Marine Five Star Certified Dealer (MFSDC) Certification Work?
To apply for MRAA's MICD program, a dealer must have a storefront and a service department. Dealers who qualify register to participate in a personalized workshop to provide an overview of – and initial training on- the certification requirements.
The dealer must agree to execute a program of best procedures and practices and comply with the Consumer Bill of Rights.
The dealer must abide by all the program requirements, determined through a detailed procedure. The dealer undergoes a hands-on facility inspection and evaluation to make sure that all requirements are diligently met.
Main certification requirements cover training, customer satisfaction, facility, and employee performance. Dealers with this high distinction must submit documents and photographs to Five Star Solutions Bonnier. First-time verification includes a comprehensive, onsite examination. This all benefits dealers and consumers.
Dealers who succeed in reaching the highest level of Certification are considered Five Star Marine Certified. They must demonstrate to a third-party inspector that they have met or exceeded the program standards in the key areas listed above. They must also commit to following up with their customers, maintaining their dedication, and renewing their certification every two years.
How Long Does it take for a Boat Dealer to Become Certified?
Most boat dealers can complete the process within three months, while some may require longer periods of up to 12 months or more. This is because every dealer is at a different level when meeting the required criteria, which can lead to variation in the required time.
How Much Does it Cost to Become an MRAA Five-Star Certified Dealer?
If you are a first-time MICD applicant, you can expect the following costs as part of the application process:
Launch webinar: $700
Onsite facility inspection: $1700
Marketing kit and final payment: $495
Total Cost: $2,895 (certification pricing based on 2023 data)
Yearly renewal of certification is carried out via a webinar which can cost around $1,595
Benefits of an MRAA Certified Dealer
A certified dealer will have many perks and advantages they can leverage at their agency including the CPO program (below) and certified broker program (CPYB).
MRAA Certified dealers are widely recognized for their dedication to quality and safety best practices, which can boost buyers' confidence in their products and services.
Certified dealers have instant access to customer leads through the Discover Boating program.
Marine Five Star Certified Dealers are dedicated to customer satisfaction during and after the sale.
Each Certified dealership must comply with certification process standards verified by a third party that covers everything from facilities to sales service.
Certified dealerships are staffed with professional and friendly sales staff that follow a proven blueprint making their boat brand stand out in terms of the boat buying experience.
Buying from a certified dealer guarantees peace of mind that is simply unparalleled by buying from an uncertified dealer.
The Marine Five Star Dealer qualification creates a sense of entrepreneurship since dealers come together to improve their business, not just make money. Certified dealerships clearly understand their goals and mission, where they are headed, how they will achieve them, and which areas need more improvement. For this reason, they tend to be more goal-oriented and strategic.
Certified dealerships are always striving for improvement, which can end up benefiting all parties involved.
Certified dealers have access to the marine industry's top-tier practices via an exclusive, registered compilation that is regularly updated.
How Can I know if a Dealer is MRAA Certified or not?
You can know if a dealer is MRAA Certified by checking for its logo and MFSDC seal on their websites which they proudly display. You can also look for boat dealer certification via local advertising, showroom signage, special events, boat shows, etc. You can also ask the dealer for further clarification when in doubt.
When a dealer becomes MRAA certified, they can also get their used boats certified by the MRAA CPO program. Make sure to look for the CPO logo on used boats.
Pro Tip!
If you are buying a boat from an uncertified dealership, it is best to get a Boat-Alert.com History Report or perform an online HIN lookup on the website to check if the organization is reliable and the boat is free from any accidents, theft, and other legal complications.
Be sure to research the dealer, check out their online ratings, and read customer testimonials. For your peace of mind, request that the dealer arrange a sea-trial test run so you can check the boat's specs in person.
What IS MRAA's "Marine Industry Consumer Commitment"?
Created by the Marine Retailers Association of the Americas (MRAA) and the National Marine Manufacturers Association (NMMA), the Marine Industry Consumer Commitment involves key principles to ensure a pleasant boating experience for the buyer. As a customer, you can expect:
Sales
The help of knowledgeable and efficient sales staff
Truthful and transparent advertising and representations
A detailed written account of all the details related to the purchase
An explanation of the correct operation and usage of products
An explanation of the maintenance schedules and requirements for your product
Written proof of warranties on the product and its main components
Services
A detailed explanation of repair/maintenance plans, including estimated cost and time
A list of all the item charges with their explanations
Repairs and maintenance done right the first time by trained and experienced specialists
Repairs and maintenance work delivered when promised
Timely notice of changes in service delivery times in case of delays
Inspection of damaged and replaced parts upon presentation of the work order or invoice
Operations
Open, transparent, and fair treatment without any bias or discrimination
Accurate, respectful, and professional answers to all product queries and requests
Full adherence to customer confidentiality and privacy
Which Organizations Support Marine Industry Certifications?
MRAA, NMMA, Discover Boating, and many marine manufacturers and trade organizations support the Marine Five Star Dealer Certification (MICD).
Do Dealers Need to Renew their MRAA Marine Industry Certification?
MRAA Marine Five Star Dealer Certification is a procedure that needs to be done every year. The program's success largely depends on the dealer's ability to stay accountable for the industry standards year after another. Since the marine industry regulations and standards constantly evolve, dealers need to stay ahead of the changes.
Successful dealerships can renew their certification by showing leadership, consistently improving their dealings, effectively monitoring their processes, and keeping their staff motivated. In return, the workers reward the organization's time, effort, and money with high productivity and performance.
Renewal delivers the motivation, support, and continuous reinforcement required to help dealers progress.
The MRAA Certified Pre-Owned Boat Program
Under the MRAA Certified Pre-owned Boat Program, a used boat undergoes a five-part comprehensive analysis. Two different third parties later authorize its quality and condition to ensure that it's properly functional and closely in line with the quality benchmarks.
The fundamental objective of this program is to establish industry standards within the pre-owned boat market to help dealers stand out among their competitors. The reliable, third-party approval and validation process offers a win-win, allowing dealers to take advantage of greater profitability and confidence in their pre-owned business while offering buyers peace of mind when purchasing a used boat. Consider reading our detailed blog here to learn more about the MRAA CPO program.
Another new program by the MRAA for pre-owned boats is the Verified Pre-Owned Program, essentially an extension of the Certified Pre-Owed Program. Under this program, the MRAA accepts used boats that may not qualify for the CPO program, thus offering more flexibility related to the age and condition of the boat
Conclusion
In this article, we discussed what an MRAA Marine Five Star Dealer Certification is, and its new name "Marine Industry Certified Dealer". We explain what the prgoram covers and its benefits to dealers. All this hold dealers toa higher standard abd benefits the consumer with quality service.
As a buyer, you should choose a certified boat dealership for many reasons since it can be a worthwhile financial decision in the long run.
Read Related Articles:
#MFSDC #MRAACertification #MarineFiveStarDealerCertification #MICD #dealership #boatDealer #certification #program #mraa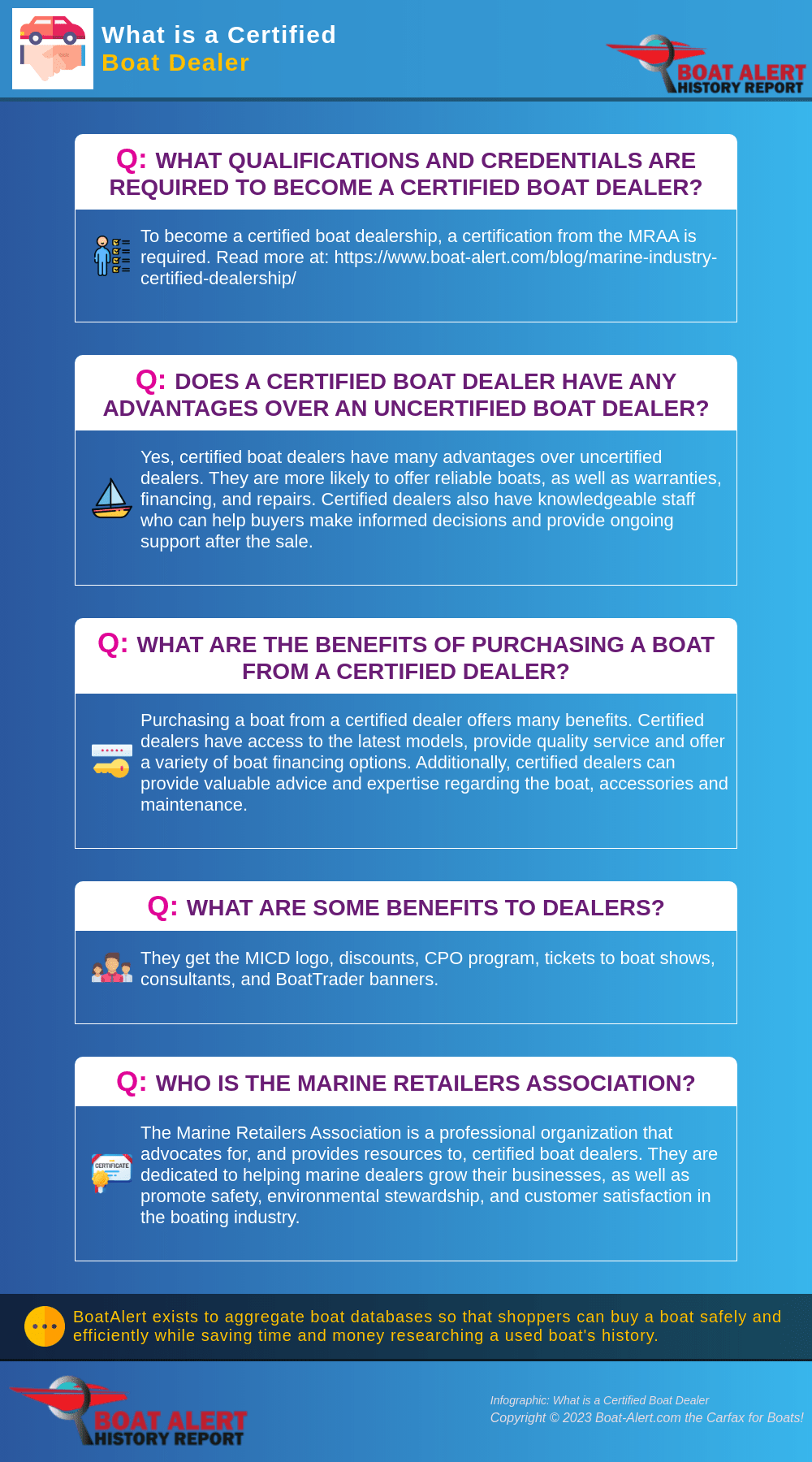 Categories:
To learn more about Boat-Alert.com History Reports for used boats and boat carfax visit: www.Boat-Alert.com
About Boat-Alert.com®
Boat Alert History Reports© exists to aggregate boat databases so that shoppers can search and buy a used boat safely while saving time and money researching a used boat's history. We began in 2015 and constantly adding more hull identification number data for USA and Canada to ensure that your boat has a clean history. We are happy to offer a 60-day money back guarantee and proud to have served more than 15,000 customers with their boat HIN Search History needs. boatfax check ©. Two percent of all proceeds go to charity. We value fair treatment of employees, customer satisfaction, having the most databases possible, and fast customer service at the core of our brand. View our
LinkTree
.