How to Price My Boat For Sale and Negotiate with Buyers?
If you're ready to sell your boat, one of the first things you need to do is price it correctly. Boat prices have risen in recent years due to factors such as rising material costs, increasing inflation, and high consumer demand. Ultimately, how you price your boat will largely depend on its size, construction materials, unique features, the buyer's preferences, and your willingness to negotiate.
In this article, we will provide a detailed guide on pricing a boat and how to negotiate pricing with potential boat buyers.
Why is Setting the Right Price for Your Boat Important?
Setting the right price for your boat is very important since it brings you the value you deserve and can even help secure profits you may need to invest in a better boat.
If you price your boat too high, you may lose potential buyers to competitors since they will get a better deal elsewhere. On the other hand, if you price your boat too low, it may raise suspicion regarding the health and history of your boat and scare away buyers. To avoid both such situations, it is crucial to find the right balance and do your research before setting a price.
How Can I Price My Boat for Sale?
When pricing your boat for sale, keep the following tips in mind.
Use NADA Guidelines
NADA is now called JD power and offers a comprehensive database of various boat models and their prices. The Guides even allow you to check boxes for particular options a manufacturer may have offered, various-sized power plants, and electronics, significantly impacting how to price a boat.
Considering all these factors, the guides provide information regarding the boat's suggested list price, current average retail price, and current low retail value.
Compare Boat Listings Online
The true market value of a boat primarily depends on how much a buyer is ready to pay for it, and many sellers begin with a high price and drop it as time goes by until the boat sells. The time it takes between the initial listing to the final sale is a good determinant of how to price a boat.
When comparing listings online, remember that they run on the high side since boats that are priced low get bought quickly, and the listing disappears. See what others charge for the same boat model and brand as yours and make the desired adjustments later. Some good places to look for listings include boating magazines, local newspapers, Craigslist, eBay, Boat Trader, and other online boating marketplaces.
Get the Boat Appraised
Besides using websites like NADAGuides and online price calculators to decide the value of your boat, you can also get your boat professionally appraised. No one can give you a precise value of a boat if it hasn't been examined thoroughly in person; that requires the experience and knowledge of a professional marine surveyor who spends some hands-on time on the boat.
In certain cases, small problems may arise that can be fixed before listing the boat, and that will help it advertise better and possibly sell for a higher price. Boats that have undergone a recent survey are seen as better maintained and will stand out among the competition.
Once a surveyor or appraisal expert gives you an estimated figure, you should set a price based on accessories for this boat brand. The aim is to get the highest price for your vessel so you can have more money to spend on your next purchase. However, you still need to be fair and realistic to not drive any potential buyers away.
Contact the Boat Manufacturer for Valuation
A good way to price your boat correctly is to ask the manufacturer for a boat valuation. Due to their detailed market knowledge, manufacturers are abreast of market performance and can offer accurate reports. They may agree to comprehensively evaluate your boat before advising on the asking price.
Ask for Boat Brokers' Insight
A certified and reputable broker will have access to an extensive network of brokers nationwide from whom they can extract important details about your boat. Once a buyer is found, the broker can take you through the negotiation process, making sure all documents are up to date before finalizing the deal.
Can I Negotiate the Sale price of my Boat?
| Step | Pricing Your Boat | Negotiating with Buyers |
| --- | --- | --- |
| 1 | Research similar boats' prices. | Set a clear minimum and target price. |
| 2 | Consider your boat's condition. | Highlight unique selling points. |
| 3 | Factor in upgrades and maintenance. | Emphasize recent upgrades. |
| 4 | Determine a fair asking price. | Start negotiation above minimum. |
| 5 | Be open to negotiation. | Listen and respond thoughtfully. |
| 6 | Decide your acceptable minimum. | Be patient but persistent. |
| 7 | Showcase your boat's value. | Be flexible on non-price terms. |
| 8 | Justify your price logically. | Be ready to walk away if needed. |
| 9 | Leave room for negotiation. | Stay professional throughout. |
Yes, you can negotiate the pricing of your boat similarly to car sales. Whether you are selling a slightly used boat or a very old boat, it never hurts to try your luck and attempt to negotiate. This is the only way to secure a lucrative deal when selling.
Process and Tips for Negotiation with buyers
That being said, before you can start negotiating a sale price, you need to do your research. The negotiation process starts long before you enter a conversation with a buyer. You should understand the model you're selling, research its average market price, determine its unique selling points, and back up those facts with a manufacturer valuation and/or marine survey.
It is also important to know who you're negotiating with, at least to a certain extent. Is this someone who has a lot of boat-buying experience? Or are they interested in buying a boat as quickly as possible? Understanding your audience will help you come up with better negotiation techniques.
You should always start higher than the average market value. For instance, if the market sale price is $55,000, you can consider starting the listing at $53,000. There's a good chance your offer will be accepted right away, and even if it doesn't, you'll have plenty of room to go back and forth in negotiation. always counter offer. Here are some negotiating tactics when selling your boat:
Stay quiet and observe. Being silent implies confidence, but more importantly, it will enable you to listen to the buyer and better understand their motivations. The more information you have about them, the better you can position yourself.
Point out the unique features and amenities, such as custom seats, repainting, etc.
Stay unemotional. The other party may try to rile you up (for example, they may criticize the boat or point out any flaws); don't take this personally. Rather make the decision based on the logical outcomes you want.
Offer a boat-alert.com history report upfront
One of the ways you can have more negotiation power over the buyer is with a boat history search report from Boat-Alert.com. This report will give you immediate access to critical information such as the boat's name, value, lien information, pollution incidents, factory recalls, theft, auction data, and accidents.
How do I find the history of my boat?
Simply visit Boat-Alert.com, enter your boat's Hull Number in the search bar then click "check my HIN". If the vessel is documented with the coast guard, you can also get a boat-abstract.com (title abstract).
Gain the trust of the buyer with a HIN Report
A HIN report can clear up any doubts a buyer may have before buying a used boat. This can help increase the resale value of your boat and will motivate the buyer to pay a better price in exchange for their peace of mind. A HIN report will ensure the buyer that your boat does not have an iffy past and is in an optimal current state.
Give accurate boat specs by running a HIN Decoder and checking your owner manual.
Before you can get a HIN report, you need to ensure it's valid and error-free. Use Hindecoder.com to check the validity of your hull number.
What is the best month to sell a boat?
The best time to sell a boat is between February and June. Consider when all the boat shows run and the seasons.
Working with online boat classified platforms
On online boat classified platforms such as Boat Trader, Boats.com, and Craigslist, you can mention your listing price and state that the price is negotiable so potential buyers can reach out and state their preferred price rather than moving to another seller.
What questions should I ask when selling a boat?
Here are some questions that a private seller like you might consider asking when selling a boat:
Are you experienced with operating a boat, and do you have a valid boating license?
What is your primary reason for purchasing a boat, and how often do you plan to use it?
What is your budget for purchasing a boat, and are you planning to pay cash?
Are you interested in additional equipment like a trailer or life jacket?
Will you be doing a sea trial?
Do you have any questions about the boat's condition, maintenance history, or previous owners?
Are you aware of the legal requirements for transferring boat ownership, and do you have the necessary paperwork and documentation for the sale?
Alternatives to private sale
If you are still unsure about selling privately, consider going with a consignment dealer. This can maximize your dollar value and get you expert tips with a good location to sell.
Conclusion
This article talked about the process and tips for pricing a boat and negotiating with buyers. Before you get started, it is important to do your homework, get a professional opinion and understand who you are dealing with.
Add a boat history report from Boat-Alert.com to win the seller's confidence and increase your boat's resale value.
#BoatSalePrice #NegotiateBoatPrice #PricingMyBoat #Sell #boat #negotiate #pricing #sell #boat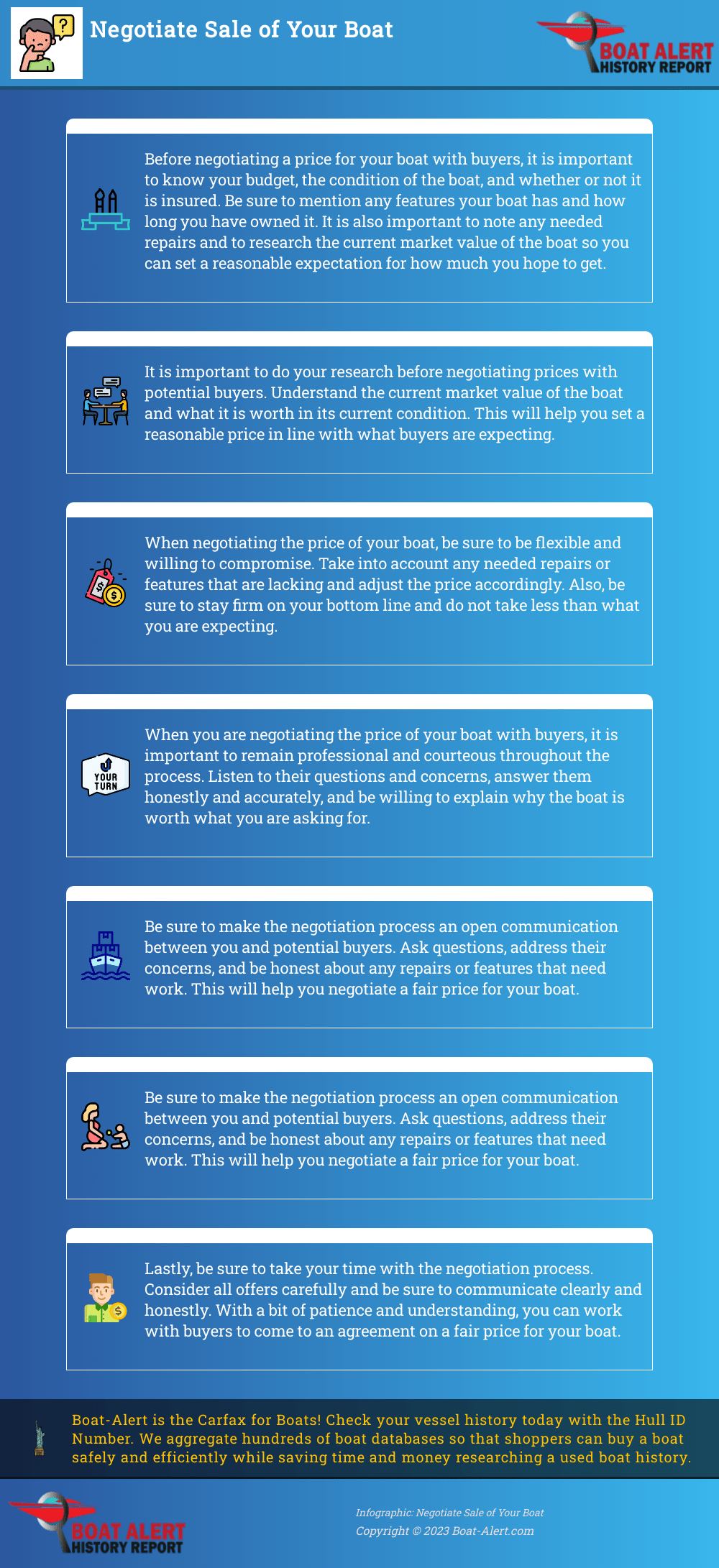 Categories:
To learn more about Boat-Alert.com History Reports for used boats and hull numbers visit: www.Boat-Alert.com
About Boat-Alert.com®
Boat Alert History Reports© exists to aggregate boat databases so that shoppers can search and buy a used boat safely while saving time and money researching a used boat's history. We began in 2015 and constantly adding more boat hull number data for USA and Canada to ensure that your boat has a clean history. We are happy to offer a 60-day money back guarantee and proud to have served more than 15,000 customers with their boat HIN Search History needs. free boat history check ©. Two percent of all proceeds go to charity. We value fair treatment of employees, customer satisfaction, having the most databases possible, and fast customer service at the core of our brand. View our
LinkTree
.