20+ Ways to Sell your boat faster on Craigslist
How to sell your boat faster.
Sell your boat! When you are selling a used boat, you want to sell it fast and at the right price. As the seller, it is your responsibility to package your boat as you would a winning product so that the potential buyers can know what they are getting and see the value quickly and more clearly than any other boat for sale. Let them know even before they ask. Lots of important information about the boat's history alongside a competitive price will help speed things to your liking. Any boat buyer will want to feel confident and certain when buying a used boat. Do not let the buyer feel nervous for a second. Whatever the circumstances, we provide some tips and tricks below to help you turn your used boat into cash fast. Use this as a checklist to prepare.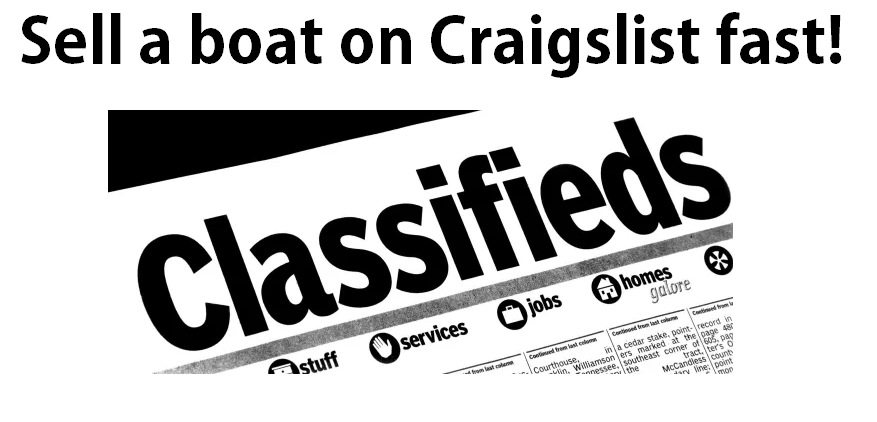 Start by doing some market research to identify the resale value of your boat with the specific features and mechanical conditions. Websites such as NADA Guides and HinDecoder offer value calculators where it is easy to review the models of boats and their value depending on their history and condition. Alternatively, check online classified ads like craigslist to compare and find out at what price other sellers are listing for your type of vessel.
Consider how much selling the watercraft to the dealerships will get you compared to a private seller. (trade-in is faster but less money usually).
If you only need extra space then you can donate your boat to charity as a tax-deductible contribution.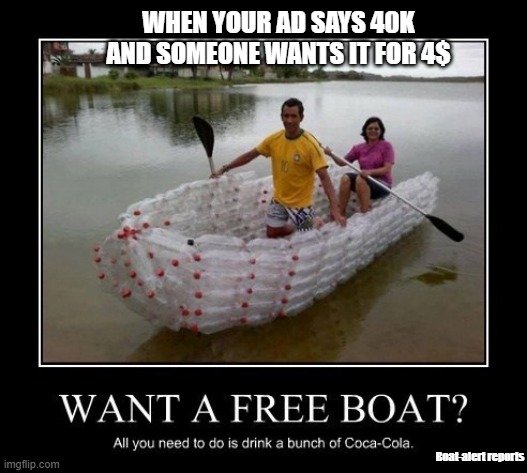 Wash, vacuum, de-clutter, and detail the boat to make it clean, attractive and presentable for the potential buyer. Also, remove any smells and apply shine spray. (positive first impression)
Do a mechanical check, tune-up, deal with any odd engine sounds or warning lights and replace burned-out bulbs. Then advertise your vessel has recently been serviced by a mechanic.
Do not hide things from the pictures (such as a missing parts) because showing such issues will actually improve trust and confidence upfront.
Make your boat listing advertisement stand out:
Use specific words and phrases that show your eagerness to sell.
Advertise your boat for sale with detailed description.
Get excellent pictures so you can show the vehicle from multiple angles.
Behind your boat there must be a fancy house in a nice neighborhood or beach view.
Make sure your ad emphasizes on extra features.
Get another picture while it is running on the water
Post a picture of the boat in use. eg. when you caught a fish that day
Back the approach using word of mouth and Social media.
Attach a "For Sale" tag on the boat.
Ensure the ad has your contacts and any other information that may interest the buyers.
Ask for slightly more by keeping in mind room for negotiation.
Be available to respond to possible buyer calls and visits quickly.
Be upfront, Be open, and respond honestly about any questions to earn trust and confidence. (avoid disappointments).
Prepare a package for the boat buyer to see that would include:
The service maintenance records.
Safety inspections performed by a licensed person.
Any certificates that apply in your State (safety, enviroment,etc)
Boat-Alert.com history report to show you have nothing to hide
title deed and bill of sale
Ensuring it is mechanically sound.
Take care of servicing beforehand and mention the boat is well taken care of.
Get a mechanic report detailing its condition. (Drive this point home to convince the buyer)
Having the above package will be much better than selling the boat "as is".
When selling to a stranger it is advised to get cash or certified cheque (bank draft) and to read up on scams regarding boat selling online.
SPECIAL TIP: You can purchase extended warranty on the boat in order to make it more desirable. Some companies offer extended warranties that you only have to pay when you sell the boat!
Check the rules governing the sale of personal watercraft & boats in your State because having the proper documentation organized and ready to go can speed things up significantly.
Have your tools ready in case you need to sell on the same day.
Getting to know what your competitors are selling this boat for to be able to price it competitively in your city.
Consider which classified websites attract serious buyers and which ones attract people who just low ball you to feel they won.
Choose the best method of advertising it. This will draw the attention to people for instance through websites and social media platforms. Include outstanding photos of both exterior and interior designs of the boat and also display the boat history craigslist link for the purpose of transparency.
If an interested buyer makes an offer do not be strict with the price as they may walk away if the price does not favour them. Explain that if they cannot afford this price then you can consider helping out but that the value is there for the asking price.
If it requires repair it is advisable to consider reducing the price or sharing the bill with the buyer.
Have an idea of what you want to say, how to win the buyer, what words will you use to convince the buyer and describe the state of the boat confidently/accurately.
Be willing and prepared to negotiate the price and describe the value they are getting.
Be prepared to do a test on the water while accompanied by the buyer however before transferring the ownership to the buyer make sure the payment is fully done in cash or bank-draft. A marine surveyor will do the test on the water.
Make yourself available to cater for other peoples schedules when selling this used vessel.
Remember to contact your insurance agent to cancel the policy of your sold boat or get it transferred to your new vessel if you bought one but make sure to get multiple quotes first.
Check out our Infographic on this subject: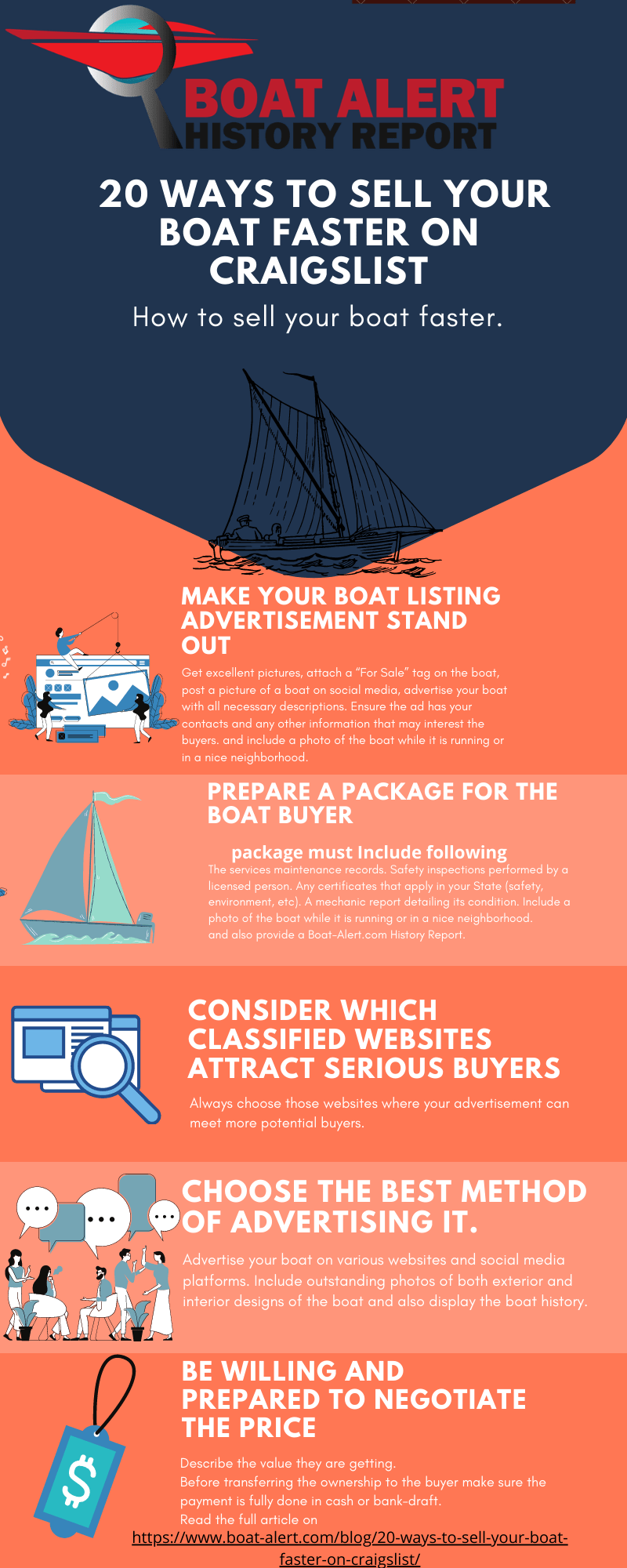 Read Related Articles:
final note: stay safe by avoiding boating scams on craigslist: read https://www.craigslist.org/about/scams
Categories:
To learn more about Boat-Alert.com History Reports for used boats and check a boats title problems online visit: www.Boat-Alert.com
About Boat-Alert.com®
Boat Alert History Reports© exists to aggregate boat databases so that shoppers can search and buy a used boat safely while saving time and money researching a used boat's history. We began in 2015 and constantly adding more boat history search data for USA and Canada to ensure that your boat has a clean history. We are happy to offer a 60-day money back guarantee and proud to have served more than 15,000 customers with their boat HIN Search History needs. boat registration number lookup website ©. Two percent of all proceeds go to charity. We value fair treatment of employees, customer satisfaction, having the most databases possible, and fast customer service at the core of our brand. View our
LinkTree
.