How to Prepare and Stage your Boat for Viewings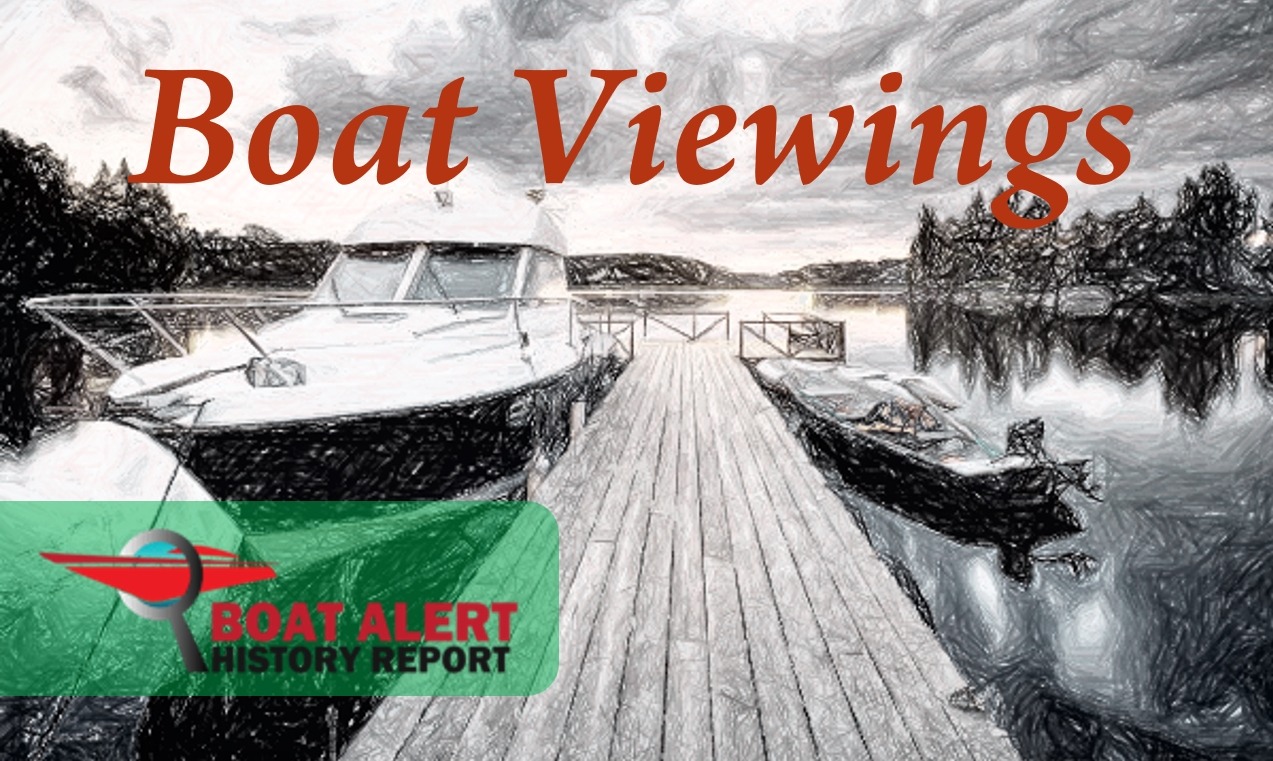 Have you ever wondered why some boats seem to vanish from the market while others stay there for many years? Besides setting the right price, correctly staging your boat for viewings plays a huge role in preparing it for sale.
In this article, we talk about boat staging and how it can help sell your boat quickly and at a good asking price. Having been in the industry for several years, we can guide you regarding the best tips and tricks for a successful boat viewings.
The Importance of Preparing and Staging your Boat for Viewings
First impressions are impactful and can either make or break a sale. Within a few minutes of viewing, a potential buyer typically decides about the purchase. If your boat fails to make a solid impression, there's a good chance you will lose the sale altogether, and vice versa.
If the boat appears dirty and unkempt, buyers will assume it has not been appropriately maintained in general. Many used boats on the market are poorly prepared for viewings, with evident maintenance problems, and even need a thorough cleaning.
By preparing your boat for sale, you will put yourself ahead of the competition. Real estate agents, used car dealers, and other savvy sellers seek to present their properties or products in the best possible light, and the same concept applies to boats & yachts.
Steps to Prepare your Boat for Viewings
If you plan to sell your boat, the following steps will help you prepare your boat for viewings and sea trials. As for the documents needed to sell your boat, see our article here.
Clean the Exterior
A clean boat indicates that the present owner cared for it and handled it appropriately. If you weren't careful throughout your ownership, it is integral to conduct a deep cleaning of the exterior and establish a maintenance plan for a welcoming appearance while the boat is listed on the market. Make sure to put your best polishing and waxing skills to work, so your boat can attract the onlookers.
If anything ticks off a prospective buyer, it is a boat that hasn't been well-maintained, and nothing sends that message louder than a dirty boat.
Ensure the Interior Shows Well
Once you have prepped the exterior, it is time to focus on the interior. Give it a deep clean from top to bottom, targeting every nook and crevice. Drains under hatches and scuppers often get dirty, along with stowage areas and outboard wells under center-console units. Polish the metal and stainless fittings, remove oxidation from Plexiglas hatches or ports, and pay attention to bilges, lockers, and places you may not normally think of.
Potential buyers will examine every drawer, cabinet, and drawer on the vessel. Clean and dry the carpet, or replace it with a new one if it's beyond cleaning. Wash the cushion covers, and ensure that all glass surfaces are spotless.
If your boat has a musty smell even after the cleaning, consider renting an ozone generator to eliminate the odor and freshen up the vessel's interior. Remember that most ozone generators aren't ignition-protected if a gasoline inboard engine powers your boat.
Prep the Engine(s)
Engines are one of the most significant and costly parts of a boat. For this reason, it is important to pay special attention to its health with oil filters and clean oil. Gasoline engines should also have clean carburetors set on the correct idle.
Rectify any Mechanical Issues
Mechanical issues can be a big turn-off for potential buyers, which may cause them to move on to a competitor. If a handrail is loose, a light keeps flickering, or something else is not quite right, fix it immediately. You can perform most of the maintenance on your own, meaning a little extra effort can be significantly worthwhile in the long run.
TIP: It is important to keep all your maintenance records as this helps you negotiate a better price.
Declutter and Depersonalize
When showing a potential buyer around, you want to give them a vivid picture of what it would be like to own your boat. If the vessel is brimming with your items, the buyer will have a hard time envisioning themselves as the boat owner.
Remove all personal items, such as clothes, collectibles, and pictures. Moreover, you need to make sure that all pantries, dressers, cabinets, live wells, fish boxes, and storage compartments are empty. When storage areas are crammed with items, it seems unappealing and makes the boat look like it lacks space.
Consider Staging the Boat professionally
Staging is a common practice when selling high-profile assets and properties. If you don't want to hire a professional staging company or broker, you can also consider going the DIY route. In this approach, you should get rid of all the excess clutter, but not to a point where the boat looks barren and unexciting.
Consider adding a fresh coat of paint to the interior and exterior, and spruce up the space with decorative pillows, art pieces, fresh towels and bedding, and new centerpieces. Doing so will make the boat appear more luxurious and charming to the buyer.
TIP: Don't want to work with a broker? look at consignment sales.
Check for Mold and Mildew
Excess moisture entering the boat cabin is a common issue that can spiral out of control if neglected. Signs of mold or mildew can be a big red flag for the buyer, and this can hurt your sale. Address any mildew issues and keep the cabin's interior feeling dry and smelling fresh. Use moisture absorbers and air fresheners to make the environment more welcoming.
Choose a Clean and Visually-appealing Space for Boat Placement
Boats are high-profile assets that generally have an influential target audience. If you are not showing your boat to the potential buyer in an aquatic setting, make sure to choose the correct spot on land. Place the vessel on vast, bright, clean ground with a beautiful background instead of a dark and dingy space.
The right placement setting plays a big role in lifting the buyer's spirits and making the investment more favorable. Moreover, it will reflect on you as an owner. If you do not have a big backyard to place the boat for a viewing, you may consider temporarily moving it to the nearest harbor or dock.
Get your Documents in Order
The boat's maintenance records and recent marine survey and history reports are excellent sales tools that can make the buyer feel more confident in finalizing the sale. Make sure to prepare all the relevant paperwork, such as the registration, title, HIN details, bill of sale, and loan details, for when an offer is accepted, and you are ready to seal the deal.
Get a boat history report by Boat-Alert to boost the buyer's confidence in the background and past ownership of your boat. The report may contain boat particulars derived from more than 90 boat specifications databases and other critical details such as accident checks, boat recalls, complete HIN decoding, previous boat names, etc.
How can I sell my boat fast?
If you are flipping boats for profit by buying low and selling high, we have covered this in another article on secrets of boat flipping.
Choose the right platform. Online marketplaces like Boat Trader, Craigslist, Facebook Marketplace, and eBay are popular platforms for selling your boat.
Describe it well. When advertising on such sites, make sure to add a comprehensive description of the boat, attach high-quality photos and videos, and include proper search tags. For example, if you want to sell a fishing boat, use tags like "fishing boat," "best fishing boat," "Boston Whaler," "Boston Whaler Fishing Boat," "Fishing," "Boat for fishing," etc.
Set a competitive price. If you are unsure regarding the right price to set on your boat, get it appraised through an online calculator or with the help of a boat appraisal professional. This will prevent you from charging too much or too little; both instances can drive a buyer away.
Promptly and politely communicate with the buyers and try to convey your boat's unique selling point wisely. Avoid sounding too desperate to make the sale, as that could come off as a potential red flag for the buyer. Take your time, and stay consistent.
Be honest and upfront. If there's any damage on the boat, don't hide it. Concealing your boat's deficiencies will create issues for you down the line. For the buyer's satisfaction and peace of mind, you can also mention whether the boat is registered and titled or only registered.
Another fastest way to sell a boat is to advertise its listing on as many platforms as possible, including boating forums, Facebook groups, and other social media. Ensure you attach the link to your ad so they can check out the details further.
Do a background check on the buyer to ensure you are not getting tangled in a future scam. Do not waste your time on non-serious buyers; politely excuse them and move on to the next one. 
Conclusion
In this article, we talked about preparing your boat for a boat viewing. If your vessel requires a lot of work, make a to-do checklist and go through the tasks in order.
Start cleaning, fixing any visible issues, and keeping all your documents in order. If you feel overwhelmed, you can always seek the help of a broker who can guide you on what to do next.
#BoatViewing #BoatShowing #BoatPrepforSale #staging #viewings #stageBoat #showing #showroom
Read Related Articles: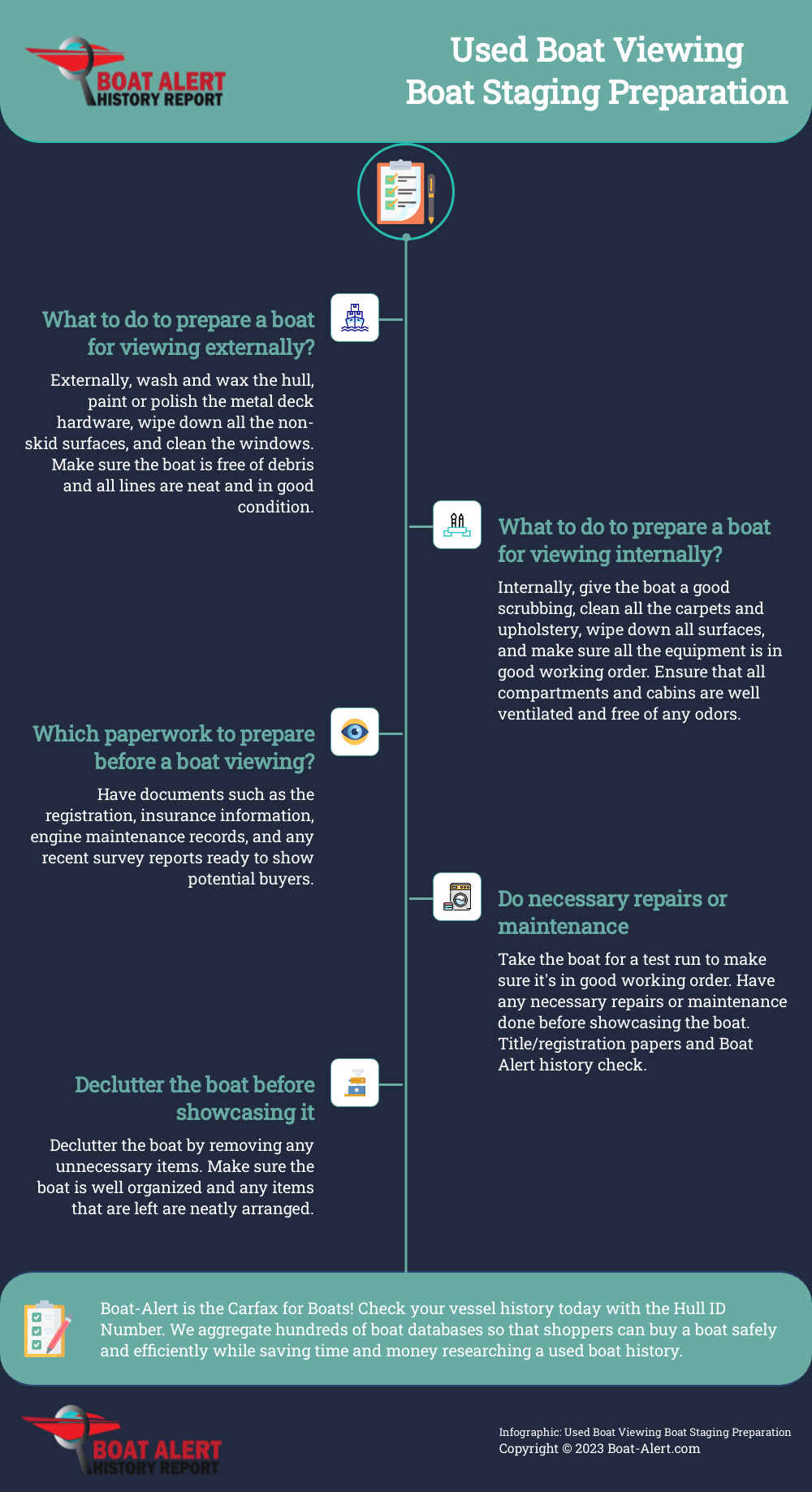 Categories:
To learn more about Boat-Alert.com History Reports for used boats and boat history report free visit: www.Boat-Alert.com
About Boat-Alert.com®
Boat Alert History Reports© exists to aggregate boat databases so that shoppers can search and buy a used boat safely while saving time and money researching a used boat's history. We began in 2015 and constantly adding more boat values by hin data for USA and Canada to ensure that your boat has a clean history. We are happy to offer a 60-day money back guarantee and proud to have served more than 15,000 customers with their boat HIN Search History needs. hin boat ©. Two percent of all proceeds go to charity. We value fair treatment of employees, customer satisfaction, having the most databases possible, and fast customer service at the core of our brand. View our
LinkTree
.