Different Kinds of Boat Surveys [Ultimate List]
Marine survey types include condition & value surveys, pre-purchase surveys, appraisal surveys, new yacht surveys, boat inspections, damage surveys, finance surveys, insurance surveys, and full condition surveys.
Different Types of Marine Surveys and Boat Inspections
Marine surveys are carried out for various reasons, and the techniques for each are tailored to meet the client's specific requirements. It is important to know which one you will need.
In this article we will explain the different types of marine surveys, how much it costs, and their limitations.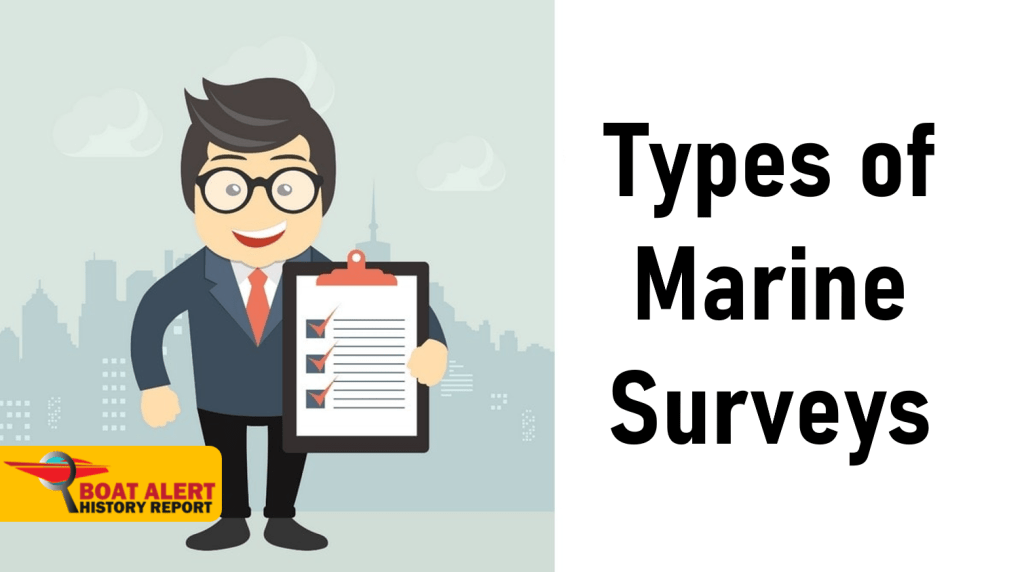 Different Types of Marine Surveys
Condition and Value (C&V) surveys
Insurance C&V surveys
Appraisal Surveys
Finance Survey
Damage Surveys
New Yacht Surveys
Consultation Surveys
Condition and Value Surveys – Insurance C&V Surveys
This type of marine survey is called C&V and It is the most popular type of boat survey when you're looking to buy a pre-owned vessel. These are thorough examinations of the entire boat and its propulsion system and can include a sea trial. While separate engine surveys are sometimes undertaken on massive and expensive ships you would not check the engine room for a small vessel. Additional rigging surveys may also be required for large yachts.
Insurance C&Vs, which are effectively the same thing, tend to be less extensive and focus on a specific list of issues that the insurance company needs to verify before covering a boat. It will give you an idea of the value of the boat and how much it is worth.
Pre-Purchase Survey
Another way people call this kind of ship survey is Pre-purchase inspection. Before you buy a boat make sure to get it inspected by a marine surveyor that has experience with your boat model so you can get a proper pre-purchase marine survey as discussed in our other article. #MarineSurvey #prepurchaseInspection
Appraisal Surveys
All that is required is a thorough inspection of a boat to determine its estimated value. In divorce or estate settlement situations, these are usually needed. However, a lender may require one before financing a ship in some cases.
Damage Surveys
After a storm or an accident, damage assessments may be essential. They determine damage and repair costs. Often, insurance companies need these when an unpleasant situation occurs. Search a boat's accident history on boat-alert.com before you buy it. Also remember that if a vessel is damaged beyond $2000, you should report a boat accident to the coast guard.
New Yacht Surveys
Extensive and expensive yachts typically necessitate new yacht surveys while they are being built. It's common for custom-built yachts to have multiple visits from a surveyor to the manufacturer to check on the progress of the vessel's construction. However, if you're working with a trustworthy boat builder, this isn't necessary. How can you tell if a company is reliable? Buying a boat? Make sure it's NMMA certified. Third-party inspections and American Boat & Yacht Council standards and specifications are required of all accredited ship and yacht builders, above and beyond Coast Guard requirements.
Other types of surveys for ships: (other categories of marine surveys)
Draught Survey – this is to establish how much cargo is on board the ship
LSA – Life Saving Appliance survey
Class survey of different components in the engine room
Marpol survey
Dry dock survey – out of water inspection
Remote surveys
What is a marine survey on a boat?
In its most basic meaning, a marine survey is a boat inspection. More specifically, it is a highly detailed technical inspection and a lengthy document that provides information about the condition and value of your vessel. The results of a marine survey are often used to determine whether or not a boat is suitable for sea travel (safe to be in the water). Many unsafe boats will float and transport a family but they are dangerous. Many appear to be relatively safe, especially to seasoned boaters familiar with the waters. In actuality, maritime surveyors frequently discover problems with boats that were utterly unknown to the boat owner.
Reasons for getting a marine survey
A survey is typically conducted to determine the condition and value of vessels or their cargoes to provide financial, insurance, and purchasing information and confirm that plates meet regulatory requirements and comply with applicable laws, regulations, and policies.
Depending on the size and type of vessel you're considering purchasing, a marine survey might be a valuable investment that assures you get what you pay for in the long run. A qualified marine surveyor will thoroughly evaluate the vessel from top to bottom, and while it is time-consuming, the result is well worth the trouble.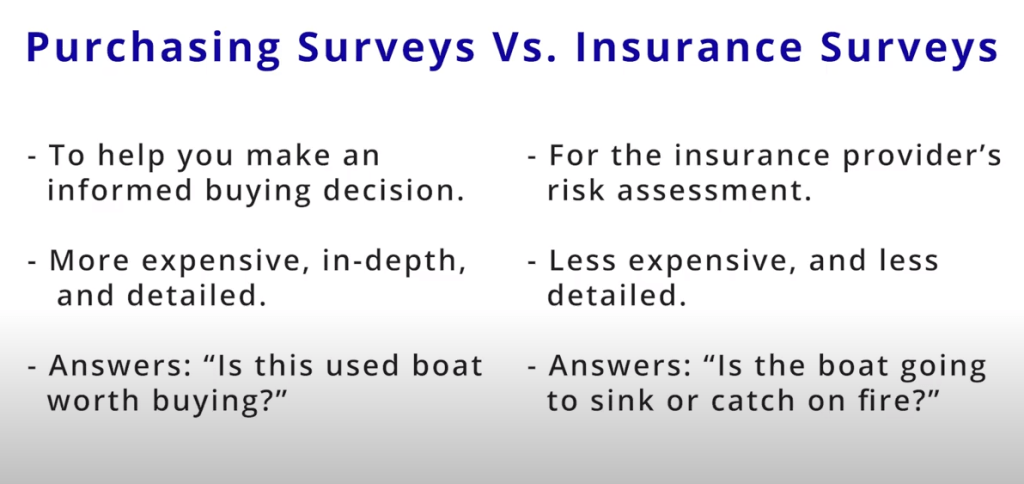 A boat survey is worth it
Yes, a boat survey is worth the money. You want to do things right when getting out to sea and stay safe making such a large investment. It can get expensive so many are wondering "Are boat surveyors worth the money?" and "Do I Need a Boat Survey?"…
In most cases, yes. The survey can reveal problems that let you negotiate the price down and agree to share the rectification costs with the seller. This alone can save you a few thousand dollars and get you a better boat while only costing you a few hundred.
In some cases people will say that it depends upon how knowledgeable you are about boats. Not all surveys, or surveyors, are equal. However, insurers may even specify what level of membership your surveyor should hold and type of survey the want to see.
Other than the insurance companies or finance lenders requesting a survey, you should be getting a marine survey to ensure that your asset is a good one. Whatever budget you have for a boat will be proportionate to your income, and the last thing you want is to buy a boat which subsequently costs you far more than it is either worth, or you have to invest into fixing it.
A marine survey will flag problems and point out what good things there are too. It is not just a report of doom and gloom. It should ultimately ensure you feel reassured and prepared to take the final step to purchase a boat or to feel justified and relieved to walk away.
How much does a boat survey cost – #CostOfSurveys
Although pricing varies depending on location, you should expect to spend between $20 and $25 per foot of boat length. But keep in mind that many surveyors have a minimum price that may be more than this rate when dealing with small boats.
Who pays for a boat survey? #BoatSurvey
Depending on the sort of inspection being performed, the answer is different. In most cases, the potential buyer of the boat will cover the cost of a Pre-Purchase Survey, but the current owner of the yacht would be responsible for any insurance or assessment costs. It is less likely that a yacht dealer or broker will offer a marine survey upfront prior to selling a boat but they should at least provide the boat-alert.com history report.
How long does a boat survey take?
A survey can take a few hours to a full day depending on the size and complexity of the boat. The sea trial usually lasts 60 minutes. Then it typically takes three to five days after the inspection is completed to get the report.
What is an out of water marine survey?
To establish its present state and seaworthiness, an in-depth examination of the vessel's external and internal condition above and below the waterline. It entails testing and investigating the vessel's mechanical, electrical, and gas facilities to ensure the vessel's safety while in operation. As well as observing and documenting the cosmetic condition of the boat as well as its internal fittings, this information will be used to guide the boat owner when valuing the vessel or making recommendations for general maintenance to improve the safety of the ship and protect it for future use.
| | |
| --- | --- |
| Insurance C&V Surveys | requested by your insurance company |
| Pre-Purchase Survey | requested by the buyer |
| Appraisal Surveys | requested by lawyers when evaluating estates |
| Damage Surveys | requested by owners and coast guard after boat accident |
Types of Marine Surveys for recreational boats
Survey Recommendations by priority
What is done in a boat survey? In cases where the surveyor believes that the vessel requires attention, he will offer a list of his recommendations with his report. In general, these will be arranged in descending order of importance. Essential works are affecting the seaworthiness and safety of the vessel before re-launch; deterioration of the vessel's structure and or machinery presenting potential safety or seaworthiness issues shortly that must be addressed within a reasonable period; and cosmetic recommendations to maintain the overall comfort, safety, and value of the vessel. In addition, Surveyors serve as our "eyes and ears," and we carefully consider the advice they provide. In assessing risk to insurers, we may urge that work be completed in a timeframe that differs from that recommended by the surveyor's judgment.
Limitations of Marine Surveys and Boat Inspections
They can tell you the current state of the boat but they cannot validate paper work or tell you the history.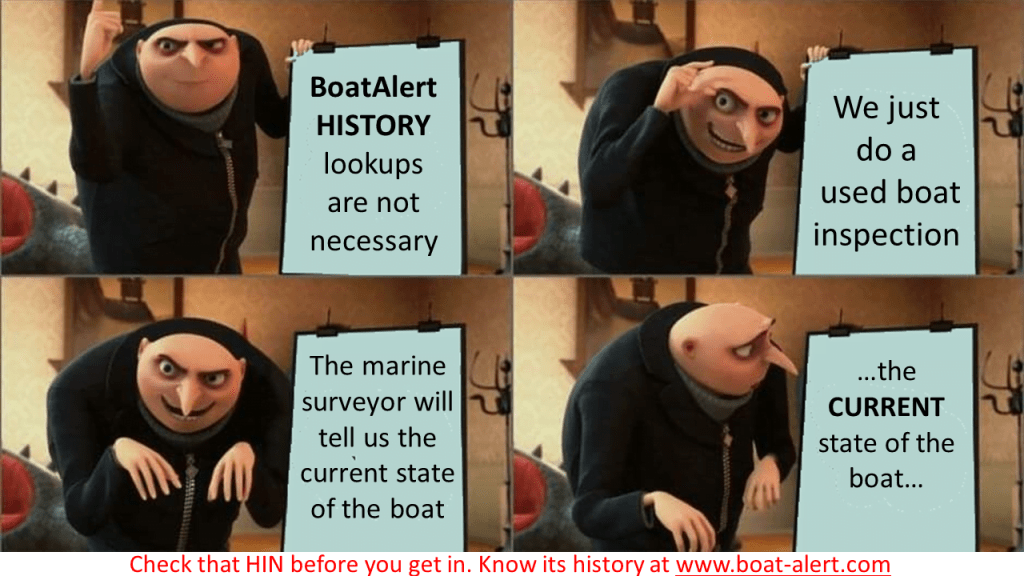 By its very nature, a marine survey is limited to assessing and commenting on what can be seen. Remote or inaccessible parts of a conventional ship's infrastructure will be commonplace. In the following paragraphs, we'll discuss the primary drawbacks of every marine survey.
The survey report is the surveyor's opinion and should not be interpreted as a reality. There have been no inspections of the vessel or equipment where the linings, moldings, machinery, installations, and tanks have been obscured. Based on their experience, judgment, and the status of nearby regions, a surveyor's conclusion based on these areas may not exclude the occurrence of isolated damage or deterioration masked by paints, fillers, or other methods.
When a mast is stepped, only the rig elements that extend above the head level are subjected to a thorough examination. There have been no removals of fasteners, no borings of the hull, and no specialized testing, save as mentioned unless otherwise specified. In the surveyor's opinion, the owner has given the client permission to remove small sections of antifouling to allow for the inspection and moisture testing of the hull. There may be a need for some little destructive testing, but any disruption would be minimal. Unless otherwise instructed, the surveyor will assume that the owner has granted permission to the client to run machinery and turn on and test electrics as needed. Non-destructive general inspection and evaluation of the state of sample sections where coatings have been removed are two methods used to determine the condition of the hull. The state of the substrate can only be judged based on the data gained from scraped clean parts of the hull.
What is in a Marine Survey Report? – Recommended Survey Report Content
What is included in a marine survey? The survey will be to write down the name of the party the survey was done for, who asked for the survey, when the survey was done, and report was made. The place where and how the vessel was surveyed; on the hard, in the water, on a trailer, etc. A list of everyone who was there when the inspection took place will be included.
Scope of the marine survey
The survey scope is decided chiefly during the first meeting with the client. Yes, the vessel will be hauled. Is there going to be a sea trial? etc. A list of things that could affect how the survey is done will be made. This includes things like the weather, the location, and the availability of power, water, and gas.
Disclosure in a boat survey report
The surveyor must tell the client and the report if they have done any work on the subject vessel in the last three years as a surveyor or in any other way. The surveyor must also say if they have a relationship with the boat's seller, broker, or owner.
The standards that are used when conducting a vessel survey
The survey will say which voluntary standards (ABYC, NFPA, ISO, etc.) were used to report the surveyor's findings.
The Name of the Vessel
The report will have accurate and enough information to positively identify the subject vessel. Vessel name, current owner, Hull Identification Number (HIN), type of vessel, manufacturer, Model, and Model year, or year of manufacture are all things to look for. You want to compare them to the HINDecoder.com data you obtain and what it show on the title or registration stickers. Photographs of the boat and its HIN can be found in the survey report.
Structure
There will be some information about the boat's structure, like how it's made, what materials it's made of, and how it's in shape and condition. "Wetted surface and underwater machinery" will be written down if the vessel was hauled or the wetted area was checked by another method. If the boat was not hauled, a statement would be made about the operation and condition of "below the waterline" or "thru-hull" fittings that can be seen from vessel.
Systems
All of the vessel's systems will be listed and described in terms of how well they work or if they have problems. A few examples:
Hull Composition and Structure
Propulsion Machinery
Tankage & Piping
Bilge Equipment
Emergency Equipment Rigging
Electrical Systems
Electronic Navigation Equipment
Fire Extinguishing Systems
Heating / Cooling Dinghy's & Tenders
Ground Tackle
Dewatering Systems
Shipboard Amenities
Miscellaneous
Deficiencies & Recommendations
The report should note any problems with inventory or systems and any required systems not used when writing information. The report will also include the surveyor's opinions and suggestions for keeping the vessel safe.
Valuation
The current Market or Fair Market Value and Replacement Value for the vessel will be found in the report. Describe how Fair Market Value came to be. This text will show where the information came from to develop this valuation.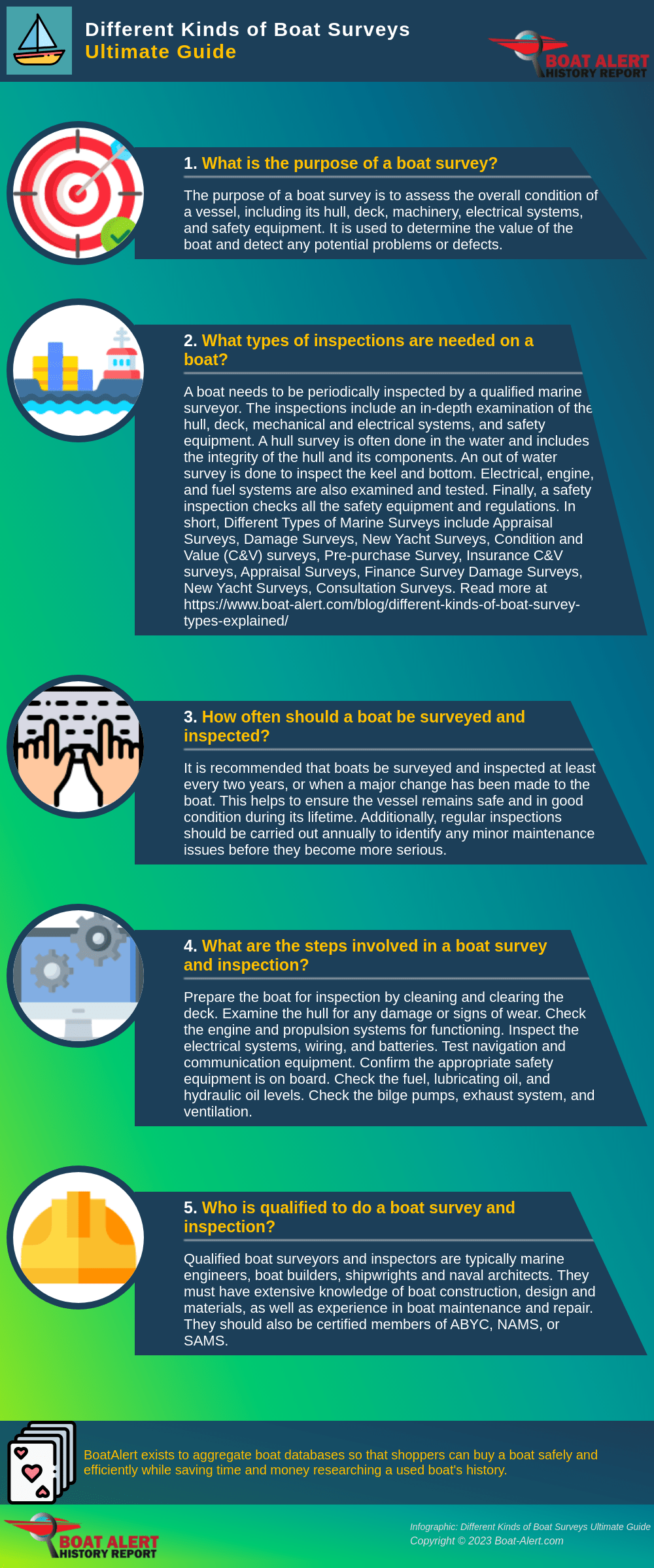 The surveyor's license
The report will end with a statement from the surveyor, signed by him, and the date the report was sent. Their credentials should speak for themselves.
What is the most common form of a marine surveyor? They should be members of ABYC, NAMS, or SAMS. Many insurance companies and banks require that a marine surveyor be a credentialed member of either the National Association of Marine Surveyors (NAMS) or the Society of Accredited Marine Surveyors (SAMS).
Can I get boat insurance without a survey? – is it needed?
This will be up to your insurance company to decide so you will have to shop around. It will also depend on the boat size and type. A boat that is 10+ years old or 25+ feet long must really get a survey done!
Conclusion
We gave a comprehensive list of types of marine surveys you might get for your sailboat or vessel. We explained which one you will need for each scenario and mentioned the pros and cons of a boat inspection in terms of limitations. Remember, the survey tells you the state of the boat now but you still need the boat-alert.com history report to know its history and validate paperwork.
Read Related Articles:
Categories:
To learn more about Boat-Alert.com History Reports for used boats and boat-alert visit: www.Boat-Alert.com
About Boat-Alert.com®
Boat Alert History Reports© exists to aggregate boat databases so that shoppers can search and buy a used boat safely while saving time and money researching a used boat's history. We began in 2015 and constantly adding more boat owner history data for USA and Canada to ensure that your boat has a clean history. We are happy to offer a 60-day money back guarantee and proud to have served more than 15,000 customers with their boat HIN Search History needs. boat vin lookup ©. Two percent of all proceeds go to charity. We value fair treatment of employees, customer satisfaction, having the most databases possible, and fast customer service at the core of our brand. View our
LinkTree
.