Vessel History Check
Are you planning to buy a used vessel? Get a vessel history check first to make a well-informed decision and invest your money without legal repercussions.
This article discusses the importance of getting a boat history check and what information you can obtain related to the used vessel. As "boat data experts" in the industry for many years, we have written numerous articles on the subject. We cover the two types: boat private history checks and documented vessel 'abstracts'.
Importance of a Boat Background Check
Buying a boat involves a hefty investment and several complex legalities. If you dive into the purchase without due diligence, you may compromise your safety and get in trouble with the government.
All this can be avoided with a thorough Vessel History Check report and background check. Boat history reports from Boat-Alert.com may reveal certain key elements of a vessel's history with high accuracy, which could negatively impact its market value or title status.
These include details about whether the boat was damaged, stolen, repossessed, seized, recalled, salvaged, or involved in any accidents which may have led to a liability. Vessel history checks offer valuable insight regarding whether the investment will be worthwhile and is an essential tool for prospective buyers and marine lenders.
Check Vessel History before Buying a Used Boat
Since buying a used boat requires a lot of time, energy, and money, it pays to conduct more research than less. Keep in mind that the actions of past boat owners may directly affect you – for example, if they haven't paid for the boat in full, it could adversely affect your credit history as the new boat owner. In certain situations, it could leave you in debt.
Getting a vessel background check is crucial for a potential buyer, which is why it's important to know the various aspects that go into a boat history title report and what the information entails.
Background Check | Vessel History Report
A background check provides a comprehensive look at the boat's lifespan activities, ownership history, and whether it has been involved in any accidents or offenses. A pre-owned boat can spring up many surprises, some of which may not come to light long after the sale has been finalized.
This is relevant not only to the ownership title and liens but also to the vessel's mechanical and structural integrity. Sometimes, even the seller may be unaware of the underlying issues that occurred before becoming the owner. This is where a background check can help by highlighting any pre-existing issues that could influence the vessel's market value and equity position. It can also help validate some claims and double check the DMV paperwork. Its more than just a boat registry search.
A vessel history report is an organized way of presenting the results of different background checks. For example, Boat-Alert.com searches 90+ databases all in one place! Its structure is normally categorized as per the types of research done, such as HIN checks, boat recall checks, accident checks, environmental damage checks, auctioned boat checks, and stolen boat checks. These are fundamental areas related to any pre-existing problems that may impact a vessel's overall condition, liens, or title status.
What boat numbers do you need to do a Vessel History Check?
You can apply for a vessel history check if you have complete and updated vessel information. You can use any of the following numbers:
Hull Identification Number (HIN): A HIN is a 12-character number normally found on the transom's stern or exposed corner. This number uses an alpha-numeric combination with the following format: the first 3 letters contain the manufacturer's code, the next 5 characters show the boat's unique serial number, and the last 4 characters show the manufacturing date and boat's model year.
State Registration Number: A state registration number contains 8 alpha-numeric characters and is found on each side of the boat's bow. The first two letters of the registration number indicate the State's abbreviation, while the following characters are unique to each vessel.
USCG Documentation number: A US Coast Guard Documentation number contains 5 to 7 characters and establishes the nationality and ownership of large vessels.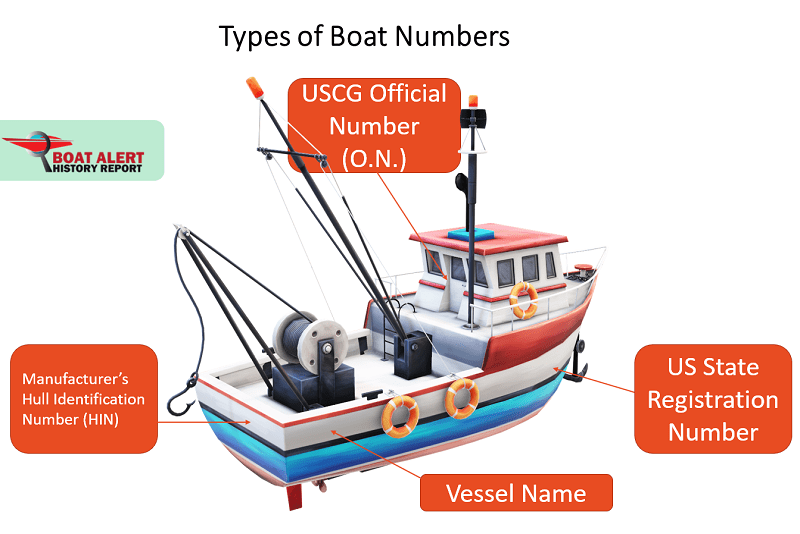 Hull Number Check | Decode a HIN
The first step to getting a boat background check is to look for the HIN on the upper right corner of the stern, the registration certificate, or a bill of sale. Use hindecoder.com to ensure no errors or typos in the Hull number you provided. The tool will also break down and decode the HIN so you can get more information about the manufacturer, the model, and the manufacturing date of the vessel.
Once the HIN is complete and correct, visit Boat-Alert.com, one of the best sites selling boat history reports. Enter the HIN and follow the listed instructions carefully. You will have to pay a fee to obtain a comprehensive vessel background report.
USCG Number | Documented vessel history check
Large vessels are documented on a federal level with the US Coast Guard (USCG Documentation). These boats receive an official number and title to the boat. The USCG number is located on the interior hull of the boat and can be found on the front side in the upper middle section of the Certificate of Documentation CG-1270. To order for a documented vessel history check, visit Boat-Abstract.com.
An Abstract of the Title for a boat contains all the important information about the vessel's history, documentation, and background. The US Coast Guard boat documentation Abstract of Title is the most important medium that contains all the critical data about the owners, liens, and other background information required before investing in a vessel.
| | |
| --- | --- |
| What is a vessel history check? | A vessel history check is a report that provides information about a boat or ship's past, including ownership history, accident history, and any liens or other legal issues that may affect the vessel. |
| Why would you need a vessel history check? | You might need a vessel history check if you are considering buying a used boat or ship, or if you are planning to insure or finance a vessel. A vessel history check can help you identify any potential issues or liabilities associated with the vessel. |
| What information is included in a vessel history check? | The exact information included in a vessel history check can vary depending on the provider, but it may include ownership history, accident history, salvage or total loss history, lien information, and more. |
| How do you get a vessel history check? | You can get a vessel history check from a variety of sources, including the U.S. Coast Guard's National Vessel Documentation Center, private companies that specialize in vessel history reports, and some insurance companies or lenders. |
| How much does a vessel history check cost? | The cost of a vessel history check can vary depending on the provider and the level of detail included in the report. Prices can range from around $20 to several hundred dollars. |
| How long does it take to get a vessel history check? | The turnaround time for a vessel history check can vary depending on the provider, but it is typically fairly quick, ranging from a few hours to a few days. Some providers offer expedited service for an additional fee. |
Stolen Boat Records Check
Buying a stolen boat is the quickest way to lose an investment and get tangled up in legal complications. Besides a HIN check, boat history reports generally include a section that shows if the boat was previously involved in a theft. Information is obtained from different law enforcement agencies that are prepared to share the information with the general public.
Boating Accident Check
Boating accidents not only inflict damage on the vessel but may also incur liabilities that could transfer from one owner to the next. Background checks generally include this information so potential buyers can invest cautiously. This information is acquired from the US Coast Guard, which collects accident reports from all states. Local operators are legally mandated to declare accidents involving fatalities, serious injuries, and significant damages.
Auctioned Boat Check
Vessels previously damaged, repurposed, or submerged are usually auctioned to the public. Similarly, vessels foreclosed due to liens or seized by the government are also sold at auctions. Boat Alert History checks collect data from different auctioneers and present it in the history report.
Boat Recalls Database
Boat factory recalls can substantially affect the condition and market value of the boat, especially if left unaddressed. For this reason, doing a background check that will shed light on such actions can be integral. The USCG maintains a database of boat factory recalls that the general public can access. This data may apply to a particular or all boats of a specific model.
Protecting your Interest with a 'carfax for boats' report
Boat history search reports are a quick, easy, and affordable way of taking a measure of due diligence about buying a used boat. Boat-Alert is like Carfax, but for boats. It provides you access to over 90 boat databases, saving you hours digging up a vessel's history. Plus, there are no complicated instructions involved – all you have to do is enter the boat's HIN on the web page's search tool, and you will be immediately directed to its report details.
If you want access to a comprehensive history report that contains all the critical information, including HIN check, accidents check, pollution incidents check, theft check (USA and International), auctioned boats check, abandoned and misappropriated vessel check, and manufacturer data validation check amongst other valuable services. So, if you are looking for a cost-effective yet detailed vessel history check, order your report today.
Why choose Boat-Alert.com for a Vessel Background Check
Boat-Alert.com allows you to start your vessel ownership journey with a clean slate. Numerous factors could create issues for you in the future if you don't do a background check, and this can prove to be very expensive, time-consuming, and frustrating.
Boat-Alert helps you protect your investment while staying clear of any legal issues. When you use its services, you can expect the following advantages.
Detailed -A vessel history check should cover multiple aspects regarding its past ownership. Boat-Alert fetches data from more than 90 private and public (state and federal) databases for your HIN validation and prepares a history report summary of 9 pages. Moreover, you don't have to wait hours or days to receive the report – you can access it immediately.
Accurate boat Record Search – Accuracy is fundamental when dealing with sensitive data. Boat-Alert provides all the boatfax information and indicators without concealing any data. However, due to State's privacy laws, there is no set guarantee of how much data will be found.
Secure – Boat-Alert uses reputable payment platforms like Paypal, ConvergePay, and Clickbank so that you can experience a safe and user-friendly experience. All personal information is securely encrypted, so there is no risk of a privacy breach.
Conclusion
This article discussed the importance of getting a vessel history check and the required numbers and information to apply for a boat background check. We also discussed how Boat-Alert could provide you with immediate access to a detailed boat history report securely and at reasonable rates.
#BoatBackgroundCheck #VesselHistoryReport #BoatHistoryReport #boathistory #boatscanttalk
Read Related Articles:
Categories:
To learn more about Boat-Alert.com History Reports for used boats and hin search visit: www.Boat-Alert.com
About Boat-Alert.com®
Boat Alert History Reports© exists to aggregate boat databases so that shoppers can search and buy a used boat safely while saving time and money researching a used boat's history. We began in 2015 and constantly adding more boattrader data for USA and Canada to ensure that your boat has a clean history. We are happy to offer a 60-day money back guarantee and proud to have served more than 15,000 customers with their boat HIN Search History needs. free boat hull number check ©. Two percent of all proceeds go to charity. We value fair treatment of employees, customer satisfaction, having the most databases possible, and fast customer service at the core of our brand. View our
LinkTree
.