Ultimate Guide to Buying a Boat from Alibaba
Did you know you can buy a boat from China on Alibaba? The Internet has many platforms like Alibaba, you can easily shop for boats from all parts of the world. Looking for the best and most secure place to purchase a boat online? The secret to finding the best deal is knowing where to look!
In this article, we talk about how to buy a boat on Alibaba, a massive online marketplace that allows individuals and businesses to purchase and sell products both locally and internationally. If you want to buy a boat and aren't sure how to go about it, we will guide you on buying a boat from Alibaba and the pros and cons of using it.
Pros and Cons of Buying a Boat from Alibaba
Buying a new or old boat is a major expense in the USA, and there are some risks and benefits to consider when buying a foreign boat from Alibaba. You won't find the normal selection of boat brands you are accustomed to in the USA but money savings can be a driving factor to consider this option.
So, does it make sense to use Alibaba, the world's largest marketplace? And can anyone buy a boat on Alibaba and resell it on eBay or Amazon? Let's find out.
Pros
Alibaba is a huge online platform with a wide range of boats, from small fishing boats to luxury yachts. This means you've a better chance of finding a boat that meets your specific needs and budget.
As Alibaba allows you to purchase directly from manufacturers, buying a boat on Alibaba means you may get a better price than a local dealer for many categories. This can be especially beneficial if you buy a more expensive boat, such as a thousand-dollar electric boat from China.
Anyone can buy a boat for sale on Alibaba for a Chinese supplier. Whether you are an individual, a business, or a limited company that wants to import boats from China, you can order directly from manufacturers or suppliers on Alibaba. If you plan on reselling your boat on Amazon or eBay, you can work with your manufacturer or supplier to ensure the right type of packaging.
Buying a boat on Alibaba is a relatively simple and hassle-free process that can save you time. You can browse various boats, such as fishing boats and dinghy boats, from the convenience of your own home, and there is no need to travel to a dealership to make a purchase.
You can buy just the hull as a bargain and build the rest at home to complete your homemade vessel. (eg. aluminium aluminium fishing boat hull). Become your own boat manufacturer!
Cons
One of the biggest risks of purchasing a boat on Alibaba is that you cannot inspect it in person before purchasing. So, you may be unable to verify the boat's condition or quality.
Unlike local dealers, Alibaba suppliers may not provide the same level of customer support, including maintenance and repair services. But some do go out of their way to video any product you ask!
Because Alibaba suppliers and vendors are usually overseas, shipping and customs clearance can be complicated and costly.
Alibaba suppliers or vendors may not speak English as their first language, making communication difficult and frustrating.
How to Buy a Boat on Alibaba? | Buying A Boat From China
The first step in the online boat-buying process is usually the most important—determining the boat type that best fits your needs and preferences. These needs and wants are usually determined by what type of water activities you would like to pursue.
Step 1
You can create an Alibaba account by visiting the Alibaba homepage or signing in if you already have an account. While you do not need a wholesaler's license to create an account if you sell boats sourced from Alibaba, you will be subjected to your local jurisdiction's tax and business laws and regulations.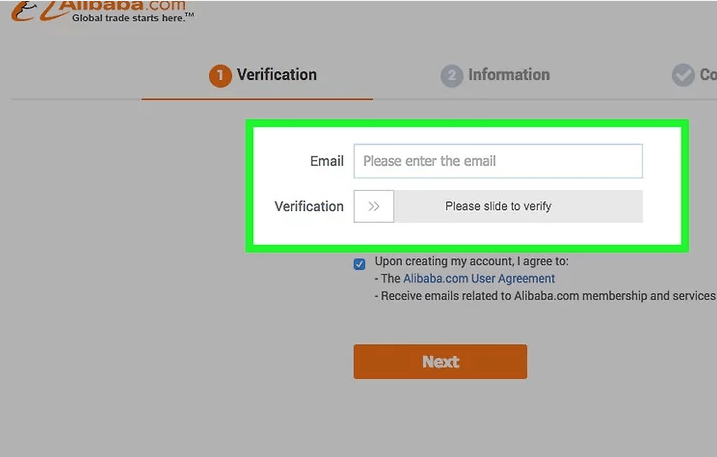 Step 2
Search for boats on Alibaba. You can use the search bar on Alibaba's website to look for various types of boats. Narrow down or refine your search using keywords like "sailboat" or "kayak."When choosing the right size for your boat, you should consider the number of people you will regularly have on board and consider where you'll be using the boat. These are important considerations when buying a boat on Alibaba. Also, decide if you want to purchase a new or used boat.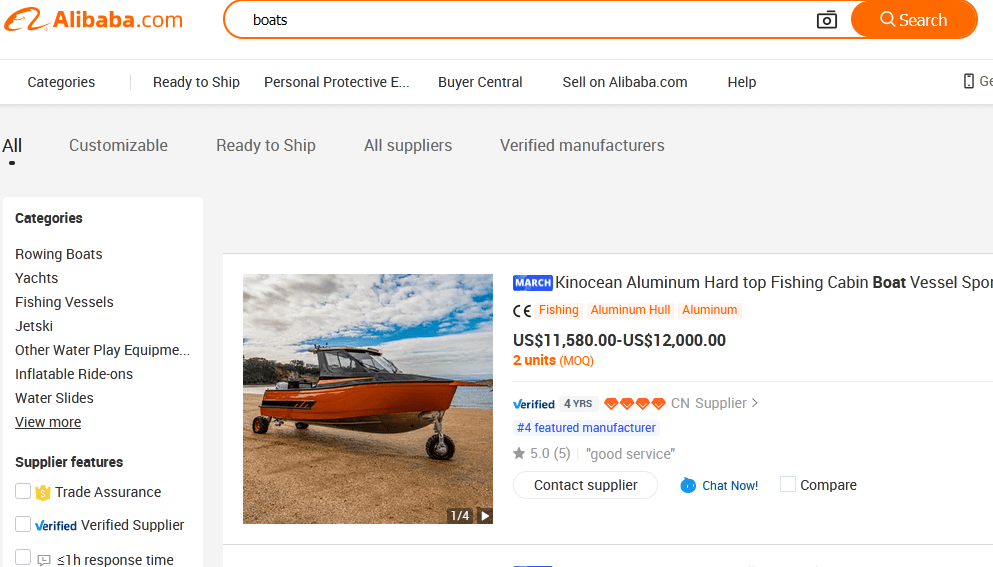 Step 3
Search for reputable suppliers. Rather than searching by boat, you can select the "Suppliers" tab. This will return all suppliers specializing in the boat you want to buy. Once you find some boats that interest you, you should check the supplier's reputation. You can read their reviews and ratings on Alibaba or research online to see if they have a good reputation in the boating industry. The A&V Check shows that the boat supplier or manufacturer has passed authentication and verification inspection by Alibaba and a third-party verification service.
Once you find a reliable supplier, you can contact them to ask questions and get more information about the boat you're interested in. Be sure to ask about the boat's specifications, pricing, and delivery options. Also, ensure the boat you buy on Alibaba is certified.
Step 4
You can post a request for quotation (RFQ) and click on the "Submit RFQ" option and create your post. After getting all the information you need, such as pricing and delivery options, you can negotiate the price with the supplier.
Make sure to request a quote that includes all the costs, including shipping and customs fees, to know the total cost of buying a boat on Alibaba.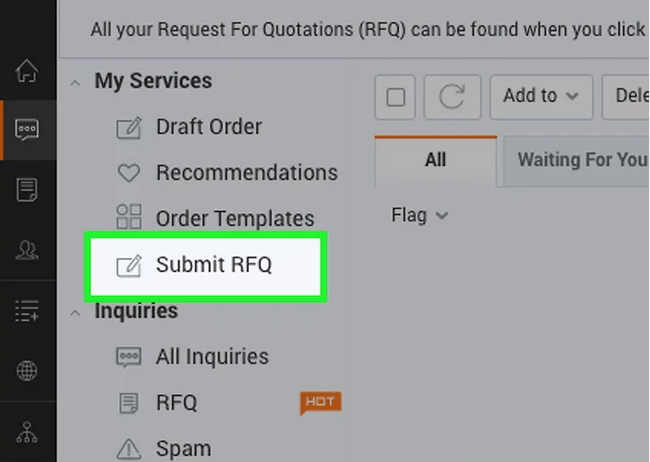 Step 5
After agreeing on the price, you can order through Alibaba's platform. All prices and shipping costs quoted on the platform are in US dollars. Get in touch with your nearest bank or exchange agent to receive the most accurate exchange rate.
Similar to buying a car, there are usually a few additional costs not listed on the sticker price. You should discuss registration and other fees to determine the total cost of boat ownership to avoid surprises later.
Make sure that you read the terms and conditions carefully, and pay through a secure and verified payment method, such as Alibaba's Trade Assurance, to enjoy peace of mind. The most reliable payment methods include PayPal or obtaining a letter of credit for purchases worth more than $20,000.
Step 6
Once your boat order is confirmed, you will have to arrange for its delivery. You may work with the boat supplier to arrange shipping and customs clearance. On the other hand, you can hire a third-party logistics provider or broker to handle the delivery for you when buying a boat from Alibaba.
Step 7
Receive and inspect your boat. To ensure that it meets your expectations, you should thoroughly inspect all major components like the engine, propeller, steering system, bilge, electrical systems, and fuel tank.
If there are any issues or concerns, report them to the supplier as soon as possible so they can be resolved. You can also conduct a sea trial and a marine survey.
How Much Shipping Do I Have to Pay? | How To Ship A Boat Purchased On Alibaba
You may have imported different products and items from China and realized that many Alibaba sellers and suppliers charge high shipping prices. Shipping and labor costs in China are much higher than in other countries, so goods shipped from China are usually more expensive.
The total cost of shipping a boat from Alibaba will depend on many factors, such as the size and weight of your boat, the shipping method, and the distance it needs to be shipped.
If your boat or dinghy is being shipped internationally, you will likely have to pay for customs clearance, ocean freight, and applicable taxes or duties. You can get an estimate of the ocean freight cost by contacting a freight forwarder or shipping agent.
It is best to look for a supplier or manufacturer with a warehouse in your country. If you search Alibaba, it will yield suppliers in many countries. By finding a supplier in or with a warehouse in your country, you will be able to reduce shipping time and eliminate the need to deal with clearing customs.
If you want to buy a pontoon boat from Alibaba, keep in mind that Free on Board (FOB) means that the cost of delivering the boat to the nearest port is included. However, as the buyer, you are responsible for the shipping from there as well as all other fees and duties associated with getting the boat to your country.
Shipping a boat bought on Alibaba will involve several steps.
Choose a shipping method for your boat based on its size, weight, and destination. There are many options, such as container shipping and flat-rack shipping.
Obtain a shipping quote from a freight forwarder or shipping agent.
Arrange for pickup and delivery to your desired destination.
Prepare your boat for shipping. This may include securing your boat on a trailer or cradle and draining fluids.
Load your boat on the shipping vessel, such as a container, onto a flat rack or a RoRo vessel.
You can track the progress of your shipment using the tracking number your shipping agent provides.
Can I Return the Boat if I am Unsatisfied? What is Alibaba's Return Policy?
When dealing with an international transaction and you bought a boat straight from Alibaba, you may have little accurate information to go on, particularly if you're buying a boat on Alibaba from a private seller. If you're not satisfied with the quality of the boat or have other concerns, you may request a refund within 30 days after delivery. Through Alibaba Trade Assurance, you can apply for a full or partial refund if your boat supplier fails to adhere to the promised quality. The platform will help you investigate, mediate, and resolve your claim, reimbursing you when appropriate.
After the approval of your refund application, Alibaba.com will generally refund you within seven business days.
Does Alibaba Have Good Quality Boats | Is It Safe To Buy Boat From Alibaba
Generally, Alibaba is a safe and reliable shopping platform, especially if you shop for boats and negotiate carefully. Whether it is safe to buy boats on Alibaba depends on various factors, like the reliability of the seller, the product's quality, and the terms and conditions of the purchase.
However, you should avoid buying branded products through Alibaba as they can be counterfeit, and you could face legal consequences and penalties for reselling them.
Alibaba Boat Reviews | Alibaba Jet Ski Reviews
Remember that not all reviews may be genuine customers, and some may even be biased when evaluating boat reviews. Look for reviews that provide specific details and experiences rather than just general statements.
Also, several reliable external review sites, like Trustpilot and Sitejabber, collect reviews of online stores, including Alibaba. You can easily search for reviews of the specific boat or jet ski model you are interested in to know what others have experienced. Find out as much as you can about the factory and if it is a reputable brand by searching them on tge Chinese company registry (www.qcc.com). Read reddit reviews if you can find any people with a good experience with Alibaba.
Since the boat is coming from overseas, there would probably be no warranty/assurances on it.
Tips to Avoid Scams When buying a Boat from Alibaba
Buying a boat from Alibaba can be risky. This is because there are many unscrupulous sellers who may try to scam you. Here are some tips and tricks to avoid scams when buying a boat from Alibaba:
Before buying a boat from a supplier on Alibaba, research their reputation and history. Check their ratings and reviews on Alibaba and any information you can find about them online.
Communicate clearly and ask questions and be clear about what you're looking for when purchasing a boat for sale on Alibaba.
Avoid free account members and buy from a Gold supplier.
Always use reliable and secure payment methods, such as Alibaba's Trade Assurance or Escrow services, when buying a boat on Alibaba.
Ask the seller to include a boat-alert.com history report
It is best to finalize key issues like boat specifications, pricing and payment details and deadlines, refund policy, seller guarantees, and the seller's dispute resolution.
Be wary of suppliers and manufacturers who offer prices significantly lower than the market rate for similar boats.
Other Platforms to Buy a Boat Online
Conclusion
This article discussed how to buy a boat from Alibaba, the pros and cons of using Alibaba, and tips to avoid scams. Understand what type of boat you want, such as a schooner or fishing boat, and what features and specs are important to you. For less experienced buyers, it is best to go local or at least test the waters with just a dingy!
#Buy #Alibaba #boat #BuyBoatAlibaba
Read Related Articles: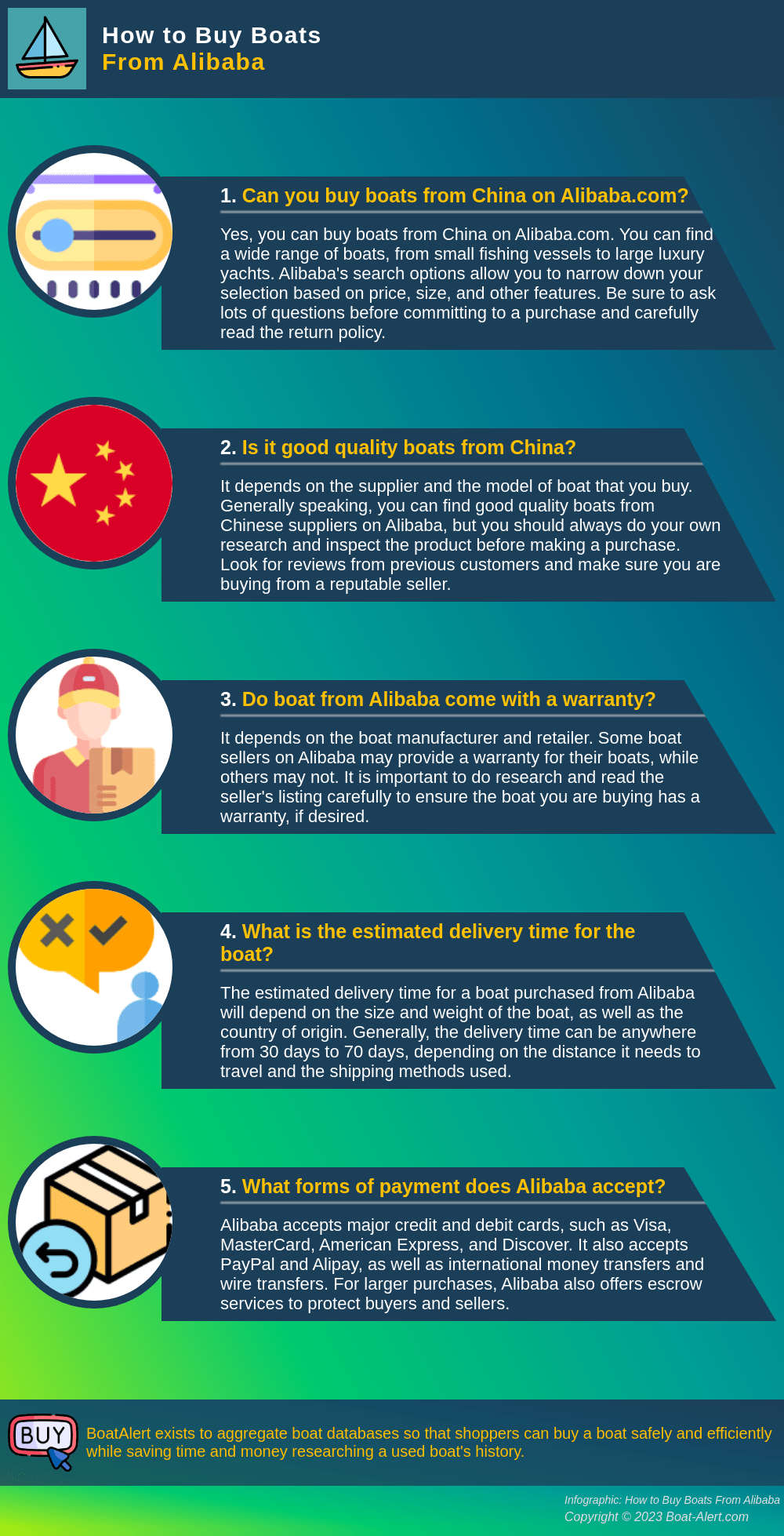 Categories:
To learn more about Boat-Alert.com History Reports for used boats and buy used jetski on boats.com visit: www.Boat-Alert.com
About Boat-Alert.com®
Boat Alert History Reports© exists to aggregate boat databases so that shoppers can search and buy a used boat safely while saving time and money researching a used boat's history. We began in 2015 and constantly adding more vessel numbers data for USA and Canada to ensure that your boat has a clean history. We are happy to offer a 60-day money back guarantee and proud to have served more than 15,000 customers with their boat HIN Search History needs. boats.com ©. Two percent of all proceeds go to charity. We value fair treatment of employees, customer satisfaction, having the most databases possible, and fast customer service at the core of our brand. View our
LinkTree
.