Boat Flipping Secrets | Flipping Boats for Cash
Did you know that Boat & Vehicle refurbishing is profitable? People buy a cheap car, revamp it and resell it at a higher price. Even though some might disagree, did you know you can do the same with boats and make even higher profits?
This article talks about boat flipping for profit, its different types, and strategies that will help you make the most money. We have been in the industry for many years and can guide you regarding the ins and outs and tactics of this business or side hustle.
What is Boat Flipping?
Flipping boats is a lucrative business where you buy a cheap boat, add some value, and sell it for a profit. There are numerous ways to add value to a boat, such as cleaning, fixing, restoring, detailing, repowering, restoring, or improving it in some other way to sell it at a higher price.
Can I make money flipping boats?
Yes, you can make money on boat flipping, provided that you do it smartly. Buying a boat in November and reselling it in April is best. In the meantime, you will need skills and an appropriate budget to fix any issues.
The goal is to buy the boat during the off-season when the demand is low and so will the prices, and sell during peak season when the demand is high.
Different Forms of Boat Flipping
As with any other type of flipping, boat flipping involves various aspects of modifications or fixes that you can undertake before selling the boat to another buyer. These include:
Restoration
This process involves purchasing an old and nonfunctional boat and restoring its components until it becomes functional. Once a boat is ready to sail, you can sell it to another person. This form of flipping requires a lot of time, effort, and money and is therefore not recommended for beginners.
Fix & Flip
This process involves buying a boat that has one to two nonfunctional components. Repairing them and selling the boat for profit is a good starting point for novice flippers. It also offers a sea of knowledge and experience and eliminates the risk of losing a ton of money. Plus, a fix & flip can be completed in a matter of one to two weeks.
Clean & Flip
This is perhaps the easiest form of boat flipping. You buy a perfectly functional boat with no issues but one that looks dirty and desperately needs a makeover. Give it a deep clean and polish, and liven up the interior until it looks brand new. You can then proceed to resell the boat for a profit. Clean & flip can take anywhere from a few hours to a few days, making it an ideal side hobby.
Repowers
Repowering involves buying a boat with a non-working engine, replacing it with a new one, and selling it to a new person. Knowing the right propeller type and engine size is important for a successful boat reselling.
Where to find Boats for Flipping?
Boat Auctions
Marinas
Storage Facilities
Yard Sales
Word of Mouth Marketing – Friends, family, and network of other boat flippers
Choosing the Right Boat to Flip
A. Factors to consider
Condition of the boat
Age of the boat
Popular brands and models
Demand for the boat in the market
B. Tips for identifying profitable boats to flip
Consider buying a boat from September till February since demand is typically low
Look at places like Craigslist, Facebook Marketplace, and eBay for cheap deals
Visit auctions to get a decent deal on boats in all kinds of working situations
Choose boats that are in good working condition but only require cleaning and external makeover
Can boats go up in value? Are boats a good investment?
Generally, boats do not increase in value. Most boats depreciate over time, but you can control the rate at which your boat depreciates by doing regular maintenance and using it responsibly.
Tips to Flip Boats for Cash
Here are some boat-flipping tips to help you buy and resell boats profitably:
Research the market: Before purchasing, research the boat market in your area. Look at the types of boats in demand, their prices, and the average time to sell them. Know how long boats last and how to do inspections.
Set a budget: Determine your budget and stick to it. Consider the cost of purchasing the boat, any repairs or upgrades it may need, and any storage or maintenance fees.
Look for motivated sellers: Look for motivated sellers who are motivated to sell quickly (or liquidators), such as moving or upgrading to a larger boat. They may be willing to negotiate on price if you have patience.
Inspect the boat: Inspect the boat thoroughly before making an offer. Look for any signs of damage or wear and tear that may affect its value.
Get a marine survey: Consider getting a professional marine survey to assess the condition of the boat and identify any potential problems.
Negotiate a fair price: Once you have all the information about the boat, negotiate a fair price with the seller. Be prepared to walk away if the seller is not willing to come down on price.
Make necessary repairs and upgrades: Make any necessary repairs or upgrades to the boat to increase its value. Consider new upholstery, updated electronics, and a fresh coat of paint.
Advertise the boat: Once it is ready to sell, advertise it on relevant websites and platforms. Be sure to include high-quality photos and detailed information about the boat's features.
Be open to negotiation: When potential buyers show interest, be open to negotiation. Consider offering incentives like free storage or maintenance to close the deal. Be ready with answers to common questions asked by potential buyers.
How to Flip Boats for Cash?
Buy a Cheap Boat
The first step is to buy a cheap second-hand boat from an online or in-person platform. Make sure to do your research and choose the right make model. Hire a marine surveyor to inspect the boat and confirm any underlying issues.
Clean and Fix the Boat
The next step is to clean and fix the boat. Pay special attention to the hull, and make sure both the exterior and interior do not have any visible problems. Fix any small issues that may arise in the process.
Repair and Restore Boats for resale
Repairs and restoration are crucial for selling or reselling your boat at the highest price. A marine surveyor can offer valuable advice on what to fix and how to do it properly.
A. Common repairs and upgrades to increase the value of the boat
Engine repairs and maintenance
Hull repairs –the main body of a boat, including the sides, bottom, and deck.
Upholstery and interior upgrades
Exterior repairs and painting
Electrical and electronic upgrades
B. Hiring professionals vs DIY repairs
DIY repairs are ideal if you have the right skills and minimal issues. If the damage is severe or present on a large scale, it is best to contact a professional, who will expertly assess the boat, give you an accurate budget of the expenses, and deliver high-quality results. Professionals have years of industry knowledge, expertise, and experience, which make their work superior to DIY repairs or boat maintenance; and boosts asking price.
Sell the Boat | boat trading and cash offers
Once you have made all the appropriate changes to the old boat, it is time to start selling. You can list your boat for sale on websites like Boat Trader, Craigslist, Facebook Marketplace, Kijiji, etc. Depending on your chosen platform, you may need to pay a listing or seller's fee (advertising fees) but it can have an advantage.
You can also register your boat for sale in the local boat market. Wherever you sell, make sure to have the right documents prepared. This can include the boat's titling and registration documents, history report, or any lien information (if applicable).
How to make money by renting out a boat? | capital investment
Renting out a boat is one of the fastest and simplest ways to make money. Use peer-to-peer services like GetMyBoat, Boatsetter, and RentABoat, where you can sign-up to rent your boat to a fellow boater who needs help. You can accept or reject the rentals based on your preference, which means you will always have control over your prized possession.
Final thoughts and advice for aspiring boat flippers
If you're considering flipping boats for profit, it's important to research and approach the business with a clear plan. Keep in mind that flipping boats can be a time-consuming and often unpredictable process, so it's important to be patient and stay organized from start to finish.
It is also important to have a basic understanding of boat mechanics and repairs or to work with professionals who can help you make necessary upgrades and improvements. As with any business venture, the risk is there, but with careful planning and a willingness to learn and adapt, flipping boats can be rewarding and profitable.
Conclusion
In this article, answered the questions "t Is boat refurbishing profitable?" and covered the different boat-flipping strategies, platforms, and types so you can make the most out of this lucrative business. Be sure to do your research and involve a professional who can properly guide you.
Do consider working with brokers (commission) or selling on consignment. They run their own estimates!
#BoatFlipping #FlippingBoatsforCash #FlippingBoatsforMoney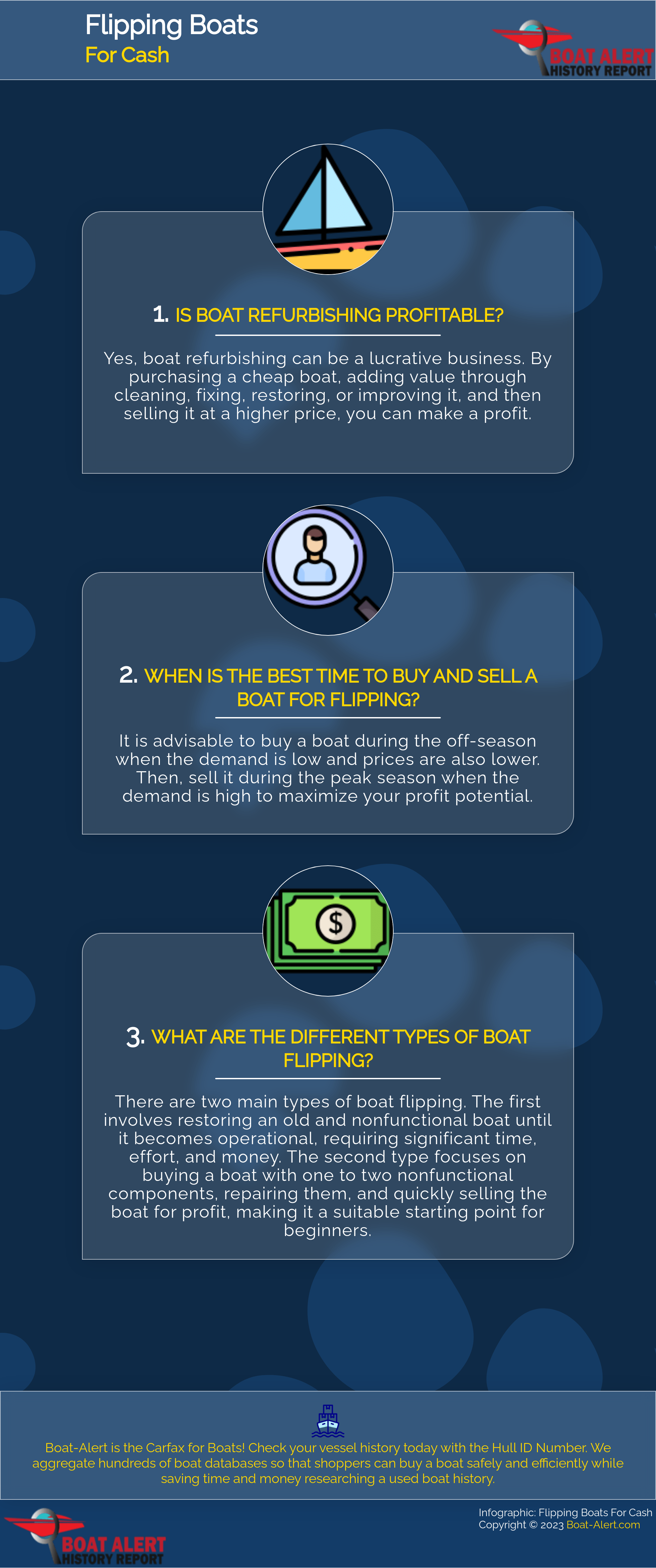 Categories:
To learn more about Boat-Alert.com History Reports for used boats and boat vin number search visit: www.Boat-Alert.com
About Boat-Alert.com®
Boat Alert History Reports© exists to aggregate boat databases so that shoppers can search and buy a used boat safely while saving time and money researching a used boat's history. We began in 2015 and constantly adding more boat lien search data for USA and Canada to ensure that your boat has a clean history. We are happy to offer a 60-day money back guarantee and proud to have served more than 15,000 customers with their boat HIN Search History needs. vessel numbers ©. Two percent of all proceeds go to charity. We value fair treatment of employees, customer satisfaction, having the most databases possible, and fast customer service at the core of our brand. View our
LinkTree
.