How to Check a Boat HIN Number | Hull ID Check
Step by step process to check your Boat's HIN number | HIN Validator
Knowing your boat's identification numbers is very important when it comes to protecting it, insuring it, and buying or selling the vessel. Your local state registration and titling agency will need it as well as a bill of sale before you can register your boat. In this article we will explain what a HIN is and 2 ways how to check it based on expert advice from the folks at HinDecoder.com. Armed with this knowledge you will be able to check a boat HIN number with confidence.
Do boats have VINs?
Yes. Boats, just like cars, have boat hull identification numbers. It is commonly referred to as a HIN number. We have a great article about HIN numbers that you can refer to for more details. This is true whether you have a fiberglass boat or other kind of yacht

What is a Boat HIN? What is a hull identification number (HIN)?
The Boat HIN is a 12 character serial number placed on the boat by the manufacturer of that boat. It is unique to that boat and contains encoded information about the manufacture (make) and year of build. It cannot contain the letters IOQ in the serial.
Where is the hull number on a boat?
The HIN's location on the vessel is clearly visible when the boat is in the water on the outside starboard (right) side of the transom/stern. If the boat does not have a transom, the HIN must be displayed on the right side at the rear of the hull.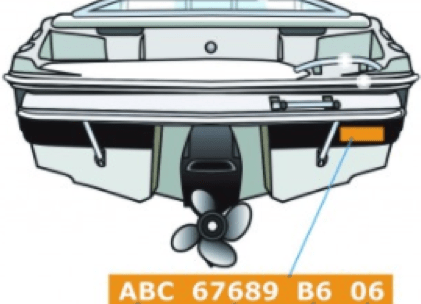 If I don't have a HIN, how do I get a Hull Identification Number?
There are cases where you will need a state issued HIN because the manufacturer of the boat put a wrong or invalid HIN. It can also happen when the boat is home made. Contact your local state DMV or DNR for instructions. This might apply to you in case the boat is older than 1972 or is a homemade boat.
Are hull identification numbers useful?
Yes, you are hull identification numbers are useful for keeping track of the boat just like a VIN identifies a vehicle. It is a serial number unique to that boat so law enforcement can use it to prevent theft and you can use it to lookup registration data. Hull Identification Numbers (HINs) are an important and useful tool for the identification of vessels because they are the manufacturer serial number. HINs are used by government agencies, insurance companies, and marine surveyors to ascertain the background of a vessel. it is also used by the US Coast Guard to properly register/document the boat.
Different ways to check a boat HIN
When people say that they want to check a HIN, it can mean two things. First, the boater needs to validate the HIN in order to make sure it is written correctly (no typos). This type is known as HIN decoding. The other way to "check a boat HIN" is to do a search for its history. These types of HIN lookups are known as boat history searches. Next we will go into details on each of these ways to check a HIN:
How do I check a HIN or VIN number on a boat?
First, validate the HIN by making sure it is valid and can be decoded. This is done by first counting the number of characters to make sure it is 12 digits long. Then you will need to read the HIN manually or use a HIN Decoder tool like the one below.
Second, check the HIN against public and private databases to search its history. This tells your the history of a boat including registrations and negative events. Knowing these can affect a boats value or help you sell the boat faster.
Boat hull identification number validation check – HIN validation tool
There are many HIN validation and verification guidelines to follow when checking a Boat's HIN Number. We have covered them in detail in our article on How Do You Read a Hull ID Number (HIN). This applies to any boat in the USA whether is it state or coast guard registered/documented.
What is a HIN Decoder? – Best HIN Validator tool!
HINDecoder.com is the official website for validating your HIN. It is being used by many insurance companies and state agencies to obtain information on the boat and the builder including recall information. There is an alternative HIN validation tool you can use from boatfax.

How do I check a serial number on a boat?
The boat's HIN will contain the serial number at character positions 4 to 8. The HIN itself is also called the serial number so it can get confusing as to which part you are referring to. All of these are part of the hull number guidelines and standards.
Reasons why you want to check your Boat's Hull Identification Number
Here are some reasons why you will need to check your boat HIN:
Trying to find the model year of the ship
When buying a boat
When selling a boat
when applying for boat insurance or when law enforcement officials search for a stolen boat
when validating paper work accuracy (HIN, make, year, and model info on title papers). This is important for title search resources for registration or title documents validation.
When ordering a new HIN ID tag plate or custom decal placard
If you want to do a vehicle/watercraft title search
When searching recall purposes or manufacturer defects for any registered manufacturers at the Coast Guard.
How do I check the history of a boat? search hull identification number
There are a handful of companies including BoatAlert that will search your HIN number against public and private databases to lookup its history.
Where is the Boat History Database?
The Boat-Alert.com database combines 90+ nationwide databases into a single place so you can search in a matter of minutes. These include records for stolen boats, marine lien claims, boating accidents, pollution incidents, auctioned boats, factory recalls, and boat manufacturers.

Is there a service similar to Carfax for boats?
Just like a HIN is to boats like VINs are to cars, you can use BoatAlert History reports like a Carfax for boats. There is also a new law that has been dubbed carfax for boats law but its actual name is UCOTVA. It has not arrived in many states yet but is on its way.
Is there a Free Boat Hull Identification Number Check | Free boat vincheck?
The boat history search companies that exist all charge money for the service. after all they collect and clean the data from hundreds of sources so you can search it in one place. Having said that, you can still do your own research to make a free boat hin search with the steps provided in our articles.
NADA boat vin lookup
NADA Guides (JD power) does not have a boat HIN lookup service. Their website just has a link to a third party boat history report company. Some times your insurance company will ask for a "nada report" but make sure you clarify what they need. Usually they want the Boat Alert report printed in PDF format.
Common terminoligy
| | |
| --- | --- |
| Term | Meaning |
| HIN | Boat Hull Identification Number |
| Transom | Back of the boat where the HIN is located |
| HIN Decoding | The process of reading a HIN and breaking it into the components |
| State Issued HIN | Special HIN number starting with states letters like TXZ or ILZ |
Table of common boat HIN terminology definitions
Is it okay to give out your Boat's HIN Number?
Yes. it is publicly displayed on your vessel so it is safe to share with third parties. It's only when a boat is stolen that you have to worry about HIN Cloning.
What can't you check with a boat HIN?
The boat HIN does not contain the model name of the vessel like a car's VIN number would. so decoding the HIN will not reveal the model or edition of your boat.
Conclusion
Since boat theft and hidden problems are a serious issue it is important to know your HIN and check it. We have explained what the HIN is and where to find it on your boat's hull. We then explained the two ways to check your HIN (validate it for typos and check its history). The tools provided above will make the process super easy.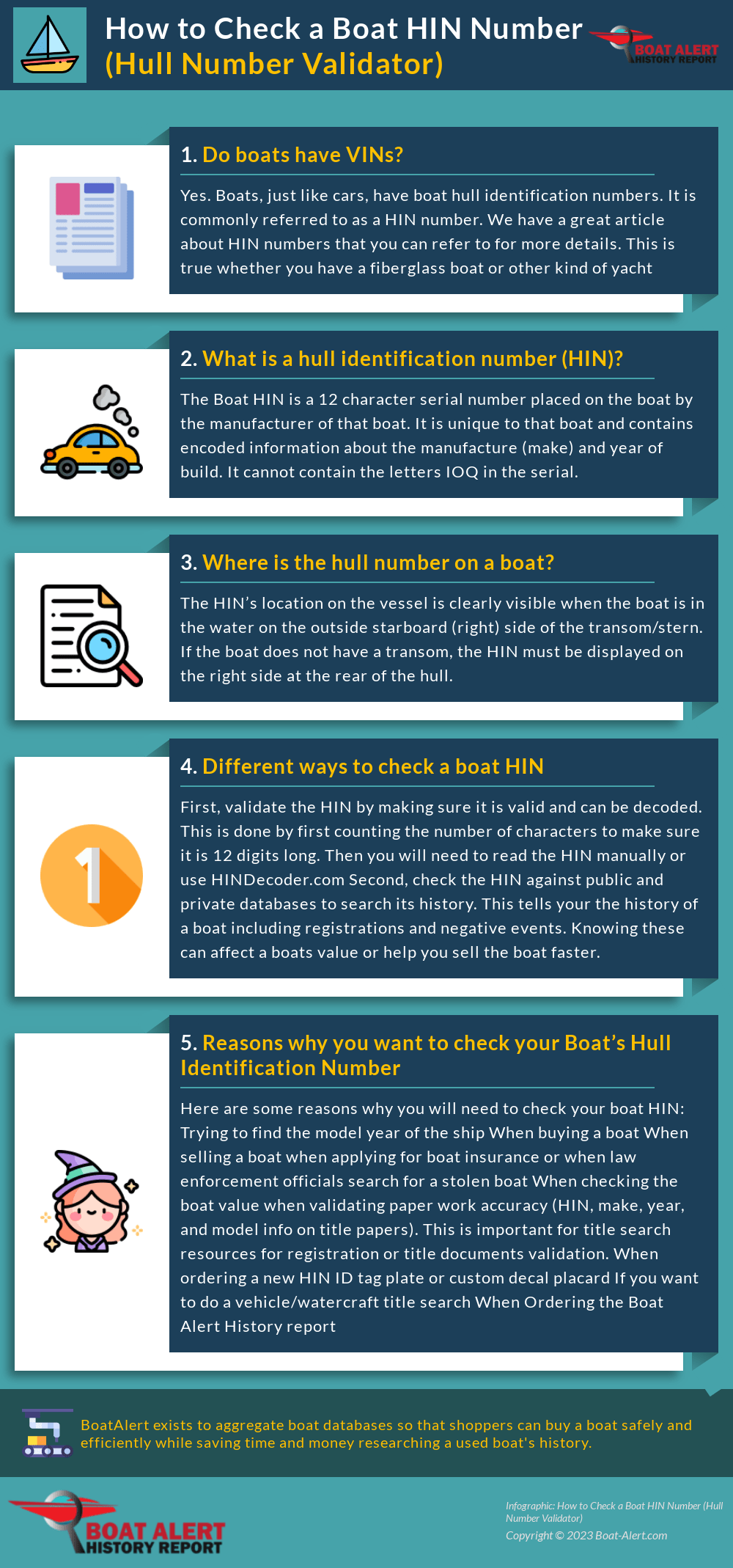 Read Related Articles:
Categories:
To learn more about Boat-Alert.com History Reports for used boats and boat hull id visit: www.Boat-Alert.com
About Boat-Alert.com®
Boat Alert History Reports© exists to aggregate boat databases so that shoppers can search and buy a used boat safely while saving time and money researching a used boat's history. We began in 2015 and constantly adding more boat hin number check for free data for USA and Canada to ensure that your boat has a clean history. We are happy to offer a 60-day money back guarantee and proud to have served more than 15,000 customers with their boat HIN Search History needs. boat identification numbers ©. Two percent of all proceeds go to charity. We value fair treatment of employees, customer satisfaction, having the most databases possible, and fast customer service at the core of our brand. View our
LinkTree
.