This is how you select the Right Personal Water Craft (PWC)
Buying a personal watercraft (PWC)
Buying a personal watercraft (PWC) may seem like a straight forward task. You like the jet ski so you buy it. But if you or anyone else had asked me how to best choose the personal watercraft, I would have to answer them as follows. Choose the fastest (most horsepower) model but make sure it is light (highest horsepower-to-weight ratio). Prices are all about the same or at least very affordable. A new PWC usually is unlike cars and this means you would be able to afford some of the best on the market. Not everyone, though, put some more thought into the topic. Here are a few factors to consider. and by the way, if you want to first unload/sell your old PWC or boat make sure to check our Best Step by step guide to selling your Boat (How to sell a used boat)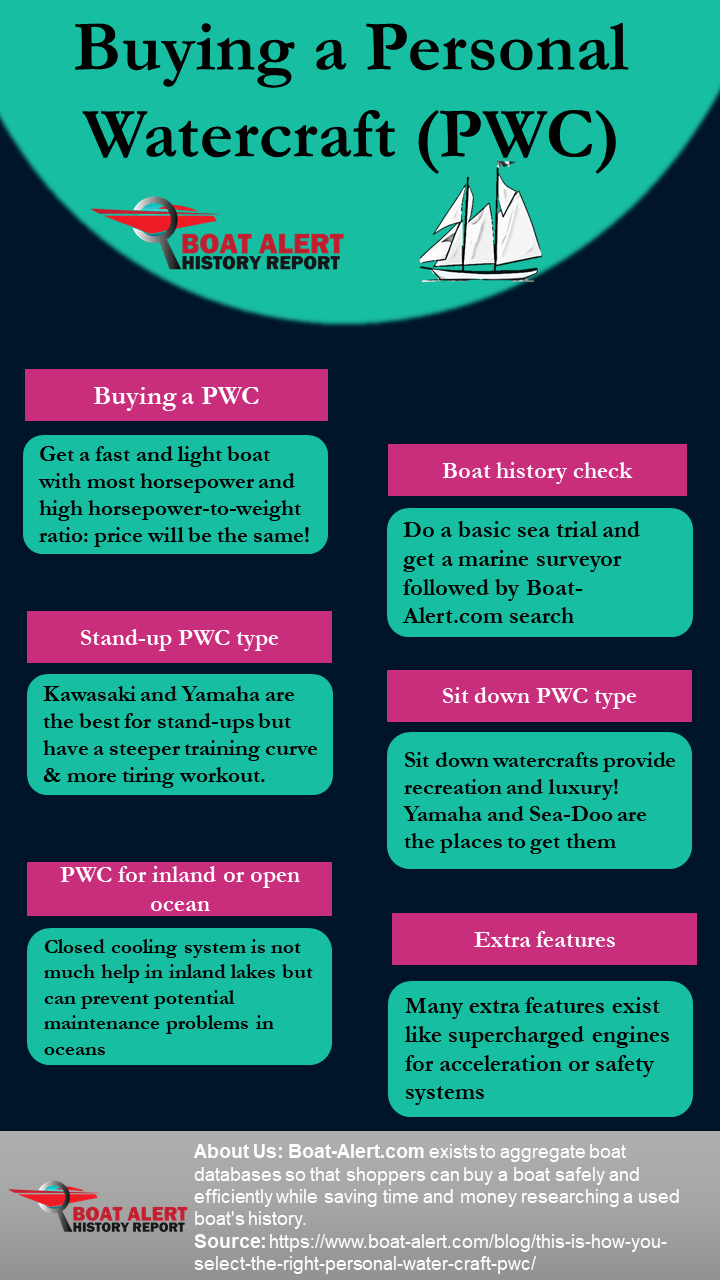 I know you are excited about Buying a personal watercraft (PWC) but let us take some time and consider your needs and what is available out there.
Boat History Check
Hold On. If you are buying a used personal watercraft or used boat, make sure that you have done your due diligence beyond just the basic sea trial. Get a Boat-Alert.com history check then get a marine surveyor.
PWC Boat Manufacturers
I will let you know upfront that the market is now smaller than it used to be because of fewer manufacturers than before. For example, Honda tried making some then got out of this industry. Polaris did the same for a while, but not any more. The good news is that the manufacturers that remained in business would be the same ones who always dominated the market all along. These are Sea-Doo, Kawasaki JetSki, Yamaha WaveRunner. So, you have many options and you totally can't go wrong with any of these manufacturers. You can even lookup boat recalls to compare at hindecoder.com
SIT DOWN OR STAND-UP PWC type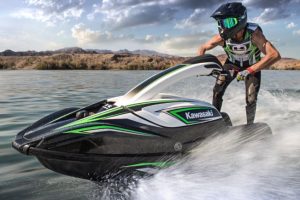 First things first, if you're trying to find a stand-up Watercraft, there are only two, one from Kawasaki and one from Yamaha. the training curve remains steeper than the other Watercraft, but riding a stand-up is perhaps the sole thing within the industry that counts as exercise. So, if you're trying to find something physical, stand-ups are your game, and both models are about $10 grand USD.
The biggest share of the market lies with the sit-down Watercraft. The manufacturers themselves have done a reasonably good job of delineating their models, with segments like performance and racing, luxury, recreation and recreation light. Have you heard of "Tow Sports" from Sea-Doo? This is their exclusive category of PWC.
Of course, it's more fun if you've got someone to boat with. That either means buying one among the larger craft, like something from Yamaha's FX series, or buying two smaller craft, like something from Sea-Doo's GTS line. At that time, however, price can inhibit play. By the time you purchase two watercraft and a trailer, the budget would have ballooned to $23,000.
Select a PWC for INLAND OR OPEN OCEAN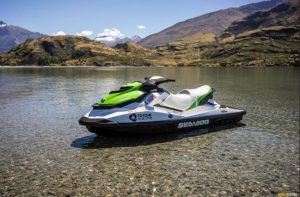 Another important thing to think about is where you'll be riding. If you're on an inland lake, having a closed cooling system doesn't really matter. If you're getting to be out on the Intracoastal Waterway and therefore the ocean, closed cooling can prevent potential maintenance problems within the end of the day than a model that runs raw cooling water as you can imagine right through the engine.
Realize, however, that the more features you would like, the heavier it's getting to be. Additional weight makes handling harder with the Watercraft feeling more sluggish than a lighter model. Also, if you ever park it on a beach, it'll be harder to push it back to the water.
Okay so you picked your Style of PWC and once you've narrowed it down to the top watercraft manufacturer and model, The it will be time to spoil yourself with some additional add-on features.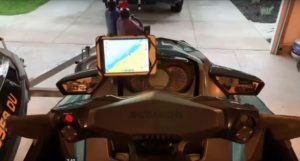 EXTRA FEATURES
Once you recognize how you'll be using the craft, then you'll dial within the comforts and specific features that the manufacturers offer. for instance, all manufacturers offer supercharged engines, so if acceleration and top speed are your thing, maybe that's where you spend your money. If you're getting to be sharing the Watercraft with novice riders, it'd be important to think about which safety systems appeal to you most, like Sea-Doo's Intelligent Brake and Reverse system, Kawasaki's Smart Learning Operation feature or Yamaha's Ride system, which lets the driving force switch from forward to neutral to reverse with one pull of the throttle. See which system you wish best.
If you're getting to be bringing tons of individuals along, maybe storage volume becomes more important or three-up seating. Some models also include 12-volt power outlets so you'll charge your phone while riding, or maybe stereo systems and cruise control!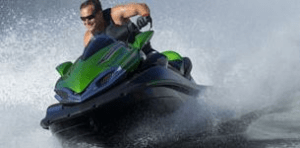 Were the selection mine, I'd still accompany the fastest one I could find. But as you'll see the market has been shaped by people aside from speed freaks, and therefore the availability of features and safety systems is bigger than ever, even when there have been more manufacturers making them.
View the Presentation:
Infographic: choosing between a boat and PWC

Categories:
To learn more about Boat-Alert.com History Reports for used boats and boat fax history report visit: www.Boat-Alert.com
About Boat-Alert.com®
Boat Alert History Reports© exists to aggregate boat databases so that shoppers can search and buy a used boat safely while saving time and money researching a used boat's history. We began in 2015 and constantly adding more boat registration number lookup data for USA and Canada to ensure that your boat has a clean history. We are happy to offer a 60-day money back guarantee and proud to have served more than 15,000 customers with their boat HIN Search History needs. boat hull identification ©. Two percent of all proceeds go to charity. We value fair treatment of employees, customer satisfaction, having the most databases possible, and fast customer service at the core of our brand. View our
LinkTree
.