Boat Title Search In Your State
Did you know any boat can be voluntarily titled, but not all boats legally require it? A boat title is a legal document that proves ownership of a vessel. Some states only require registration while the states that title boats don't keep track of salvage brands!
This article shows you how to do a boat title search in your state and find ownership information. Our knowledge and expertise in the industry have enabled us to guide many in their search for a boat's background information.
Did you know some boats are documented instead of being titled? Know the difference to avoid scams!
When do you need a Boat Title Search?
A boat title search is required to track a vessel's owner and find out if a boat is legit. It also serves as proof of ownership when buying used boats, thereby preventing you from any scams and consequent legal complications.
Can boats be tracked? | Boat Title Search
Many jurisdictions do not reveal the title information of boat owners to protect their privacy. However, if you have been involved in an accident or a pending lawsuit where the information disclosure is crucial, you may be entitled to the information.
Private investigators have special access!
How do I do a title search on a boat?
Each US state has its requirements for boat titling. Follow the links below to learn how to perform a title search on a boat, depending on your state's regulations.
What does a boat title look like?
The exact format of a boat title will vary depending on the state. In general, a boat title contains information identifying the vessel's owner. This can include their registered name and address, hull identification number, model, make, and year. It may also contain the registration date, lienholder's name and information, and value of the vessel.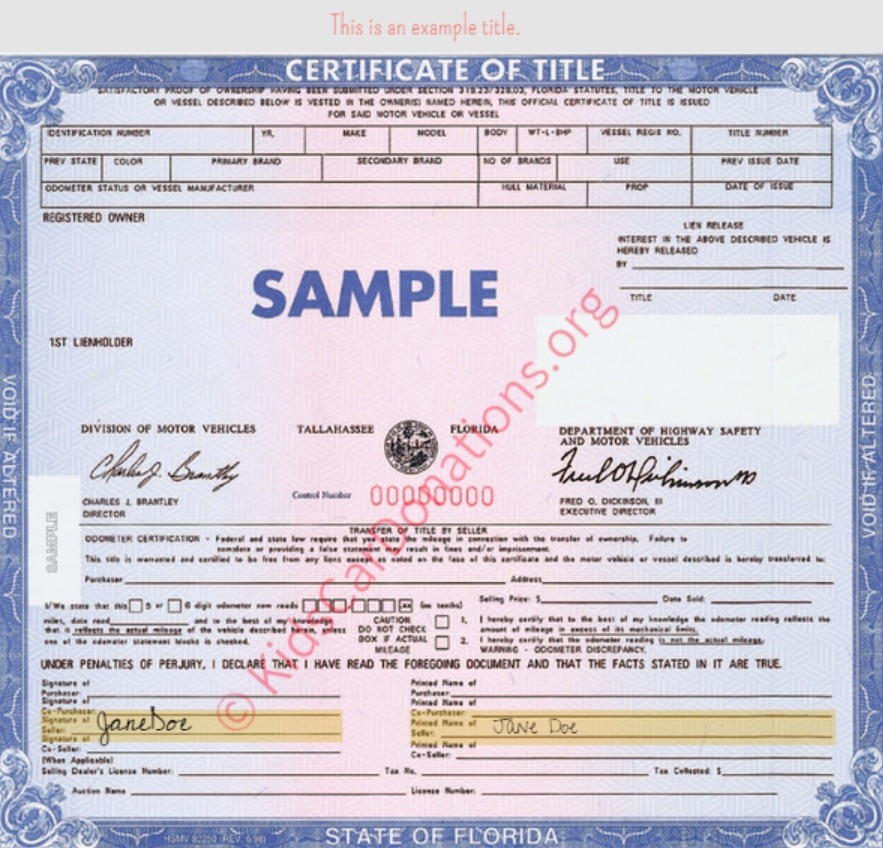 The title can contain the lien holder name as well.
Which agency issues the boat title?
Agencies with authority to issue a boat title differ from one state to another. In some states, it might be the department of motor vehicles (DMV), the department of natural resources (DNR), the game and wildlife agency, or another agency.
If you are doing a boat property search, make sure to check your state's website to see which agency is responsible for issuing boat titles. If you are looking to apply for a boat title, you will be able to use your bill of sale as evidence of purchase of the boat or jet ski. The trailer registration requirements may be separate, so check those out too.
Can I Do a Boat Title Search for a Documented Vessel?
Large boats are documented on a federal level with the US Coast Guard (known as USCG Documentation). These vessels receive an official number and title to the boat. Not all boats are documented with the US Coast Guard and will, therefore, not have a USCG number.
To check the boat documentation status, click here. or use this search box:
Before doing any search, validate your hin formatting on hindecoder.com.
US Coast Guard
You may search Coast Guard Documented vessels by their names, HINs or Official Numbers through CGMIX. Keep in mind that you will not have access to personally identifiable information, including the owner's name and address.
You can run a USCG Abstract of Title to find any existing liens, mortgages, or encumbrances recorded on a documented vessel.
Boat-Abstract.com
If you want to find a federally-recorded boat's owner or its complete history with bank names, you may request an official USCG Abstract of Title from Boat-Abstract.com. Those kinds of boats are documented instead of being titled! The USCG has an official boat liens database & vessel names, but does not cover tax liens.
Get a Lawyer
Buying a used boat carries some risk, even if you take all the precautionary steps. If you have concerns regarding the vessel's ownership or the legalities of the process, you can consider speaking to a maritime lawyer and notary. They can help you do a UCC search.
Can I do a Boat Title Search for an Undocumented Vessel?
Small vessels are considered federally undocumented since they are registered with the state. These boats are assigned a State Registration Number instead of a USCG number that can be used to find the boat's owner.
Not all states mandate boat owners to get a title, although they can apply for one voluntarily. Some states, such as Florida, do issue boat titles which can be helpful if you are doing a boat title search for an undocumented vessel. However, these boat titles are usually "clean" since they don't have records of salvaged boats or branded titles. This will change when UCOTVA takes effect.
Brands identify important information about a vessel's history, including damage, chronic issues, etc. It is especially critical to be aware of "salvaged" brands, which indicate that the vessel has experienced substantial damage at some point and may be unsafe to sail.
Boat History Search services like Boat-Alert.com
Boat-Alert.com offers a comprehensive vessel search service to help you trace a boat's history. Collecting data from over 90 boat databases, the website will help with a boat name search, boat values, auction data, and pollution and accident incidents.
Simply enter the hull identification number on the Boat-Alert.com search for immediate access to its basic details. You can also get a detailed boat history report in exchange for a fee. The report will show you a cross reference of which hull number is attached to which registration number. During the lookup process of the vessel data, a boat registered in multiple states could match the HIN to more than one registration number.
Boat-Alert.com HIN Search
A boat's history affects its value – Search the vessel's history before you dive in!
Check for accidents, auctions, theft, and registration data.
Don't get stuck with someone else's problem boat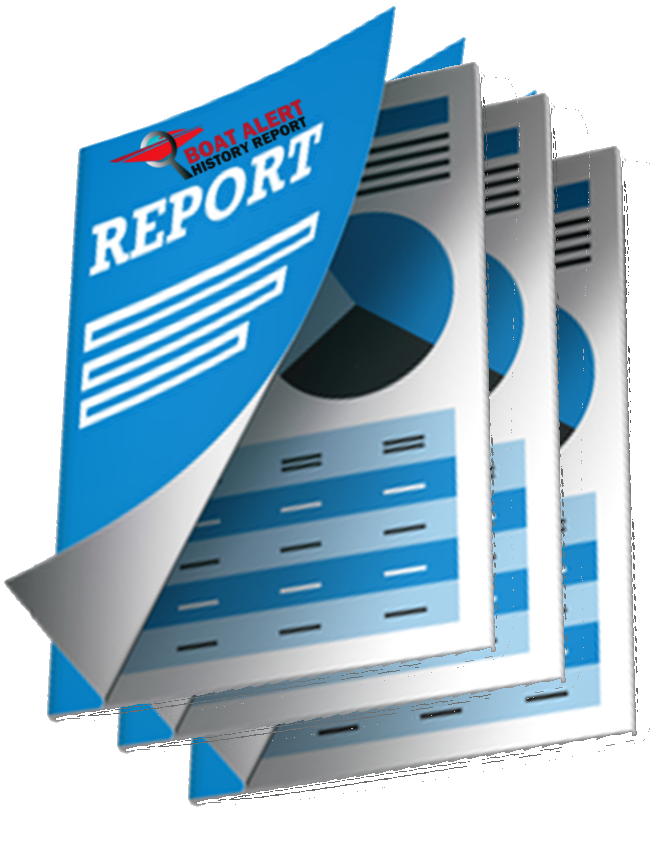 Tips for doing a boat title search by hull number
A Hull Identification Number or HIN is a 12-digit number used to identify one vessel from another. It is normally displayed on the exposed lower corner of the transom or the stern and can also be found on registrations, manufacturing certificates, or boat titles.
Look for the boat's HIN and note down any information on the sticker of the boat, such as the hailing port and name. Enter the data in the Coast Guard database if documented federally to request the abstract of the title. Use boat-alert's database to search for a boat history report if it is state registered.
Visit the Vessel Registration department of the state
Lookup the boat's registration details using Boat-Alert.com, then use that information to do a thorough Google search.
Boat title lien search| Beware of IRS Liens and Hidden Liens
A boat title lien search is important when purchasing a used boat through a private sale, broker, or dealer to ensure no existing taxes or hidden claims on the boat. Many states are non-title, making it harder to research on your own. Use the US Coast Guard Port State Information Exchange for a boat title lien search. You can also use Boat-Alert.com to get access to some lien databases.
Things to Know About Boat Title and History Searches
A boat title is not a legal requirement in all states, but boat owners can still apply for it voluntarily.
Many jurisdictions restrict access to the name of the boat's owner. However, depending on the situation, you may be able to request that information from the US Coast Guard.
Boat history searches are essential to a

vessel background check

and can reveal critical information. This includes details about whether the boat was damaged, stolen, repossessed, seized, recalled, salvaged, or involved in any accidents which may have resulted in liability.
There are many online free and paid tools that you can use to carry out a boat history search, such as Boat-Alert.com.
Post in a boating forum or other social media platform. Make a post including the boat's picture, registration number, etc.
What is UCOTVA law?
The Uniform Certificate of Title for Vessels Act (UCOTVA) monitors the titling of boats in a similar way that all states now issue titles. The Act codifies best practices for titling boats and ensures all states' requirements are consistent. We covered it in detail in another article.
Why did they enact UCOTVA Law, and which states have it now?
Due to the growing concern regarding state titling laws and systems, there was a need to enact UCOTVA. The Act allows undocumented state-registered boats to secure Preferred Ship Mortgages, brands the titles of boats that have experienced hull damage, unifies titling laws and procedures between states and aligns titling laws with UCC Articles 2 and 9.
Currently, Florida, Alabama, Hawaii, Connecticut, and Virginia have enacted the UCOTVA.
Boat Trailer Title Search
Do Boat Trailers have titles?
Similar to boats, boat trailers also require titles. Many states mandate them, but some don't. In states where getting a boat trailer title is optional, you can get it voluntarily.
Where to conduct a Boat Trailer Title Search
You can search a boat trailer title using its Vehicle Identification Number (VIN) and running it through the National Motor Vehicle Title Information System. You can find the VIN on sticker-type plates: one is on the right taillight outside the side frame, and the other is on the side trailer frame behind the tongue.
Conclusion
In this article, we discussed what a boat title is, what information it contains, and how to do a boat title search. Although tracking a boat owner's name is difficult due to confidentiality laws, it is possible under the right circumstances.
When in doubt consult attorneys for your yachts! And after checking the title, inspect the boat with surveyors.
#BoatTitleSearch #BoatTitle #BoatTitleSearchbyState #title #search
Read Related Articles:
Categories:
To learn more about Boat-Alert.com History Reports for used boats and hin number search visit: www.Boat-Alert.com
About Boat-Alert.com®
Boat Alert History Reports© exists to aggregate boat databases so that shoppers can search and buy a used boat safely while saving time and money researching a used boat's history. We began in 2015 and constantly adding more boat fax history report for HIN data for USA and Canada to ensure that your boat has a clean history. We are happy to offer a 60-day money back guarantee and proud to have served more than 15,000 customers with their boat HIN Search History needs. hin search ©. Two percent of all proceeds go to charity. We value fair treatment of employees, customer satisfaction, having the most databases possible, and fast customer service at the core of our brand. View our
LinkTree
.