How to Register a Boat in Quebec | Vessel Licensing and Registration in Quebec
Pleasure Craft Vessel Licensing and Registration in Quebec
Lire l'article en français ici
When it comes to boat registration in Quebec, there are a few confusing details that you need to be aware of. For example, licensing and registration are not the same thing and each applies to certain types of boats and has its own benefits. Tax implications can also play a role in unwanted surprises.
In this article, we will cover all you need to know about how to Register a Boat in Quebec.
Boat Taxes in Quebec
Do you pay taxes on a used boat in Quebec? if you are buying or importing a boat in Quebec, you need to know the tax implications on boats. The basic tax rule for boats in Quebec is that you will owe the tax in the province where you plan to use it, register/license it. So, in Quebec, you will owe the 5% GST and 9.975% QST taxes.
Do you have to pay GST on a used boat? Yes.
What about trading my boat at a dealer in Quebec? When you trade a boat, there is a trade effect on taxes, so you only owe the taxes on the difference in price from your trade-in and the new boat. When you buy a boat privately in Quebec, then register with Transport Canada, they will use the blue book value from NADA Guides to asses the boat value and tax you on it. Transport Canada will send you an invoice for the tax owing on your Quebec boat.
Boat Registration Process in Quebec
Is it mandator to register your boat in Quebec? How Do I Know If My Boat Needs to Be Registered in Quebec?
When you own and operate a boat in Canada, you'll likely need to licence it or register it, depending on the type of boat you have. Many boats are considered pleasure crafts in Canada, which means they're used for fun and daily living. You probably have a pleasure craft if you're spending your time going to the cottage, waterskiing or leisurely going out on the water, meaning that you'll need to license your pleasure craft instead. Your pleasure craft must be licenced if it has a 7.5 kW (10 horsepower) motor or more. We have covered boat registration in Canada in detail here: How to Register a Boat in Canada | Update 2022.
So, it really depends on the size and usage of the boat and engine HP. Transport Canada will let you know if your bout should be registered in Quebec. There is even a tool to figure it out here.
Licensing Your Boat in Quebec
Unlike the boat license that you keep in your wallet, a Pleasure Craft License is the set of ID numbers displayed on your boat which can be used by Search and Rescue personnel to identify your vessel. A Pleasure Craft License is different than a Vessel Registration in Quebec, which provides proof of ownership (legal title), a unique name and official number for your boat and the right to use your boat as security for a marine mortgage. We covered the differences between the two in detail in another article. A Pleasure Craft License does not prove ownership of the boat. A copy of the bill of sale proves you own the boat and should also be kept on board at all times.
How Do I Licence My Pleasure Craft in Quebec?
To apply for a Pleasure Craft Licence in Quebec, you can apply online or complete a mail-in application. We discussed the application processes and application form in our other articles above. The application can be printed and mailed alongside all required documents or can be completed electronically, and the following documents are required when you register a new pleasure craft:
The completed application
Signed photocopy of the valid government-issued identification for each owner
A copy of the bill of sale or proof of ownership (home-built boats without a bill of sale may submit a declaration under oath)
A current, full side view photo of the pleasure craft
How long does PCL last? it is valid for 10 years unless you move or sell
Selling your boat in Quebec
How do I transfer ownership of a boat in Quebec? When selling your boat in Quebec, if it has a pleasure craft license, you will need to sign the reverse side and provide it to the boat buyer. They will then complete the reverse side and submit to service Canada to complete the ownership transfer in Quebec. The buyer has 90 days to complete this because Owner information must be kept up-to-date, including name and address changes.
Registering Your Boat in Quebec, Canada
Unlike PCL, registration has a cost. In order to register your boat in Quebec, Canada, you will be required to select at least 3 names for your vessel (of which one will be approved), pay a registration fee, complete an application for registry, produce evidence of ownership/title and statement of qualification for vessel registration, as well as have your vessel measured for tonnage.
Buying a boat in Quebec? Here's what you need to do:
You have 90 days to transfer the license on your boat into your name from the time you purchase the boat. In order to transfer your license you need to download a copy of the application form from the Pleasure Craft Licensing website.
You will need the following things in order to apply: a signed piece of government photo identification and the bill of sale proving you own the boat.
To transfer a used boat, you will need the current pleasure craft license numbers on the side of the boat to complete your application.
To transfer a new boat your boat dealer will have to do it for you. The dealer will need the following documentation from you:
a copy of your driver's license
dealers need a third-party authorization form signed to have permission to license the boat for you
and a bill of sale
Once you've submitted the application for your Quebec boat registration and all of the supporting documents, you will receive via email an acknowledgment number that is the same as the permanent number that you will receive later by the mail or email. The acknowledgment number must be displayed on the side of your boat.
How often do I need to renew my boat registration in Quebec? Registration is valid for 5 years.
Can I register my boat online in Quebec? – Where can I renew my boat registration in Quebec?
Yes, you can register you boat online but the application documents need to be mailed in to Transport Canada in order to complete the boat registration in Quebec.
How long does it take to register a boat in Quebec?
Transport Canada has a standard processing time for boat registrations in Quebec. Those times are listed on their website to give you an idea of the turn around time. The certificate usually arrives in 30-45 working days.
How to tell if your vessel is licensed or registered in Quebec
You will need to observe the number that is displayed on the side of the boat (bow). This will show the registration number (O.N.xxxx or CxxxxxQC) or a licence number (QCxxxxx). The two-letter code for Quebec as QC.
Lookup boat HIN in Quebec
To do an Quebec boat registration lookup, use Boat-Alert.com to search boats registered and licensed in Quebec.
The Boat-Alert.com database combines 72+ nationwide databases into a single place so you can search in a matter of minutes. These include records for stolen boats, marine lien claims, boating accidents, pollution incidents, auctioned boats, factory recalls, and boat manufacturers.
Get a certificate of registry for a boat in Quebec
When a boat is registered in Quebec, you can also get a certificate of registry. This is a report from transport Canada. You can order it here. Transcripts of Registry are NOT available for vessels registered in the SMALL Vessel Register or licenced in the Pleasure Craft Licence System (PCL). It will tell you important things like Historical Vessel Names and Owner Names, Prior Ports of Registry, encumbrances & injunctions, Mortgages, Vessel Type, Engine, and Tonnage.
How do you find a lien on a boat in Quebec?
In order to check if a boat in Quebec has a lien on it, you need to order a certificate of registry since all boats having a mortgage are required to be registered and thus qualify for a certificate of registry report.
How do you check if a boat is stolen or accident in Quebec in Canada?
To find out of a boat has been stolen in Quebec, check with boat-alert.com and also check with RCMP. They can both run your vessel's HIN and confirm if it appears in the stolen boats database.
When it comes to boat accidents in Quebec, the owner of the boat is not required to report such accident unless the boat is commercial (registered). For PCL boats, they might only tell their insurance company so it is harder to know if those boats have an accident.
Do I require a survey to register my vessel in Quebec?
Not any more but still recommended.
Do you need boat insurance in Quebec and to register the vessel?
Transport Canada does not stipulate that insurance is needed to register your vessel in Quebec. However, you bank may require insurance to get the mortgage since the boat is the collateral they want to protect.
How much does it cost to license a boat in Quebec?
It is free and lasts ten years. There is no charge for the issuance of a Pleasure Craft License in Quebec. However, any pleasure craft caught operating without a licence will be charged a fee of $250. (Violation penalty).
How much does it cost to register a boat in Quebec?
The fees for vessel registration with transport Canada are listed here: Fees (canada.ca). As you can see, registration costs $250 in Quebec.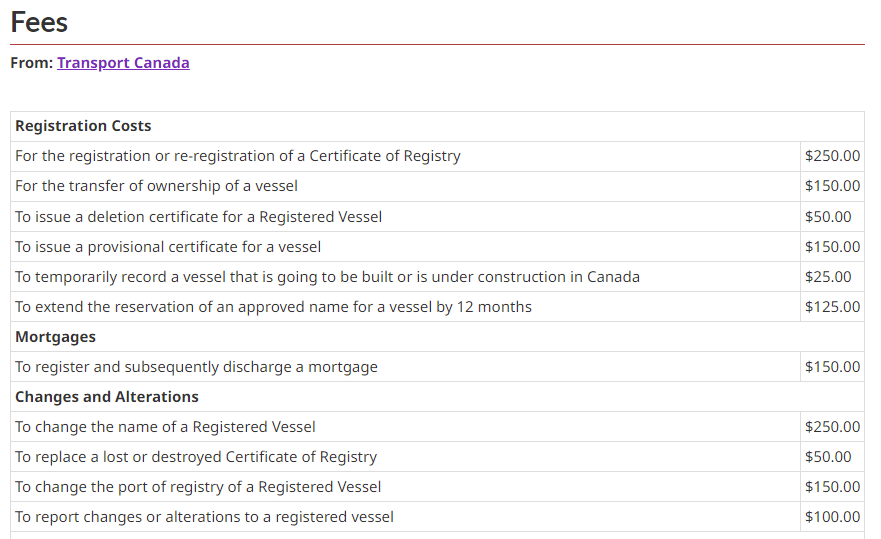 What happens if I fail to renew my boat registration on time in Quebec? What happens if I forget to renew my boat registration in Quebec? and what are the consequences of not renewing my boat registration in Quebec?
Any pleasure craft caught operating in Quebec without a licence will be charged a fee of $250. (Violation penalty).
What Boats Are Exempt from PCL in Quebec?
Pleasure crafts in Quebec are required to be equipped with a Pleasure Craft Licence, with the following exceptions:
Pleasure crafts using a motor of less than 10 horsepower (7.5 kW)
A pleasure craft registered with Transport Canada
Pleasure crafts purchased less than 90 days earlier (this is a 90-day grace period)
Do I have to register my inflatable boat in Canada? based on the above requirements for a 10 HP, your inflatable boat does not have an engine so you don't need to license or register it.
How Do I Transfer Ownership of a Pleasure Craft in Quebec?
To transfer ownership to your new pleasure craft in Quebec, complete the application for a Pleasure Craft Licence and write "transfer ownership" in the field marked for application reason.
What information do I need to provide to register my boat in Quebec? The following documents are required to transfer ownership to a pleasure craft in Quebec:
The completed application
Signed photocopy of the valid government-issued identification for each owner
A copy of the bill of sale or proof of ownership
A current, full side view photo of the pleasure craft
How do you replace a lost boat ownership in Quebec?
If you have lost your bill of sale and your Quebec boat registration certificate, you will need to contact Transport Canada immediately to request a replacement certificate. It usually takes 5 days to process this application.
What are the boat marking requirements for boats in Quebec?
Your Quebec pleasure craft must display the licence number at all times on both sides of the boat's bow in a contrasting colour and a size of at least 7.5 centimetres (or 3 inches) high. The Pleasure Craft Licence itself must always be carried on the boat.
If the vessel is registered in Quebec, then the O.N. number should be in the interior of the boat while the name and port are shown on the exterior.
Does Quebec require a Pleasure Craft Operator Card (PCOC)?
All boaters in Quebec are required to carry boating licences. It proves you have the competence as a captain.
Boat Dealers in Quebec
There are hundreds of boat dealers in Quebec so listing them here won't be easy. Some of the ones that stand out are Robitaille Marine, Cabano Marine, Boulet, Pomerleau, legend, RL, Thomas, aqua sport, Thibault, Thomas, Mathias Marine…etc.
| | |
| --- | --- |
| Province | Number of Boat dealers |
| Ontario | 138+ |
| Alberta | 27 |
| British Columbia | 44 |
| Manitoba | 26 |
| New Brunswick | 24 |
| Nova Scotia | 49 |
| PEI | 24 |
| Quebec | 70+ |
| Saskatchewan | 20 |
| Canada | 450+ |
Approximate number of boat dealers in each Canadian Province
How to register a boat in Quebec without ownership
If you do not have any bill of sale or proof that you own the boat, it will be very hard to registered the boat. Transport Canada will deal with this on a case-by-case basis. These could be abandoned to lost vessels that you stumble upon. The first step is to find the HIN and other numbers marked on the boat and do a lookup for the certificate of registry. Then you can go from there depending on what you find.
Register boat trailer in Quebec
Each Province does this differently. In Quebec, there is a one-time trailer registration fee as long as you remain the owner. Make sure you follow the rules before towing such trailer in your Quebec.
How do I cancel my boat registration in Quebec?
In order to cancel your boat registration in Quebec, you will need to contact Transport Canada. If you decide to register your pleasure craft instead of licensing it for example, then you will need to cancel your pleasure craft licence (PCL).
There are other times when you must cancel your pleasure craft licence. These are if the vessel
is no longer seaworthy
has been destroyed
is no longer primarily maintained or operated in Canada
If you sell your pleasure craft, it is the new owner's job to transfer the licence to themselves.
When it comes to registration, you can 'close the registry' at no fee to you but if you want a deletion certificate, it will cost $50 CAD. Closing the registry of a vessel removes it from the Canadian Register of Vessels. Examples of when you want to close the registry of a boat in Quebec:
you want to get a pleasure craft licence instead
vessel is sold to a foreign citizen
vessel is lost, wrecked or removed from service
What do pleasure craft licence numbers look like in Quebec compared to boat registration numbers in Quebec
PCL boats usually have a format that starts with two letters for the Quebec such as QC12345. This is not to be confused with Canadian registered boats that have an official number such as O.N.15484 or C84848.
Conclusion
In this article we explained all you needed to know about boat licencing and registration in Quebec, Canada. We also covered how to lookup a boat in Quebec by its HIN number as well as some FAQs about boat transfers of ownership.
Make sure to check that HIN before you dive in!
#Canada #Boat #PCL #Registration #licence #Quebec
Read Related Articles:
Categories:
To learn more about Boat-Alert.com History Reports for used boats and boat hull number lookup visit: www.Boat-Alert.com
About Boat-Alert.com®
Boat Alert History Reports© exists to aggregate boat databases so that shoppers can search and buy a used boat safely while saving time and money researching a used boat's history. We began in 2015 and constantly adding more buy used jetski on boats.com data for USA and Canada to ensure that your boat has a clean history. We are happy to offer a 60-day money back guarantee and proud to have served more than 15,000 customers with their boat HIN Search History needs. best boat history report reviews ©. Two percent of all proceeds go to charity. We value fair treatment of employees, customer satisfaction, having the most databases possible, and fast customer service at the core of our brand. View our
LinkTree
.