Finding the Right Boat Dealer
Buying a boat for the first time can be overwhelming, so looking for added support and guidance is okay. One of the best ways to make this process seamless is to seek the help of a boat dealer, who can guide you from start to finish.
This article explains how to choose a boat dealer correctly, so you don't face problems later on. Having been in the industry for several years, we can help you pick the right boat dealer by looking everything from reputation to inventory and service!
What is a Boat Dealer?
A boat dealer specializes in providing a platform for selling new and used boats. These traders are generally familiar with the different types of boats on the market and also possess a comprehensive understanding of the boating industry, boating business concepts, and the laws related to boat ownership and use.
Why is it Important to Find the Right Boat Dealer?      
Finding the right boat dealer can make a huge difference whether you plan to buy a boat. Not only will they offer you complete peace of mind, but they also bring to the table their wealth of knowledge and expertise in the marine industry. Most dealers will help you figure out what's the best fit for your budget, preferences, and overall satisfaction.
On the other hand, a wrong choice of a dealer can increase your work and stress load rather than alleviate it. Such dealers may not only try to rip you off but also fail to meet your needs and make the process a lot more painstaking than it should be.
In certain worst-case scenarios, you may end up tangled in legal complications if you are careful enough and focus on dealers that have some consumer awards from major boat brands.
| Rank | Criteria for Ranking Boat Dealers |
| --- | --- |
| 1 | Customer satisfaction and no negative reviews |
| 2 | Range of boat models and brands offered |
| 3 | Price competitiveness and value for money |
| 4 | Quality of after-sales service and maintenance facilities |
| 5 | Reputation and years of experience in the industry |
| 6 | Availability of financing options and insurance partnerships |
| 7 | Knowledgeable and professional sales staff (sales representatives) |
| 8 | Overall inventory size and stock availability |
| 9 | Boat customization and additional accessory options |
| 10 | Geographic location and accessibility |
| Bonus Points | Bonus points if they offer Boat-Alert reports on used vessel inventory and if they offer CPO-Boats. |
Types of boat dealers 
Boat dealers typically fall into three main categories –sales, factory showrooms, and service.
Sales: Sales dealers are those who sell boats (retailer). This is where you go to select a new boat, finalize the purchase and have the vessel brought to your home.

used boats dealerships
new boats dealerships (usually one brand)
Consignment boat dealers

Factory Showrooms: These locations have recently become popular and exist to show off a large variety of boats and their manufacturing process. There's more room for a wider variety of boats. As a buyer, you can also see how boats are made, allowing you to develop a stronger sense of confidence in the manufacturing quality.
Service: Service dealerships are the most popular in most areas. Boats are purchased once but serviced at different times, so more service locations are needed to accommodate the number of buyers. In this dealership, you visit the place to get repairs on the vessel after purchasing it. Keep in mind that you may visit a different boat dealer for service than where you purchased the boat to begin with.
Where do most people buy boats?
Most people buy boats through boat dealerships since dealers service what they sell, thus allowing clients to establish a strong relationship with them. Boat brokers, boat shows, and buying directly through a manufacturer are other common ways to purchase a boat. People who want maximum transparency and control of the buying process also opt for online purchases through popular platforms like Boat Trader, Craigslist, and eBay.
How Can a Boat Dealer Help you?
A boat dealer provides you with a greater sense of security and continues to assist you long after you have made the purchase. Listed below are some of the ways a boat dealer can help you.
Dealers normally provide the necessary repair services at their facility to take care of everything covered in your manufacturer's warranty. This can help you establish a long-term relationship with them for future customer support.
Dealers are highly knowledgeable about the brands they offer and can give you expert suggestions or recommendations regarding which boat to buy.
Dealers act as middlemen between you and the manufacturer and can provide you with general assistance whenever needed.
Some boat dealers also help buyers arrange boat financing, registration, titling, pickups, and deliveries.
They can help you have a smooth transition to boat ownership and ensure it's free of any hiccups.
Since dealers are well-versed in local boating regions, they can be your ideal go-to source for advice and guidance post-purchase.
Are boat dealer prices negotiable?
Prices can be negotiable depending on the boat dealer. Generally, boat dealers charge a 10% commission on the final sale value. While the percentage of dealership commission may not be subject to change, you can lower the price by avoiding extra features and add-ons. This could include marketing fees, transportation fees, appraisal fees, etc.
Do boat dealers take trade-ins?
Yes, boat dealers accept trade-ins. However, it is still best to confirm from the particular dealership of your interest whether or not they deal with boat trade-ins and what their policies are.
How to Pick a Boat Dealership? Things to Look for in the Right Boat Dealer
So, how do you avoid all the unnecessary stress of choosing a dealer who is unfit for your needs? Here are 10 things you need to look for in a boat dealer before purchasing.
Reputation: Look for a dealership with a good reputation in the boating community. Ask for referrals from friends and family who have purchased boats from dealerships. Read online reviews and check company ratings to get a good idea of what you'll be dealing with. An extra measure you can take is to check if the dealer has gone through manufacturer-specific training and certification.
Experience: Choose a dealership that has been in the business for a long time. This indicates they have the knowledge and expertise to help you make the best decision.
Customer service: A good dealership should have a friendly and knowledgeable staff that can answer your questions promptly and help you find the boat that best suits your needs and budget.
Inventory: Opt for a dealership with a wide selection of boats in their inventory, so you have plenty of options to choose from.
Financing options: Look for a dealership that offers flexible financing options to help you get the boat you want at a price you can afford.
Service department: Make sure the dealership has a reliable service department that can provide maintenance and repairs on your boat after the boat has been purchased.
Location: Choose a dealership that is conveniently located and easily accessible for you. Also, pay attention to the shop itself. If the space is dirty, messy, or disorganized, it shows a lack of work ethic – a red flag that reflects poorly on the management and the staff.
Test drives: Look for a dealership that offers test drives or sea trials, so you can carefully inspect and get a feel for the boat before you buy it.
Boat History: Do they give Boat-Alert.com reports for all their used boat inventory?
Warranty: Pick a dealership that offers a good warranty on their boats so that you can be confident in your purchase.
Online presence: Look for a dealership with a strong online presence, such as a functional website and social media accounts, so you can research their inventory and read customer reviews before deciding.
Certification: Certain dealers will have a five star marine certification through the MRAA.
Tips to Choose the Best Boat Dealer
Finding a good boat dealer is not easy, but it's worth the time and effort. The following tips can help you discover the best boat dealers in the USA for your next purchase.
Ask them the top 10 questions when buying a vessel.
Do your research. First, you need to be clear about the kind of boat you want, what accessories and features you need, and how much you are willing to spend. Some marine dealerships sell new boats, while others sell used boats. Figuring out your budget can offer clarity regarding which dealership to choose.
If you decide to buy a used boat, ask the dealer to provide you with a Boat-Alert.com history report containing crucial information such as the boat's name, value, any lien information, pollution incidents, factory recalls theft, auction data, and accidents.
You can also perform a HIN lookup on the website – Enter the HIN of the boat you want to buy in the tool's search bar to access the boat's basic registration details.
Consider your boating place. Before settling on a dealer, pick where you intend to do most of your boating and where you will keep the boat. A dealership near your boat's location is ideal since it provides quicker access in case you need any later servicing or repairs.
Choose a dealership that is Marine Five-Star certified. This is because such dealers agree to follow the Marine Industry Consumer Bill of Rights and maintain a high-quality level. You can visit the NMMA website or contact someone at the dealership to ensure they are certified. Also, inquire if the service technicians have special training or manufacturer certification.
Conclusion
In this article, we discussed how to pick a boat dealership closely aligned with your needs, budget, and preferences. Always consult someone with actual boat buying experience.
We also discussed the importance of working with a boat dealer and how it can benefit you in the long run. Regardless of the dealer you choose, make sure to ask them to do a background check on the boat using Boat-Alert's history report to avoid any scams or legal complications.
Boat-Alert.com HIN Search
A boat's history affects its value – Search the vessel's history before you dive in!
Check for accidents, auctions, theft, and registration data.
Don't get stuck with someone else's problem boat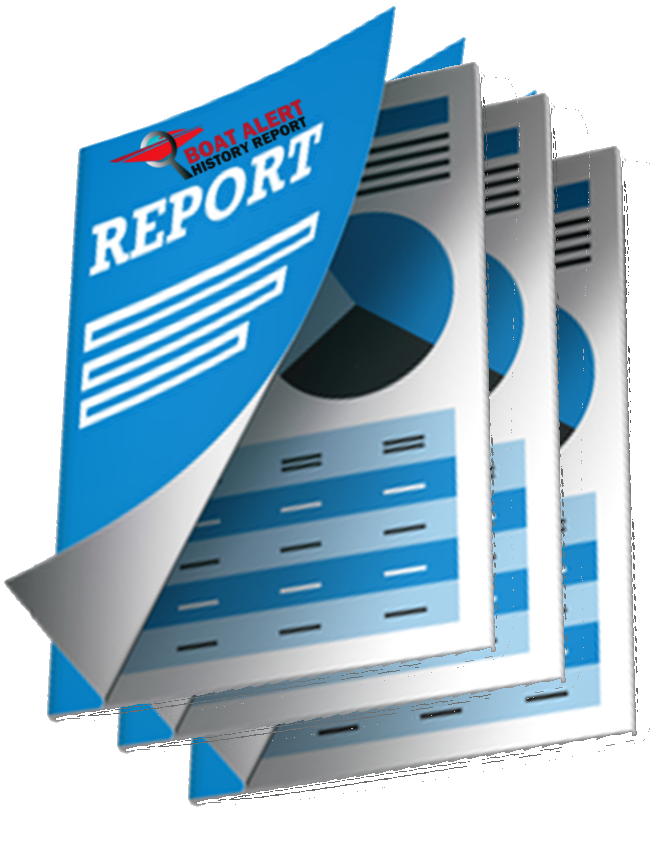 #BoatDealer #FindtheRightBoatDealer #BoatDealerUSA #BestBoatDealer #boat #Dealership #bestDealer #topDealers
Read Related Articles: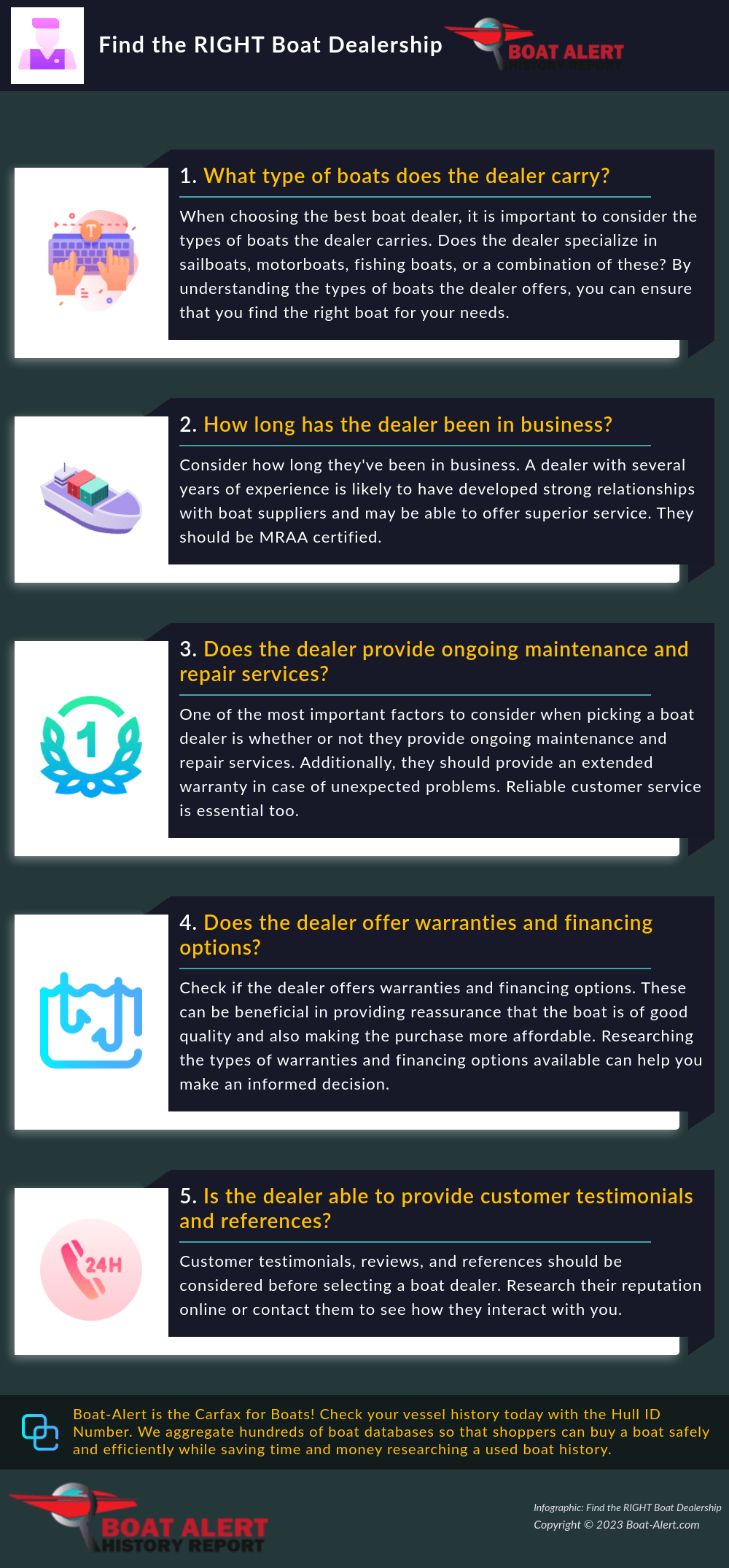 Categories:
To learn more about Boat-Alert.com History Reports for used boats and boattrader visit: www.Boat-Alert.com
About Boat-Alert.com®
Boat Alert History Reports© exists to aggregate boat databases so that shoppers can search and buy a used boat safely while saving time and money researching a used boat's history. We began in 2015 and constantly adding more free boat history check data for USA and Canada to ensure that your boat has a clean history. We are happy to offer a 60-day money back guarantee and proud to have served more than 15,000 customers with their boat HIN Search History needs. free boat history report ©. Two percent of all proceeds go to charity. We value fair treatment of employees, customer satisfaction, having the most databases possible, and fast customer service at the core of our brand. View our
LinkTree
.