What to do with a Boat Abandoned on your Property
Its dumping season or hurricane season and now you dealing with an abandoned boat on your private property and don't know what to do next? Don't worry about this burden because we've got you covered.
In this article, we use years of industry knowledge to take you through a step-by-step guide on what to do if you encounter a lost or abandoned boat that gets dumped on your property. You had to know how to do it legally and safely.
Let's get started and solve this problem of "boat left on my land"!
What is the difference between a 'derelict vessel' and an 'abandoned boat'?
'Derelict' generally refers to neglected boats with an identifiable owner, whereas 'abandoned' boats are those where the owner is unidentifiable or has given up ownership rights. These vessels are no longer taken care of and pose a risk to people and the environment since they can block navigational channels, thereby harming ecosystems and damaging the recreational value of the surrounding area.
The NOAA keeps track of derelict vessels on their map in the USA.  If the debris poses a potential hazard to navigation, contact the nearest U.S. Coast Guard Sector Command Center if you have any concerns about containment from corrosion/deterioration affecting coral reefs.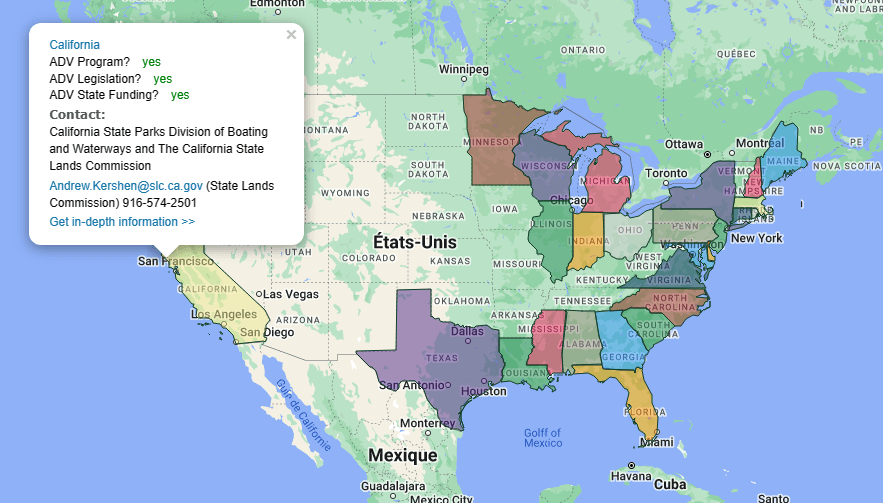 Why are Boats Abandoned or dumped?
Boats are abandoned or dumped for numerous reasons. Most cases involve economic issues or hardships, which force vessel owners to neglect maintenance and eventually forgo ownership because it becomes less expensive than continuing to operate.
Some boats may break loose from moorings or anchors and drift away, and some may get stolen. Natural disasters, such as flooding or hurricanes, can also result in clusters of boats becoming derelict and abandoned. In such conditions, boats can sink at moorings, strand on shorelines, marshes, or reefs, or submerge in tidal areas. (danger is everywhere)
Lastly, the boat removal cost is another reason owners abandon their boats. When a boat has outlived its ability to sail, it often becomes difficult to pawn it off with a good sale price. When that happens, most owners believe they are better off leaving the vessel somewhere or letting it loose into the sea rather than paying money to get it towed or removed by the proper authorities.
Stolen boats are left abandoned for a while until the "heat cools down" then picked up later if the cops never show up. You should report the felony if you see something!
What to do if you find a Loose or Abandoned Boat on your Property?
If you encounter a loose or abandoned boat on your property, take the following steps.
Contact your Local law enforcement agency | Report an abandoned boat
The first step is to contact your state's local law enforcement agency and the US Coast Guard. For example, in Florida, call the Florida Fish and Wildlife Conservation Commission (FWC) or get in touch with Texas Parks & Wildlife Headquarters if you are living in Texas. You can use this guideline to correctly report an abandoned boat in Canada.
Reach out to the relevant authority, file a report, and ask them to ticket the owner for illegal abandoning or dumping. See if the agency can track the owner using the HIN or registration number. Law enforcement can then ask the owner to remove the vessel from your property.
ADV InfoHub
The ADV InfoHub created by NOA Marine Debris Program is a central database of information related to derelict and abandoned vessels or ADVs.It explains how each state regulates such vessels to spread information, encouraging a detailed look at the subject. You can access information on local policies, legislation, funding, and available programs to address the issue and link to relevant case studies, publications, and legal reviews. When in doubt, visit InfoHub to find a contact in your locality to report derelict and abandoned vessels.
Do a HIN Lookup
A Hull Identification Number or HIN is a 12-digit number containing a series of numbers and letters. In general, the HIN is permanently affixed to the boat's hull and can be found on documents such as a bill of sale and boat title.
The first 3 characters should only be letters that tell the Manufacturing Identification Code (MIC).
The next 5 characters tell the manufacturer-assigned serial number, and this is unique to each boat
The last 4 characters tell the model year or the certification month and year of the boat.
A HIN Lookup can help you track down important details about a boat, such as its model, manufacturer's code, the month and year it was built, and unique serial number. This information can help law enforcement agencies recover stolen vessels by checking their database. To check the accuracy and validity of the HIN found on the abandoned boat, use hindecoder.com.
You can also use Boat-Alert.com to access the boat's basic registration information as well as its detailed report, including its name, value, any lien information, pollution incidents, factory recalls, theft, auction data, and accidents. You can provide this valuable information to the law enforcement agency or use it to look for the boat owner. You should contact the relevant agency first and conduct a personal search on the side.
Send Notice to the owner
Upon receiving the record search results, you should send a notice to the owner's last known address to remove the abandoned vessel. If there is a mortgagee or lienholder, you must notify them about the vessel's location and any repair or maintenance charges due, including storage/dockage or labor charges. If the mortgagee or lienholder doesn't claim the vessel within 45 days, the mortgage or lien is deemed invalid. However, they may still be able to claim the funds from the auction sale of the vessel.
Perform a HIN lookup and provide the details to the local law enforcement agency.
Post a notice with the boat's picture and registration details, such as name, model, year, etc., along with your contact information.
Check your surveillance cameras to see if they caught any useful footage.
Enter the boat's details on Google and try to do a deep search.
Post the boat's details and pictures on Facebook groups and other boating platforms to see if anyone claims the boat or volunteers any information about it.
Visit the Vessel Registration department of the province or state that you are in.
Enter the information in the Coast Guard database if documented federally to request the abstract of the title. You can also use Boat-Abstract.com to request a title abstract to know the status for the vessel.
Can you get a title for an abandoned vessel? | Claim a derelict boat
If you find a derelict or abandoned ship on your property, the first step is to report it to law enforcement. This will open up an investigation for which you will be charged a fee between $300 and $600 based on the circumstances. Keep in mind that the investigation may take 45 to 120 days, sometimes even longer. If the original owner claims the vessel during this time, you cannot claim its title in your name. Each state will have its own procedure for taking possession of an abandoned vessel or for clean-up.
However, law enforcement may allow you to claim the boat if the owner doesn't come forward. In such a case, you will be given a document that you can use to apply for the vessel's title. For instance, in Florida, this document is known as the Abandoned Property Certificate FWCDLE-003, and you can apply for the title at the Florida Department of Highway Safety and Motor Vehicles.
Once the title has been passed to you, you may decide to keep or sell the boat. If you decide to keep the boat, you will be responsible for its maintenance and penalized if you abandon it. You can then register the abandoned vessel by submitting the registration form with the appropriate fees to the boat registration department.
Are Abandoned ships Finders Keepers?
In most cases, the answer would be no. Due to the condition of the vessel and its ongoing investigation, it is normally difficult to apply for its title claim. However, in some cases of derelict vessels, you can claim the boat after receiving the approval of the investigating officer.
The approval is generally given only if the original owner doesn't reclaim the abandoned vessel within the given timeframe. They probably won't due to the violation they just did by dumping it.
How do you get rid of an abandoned boat?
Boat abandonment laws differ depending on the state and country. Although the exact process will be different, listed below are the general guidelines.
Call your local law enforcement agency, and file a report.
If you fail to find the registered owner, you may be issued a "Junk Vehicle Affidavit," depending on your county, allowing you to dispose of the boat without a title.
You can also dump the boat by yourself, following the Lost and Found Property Laws listed under RCW 63.21 to gain legal custody. Contact your local landfill for their specific requirements before taking the vessel and being in compliance and having integrity.
In case you don't have a boat trailer to transport the boat, call a local vessel transport or tow company.
If the boat is in good condition, you may apply for a title and decide whether to keep or sell it. But do your due diligence first. It may not have an engine though!
Other ways to dispose of a vessel:
Here are four safe ways to dispose of a vessel or boat:
| Disposition Method | Solution Description |
| --- | --- |
| Sell or donate | Find a buyer or a charitable organization that accepts boat donations. This way, someone else can make use of the vessel, and you can recoup some of your investment or contribute to a good cause. |
| Recycle | Contact boat recycling centers or scrap yards that specialize in dismantling and recycling boats. They can properly dispose of the various components and materials, ensuring minimal environmental impact or penalties. |
| Trade-in | If you plan to purchase a new boat, some dealerships offer trade-in programs. You can exchange your old vessel as part of the transaction, allowing the dealership to handle the disposal responsibly. |
| Re-purpose | Explore options to repurpose the boat for other uses. This might involve converting it into a floating home, a houseboat, or repurposing parts of the vessel for other projects. Ensure that any modifications comply with safety and environmental regulations. |
Remember to research local regulations and guidelines for boat disposal, as they may vary depending on your location. If a boat is derelict or beyond repair, its disposal becomes more challenging. Here are four ways to dispose of a derelict boat safely:
Salvage yards or boat recycling centers: Contact salvage yards or specialized boat recycling centers that handle derelict vessels. They have the expertise and equipment to safely dismantle and dispose of the boat, recycling or properly disposing of its components. You will need a towing agency.
Local authorities or harbor masters: Report the derelict boat to your local authorities or harbor masters. They may have programs or procedures in place to deal with abandoned or derelict vessels. They can investigate ownership, take legal action if necessary, and arrange for proper disposal. They might find the property owner and make him do the clean up.
Environmental organizations or nonprofits: Some environmental organizations or nonprofits may take on the task of removing and disposing of derelict boats. They often focus on preserving marine ecosystems and can handle the disposal in an environmentally responsible manner.
Government-funded removal programs: Check if there are government-funded programs available in your area specifically aimed at removing and disposing of derelict boats. These programs are often established to address the issue of abandoned or hazardous vessels and may provide resources or financial assistance for their removal.
It's important to note that the process of disposing of derelict boats can vary depending on local regulations and resources. Therefore, contacting local authorities or relevant organizations will provide the most accurate information and guidance for your specific situation.
Conclusion
In this article, we answered, "what to do with an abandoned boat on my property?" You must take the necessary steps without any delay so the original owner can be contacted on time. Perform a HIN lookup using Boat-Alert.com, then provide the information to your state's law enforcement agency. You can also use the vessel's details to look for its owner online.
#AbandonedBoat #DerelictVesselonPrivateProperty #ClaimAbandonedBoat #derelict #abandoned #boat #lostvessel #dumped
Read Related Articles:

Categories:
To learn more about Boat-Alert.com History Reports for used boats and boat identification number visit: www.Boat-Alert.com
About Boat-Alert.com®
Boat Alert History Reports© exists to aggregate boat databases so that shoppers can search and buy a used boat safely while saving time and money researching a used boat's history. We began in 2015 and constantly adding more search vessels data for USA and Canada to ensure that your boat has a clean history. We are happy to offer a 60-day money back guarantee and proud to have served more than 15,000 customers with their boat HIN Search History needs. boat vin number check online ©. Two percent of all proceeds go to charity. We value fair treatment of employees, customer satisfaction, having the most databases possible, and fast customer service at the core of our brand. View our
LinkTree
.