Advantages of Buying a Used Boat
Should you buy a new boat or a used boat? That's a tough decision but a common question that is hotly debated, especially if you are a first-time buyer.
While there is no right or wrong answer to this, it all comes down to your risk tolerance, taste, budget, and mechanical aptitude.
In this article, we look at the advantages of buying a used boat. Since we have been in the industry for many years, we can help make your buying decision easier to some extent. If you are a staunch new-boat supporter, you may be surprised to learn what a used boat offers.
Why it makes sense to buy a Used Boat
Buying a used boat makes a lot of sense if you are a first-time or novice boater. A second-hand boat is perfect for brushing up your boating skills without worrying too much about making mistakes. Let's face it; boats involve heavy investment, and if you aren't a very experienced sailor, you may quickly put your money down the drain. 
Are boats a good investment? | Why do boats depreciate so quickly?
Investing in a boat can be a great way to supplement your income or start a side hustle. It can be a worthwhile purchase if you want to learn new skills, such as sailing and mooring, or if you plan to create a lot of memories with friends and family. Having your boat also allows you to explore various new destinations, which can be an excellent investment if you are an adventure lover.
Regarding monetary terms, boats may not be the best investment since they don't increase in value. Like other vehicles, most boats depreciate with time, starting from the moment they are purchased. Even a few hours of use is enough to decrease the resale price, which means it doesn't have much retention value. The good news is that depreciation isn't comparatively as bad for used boats since the value of a new boat falls most within the first year of its ownership.
If you are looking for a lucrative financial investment option, you may be better off investing in real estate, stocks, or a mutual fund.
Do boats require a lot of maintenance? |Cost of maintaining a boat
Normally, annual boat maintenance costs around 10% of the boat's purchase price. For instance, if you bought a boat for $30,000, you can expect to pay roughly $3,000 yearly to maintain it.
In boating slang, BOAT stands for "Bust Out Another Thousand," so you can understand how costly amount it is to maintain a vessel. You will save a lot if you are handy with tools and can perform preventative maintenance yourself. However, if not, then be prepared to spend some money. The engine, plumbing, electrical systems, preventing algae growth, and winterizing your boat are some basics of boat maintenance.
What are good hours on a used boat?
A used boat powered by a gas inboard or outboard motor is worth the purchase if has less than 1000 hours. Similarly, a well-maintained disease-powered boat with 3000 – 5000 hours is worth buying. Make sure to have a professional check out the boat hours before buying it.
What is the most reliable boat brand?
If you are buying a new or used boat, it is best to choose a reliable and well-respected brand in the industry. Some of the best boat brands include Grady White, Boston Whaler, Bayliner, Mako Boats, Yamaha, and Beneteau.
Pros and cons of used boats
Buying a used boat can be a very solid investment decision, especially if you are a first-time owner. While there are numerous advantages associated with second-hand boats, there are some disadvantages that you need to be aware of to make a well-informed decision.
Here's a table summarizing the pros and cons of getting a used boat versus a new boat:
| Pros of Getting a Used Boat | Cons of Getting a Used Boat |
| --- | --- |
| Lower Cost | Condition and Maintenance |
| Depreciation Absorbed | Limited Warranty |
| Negotiation Power | Outdated Technology |
| Immediate Availability | Limited Customization |
| Lower Insurance Costs | Availability and Selection |
| Pros of Getting a New Boat | Cons of Getting a New Boat |
| --- | --- |
| Warranty and Support | Higher Cost |
| Latest Technology | Depreciation |
| Customization Options | Waiting Time |
| Reliability | Potential Manufacturing Flaws |
| Financing Options | Higher Insurance Costs |
Used boats have the instant advantage of being far more affordable in the short and long run. Both local and at the boat dealerships.
This is no surprise, but a used boat comes with a much cheaper price tag than a brand-new one. This means you can buy a bigger boat for much less and still save a ton. If you buy through a broker, you can further negotiate the price and take advantage of even bigger savings on the boat cost and thus the boat financing / insurance.
Boats lose the most value during their first year of ownership. This depreciation has already occurred for used boats, which means they will maintain most of their value after that period. If you are buying a boat that is 4 to 5 years old, you are purchasing it at around a 30% discounted rate, which is much cheaper than a new one. Try the boat calculators.
Used boats are normally cheaper to insure, especially if they have had only one owner.
If you upgrade to a bigger boat later on, you won't have to worry about losing so much money when selling a used boat compared to a new one. You can also make plenty of new changes to the existing boat.
If you are not satisfied with some aspects of the used boat, you can use the money you saved earlier to make your desired changes. This could include customizing the interior, exterior, or engine to instantly increase the resale value of your boat.
You're likely going to find all the practical aftermarket accessories in a used boat, such as lifejackets, emergency medical kits, flares, and signal flags. You may also find other big modifications like trailers, canvas enclosures, and bow thrusters that will come in very handy.
You can refurbish the used boat as much or as little as you like and build on what you already have. This will make the vessel feel a lot more personalized and designed to your liking.
. Used boats carry a significantly lower risk than new boats. especially if you have the maintenance records and boat alert history report.
Since used boats have already been on the market for a long time, you can find plenty of reviews online about their performance to help you avoid any defective boat models
Since used boats are time-tested, they have already established a reputation that greatly benefits potential buyers.
If a new boat has experienced defects or issues, they are generally rectified by its then-owners. Similarly, you can also benefit from inspections conducted by past owners, thereby saving a lot of time and money.
When it comes to used boats, you are surely spoilt for choice.
Numerous boating platforms online sell used boats, such as Boat Trader, eBay, Facebook Marketplace, Kijiji, Craigslist, and many more. You can find the exact size, model, and brand you're looking for with a little research.
Used boats are usually available immediately after you buy them, allowing you to start sailing them shortly after.
Availability of Discontinued Models
You can find vintage and even discontinued boat models on sites like Craigslist and eBay, which is a big plus for used boats.
Disadvantages of Buying a Used Boat
Potential hidden costs that may not come to light until after the sale
Wear and tear due to years of use
Limited or no warranty given by the past owner
Unknown history, which could create issues later
Outdated technology
Potentially higher maintenance and repair costs due to the vessel's old age
Difficulty in obtaining financing
Limited availability of parts and accessories, especially if the model is outdated or unavailable in the market
Limited to no support from the manufacturer. Manufacturers generally offer warranty and after-sale support for new boats, which means you will be on your own
Due Diligence for Buying a Used Boat
Get a Boat-Alert.com History Report or perform an online HIN lookup on the website to check if the owner is trustworthy and the boat is free from punishable offenses.
Do a Sea Trial to assess the performance of the used boat and prove its seaworthiness.
Do a background check on the seller by looking them up on Google, LinkedIn, and other social media. Contact their past customers if possible and ask for their testimonials.
What to ask when buying a used boat?
What year are the boat and motor?
Where and when was the boat last inspected and serviced?
Are you the first owner, and how long have you owned the boat?
Has the boat been in any accidents or had any major repairs?
What is the history of the boat's ownership?
Why are you selling the boat?
What is the asking price, and is there any room for negotiation?
Has the boat ever been on saltwater or freshwater only?
Is either the boat or motor still under any warranties?
Conclusion | is it a good idea to buy a used boat?
Buying a used boat is a good idea for many reasons, especially for first-time boat owners.
In this article, we discuss the advantages of buying a used boat so you can decide if the option suits you. The affordability, a wide selection of options, and freedom to upgrade are reasons, so many boaters prefer used boats. Make sure to do a thorough background check through Boat-Alert.com before finalizing the sale.
Where is the Boat History Database?
The Boat-Alert.com database combines 90+ nationwide databases into a single place so you can search in a matter of minutes. These include records for stolen boats, marine lien claims, boating accidents, pollution incidents, auctioned boats, factory recalls, and boat manufacturers.

#UsedBoat #WhyBuyaUsedBoat #usedvsnew #pros #cons #used #boat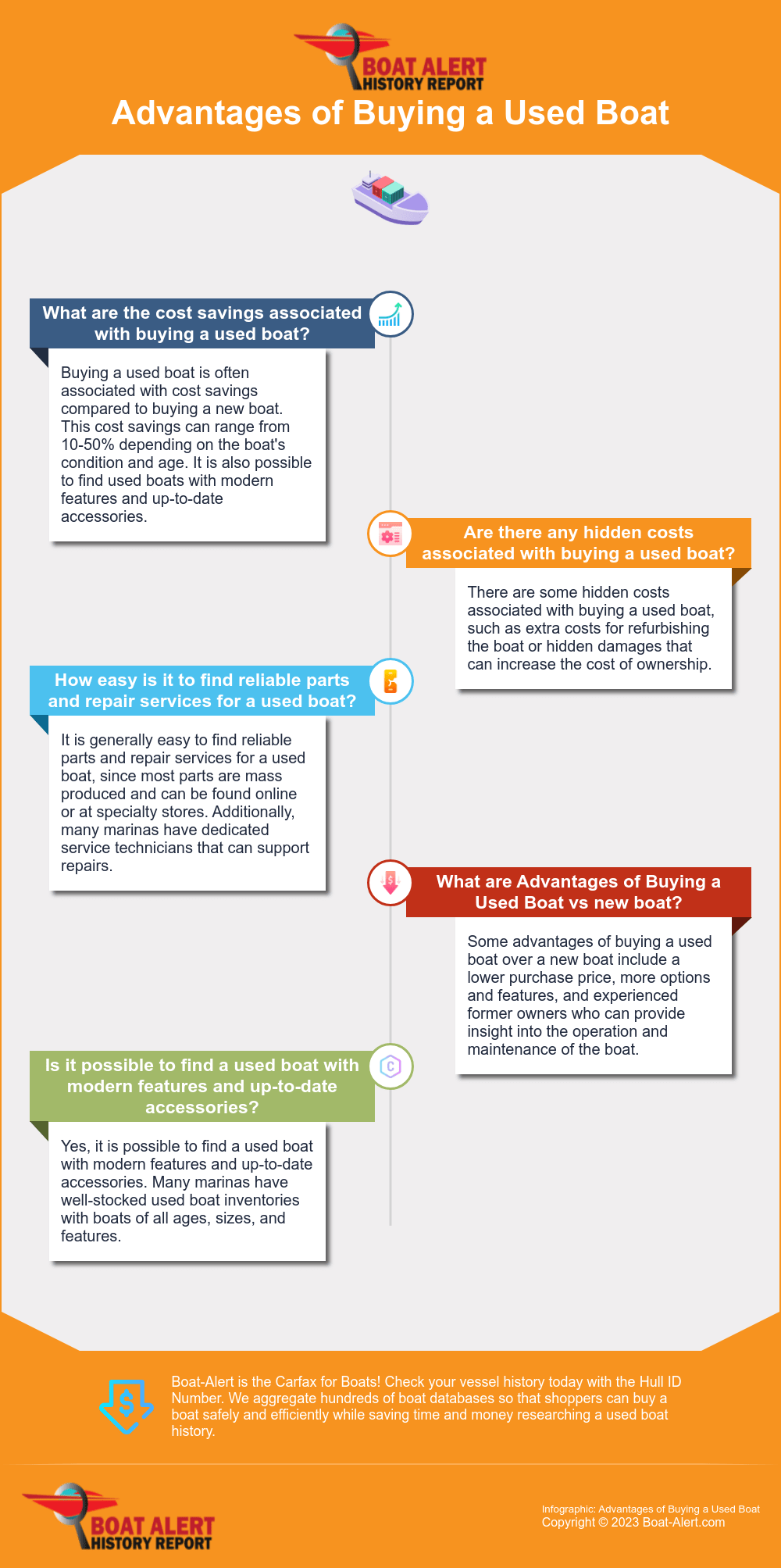 Categories:
To learn more about Boat-Alert.com History Reports for used boats and boat registration visit: www.Boat-Alert.com
About Boat-Alert.com®
Boat Alert History Reports© exists to aggregate boat databases so that shoppers can search and buy a used boat safely while saving time and money researching a used boat's history. We began in 2015 and constantly adding more boat carfax data for USA and Canada to ensure that your boat has a clean history. We are happy to offer a 60-day money back guarantee and proud to have served more than 15,000 customers with their boat HIN Search History needs. hin hull identification number ©. Two percent of all proceeds go to charity. We value fair treatment of employees, customer satisfaction, having the most databases possible, and fast customer service at the core of our brand. View our
LinkTree
.